Its back-to-school season and all parents can "make the grade" in creating A+ healthy lunches for their kids.  Gather the kids or grands around the kitchen table and play a game, "What's for lunch"?  Kids love games and they will enjoy helping with the plan for their weekly lunch menu.  As a bonus, this meal planning will give the kiddos ownership of the process. Making their lunch selections will encourage them to eat healthy and teaches personal responsibility.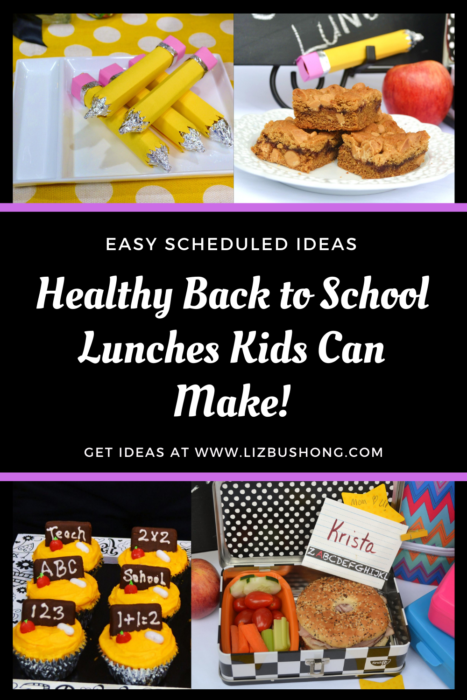 Eating healthy requires a "lesson plan" of action and is simple as ABC, and 1, 2, 3.  There are a lot of possibilities that balance what your children like to eat with what is wholesome and simple for parents and kids to make.
Here are a few suggestions for ABC Lunch Ideas
A. Ask your kids to help plan their lunches.  Make it a game to get interest.
B. Buy 4-6 clear storage containers or baskets.  Label each container with these categories: Veggies, Fruit, Drinks and Snacks or desired choices.  Kids will select one item from each container to pack their own lunch. To carry their lunch use this kind.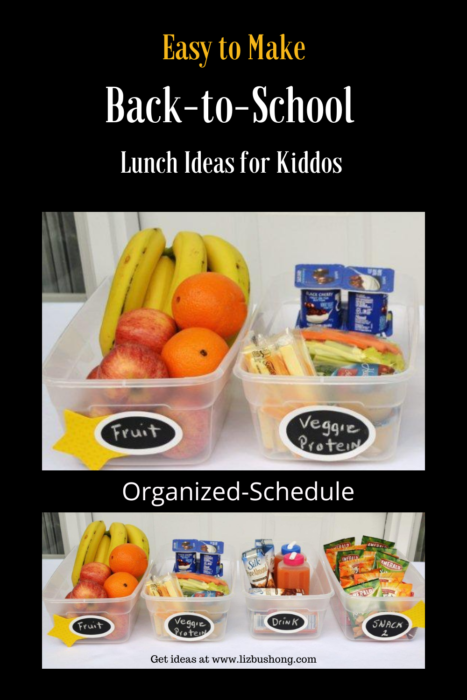 C. Create a system of rules of what goes into each lunch to avoid conflict. Select one food items from each of the following 6 categories when packing the lunches.
Protein-chicken, tuna, yogurt, cheese, nut butters, beans. Make these Edible Cheese stick pencils for fun with your kids.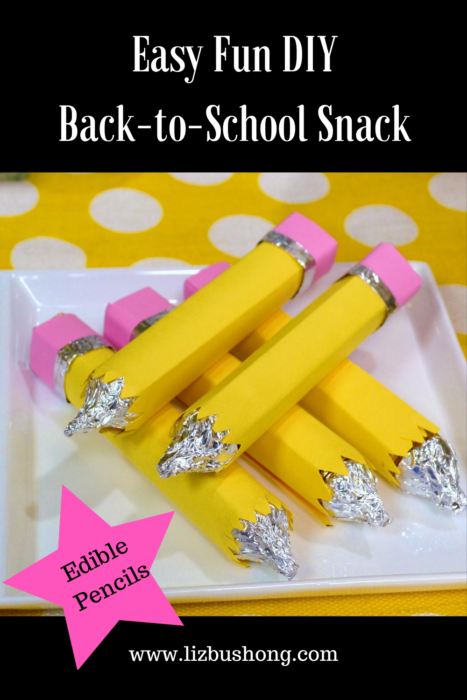 Whole Grain- whole wheat breads, pitas, bagel rounds, naan, wraps, gluten free.
Fresh Raw Fruits-apples, seedless grapes, berries, oranges and bananas.
Fresh Raw Vegetables-carrot/celery sticks, bell pepper strips, snow peas, cucumber slices, broccoli and cauliflower bites. Leafy salad blends.
Snack-Greek yogurt, no sugar fruit cups, organic granola bars, trail mix, raisins, almonds or nuts, occasional cupcake, brownie, cookies, pudding cups and whole grain chips.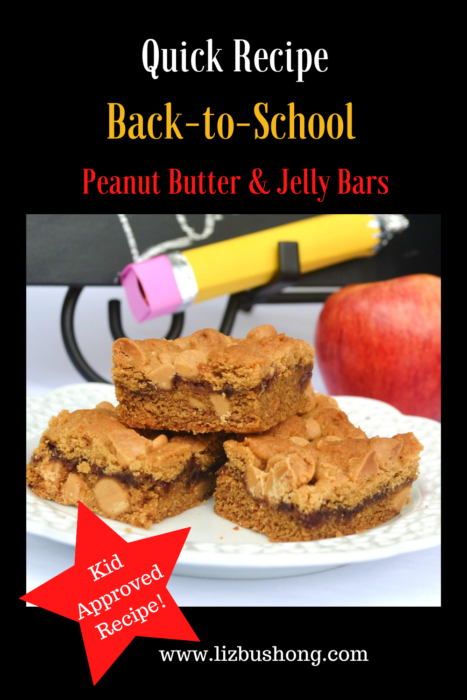 Drink-bottled water, 100% juice boxes, milk- almond, low fat or chocolate, unsweet teas or flavored waters with out sugar and substitutes.
D. Don't worry the containers that hold fresh vegetables and protein should be stored in the refrigerator. However, fresh fruits remain on the counter.
Game Idea: Play Show and Tell with your kids in the grocery store vegetable section to see which veggies stay cold and which ones need to be stored at room temperature?
E. Easy to make daily meal plan for serving protein.

Easy Protein Schedule for Daily Meal Plan
Monday: peanut or almond butter with honey or all fruit jam.
Tuesday: drained tuna in a sealed cup, whole grain crackers or pita bread.
Wednesday: turkey and cheese sandwich or last nights dinner-meatloaf.
Thursday: chicken salad or hard boiled eggs.
Friday:  salad greens with veggies and grilled chicken strips with ranch dressing.
F. Finally, a few food precautions to keep your kids healthy.
Wash counter tops or areas of food prep and containers thoroughly with bleach water or home made disinfectant.   Do not mix bleach with alcohol.
Avoid using kitchen sponges for wiping down counter tops food prep areas.
Pack anti bacteria wipes in lunch packs.
Keep cold foods cold with ice packs or frozen drink boxes and hot foods with insulated thermos. 
Prep food the night before, or make sure you have pre-packaged food in the container/bins so kids can pack their own. With the container bins on the counter the next morning, kids can select one item from each bin to add to their protein or sandwich.
G. Get creative and make Sassy Sandwiches
Use whole grain or gluten free breads, rather than white bread if possible.
If you use mayo pack in separate container or get packets, if you package it yourself you will need to make sure it stays cold.
For younger kids, use cookie cutters to cut out sandwiches for fun.  Stars, holiday themes. To keep sandwich bread from becoming dry, spread a light coat of butter, not margarine, to each bread slice, then add filling. Wrap cut sandwiches tightly in plastic baggies or wrap to remove air pockets.
Cut sandwiches into 1-2 " bite sized sections. You could create a checkerboard pattern with the different bread slices by alternating light with dark breads.
Pack lettuce, sliced tomatoes, cucumbers, red onion, sprouts in separate baggies to add to meat sandwiches.
Bake a turkey breast on Sunday evening, cool and slice into thin slices for lunches.
Introduce left dinner meats for sandwiches for wholesome meal.
Let kids make their own sandwiches the night before or early morning.
H. Have a fun DIY Kid Approved dessert or treat once in a while. Easy to decorate cupcakes using chocolate graham cookies, vanilla frosting and red M & M's to make the apple, for chalk use Good & Plenty white candies or other white candy.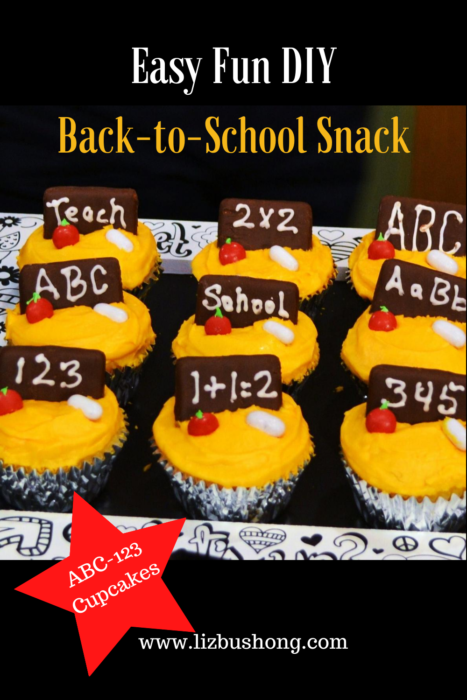 Planning is key, doing the prep work with the storage containers will save YOU time, money, energy and frustration.
Smart Parents + Healthy Foods = Happy Kids!
Give yourself an A+ Mom and Dad!  YOU make the Grade!!
"An apple for the teacher, it's really nothing new. Except when you remember, parents are teachers too!"  unknown author.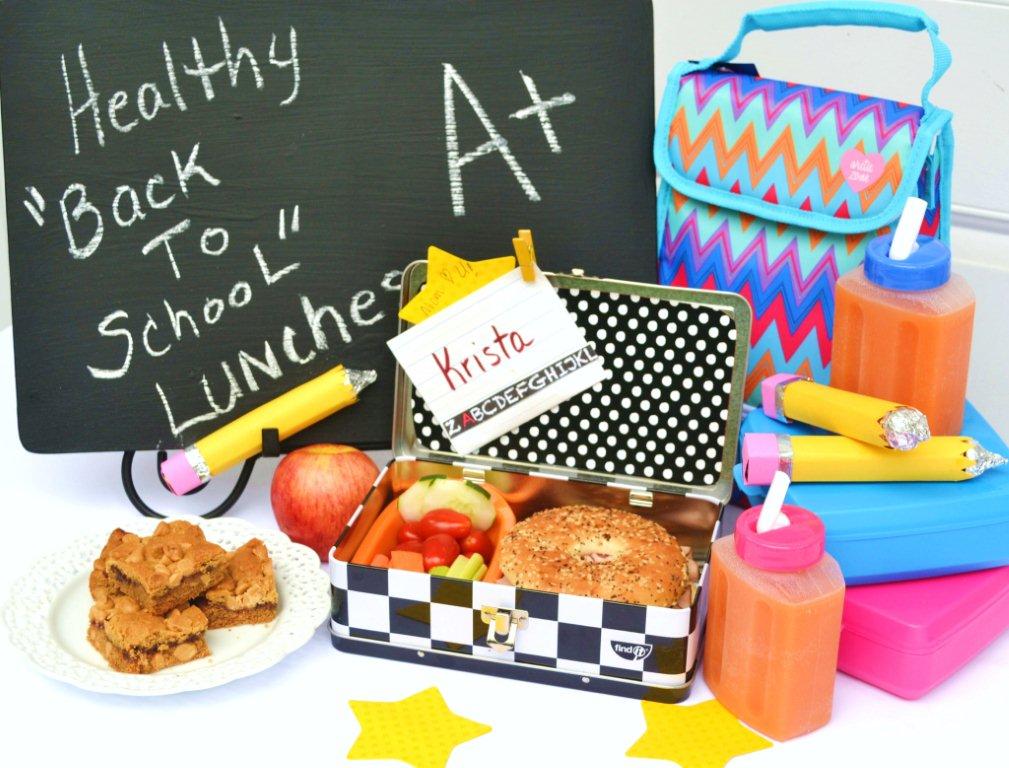 This post was featured in VIP SEEN Magazine.
Other Ideas you might like to try:
Best Black and White Pumpkin Table Scape- How to Paint Pumpkins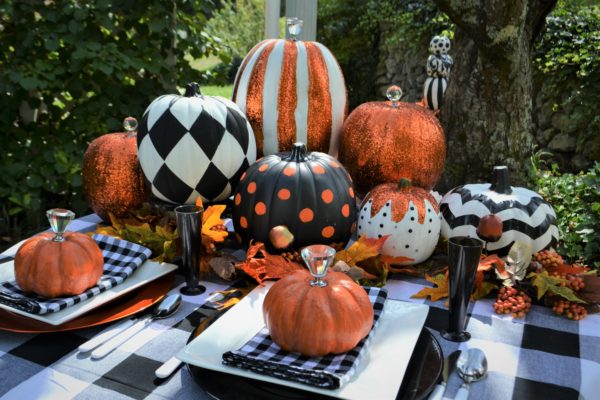 Snickerdoodle Cookies and Pecan Rolls featuring Cinnamon!