Fall gently makes her presence known with the scents and smells of cinnamon. Imagine curling up by the fire with a cup of warm Cinnamon Latte oozing over with whipped cream. Or taking a stroll in the woods admiring the colorful leaves while munching on a cinnamon and sugar coated snicker-doodle cookie.  And if that isn't enough motivation to warrant an afternoon in the kitchen baking, then think back to Christmas Morning when your mom baked Cinnamon Walnut Swirls, a rich buttery yeast roll filled with ground walnuts, cinnamon and sugar with drizzled cream cheese glaze.
Make memories come true and bake- up some deliciousness with falls favorite flavor …cinnamon!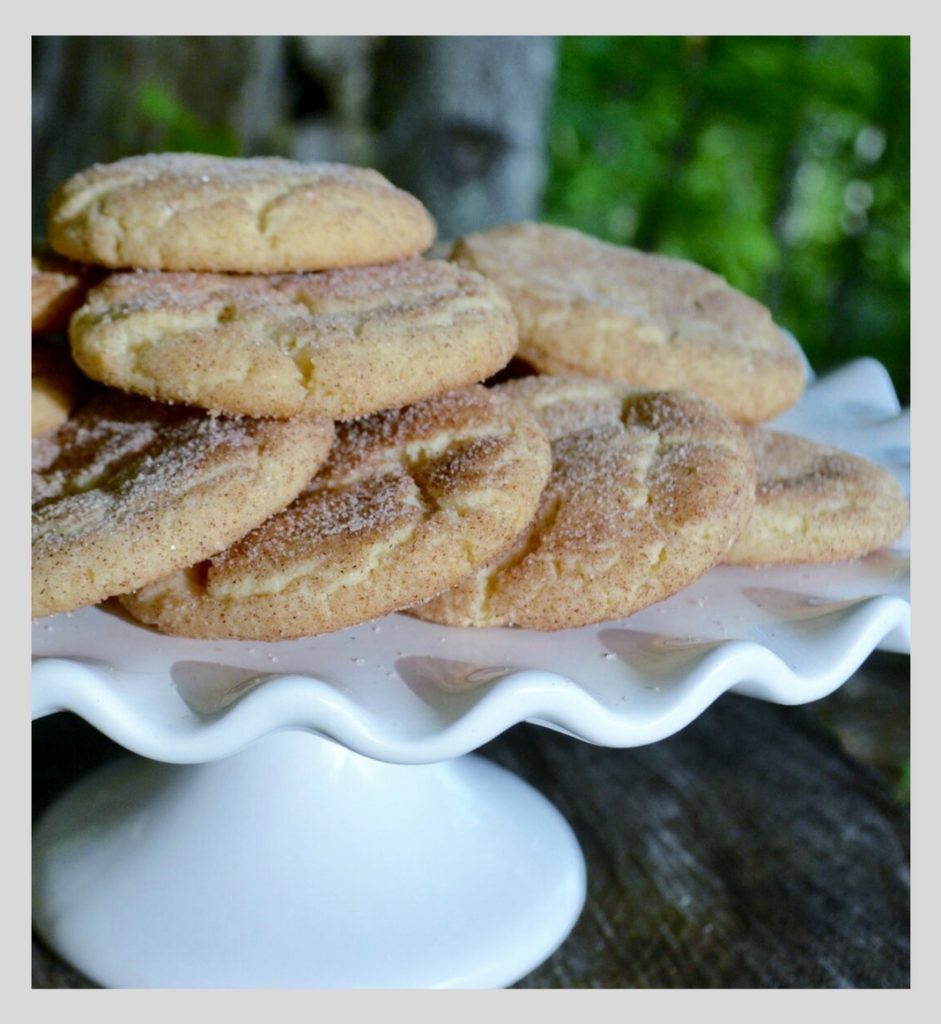 Snicker-doodles as they are called can be crisp or soft depending on the ingredients used. Sometimes called sugar cookies, Snicker-doodles have a cracked surface caused by rolling the raw dough into a mixture of sugar and ground cinnamon. Some recipes call for butter or oil, sugar, flour, eggs, and cream of tarter as the leaven.  The cookie name Snicker-doodle may have come from Germany called "schneckennudelin" or "snail dumpling" but no matter where they are from we are thankful for this delicious cookie.
Cinnamon Walnut Swirl is like a cinnamon roll only ground walnuts; sugar, egg, cream and butter make the filling of this sweet breakfast or afternoon tea bread. The dough is mixed together and allowed to rest for rising, then rolled into a large rectangle and filled with the ground walnut mixture. The roll is tightly rolled into a jellyroll shape and cut into 12- 1" rolls and placed in a greased spring form pan. After the rolls are allowed rise, they are baked and drizzled with cream cheese glaze. These rolls are served like a cake or can be pulled apart into individual swirls. The dough freezes well so double the recipe to make two-dozen.
No matter what Fall means to you be sure to include the flavor of cinnamon, once considered more precious than gold in ancient times, these traditional recipes will become your families favorite flavors to be cherished for years to come.
Helping you Make a Statement, Make is Sassy and Make it Yours! ® 
Print
Cinnamon Latte Recipe
2 cups whole milk
1-cup espresso or strong brewed coffee
1-teaspoon maple syrup or vanilla extract
Cinnamon syrup
½ cup sugar
½ cup water
2 teaspoons ground cinnamon
1 cinnamon stick
Instructions
In glass microwave safe bowl, microwave water, sugar, ground cinnamon and stick for 3 minutes on high in microwave.
Stir mixture and cool.  In saucepan, add milk, coffee, and maple syrup or vanilla.  Heat until very warm but not boiling.
Add cinnamon syrup to milk, stir to combine and thoroughly heat.
Pour latte into 4 mugs add whipped cream and whipped cream shaped leaves. Serve with cinnamon stick if desired.
Whipped Cream Leaves:  Whip 1 cup chilled heavy whipped cream with 4 tablespoons confectioners sugar to still peaks.  Reserve half of whipped cream for latte.  In disposable piping bag fitted with large leaf tip # 366 fill bag with remaining whipped cream and pipe leaf shapes on parchment lined baking sheet.  Place baking sheet in freezer until frozen.  Sprinkle with ground cinnamon if desired.
---
Print
Cinnamon Walnut Swirl Recipe
Author: Liz Bushong
Prep Time:

12 rolls

Total Time:

45 minute
1– cup warm whole milk (105–110 degrees)
1– ¼ ounce package active dry yeast
1/4 cup granulated sugar-divided
4 cups Bread flour- tested King Arthur
1 ½ teaspoons salt
½ cup vegetable oil
1 egg
¼ cup butter, melted- for spreading on dough
Filling
1 ¾ cup ground walnuts
1/4 cup granulated sugar
¼ cup dark brown sugar
1-teaspoon ground cinnamon
1-teaspoon dark unsweetened cocoa
¼ cup whole milk
¼ cup butter
1 egg yolk
½ teaspoon vanilla
¼ teaspoon salt
Instructions
Dough:  In small bowl, combine milk, yeast and 1/8 cup sugar, let stand 5 minutes to proof .In separate mixing bowl, combine flour, remaining 1/8 cup sugar, and salt. Set aside.  In bowl of stand mixer, fitted with dough hook, add milk mixture, oil and eggs. Beat to combine, gradually add flour mixture.  Beat until smooth. Dough will be soft.  Add additional flour if too sticky. Place dough onto a lightly floured surface knead until smooth and elastic about 5 minutes.  Coat mixing bowl with cooking spray and place kneaded bread into bowl. Cover and let rise in warm place until double about one hour.
Meanwhile, prepare filling.  In saucepan, bring to soft boil milk and butter. Set aside. In small mixing bowl, add nuts, sugars, cocoa, yolk, vanilla and salt.  Gradually add milk butter mixture to nut mixture. Stir and set aside. Lightly grease 1-9" spring form pan with cooking spray and line bottom with parchment paper.  Set aside.
On lightly floured surface, roll out dough into a 10 x 15 inch rectangle. Brush dough with melted butter, sprinkle with nut filling to within one inch around the edge.  Roll up dough starting at long side, jelly-roll style, pressing edge to seal.  Cut into 1-inch slices and place in spring form pan.  Cover and let rise in warm place for one hour or until doubled.
Preheat oven to 350.  Bake rolls for 50 minutes. Check at 20 minutes to see if rolls are darkening.  Cover with foil and continue baking if needed.  Allow to cool remove from pan. Drizzle with Cream Cheese glaze.
Notes
Cream Cheese glaze:  1- 4 ounce package cream cheese, ½ teaspoon ground cinnamon, 1 teaspoon vanilla, 1 cup confectioners sugar and 4 tablespoons whole milk.  Beat all ingredients together until smooth. Drizzle over rolls.
---
Print
Snickerdoodle Cookie Recipe
1 cup shortening
1 ½ cups granulated sugar
2 eggs
2 ¾ cup all purpose flour
2 teaspoons cream of tarter
1– teaspoon baking soda
½ teaspoon salt
1-teaspoon vanilla
Coating:  ½ cup granulated sugar + 1 teaspoon ground cinnamon
Instructions
Preheat oven to 400.  Line baking sheets with parchment paper, set aside.
In large mixing bowl, cream together shortening and sugar until thick and creamy.
Add eggs and vanilla beat until mixed.
Sift together flour, cream of tarter, baking soda and salt in separate bowl.  Spoon blended flour mixture into cookie dough.  Beat dough to blend but do not over beat.
Mix together coating in small bowl, set aside. Roll dough into 1" balls, roll into cinnamon and sugar coating.  Place balls on baking sheet 2" apart.  Bake at 400 for 8-10 minutes.
Notes
This recipe was share by Mrs. Patricia Crafton.  Liz's high school home economics teacher.
---
Written By: Liz Bushong
Liz Bushong is an expert in the three-dimensional art of entertaining. She transforms simple dining occasions into beautiful and memorable moments by adding a touch of her own "sassy style". For the past several years Liz has been entrusted to decorate several high profile homes for the Holidays including the White House, Vice Presidential Personal Residence, Governors mansions and more. She is a featured monthly guest chef/designer on regional CBS/ABC Affiliates Daytime Tri-Cities, Daytime Blue-Ridge Roanoke and other television shows. Liz is the author of Just Desserts and Sweets & Savories cookbook as well as a contributing writer for several magazines including VIP SEEN & Lovely Bella.
All recipes, food styling, photography and article are created and developed my Liz Bushong.
Please link this website if you reference any content in this article. Thank you!