Hot Pink Party Balloon Arch has over 400 small, medium and large hot pink, pink, orange and white polka dot balloons to fill this chicken wire base draping from wall to wall.  So pretty for a bridal shower, birthday party or anytime you want to celebrate!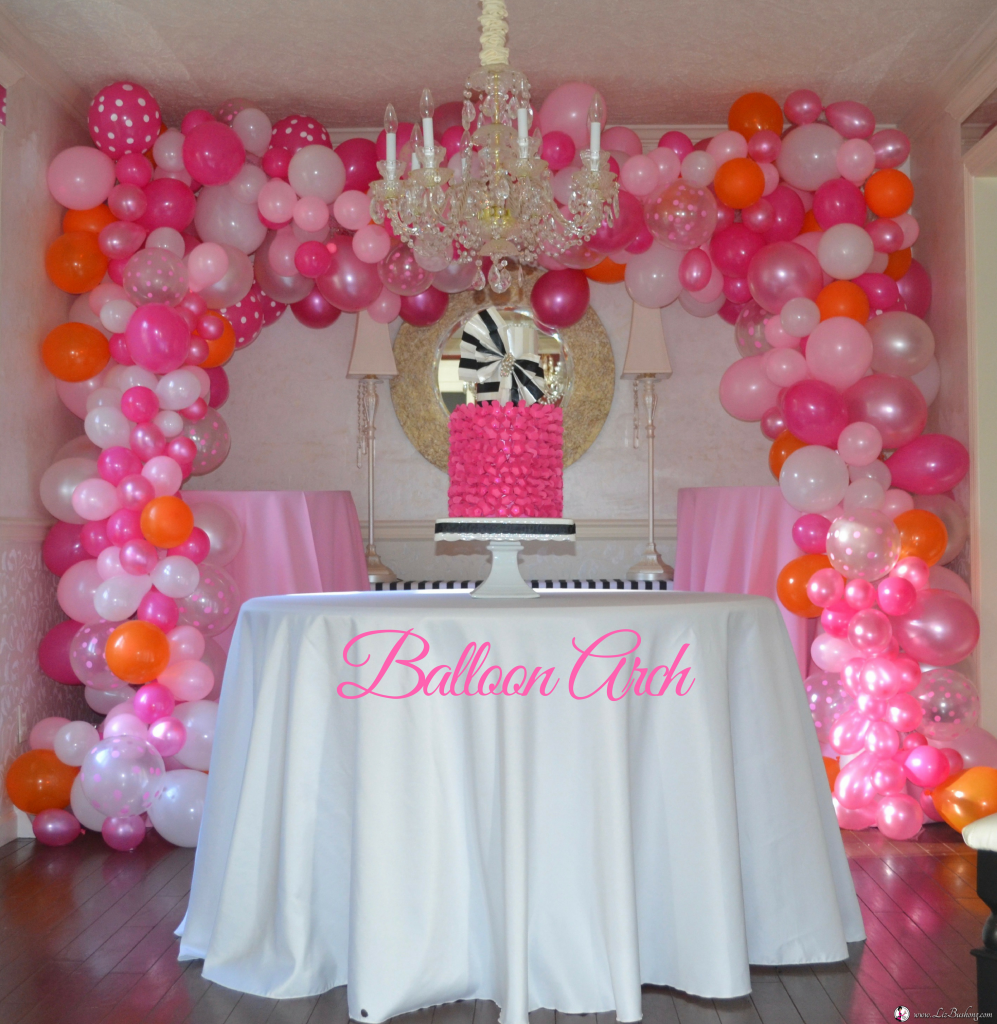 Tip: 1  Purchase more balloons than you think you will need.
Tip 2:  Select 3 colors and several assorted textures, polka dot, clear, solid, large, small.
Tip 3: Start up to 4 days before the event to fill the balloons and build arch.
Tip 4:  Buy a Balloon pump.. best $3.00 investment to fill balloons.  No helium here.
Tip 5:  Attach 6 " strips of clear packing tape through opening space of the chicken wire, attach balloon tied end to the tape and pull through the wire.  Make rolled tape folds to attach balloon to balloon if necessary to hold it in place.
Tip 6: Secure chicken wire in three places with 12 x 2″ wide boards on the back side of the  24″ wide chicken wire, center and both sides of the center board for balance.
Tip 7: Clear fishing line and eye screws  attached to the ceiling and around the wall to help secure the arch frame.  Watch for sharp edges on the cut wire edges.  Tape the raw edges.
Tip 8: Select a variety of the balloons, in different sizes but all in the same color family with one color for punch. Orange was the pop of color that this arch needed. ( no pun intended).  Party City was a great source and the balloons were great quality.  The balloon arch lasted 8 weeks in my home.  The event was in mid September and the house was cool.
Hope you will plan a Bridal Shower, Brides Maid's luncheon, or even a Birthday Party using Hot pink, Black and White.  It is a fun color scheme and everyone will be Tickled Pink!
This was featured on WJHL Daytime Tri-Cites- Hosting Wedding Parties Series.