Whether tailgating or having friends over for dinner, creating a Charcuterie & Cheese Board will be the main attraction.  Basically creating a pretty presentation with deli meats and variety of cheeses make this appetizer platter hard to resist.
Red, green and purple grapes, spreads like fig, honey, pepper jelly, and assorted crackers and breads round out the tapas.  Create a Charcuterie for Two when celebrating special occasions.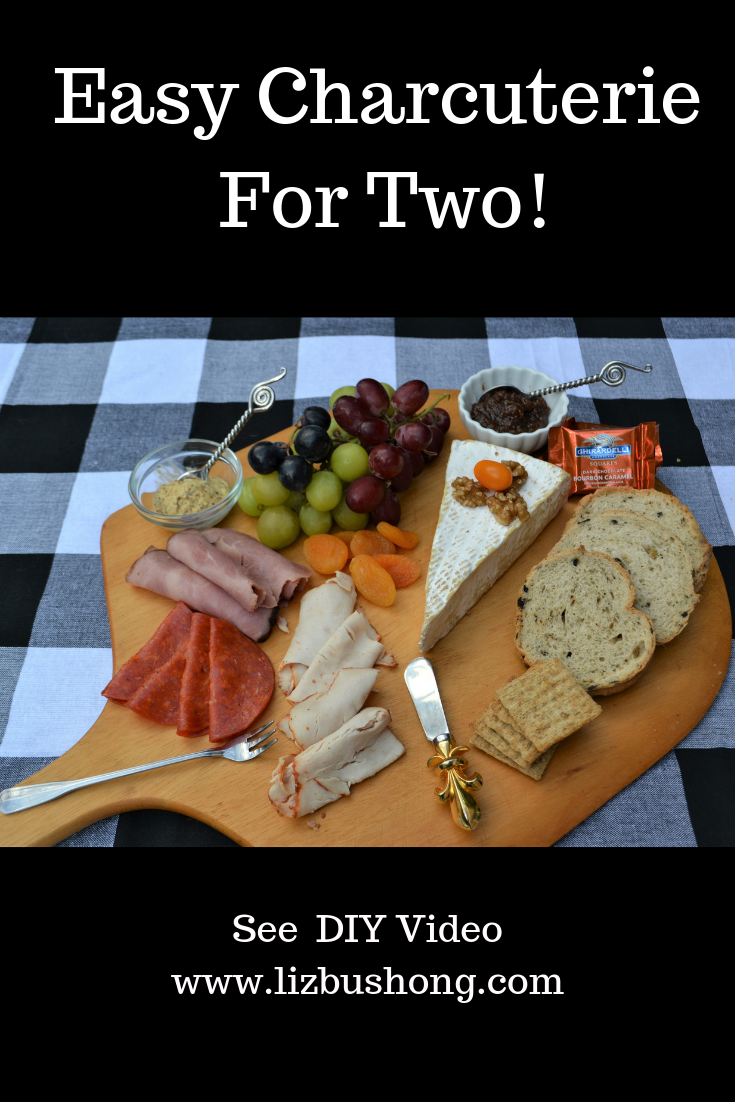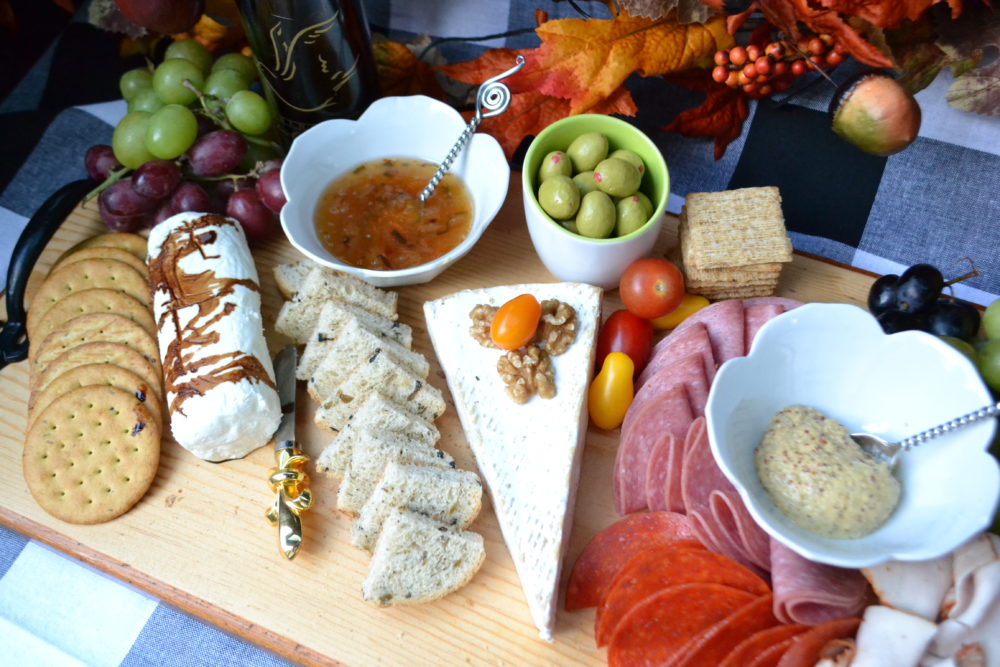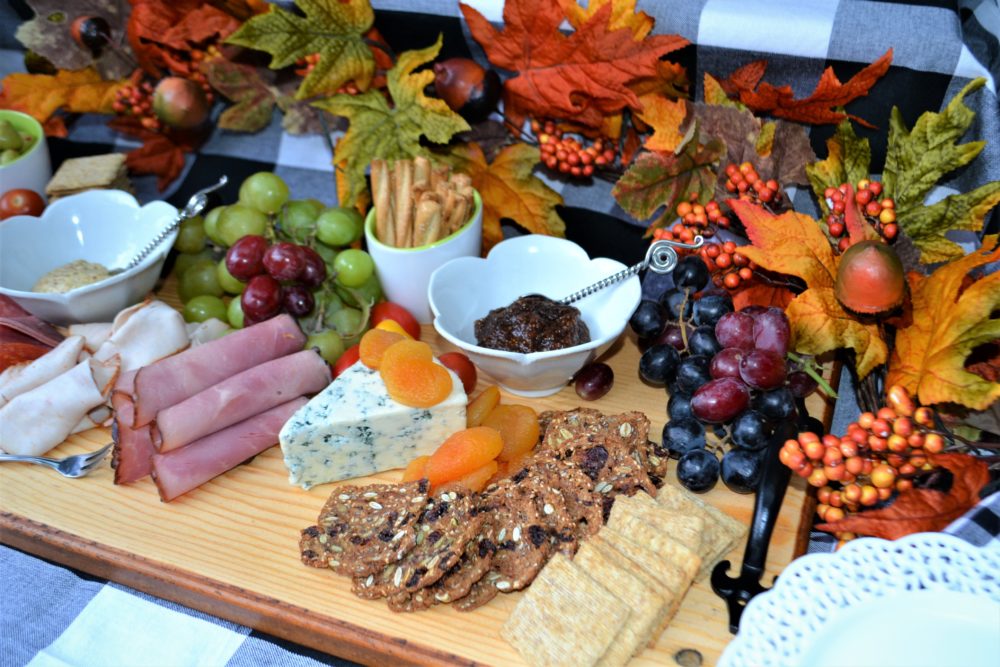 Selecting Items for Board
Select 3 different types of cheese, sharp, medium and creamy type cheeses, like blue cheese wedge, brie and goat cheese as in a log.
Think about the various flavor combinations that coordinate with the cheese and meat. Usually 3 deli meats works well with the 3 cheeses.
Meats such as salami, pepperoni, black forest ham, smoked turkey works well, think about smoky, peppered and mild spiced meats.
Select assorted crackers and crusty breads for the display.
Add colorful accents as in pick up fruits like red, green, purple seedless grapes, raisins,  dried fruits, nuts, and chocolates.
So what is a Charcuterie?
Simply, Charcuterie is a French term meaning cured meats, it is a fun word to say too…(shahr-cute-uh-ree).   What made this special appetizer board special was the board it was served on.
You can make your own Charcuterie and Cheese Board.  See instructions here.    
Consider Charcuteries for tailgates, weddings, &  impromptu entertaining.  Check out the Charcuterie for Two (below photo) that features a mixture of American, Italian and Mediterranean flavors.  No rules here. Make it your own.
To make your own Cheese Board Table Runner click here.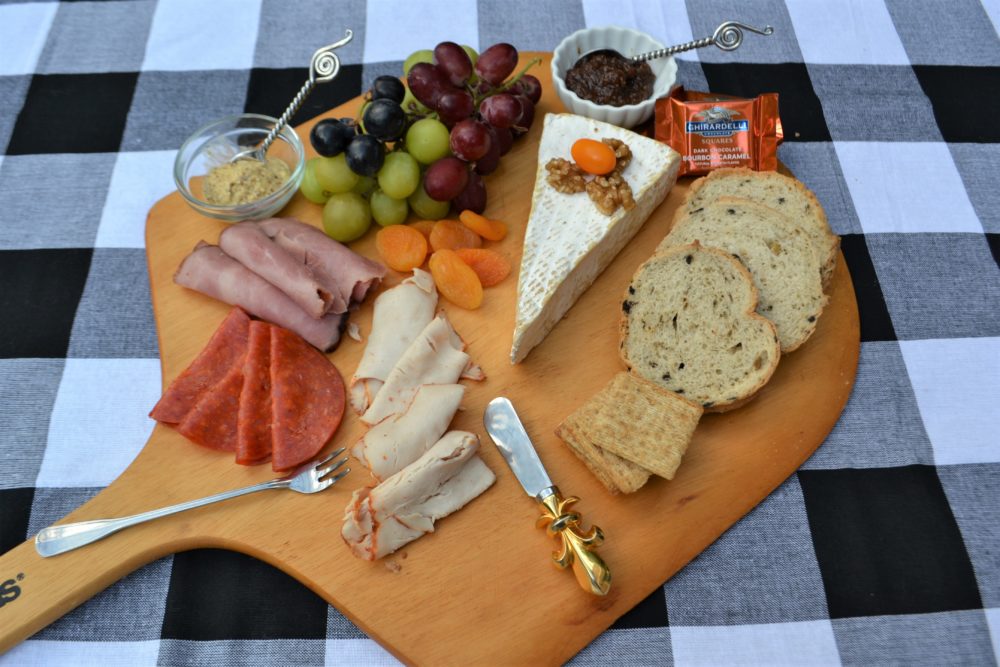 Fall Tailgate.  So much fun to create.. easy too.  A real show stopper for your game tailgates.   Have fun creating your own Charcuterie Board.  Enjoy!
Other ideas you might like to try: