DIY: Tissue Paper Flowers are beautiful wall accents for dessert tables or  any party occasion.  Instead of a plain white wall, sassy it up with red, white and black tissue paper and card stock flowers.  Here is an easy tutorial that will show you how to create your own blooming beauties.   
DIY: Tissue Paper & Card Stock Flowers
This red blooming beauty is 36″ wide and 36″ tall.  The flower is made with 35 sheets of tissue paper, 7 sheets per petal.  This flower has 5 petals.  The way the flower is folded and trimmed creates the center cluster with a separate tissue paper folded and cut  black fringed center blossom.   Don't worry I will show you how to make these.  Once you make one, you will want to make more and in different sizes.  I will also show you how to make card stock flower petals on separate post.   I love both kinds and both take about the same amount of time. See DIY| How to Make Card Stock Flowers for step by step instructions.
These flowers look great behind a dessert table.  The  festive wall of hand-made tissue and paper flowers will bring great big smiles to your guests gaze a the summer wall garden.  Each flower bursts open with red, black or white centerpieces and arranged on the wall touching each other for impact and drama for a dessert table.
The large tissue flowers are made from tissue paper that is accordion pleated, paper clipped and edges cut to resemble flower petals. Each petal is spread open into a blooming flower and glued to a cake board round for support and attached to the wall with command strips.
DIY: Tissue Paper Flower|Tutorial
Materials Required | One 36 x 36″  tissue paper flower
35 sheets of 20 x 26″ wide tissue paper-color of choice- red demonstrated
1 sheet of 20 x 26″ wide tissue paper -black for center of flower
wooden flat ruler
glue gun & glue sticks
large paper clips
scissors
12″ round cake boards- used Wilton
DIY: Tissue Paper Flower |Tutorial-Step 2
Count out 7 sheets of 20 x 26″ wide tissue paper- color of choice. You will need 35 sheets total, counted and separate 7 sheets into 5 stacks.  These stacks are your petals.
Beginning at the 20″ side of tissue paper, fold over a 1″ wide  accordion pleat, continue pleating entire piece of tissue paper
DIY: Tissue Paper Flower |Tutorial-Step 3
Measure 7 " from one end of flower and paper clip it.  This small 7 " piece creates the center tight cluster of flowers, not the stamens which will be black tissue paper.  With scissors, clip the end round like photo below.
DIY: Tissue Paper Flower |Tutorial-Step 4
Fan out the cut edge and begin separating each tissue paper sheet, pulling it up and to the center gently.  Be careful not to tear the paper.  Don't be concerned if the paper will not go all the way to the paper clip when raising up the sheets.  It is thick and don't force it. You are creating the center cluster.  See photo below.
DIY: Tissue Paper Flower |Tutorial-Step 5
On the opposite end, spread open the tissue paper fan and separate three sheets from the back,  this is the outside petal,  with scissors, shape edges into a soft curve the width of the fan spread.  Repeat this process with the next 2 sheets and then the last 2 sheets.  Pull each sheet up and toward the clip  just like you did the center cluster.  See photo below.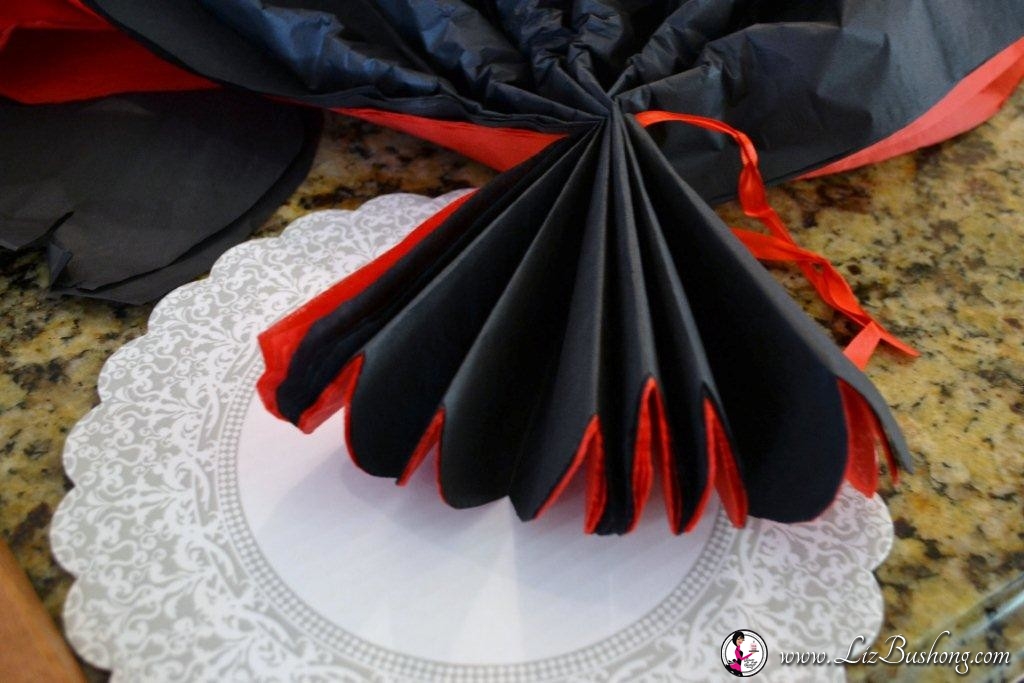 If you make the red tissue flower that has the black center then the red cluster, this is what the accordion pleat would look like.  You use 4 sheets of red and 3 sheets of black and pleat together, then repeat steps  3-6.  Next you will attach each of the fluffed 5 petals to the cake board with glue gun.
You can make a smaller tissue flower, more of a medium size using 3 fluffed petals glued to a 10″ round cake board.  The solid black tissue flower with red center is the medium size.
DIY: Tissue Paper Flower |Tutorial-Step 6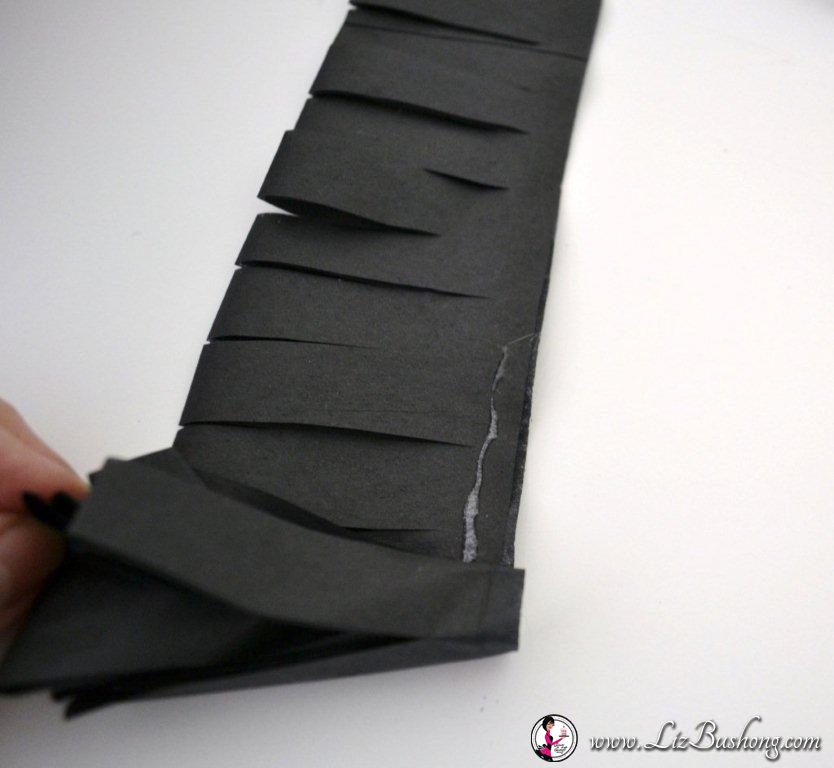 Create the stamen.  Fold black tissue paper sheet in half and then half again and cut into.  Fold one half to equal 3″ wide strip.  With scissors, cut 1/4″ wide slits along folded edge of paper.  With glue gun, place glue dot on the very end and begin rolling up away from you.  Apply glue to the entire long strip and continue rolling until it is completely rolled, this is your center of the flower.  Sometimes if I think it is too thin, I will make three of these stamens for the center.    TA DA!!!!  YOU ARE DONE!