Want to bake your own wedding cake but not sure how to do it?  Make your own Wedding Cake using this delicious super moist but firm cake recipe. The cake is firm in texture to hold the weight of the cake tiers and best of all easy to put together.
Simple cake mixes and great flavoring makes this cake easy to prepare and bake. Baking a wedding cake takes some planning.  Be sure to  practice baking this cake before the big day so you feel confident about the process.
This recipe makes 7- 1/2  cups of batter. Determine the size of cakes, cake tiers and layers you need before making the cakes.  For best results, bake one or two cake layers at a time, cool and freeze cakes until all cakes are baked.  Cakes can be wrapped when cool and frozen up to 2 months.
The cake sizes  in the photo is a two layer 6″, three layers of 10″ and 2 layers of 12″cake, skim coated with buttercream frosting and later covered buttercream white fondant. Cake layer is filled with purchased lemon filling with chocolate cake had ganache filling.  Cake flavors are vanilla & chocolate.
Other photos of the Woodsy Wedding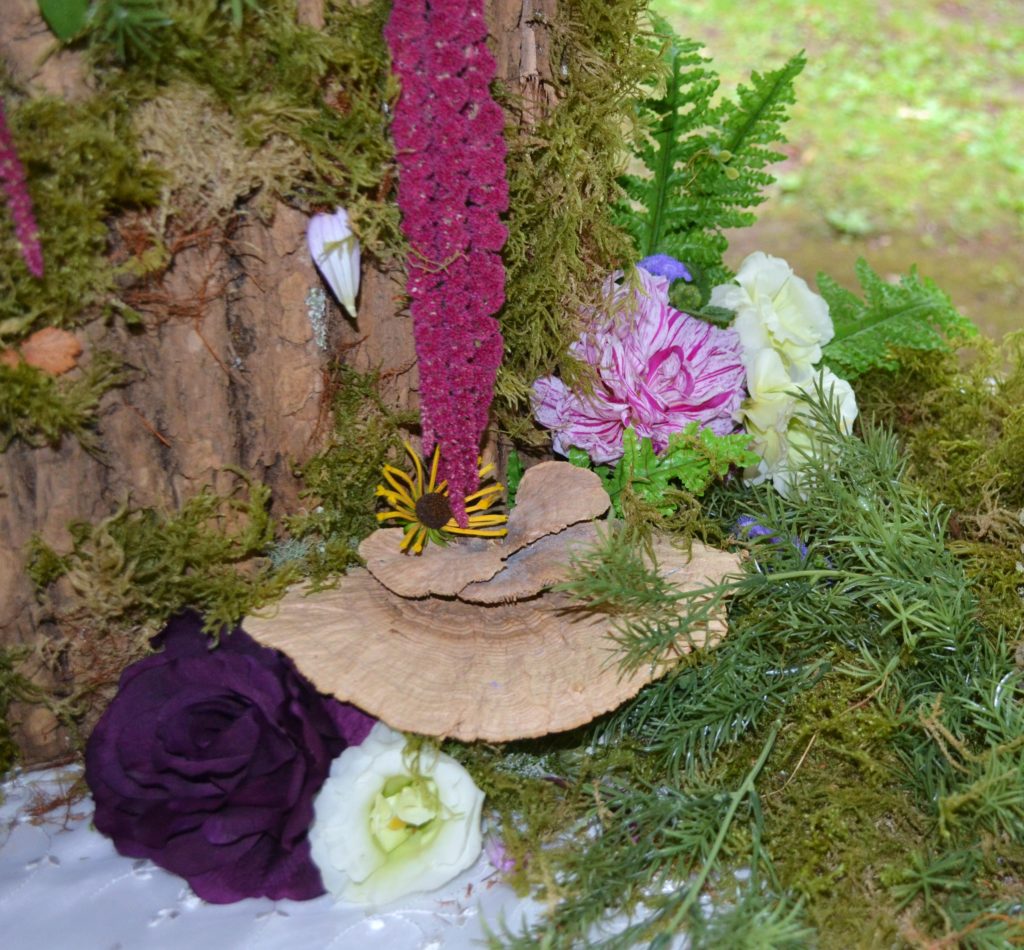 Base of Large Tree Stump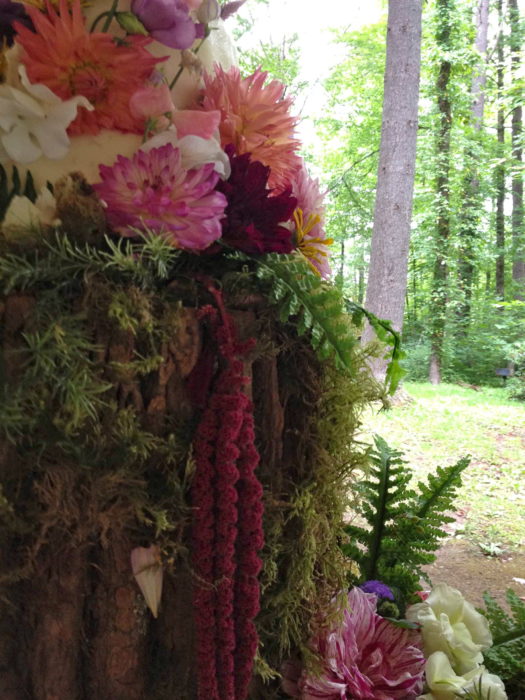 Bridal Swing with Bride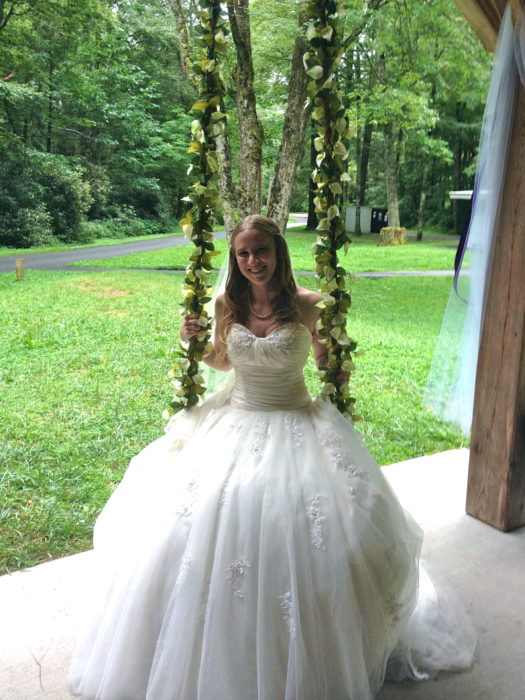 Print
Make your own Wedding Cake|Recipe
Pure white cake batter makes beautiful base for any flavors you would like to add.
Author: Liz Bushong
Prep Time:

30 minutes

Cook Time:

25 minutes per layer

Total Time:

1-6 hours

Yield:

8 cups

of cake batter

1

x
Category:

Dessert-Wedding Cake

Method:

Baking-Decorating

Cuisine:

American
1–15.25 ounce package White cake mix- tested Duncan Hines
1–15.25 ounce package White super moist cake mix- tested Betty Crocker
1/4 cup all-purpose flour
2– 2/3 cup water
2/3 cup vegetable oil
6 large eggs- room temperature
1 teaspoon creme bouquet or clear vanilla, lemon or orange extract
Instructions
1. Prepare cake pans, line bottom of pans with parchment paper, Lightly spray parchment paper with cooking spray, on both sides. Do not spray sides of cake pan.
2  Sift two white cakes mixes and flour into a large mixing bowl, add remaining ingredients and flavorings.
3.  Pour batter into prepared pans*- See note for cake pan sizes and batter amounts.
4. Bake at 350 for 30-35 minutes or until cake center comes out clean.  Let cool in pan 20 minutes, loosen edges of cake being careful not to cut into sides of cake, then invert onto cooling rack to continue to cool.  Peel off parchment paper.  This will take away to the top coat of cake crumbs, which is a good thing to happen.
5. After cake has cooled, crumb the cake*. Brush cakes with simple syrup mixture. Cover with plastic wrap until ready to crumb coat or "dirty-ice".
* To crumb coat, parchment will remove top layer of cake, slightly roll fingers on sides of cooled cake to allow any excess crumbs to be removed or rolled off of cake.  This will remove the brown color of the cakes.  These crumbs will be a problem when trying to frost your cakes if you do not crumb coat and dirty ice the cakes. This process will seal any excess crumbs and the icing layer will be smooth and pretty.
6. At this point, wrap and freeze the cakes in single layers for several hours or up to 2 months.  Frosting the cakes while chilled will make the cakes easy to frost.
7. When ready to frost cakes, make buttercream frosting or frosting of choice and "dirty ice" the cakes.  Spread a thin layer of frosting on sides and tops of cake sealing any loose crumbs in the frosting.  Chill cakes again, then frost cakes with final coat.  If covering cake with fondant, you will still need to dirty ice the cake and coat with a thin layer of buttercream.  The frosting will help the fondant stick to the cakes.
Notes
If you are not sure how much batter will be needed to fill a pan, fill glass measuring cup with water and pour into pan half full.  This will measure the number of cups of batter to use per pan.
6″ 2-Cups batter
8″ 4 Cups
10″ 6 Cups
12″ 7 1/2 cups
14″ 10 Cups
Keywords: Wedding Cake Recipe
Wedding Cake Baking Notes:
Measuring cake batter for even cake layers:  Pour batter into pans, Use a ruler to measure the exact amount of batter in each pan.  It should measure one inch.  This will ensure that your cake layers will be the same height.   Bake as recipe requires per pan and size.  Go to this link for a cake sizes and batter requirements.
Stacking Tiers: Place one cake layer on cardboard round to fit the base of the cake.. 12- inch round cake sits on a 12 inch round cake board.  Cake boards are found at any baking supply or craft store with baking supplies.   If the cake board extends beyond the cake, trim with scissors. You should not see the cake board under the cake. For complete instruction on how to stack a tiered cake, 
Filling Cake Layers: Using a pastry bag and large tip, fill bag with frosting.  Pipe a well or rim around the top edge around cake.  Next, spread your cake filling inside the rim, but not to the edges.  When you add your second layer the weight of the cake will spread the filling to the edge of the piped rim or wall.  Get frosting recipe here. 
Photo shows cake layers crumb coated and ready to be frosted before adding fondant.
After frosting cakes with finished coat, cover cakes with white fondant if desired.  I prefer Satin Ice fondant as it has the best flavor.  Check out how to travel with cakes here.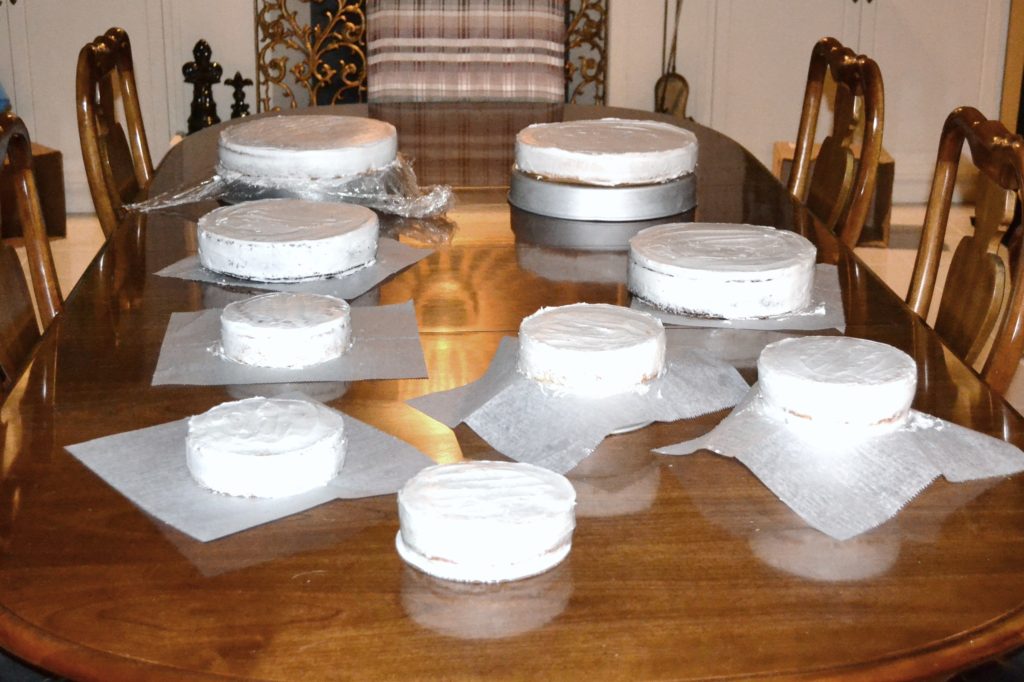 Other Ideas You Might Like To Try:
How to Make a Balloon Arch for Celebrations.