Need a backdrop for a reception table? Start with a painted Chevron Wall Canvas with large Gerber Daisies in bright colors, lime green, hot pink and orange.   This canvas could be the color inspiration for the entire event or room decor.
How to Paint a Chevron Wall Canvas| Instructions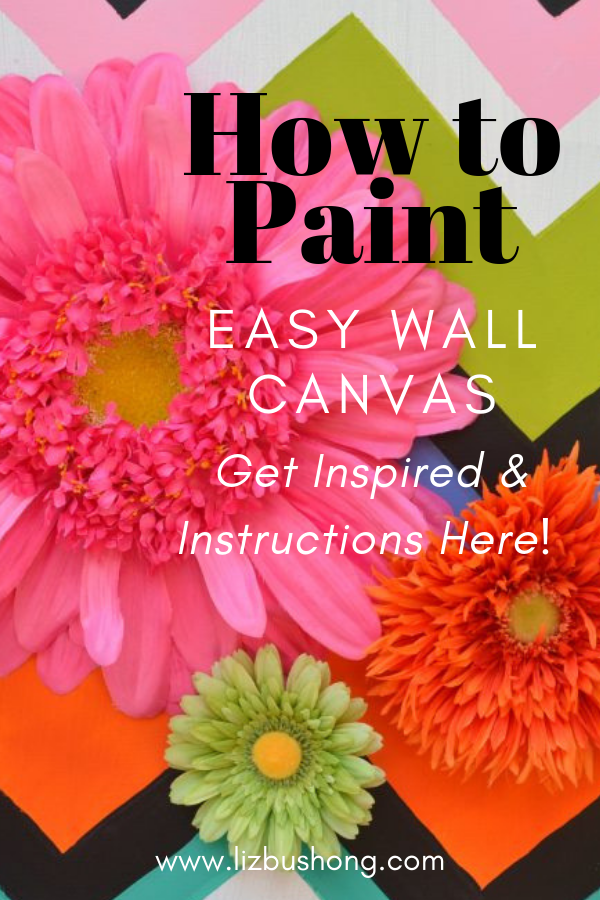 How to Paint a Chevron Wall Canvas| Materials Needed
20 x 30 inch primed framed canvas,
acrylic paints in desired colors-1″ and 2″ paint brush
Painters tape, ruler, scissors,
one large, 2 medium and 3 small Faux flowers with large heads
Staple gun & staple
Tip:  Select flowers first then your paint colors so everything coordinates 
How to Paint a Chevron Wall Canvas| Tape and Paint
Starting in the center of the canvas with the tape to create  the first row of the chevron pattern.  Keep following your pattern with tape until the entire piece is covered with the tape.  No need to measure, unless you want to.
Paint every other stripe, allowing the paint to dry between coats.  After completely dry, tape the remaining stripes and paint as before.  Do not leave the tape on the canvas over night the tape might not want to come off as well as the tape could pull the paint off the freshly painted stripes. Allow canvas to dry completely before attaching Faux flowers. This canvas does not have any kind of finish or sealer.
How to Paint a Chevron Wall Canvas| The Finish
Remove stems of flowers and cut off so the flower will lay flat on the canvas.

Hold flower head in place on the front of canvas where you want to place it and mark the position with your hand,

Turned  canvas over and stapled the flower from the back side of the canvas,

 stapling the flower in three to four places so the flower will not move when canvas is hanging on the wall.  

Repeat the process with the other Faux flowers.  

Hang on the wall and enjoy!
Other Ideas you might like to try: