S'More Pumpkin Buffet Centerpiece takes center stage with a large pumpkin and home- made marshmallows ready for toasting.  Long skinny skewers are within easy reach for guests as they gather around this table full of S'More treats.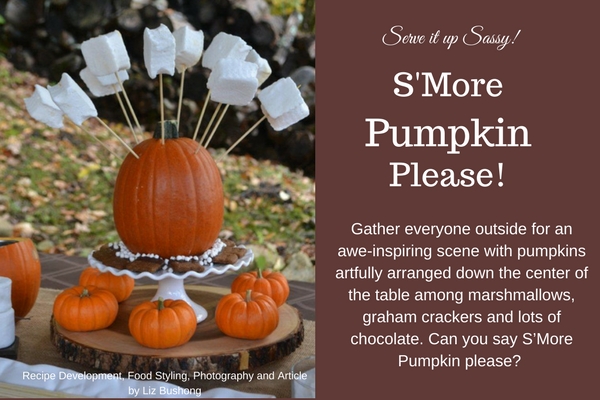 Lining a row of pumpkins down the center of a long rectangular table makes a beautiful display, This centerpiece is a small pumpkin that sits on a ruffled cake stand surrounded by tiny 1 x 1-inch square spiced graham crackers.   Making your centerpieces edible is always a simple way to serve dessert or create interest at the table.  On both sides of the centerpiece are pumpkin pie baking pumpkins that are hollowed and fitted with canned heat for tabletop roasting.   
If you want a unique table centerpiece that would also be dessert, bake a cake in the shape of a pumpkin and see if anyone can guess which one is real and which one is cake?   Kids will love it.
To see more about the Dessert Buffet check out Magazine Articles on Home page.
Make a Statement, Make it Sassy and Make it Yours! ®