Create a lovely White Tulip Porch Pots for Spring using faux silk flowers. The look of fresh cut blooms can be yours with silk white tulips.  Domed styrofoam for silk flowers inside a 9″ plastic pot shapes the height and direction of the tulips.  Once completed the pot sets inside a larger planter filled with soil that secures the pots in place as well as easy to remove when it's time to plant summer blooms.
Gather materials for this DIY Project
You will need for one pot. Double materials for two pots.
40 silk white tulips or 4 bunches with 14 tulips
3 silk floral foam blocks wire cutters,
2 long wooden skewers
package of green moss,
5 pieces of spiller greenery,
10″or 11″ silk floral styrofoam round sphere,
serrated edge cutting knife and wire cutters
green spray paint- optional
9″ plastic pot and brown paper bag.
Glue Gun & glue
How to Make the Tulip Porch Pot
I purchased my florals at Michaels Craft Store, they were having a 40% off sale,  Yeah!  Also I had the brown 9″ pot which worked perfectly for the arrangement.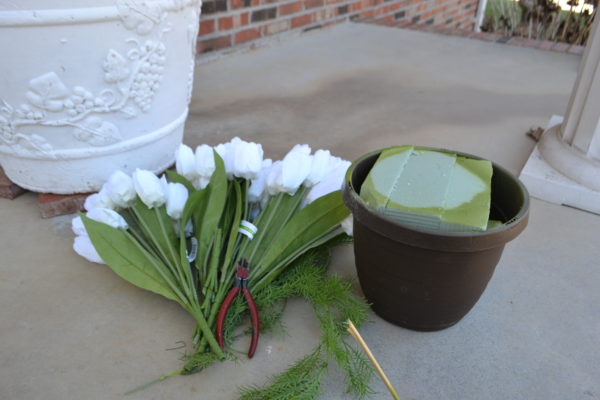 Fill 9″ round plastic container/pot with crumbled brown paper.  Add three blocks of styrofoam blocks on top of the paper and tightly in the pot. Trim with serrated knife to fit if necessary.
Spray paint round styrofoam ball
Spray paint half round styrofoam if it is not green. Add half round of styrofoam, use 2 long wooden skewers to connect the sphere to the foam in the pot and hot glue if necessary. Clip ends of skewer so they are flush with the surface of the foam.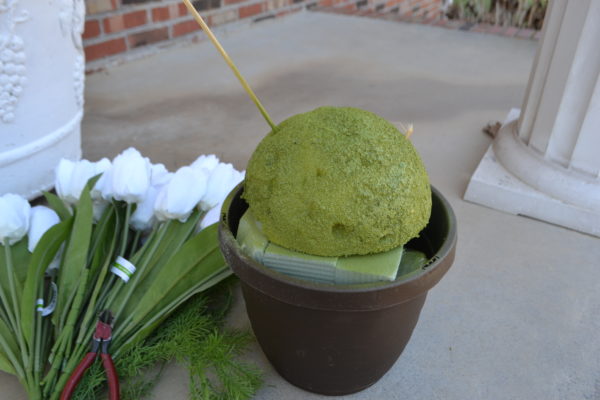 Cover dome with moss using hot glue or floral u-pins.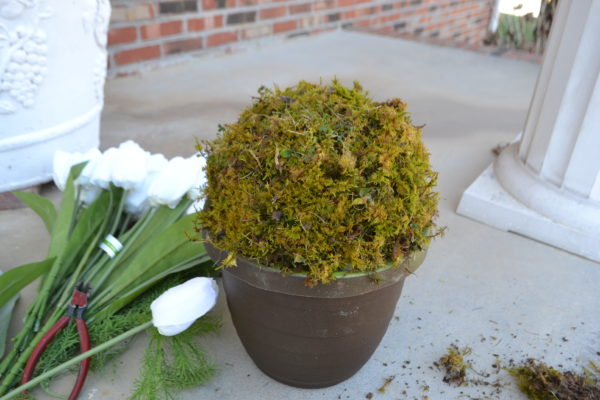 Clip apart tulips with wire cutter from bundles.  I used about 40 white tulips per container. Be sure to remove price tags.  ha ha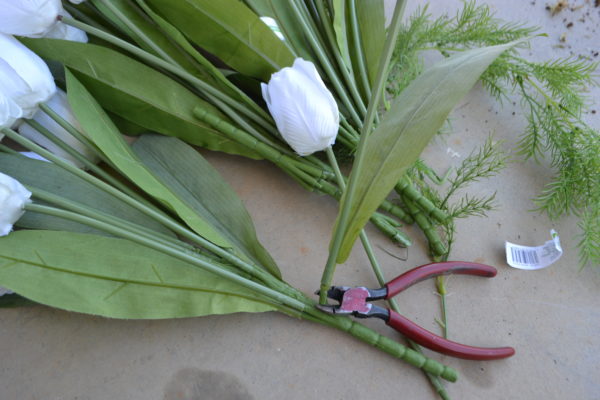 Insert stems into styrofoam sphere first, balancing tulips around the arrangement. If necessary wire the leaves to the tulip.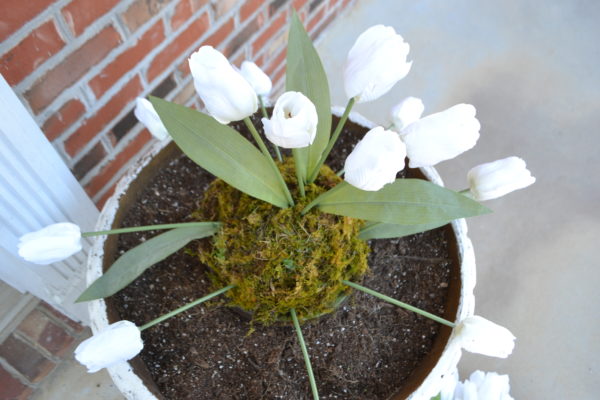 Continue filling in the arrangement with tulips all around the pot.   I inserted the pot into the dirt of existing planter.  Add spiller greenery to sides of the pot as desired.
Filling the Existing Planter
Another words I buried the pot into the middle of the soil so when the season is over I can remove the pot and keep for next spring.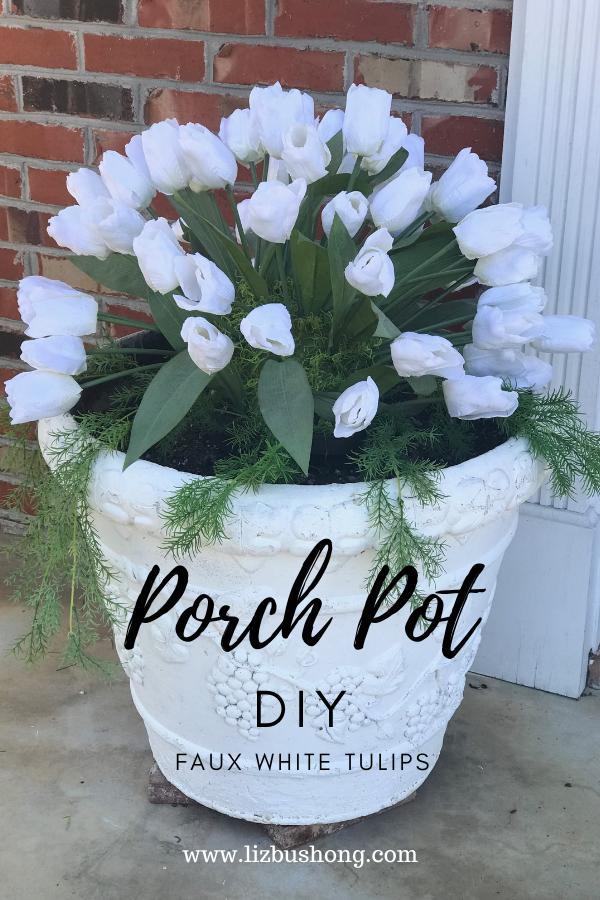 Thats It. You did it!  Hope you will make your own porch pots.  Let me know if you make one or two.  xo Liz
Other ideas you might like to try: