Want to know How to Make a perfect strawberry lemon twice baked cupcake?  Strawberry cake batter is baked in a sheet pan, cut out into heart-shapes and baked inside raw lemon flavored cupcake batter making it twice baked.  Delicious flavored cupcakes with a baked -in surprise in the middle are frosted with strawberry cream cheese frosting.
Whether celebrating Valentines day or any occasion these cupcakes are fun to make and take.  You're friends and family will love them. You will too.
So…How do you make the design in the middle of the cake?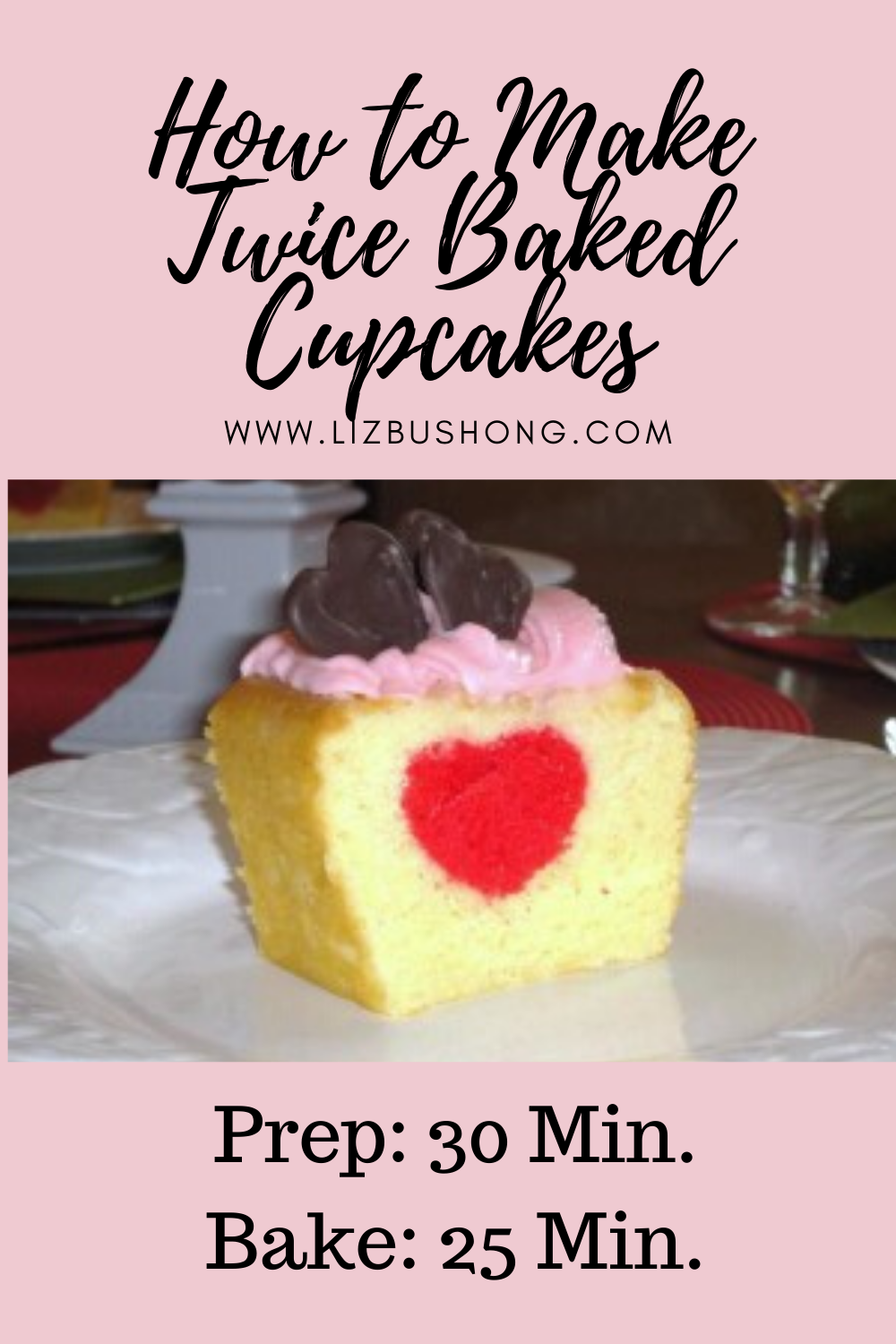 Tinted cake batter is baked in a lightly greased parchment lined 9″ x 13″ baking sheet for 25 minutes, cooled and slightly frozen for easy cutting.  Semi frozen cake makes cutting into shapes a breeze with less crumbling and exact shapes.
You will be cutting the frozen cake into heart shaped pieces or shape you desire using a 1 small sharp edged cookie cutter.  I used a 1-1/2″ cookie cutter. After cutting the pieces I  stacked the cakes firmly together and refroze until the second cake batter was mixed.
Tip:  Freezing the cakes before cutting will ensure sharp cut edges and less movement inside the raw batter during baking. 
Tip:  Spray the cookie cutter with cooking spray for ease in cutting the frozen cake. 
You can make cupcakes or place frozen cake shapes inside a bread loaf pan.  Place 1/2″ of raw batter into bottom of greased and floured loaf pan, add the row of baked cakes into the center of pan. Cover the cakes with remaining raw batter and bake as recipe directs.
Because this recipe is so good, you might want to double it to make more cupcakes.  Cupcakes freeze well before frosting.
Photo shown is cake baked in a mini loaf pan.  Use same technique for twice baked as instructed only stack 10 or more hearts together, down center of mini loaf pan with points of heart upright facing you.  Cover with remaining raw batter.  Bake, cool. Frost individual loafs unless freezing.  Makes 2 mini loaves. When cakes are turned out the heart will be in the correct position when slicing. 
Grab the recipe for Twice Baked Strawberry Lemon Cupcakes
Print
Twice Baked Cupcakes
Strawberry and lemon flavors are featured in this recipe with a baked in strawberry flavored heart cake inside the cupcake.
Author: Liz Bushong
Prep Time:

20 minutes

Cook Time:

25 minutes

Total Time:

90 minutes

Yield:

10

-

12

cupcakes

1

x
Category:

Dessert- Cupcakes

Method:

Baking

Cuisine:

American
1– package lemon cake mix- tested Duncan Hines
3 eggs
1–1/3 cup water
1 /2 cup vegetable oil
1 package JELL-O® Lemon Instant Pudding, dry mix
1 teaspoon lemon extract- base cake
2 teaspoons strawberry extract, for center cakes
4–6 drops of super red food gel, for center cakes
Strawberry Marshmallow Cream Cheese Frosting
1– 4 ounce package cream cheese, softened
2 tablespoons butter, softened
1–2 teaspoons milk or half n half
1 teaspoon strawberry jam
1/2 teaspoon strawberry extract-optional
1 drop red food gel if needed
1/2 cup marshmallow creme
1 cup confectioner's sugar
Garnish:  fresh sliced strawberries right be serving, of chocolate candy hearts. all optional.
Chocolate Candy Hearts
1 cup chocolate chips or candy melts
Instructions
Preheat oven to 350.  Line cupcake pan with liners.  Spray with cooking spray, set aside.  Line 9 x 13″ baking sheet with parchment paper and lightly spray to coat. Set aside.
In large mixing bowl, mix one lemon cake mix, 3 eggs, 1 -1/3 cups water, 1/2 cup oil and lemon extract.  Beat for two minutes to blend.  Measure 2 cups of batter and place in a separate mixing bowl.
Add drops red food coloring or coloring desired, and two teaspoons of strawberry extract…or flavoring of choice to the reserved 2 cups of batter.
In a parchment lined 9 x 13 inch baking sheet, (sprayed with cooking spray parchment and the pan) spread red batter into all corners and evenly as possible into the pan.
Bake for 10-12 minutes at 350 degrees or until cake center is done.
Cool red cake in freezer until semi solid.
Using a mini heart shaped cookie cutter, cut cake into mini hearts.
Press together up to three hearts together, wrap and freeze 10 minutes.
Fill muffin cup with 1 tablespoon remaining 2 cups lemon cake batter, position hearts with point of heart into cake batter. Cover with remaining raw cake batter.
Make sure heart  or cake cut out does not move when adding the raw batter.
Completely cover the tops of the hearts then smooth out gently with the tines of a fork. At this time you may want to clip or pinch the sides of the cupcake liners to see where the heart is before baking and frosting.
Bake cupcakes 22-25 minutes until cakes are fully baked
Strawberry Whipped Cream Cheese Frosting
In mixing bowl, beat cream cheese and butter together until smooth.
Add strawberry jam, extract and food coloring, beat to mix.
Add marshmallow creme and beat for a few seconds to blend.
Add confectioner's sugar, beat to smooth and creamy consistency. Add milk if necessary for smooth consistency.
Using a 1 M decorating tip and piping pastry bag, pipe frosting onto top of cupcakes.
Refrigerate until ready to serve.
Recipe will make 2 -1/2 cups of frosting or frost 8 -10 cupcakes.
Garnish is optional.  Suggested fresh sliced strawberries or chocolate hearts.
Chocolate Hearts
Place chocolate candy melts in disposable pastry bag with no tip. Heat water in glass measuring bowl then immerse pastry bag into warm water. Allow chocolate to melt. Clip 1/8 inch off pastry bag and pipe heart shapes on to wax paper. When hearts are set up then add to cupcakes.
Other Ideas you might like to try: