Double Crust Pumpkin Tart with whipped cream and pecan toffee recipe features cream cheese, layer crust, and pumpkin filling a new twist on old favorite. Bake, cool and top with whipped cream and pecan toffee pieces. Recipe for pecan toffee is included.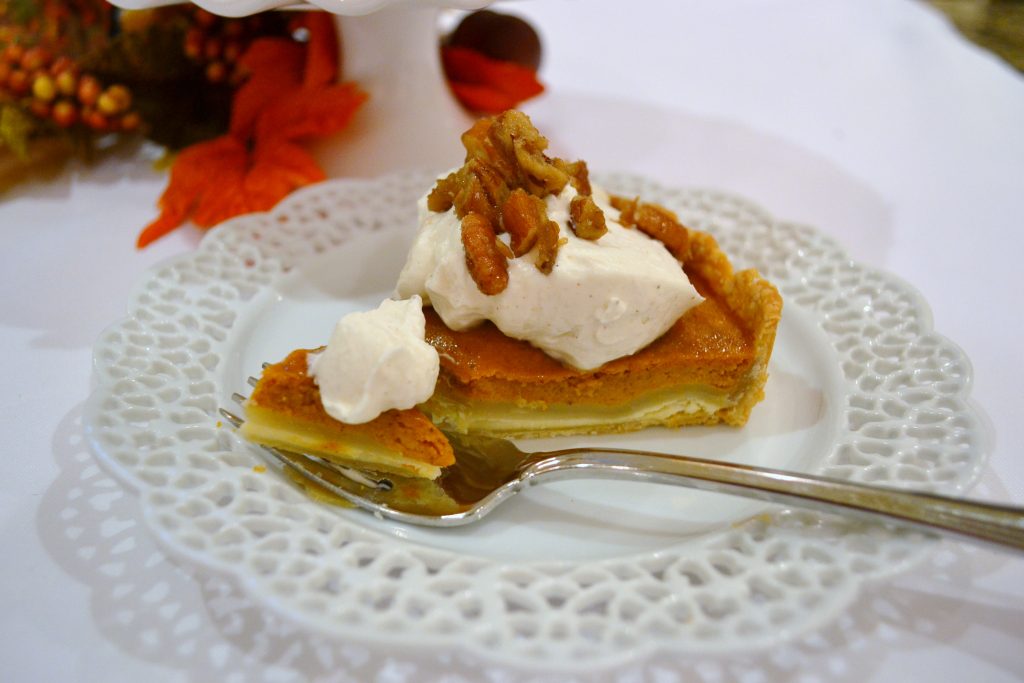 Print
Double Crust Pumpkin Tart
Tart
1 (14.1oz) package refrigerated piecrusts
1–16-oz) can pumpkin-*tested Libby's
1–14-oz can sweetened condensed milk
2 eggs, beaten
1teaspoon ground cinnamon
½ teaspoon ground ginger and nutmeg
¼ teaspoon salt
Filling
1–8oz package cream cheese, softened
¼ cup granulated sugar
½ teaspoon maple syrup
1 egg
Pecan Toffee
½ cup firmly packed light brown sugar
4 tablespoons butter, softened
1 cup chopped pecans
Whipped Cream
2 ½ cups heavy whipping cream
½ cup sifted confectioner's sugar
½ teaspoon pumpkin pie spice
Instructions
Prepare tart: Preheat oven to 350 F.
Fit one piecrust into a 9" deep tart pan with removable bottom. Do not press crust to rim.
In medium bowl, mix together cream cheese filling ingredients.
Spoon cream cheese filling into bottom of crust in pan.
Place remaining piecrust on top of cream cheese filling.
Press two crusts together into fluted edges of tart pan.
Bake in oven for 7 minutes. Remove from oven and while warm, gently edge crust up the sides of pan as the crust during baking shrinks.
In a large mixing bowl, whisk together pumpkin, condensed milk, and eggs, cinnamon, ginger, nutmeg and salt.
 Pour pumpkin filling into tart pan.
Bake at 350 for 5-55 minutes or until done in center of pie.
Cool completely on wire rack.  Cover and chill 8 hours.
Prepare pecan toffee; in saucepan cook brown sugar, butter and pecans, stir to coat 2 minutes or until brown.
Pour mixture on a lightly greased parchment lined baking pan, cool completely then break into pieces.
Prepare whipped cream; beat whipping cream and spice at medium –high speed with mixer until foamy, gradually add sugar and beat until soft peaks form.
Top tart with whipped cream and pecan toffee pieces.
*If you don't have a deep tart pan cut all filling recipes in half.