Look to nature for this beautiful woodsy themed table. This table scape features DIY wood rimmed chargers and natural acorns made into napkin rings, colorful fall leaves, end of summer hydrangeas, fresh red apples and cranberries that balance the overall feel for fall.

How to Set a Woodsy Table
begins with gathering items from your yard, like leaves, acorns, hydrangeas. Creating table decor using acorns and wooden discs is a fun DIY that will make your table beautiful. These items are free and will inspire you to create a pretty table or home decor for fall.
In addition to the woodsy outdoor elements I used a fall inspired placemat to ground the place setting while a white table cloth provided a solid base for the overall table scape.
Taking Center Stage was the Woven Basket Centerpiece
filled with fresh gala apples, leaves and berries. A wooden pick was inserted in the base of each apple and stuck in the floral foam in basket. The faux fall leaves covered the foam and filled the empty spaces of the arrangement between the apples.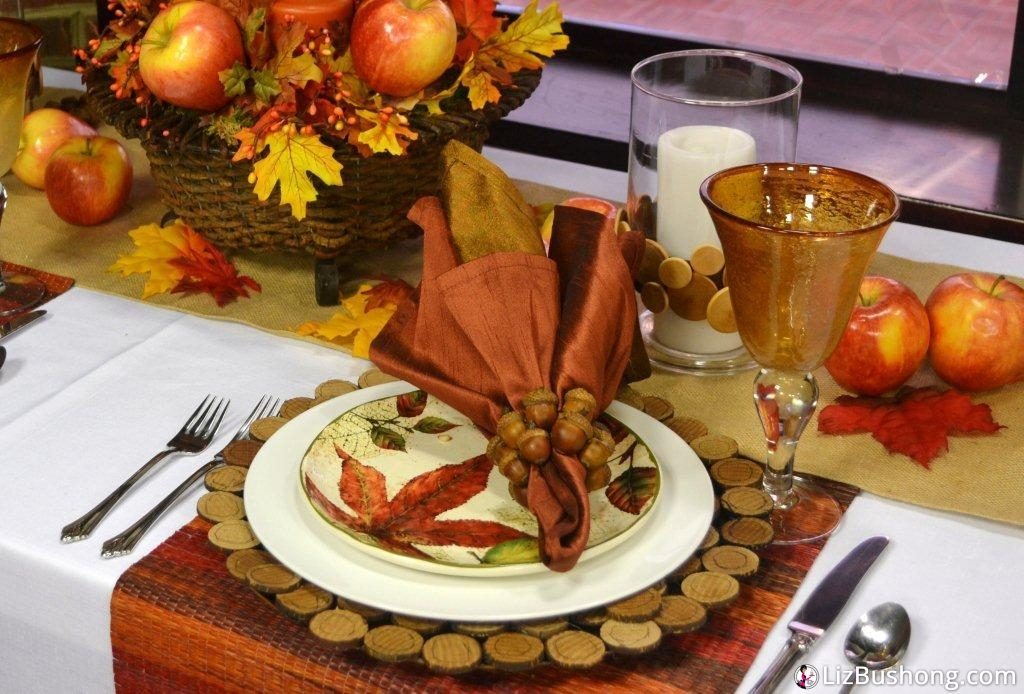 How to Make the Napkin Rings
The napkin rings are small acorns that I had in my yard. Figuring out how to drill a tiny hole in the side of the acorn without hurting myself was a challenge. But… I finally got the hang or rather the feel for the drill and drilled the holes. After washing the acorns, I stained them with a cherry stain. This helped even out the rich color and added a bit of shine to the acorns.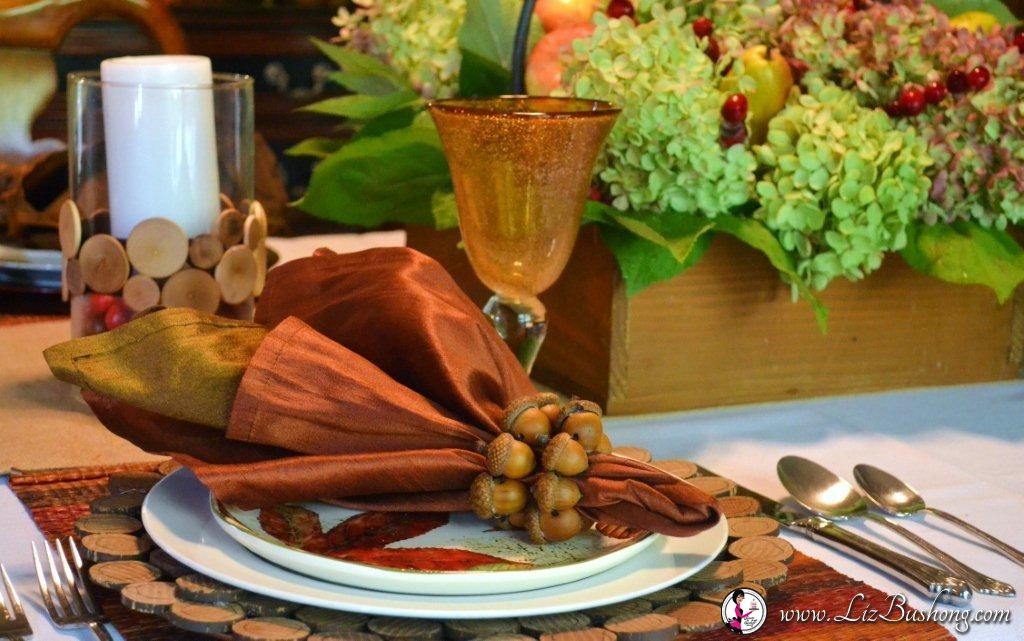 Using a black, small beading elastic cording, I threaded the cord into each acorn. There are 7 acorns per napkin ring. After the acorns were strung, I tied the two ends of the cording together to make it into a circle. I used two napkin rings just because I wanted a larger impact on the napkin, but you could just use a single ring.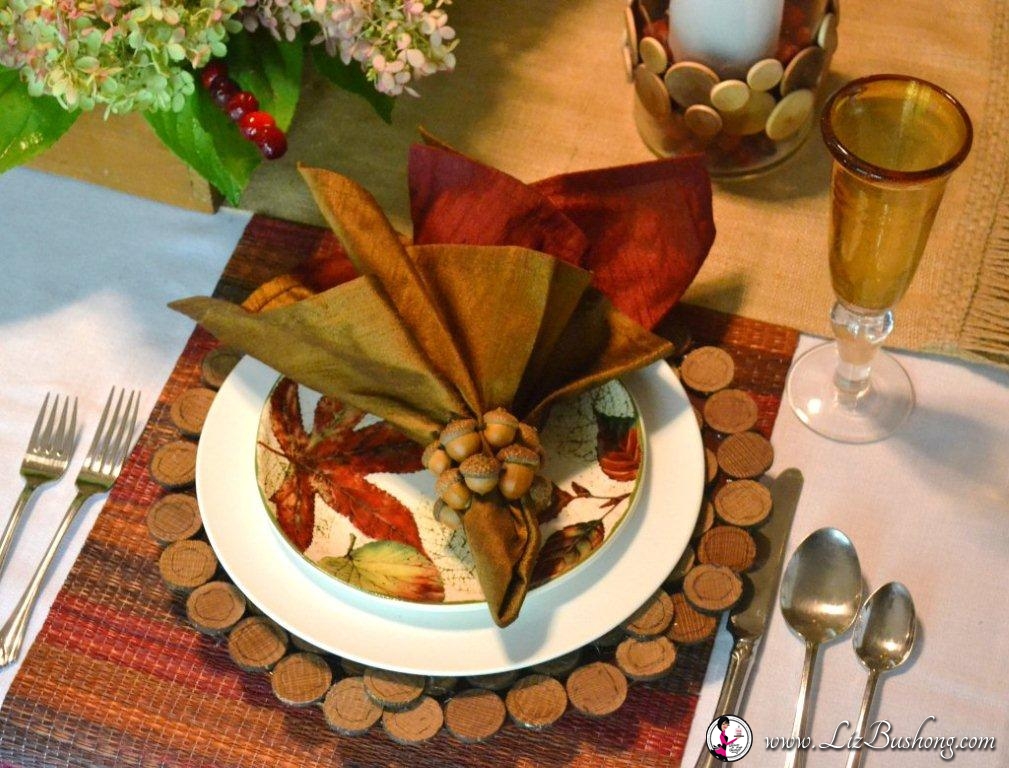 Back to Setting the Table-The Place-setting
The charger was a gold that I spray painted with a cherry almost dark brown spray paint. When dried, round wooden discs were glued all around the rim of the plate. Believe it or not, the round disc were 1/4 inch slices from a dowel rod. Once cut the sides of the slices were painted black and the tree circle was added with a black marker.
I found the wooden rounds on Amazon for they had a bag of large and small rounds I used for the remaining elements of the table setting. In addition, the rounds were used as the band around a candle holder by hot gluing to a brown ribbon that was attached as a cuff around the glass candlestick for a centerpiece.
Add bronze, copper and burgundy napkins, beverage glasses and flatware and this table is complete.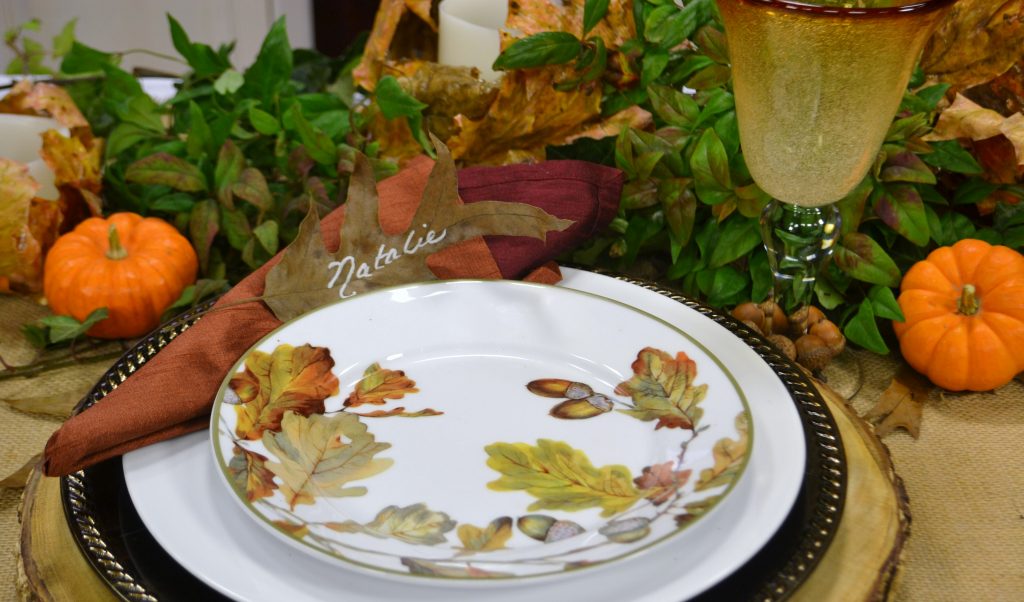 Acorn inspired salad plates from Williams and Sonoma a few years ago.
Other Ideas You Might Like to Try: