Print
Braided Almond Roll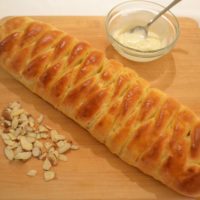 Sweet yeast dough is rolled into a rectangle with almond filling lining the center of the dough.  1″ dough strips are cut on each side of filling and layered over the center to form a pretty braid.
Scale
Ingredients
4 cups all purpose flour
2 Tablespoons granulated sugar
1 teaspoon salt
1/2 cup butter, chilled and diced
2 eggs
1/4 cup warm water (105–110 degrees)
2 teaspoons granulated sugar
1 package active dry yeast
1 cup evaporated milk
1 can solo almond filling
Egg Wash:  1 egg + 1/2 teaspoon water
Confectioners Glaze
1/2 cup confectioners sugar
2 teaspoons half n half or cream
1/2 teaspoon vanilla or creme bouquet extract
Slivered or sliced almonds
Sift flour with sugar and salt.
Add butter to flour mixture, crumble until mealy.
Heat water to 105-110 degrees, add sugar and yeast. Let proof 5 minutes.
Add evaporated milk to yeast mixture, add eggs.
Mix until smooth in large mixing bowl with dough hook. Do not add additional flour. dough will be sticky and not separate from sides of mixing bowl.
Cover mixing bowl with plastic wrap and refrigerate overnight.
Let dough come to room temperature.
Divide dough into 2 sections.  Roll dough on floured surface into large rectangle. Keep other half of dough covered until ready to roll out.
Divide the almond filling in half, spread one half down the center of the rectangle. Place rectangle on parchment lined baking sheet.
Using sharp knife or pizza wheel, cut 1″ wide slices straight across each side of filling.  Do not cut into filling.
Pick up right strip and crossover the filling, repeat with left strip crossing over the right strip.  You will be forming an X shape, Repeat this process down the loaf. Pinch ends together and tuck under the loaf for a finished look.
Place loaves in warm place to rise until double.  About 35 minutes -45 minutes.
Preheat oven while dough is rising to 350.
Mix beaten egg with 1/2 teaspoon water, brush this egg wash over tops of risen loaves, very carefully not to deflate the loaves.
Bake 25-30 minutes.  Cover loaves with foil to prevent over browning.  Watch loaves after 12 minutes to see that they are not over browning.  Rotate loaves in oven for even baking. 
Allow to cool. Then freeze loaves or glaze.
Glaze: Mix together confectioners sugar, cream and extract to make the glaze.  Glaze only when ready to serve.  (Do not freeze with glaze on loaves.).  After glaze drizzle, add sliced almonds.
Notes
Dough is  made ahead and refrigerated overnight makes it easy for roll out next morning.
After baking and cooling, the loaves can be wrapped and frozen up to 2 months. Glaze after loaves come to room temperature and right before serving.
Almond Filling is made by Solo.
Keywords: Braided Almond Bread