Need a sweet roll to serve your family on Christmas morning?  Make a braided almond yeast roll for breakfast!  Simple ingredients include chilled butter, flour, eggs, yeast and sugar. After an overnight chill, the dough rolls out perfectively for the almond filling. This yummy danish can be made ahead and frozen without the glaze for up to 4 weeks.  A soft dough is blended together, rolled into thirds and filled with canned almond filling.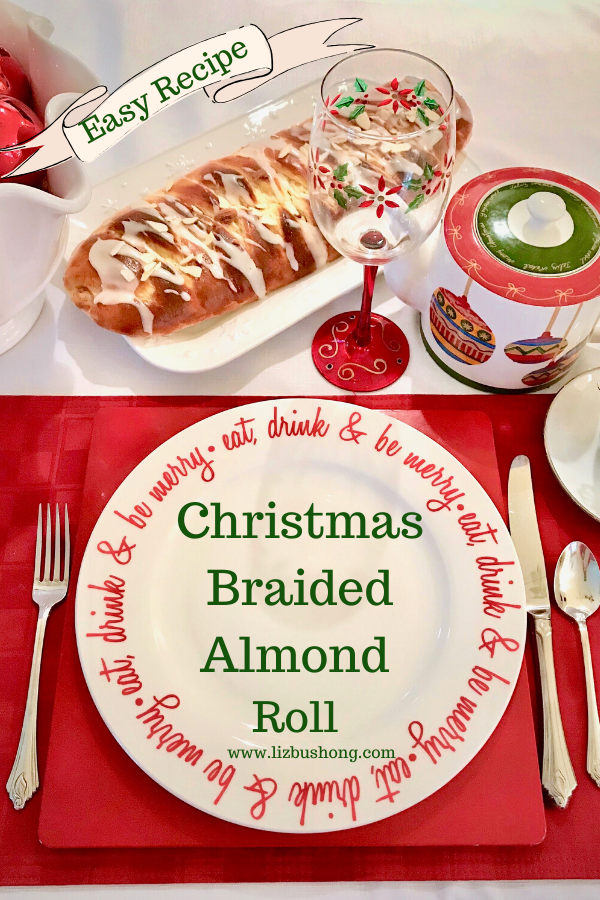 Knowing Yeast Dough Basics Helps with Successful Bake
Baking with yeast for some can be scary. But not to worry all you need is a cooking thermometer to test the temperature of the water before adding to the yeast.  Whether using active dry yeast or rapid rise, yeast is a living ingredient.  Adding water or milk to a recipe requires the proper temperature as to not to kill the yeast.  If your bread is not turning out well, not rising, or really tough you may have killed the yeast or added too much flour.  It's an easy mistake but hopefully using the baking thermometer will prevent mishaps.
So what is the right temperature for Yeast?
Mixing warm water with dry yeast the temperature needs to be 110-115 degrees.  Adding a teaspoon of sugar to the warm water before adding the yeast will help Proof the yeast.  Proofing the yeast just means the yeast is bubbling up in the mixing cup or small bowl, it is alive and will cause your bread to rise.
After yeast proofs, you add to the flour and remaining ingredients.  However, for Rapid Rise yeast, you need the water or milk temperature to be 115-120 degrees.  Rapid Rise is also added to the flour base whereas, regular active dry yeast is added to milk or water to proof before adding to dry ingredients.
Proofing of the Yeast
Adding Active dry yeast to warm milk or water the temperature needs to be 110-115 degrees.  In addition, adding a small amount of sugar will activate the yeast so it will begin to rise and bubble.  Which means it is ready to add to your dry ingredients.  See how the yeast has risen in the liquid mixing cup below.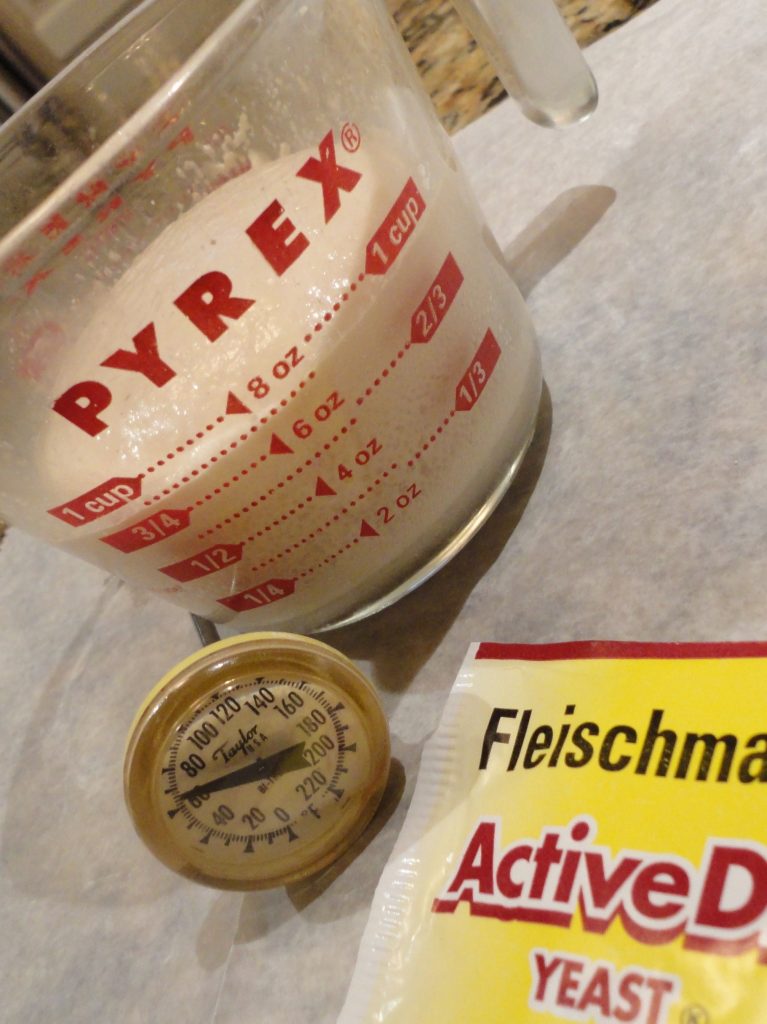 Rapid Rise yeast requires warmer liquid temperatures.  120-130 degrees will cause the yeast to be activated and alive making your bread rise. Rapid rise yeast is added to the dry ingredients before the warm liquid is added.  Once you get the temperature right you will not have a problem making yeast breads.
Common problem…my bread is dry?  
Adding too much flour to the dough will cause your yeast bread to be dry and not moist.  To avoid this… spoon your flour into your measuring cup and level off, do not dip the measuring cup into the canister/flour as in scooping it up.  This packs the flour and causes you to use too much in the recipe.  Also bread flour is a great ingredient for bread making.  Click here to learn more about flours. 
Let's Talk about the Filling & Technique
Whether you like almond, raspberry or cherry, check out the Solo brand fillings.  Solo filling comes in a variety of flavors raspberry, apricot, cherry, and almond. Click on link to buy online or find in baking sections of your grocery store.
When making this danish the dough is soft and somewhat sticky. However, when rolling the dough rolls out perfectly. To make the roll, roll the dough into a large rectangle, then spread the canned filling down the center of the rectangle.
At this point, cut 1″ wide strips on both sides of the filling. Overlap the two dough ends over the filling. Lastly, overlap each strip over the filling tucking excess dough underneath the roll. Be sure to  alternate the strips to create a braided look.  See diagram below.


Folded dough before rise.   Cover the dough with a tea towel and allow dough to rise until double in size in warm place, usually a draft free place.  If you have a warming drawer set the drawer on proof.
Preheat oven at 350 degrees, during the rising time so your oven will be at the right temperature when baking.  After the braid has risen, carefully brush with egg wash, then bake in the oven for 25 minutes or until golden brown.
When roll is completely cool, drizzle with a confectioner's sugar glaze, then sprinkle with sliced almonds if desired for garnish.

How to make the Braid: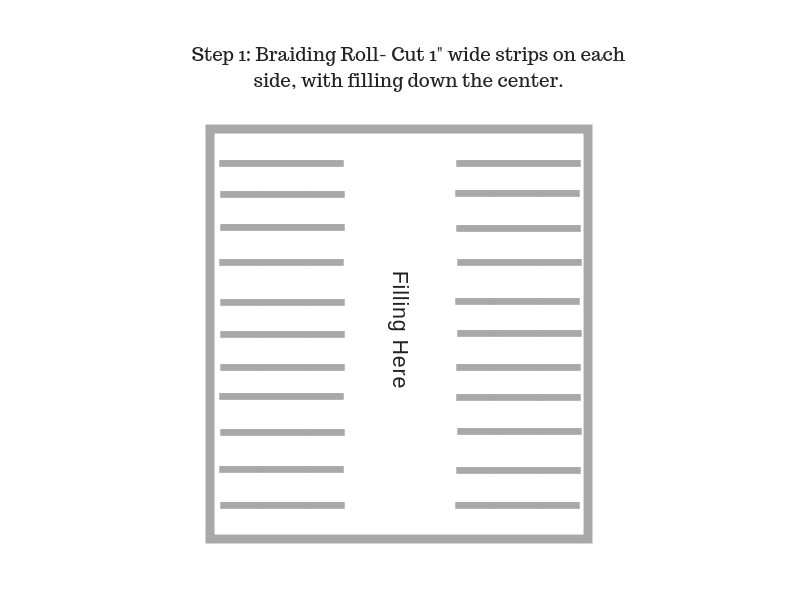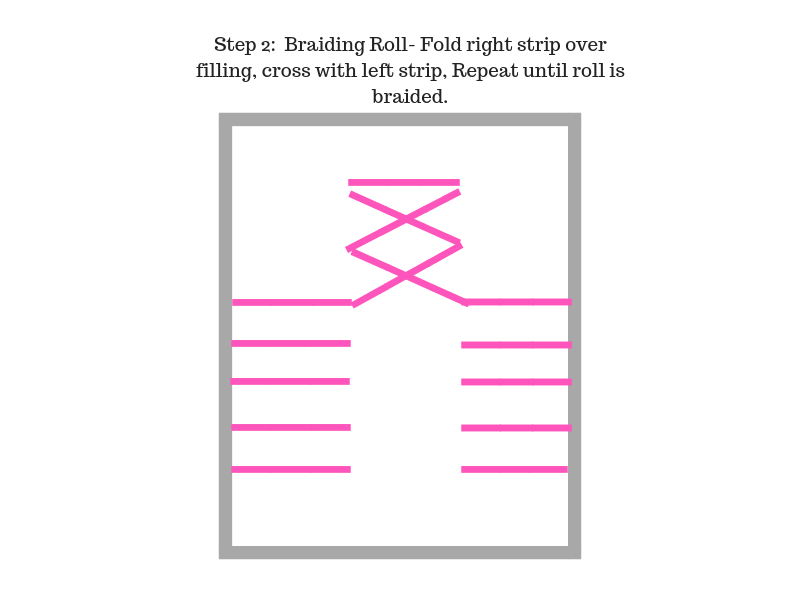 Hope you will try this recipe. You will like this recipe. It is best after it has been frozen and thawed; the flavors seem to mellow with the dough and makes it even more delicious.
Above all, your family will think you are the best baker in the world.  xo
Print
Braided Almond Roll
Sweet yeast dough is rolled into a rectangle with almond filling lining the center of the dough.  1″ dough strips are cut on each side of filling and layered over the center to form a pretty braid.
Author: Liz Bushong
Prep Time:

20 minutes+overnight chill

Cook Time:

15-20 minutes

Total Time:

40 minutes + chill

Yield:

2

braided loaves

1

x
Category:

Bread

Method:

Baking

Cuisine:

American
4 cups all purpose flour
2 Tablespoons granulated sugar
1 teaspoon salt
1/2 cup butter, chilled and diced
2 eggs
1/4 cup warm water (105–110 degrees)
2 teaspoons granulated sugar
1 package active dry yeast
1 cup evaporated milk
1 can solo almond filling
Egg Wash:  1 egg + 1/2 teaspoon water
Confectioners Glaze
1/2 cup confectioners sugar
2 teaspoons half n half or cream
1/2 teaspoon vanilla or creme bouquet extract
Slivered or sliced almonds
Instructions
Sift flour with sugar and salt.
Add butter to flour mixture, crumble until mealy.
Heat water to 105-110 degrees, add sugar and yeast. Let proof 5 minutes.
Add evaporated milk to yeast mixture, add eggs.
Mix until smooth in large mixing bowl with dough hook. Do not add additional flour. dough will be sticky and not separate from sides of mixing bowl.
Cover mixing bowl with plastic wrap and refrigerate overnight.
Let dough come to room temperature.
Divide dough into 2 sections.  Roll dough on floured surface into large rectangle. Keep other half of dough covered until ready to roll out.
Divide the almond filling in half, spread one half down the center of the rectangle. Place rectangle on parchment lined baking sheet.
Using sharp knife or pizza wheel, cut 1″ wide slices straight across each side of filling.  Do not cut into filling.
Pick up right strip and crossover the filling, repeat with left strip crossing over the right strip.  You will be forming an X shape, Repeat this process down the loaf. Pinch ends together and tuck under the loaf for a finished look.
Place loaves in warm place to rise until double.  About 35 minutes -45 minutes.
Preheat oven while dough is rising to 350.
Mix beaten egg with 1/2 teaspoon water, brush this egg wash over tops of risen loaves, very carefully not to deflate the loaves.
Bake 25-30 minutes.  Cover loaves with foil to prevent over browning.  Watch loaves after 12 minutes to see that they are not over browning.  Rotate loaves in oven for even baking. 
Allow to cool. Then freeze loaves or glaze.
Glaze: Mix together confectioners sugar, cream and extract to make the glaze.  Glaze only when ready to serve.  (Do not freeze with glaze on loaves.).  After glaze drizzle, add sliced almonds.
Notes
Dough is  made ahead and refrigerated overnight makes it easy for roll out next morning.
After baking and cooling, the loaves can be wrapped and frozen up to 2 months. Glaze after loaves come to room temperature and right before serving.
Almond Filling is made by Solo.
Keywords: Braided Almond Bread
Other Ideas you might like to try:
Swedish Tea Ring Recipe