Nothing more beautiful than blooming rhododendron bushes. In this tutorial you will be able to make your own Rhododendron Floral Centerpiece for your dining table. Whether you are needing an arrangement for a buffet or dining table this centerpiece is straight from the yard. Meaning, I picked fresh white rhododendron blooms from my yard. With a little bit of help from a property in North Carolina I picked a couple of pink rhododendron blooms for the centerpiece.
Speaking of the photo shoot. One afternoon my husband and I were driving in the mountains of North Carolina and found a rest stop that had blooming pink and hot pink rhododendrons.They were beautiful! Knowing that a good rain could wipe out the blooms, I had to do a photo shoot within a few days. Gathering my materials, dinnerware, tablecloth, chairs and table, along with a great friend, we packed my car to the brim and headed to the rest stop. Once there, I asked permission to take photos and set up my table. One thing.. the rhododendron blooms were starting to fade and drop off the bushes. But… after getting permission and approval to return in the fall for fall blooms, we sat up our table.
Blanketed in pink rhododendron bushes on both sides of the table created a cozy dinner setting for two. This bushes complimented the centerpiece I brought from home perfectly. Wait until you see the back side of the Rhododendrons. Photo at bottom of page.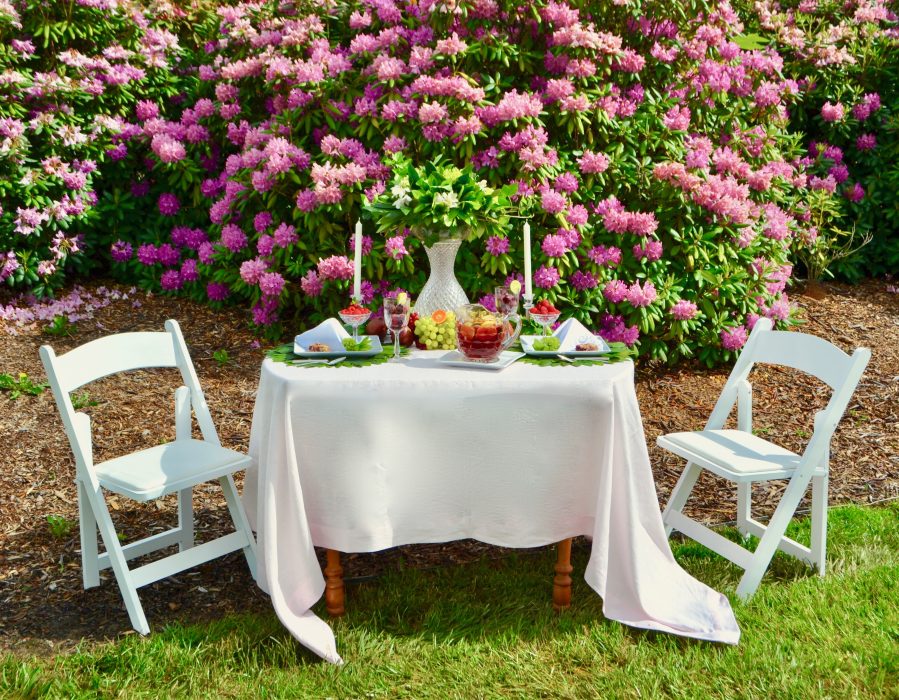 How to Make the Rhododendron Centerpiece
If you have a rhododendron bush in your yard you are good to go. However, if you have a neighbor who has a bush, kindly ask to take a few blooms. Sometimes if I don't have what I need in my yard I will check with my neighbors and friends for a few blooms.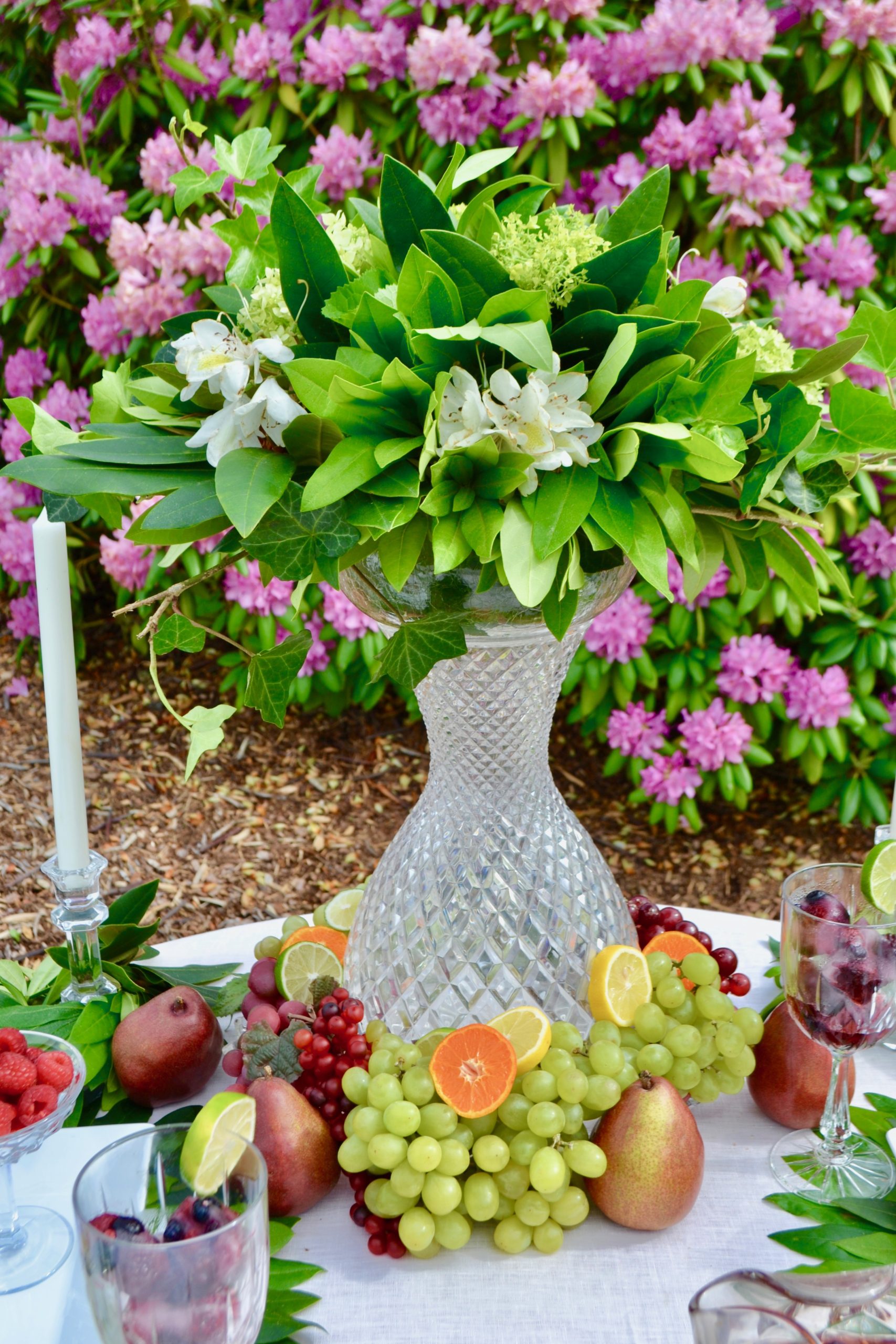 This centerpiece has two sections.  The large crystal vase is one part and sitting on the top of the vase is another bowl with the florals.  I had this crystal vase for a few years as it was a gift given  to me for designing a wedding dress for my friend. Sorry to say, she never wore the dress the marriage was called off and she sold the dress!  We were both heart broken.  So the vase has sentimental value and a reminder of the beautiful wedding dress. 
Let's Make this Arrangement
Gather your Supplies: Small clear glass bowl vase to fit rim of Large tall crystal vase, pruning shears, oasis, Rhododendron leaves and blooms, ivy sprigs, white hydrangea- optional 
Note: You will need a glass bowl that will fit the top of the taller vase.  Make sure it will sit down inside the rim of the larger vase so it will be stable.  Another idea would be to place the bowl on a salad plate to help with stability just make sure you don't see the plate.  I used a glass crackled finish bowl that was 8″wide  x 4″ tall.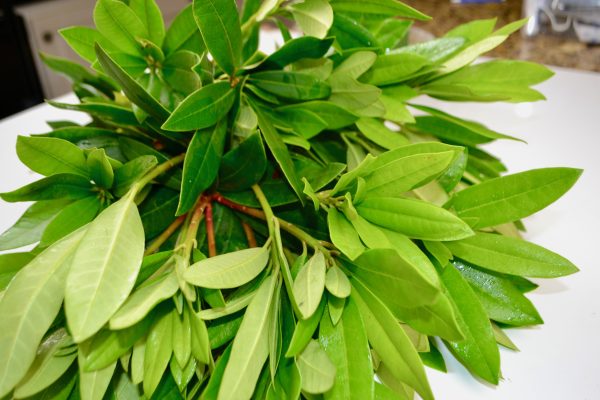 Soak oasis foam blocks in water until fully saturated.  Place blocks snuggly in vase. Add additional water to the smaller round vase for making the arrangement. Remember your smaller bowl will fit on top of the larger vase opening.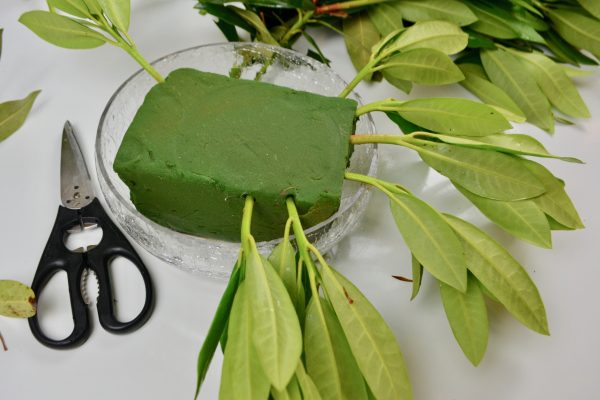 Cut Rhododendron Leaves about 8″ long. All leaves will be cut the same length. Cut the stem ends at 45 degree angle with shears.  Insert leaves into the outer edge of the foam around the bowl. 
Fill entire foam with leaves forming a round arrangement, add blooms and ivy pieces last.  I added green hydrangea to my arrangement, see next photo below.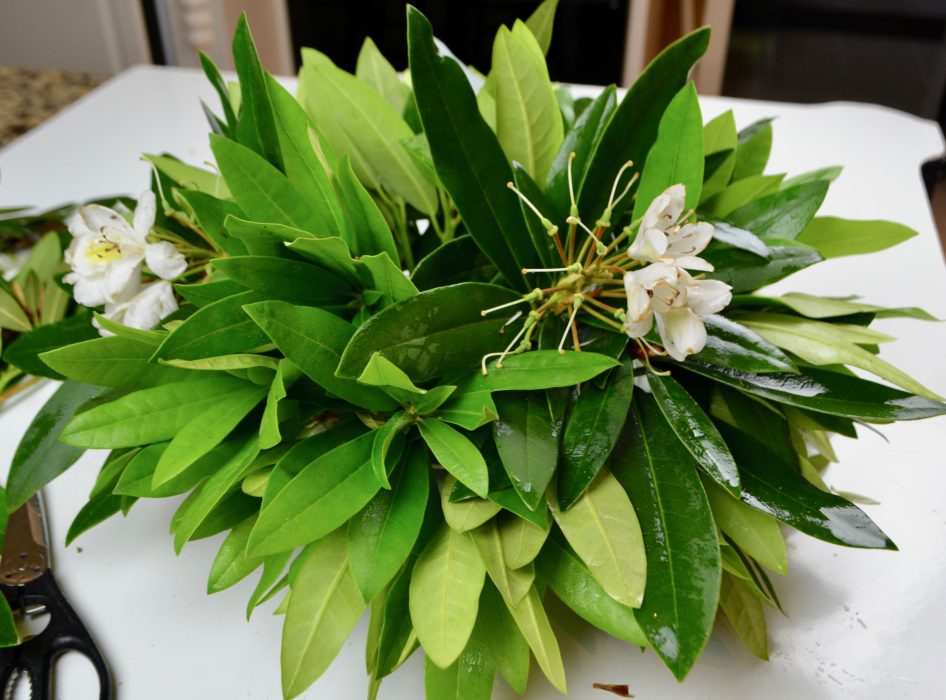 I added green hydrangea to the centerpiece and ivy sprigs. All natural florals from my yard.  I wasn't sure what color of Rhododendron at the photo shoot property. It was pink and hot pink.  So, I did add a few pink blooms to the top of the centerpiece.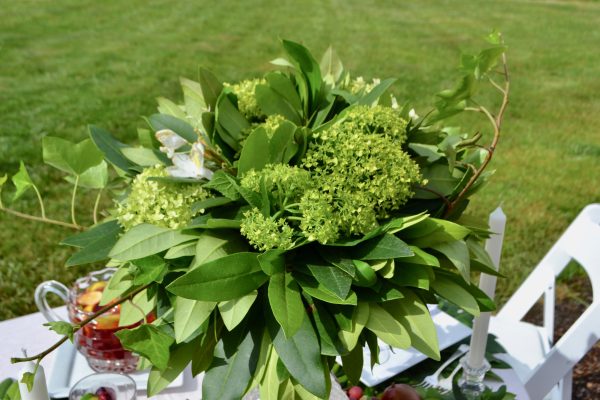 When arranging the centerpiece on the table, add fresh green and red grapes, pears, oranges, orange slices, lemons, lemon slices.  
For each place setting I made Rhododendron Leaf Placemats. Check out how to make those here.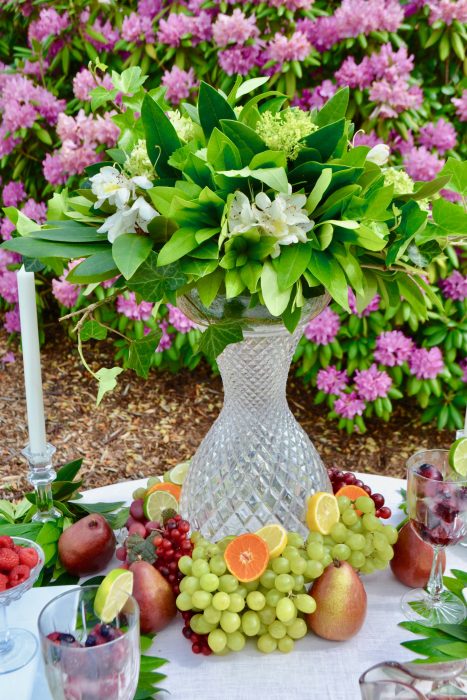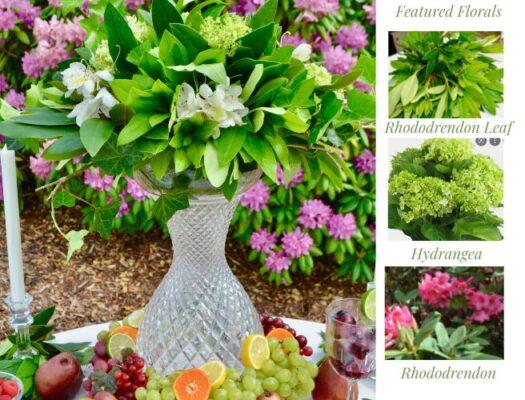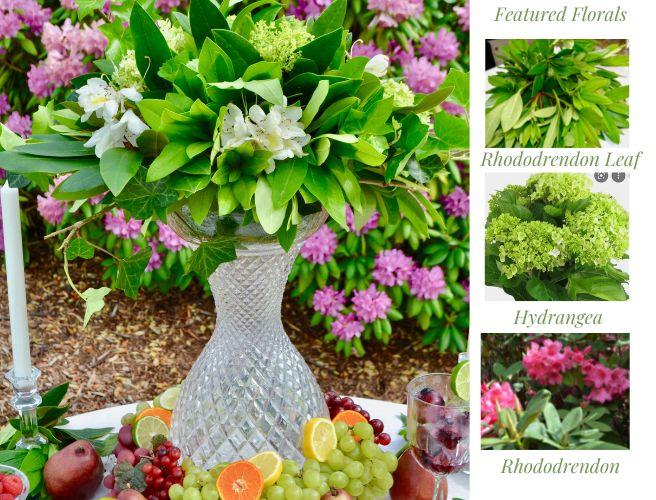 The back side of the rhododendron bushes, table scape.  I added pink blooms to the centerpiece.. you can see it totally blends into the table.  This may not be so good but they were so pretty I couldn't resist.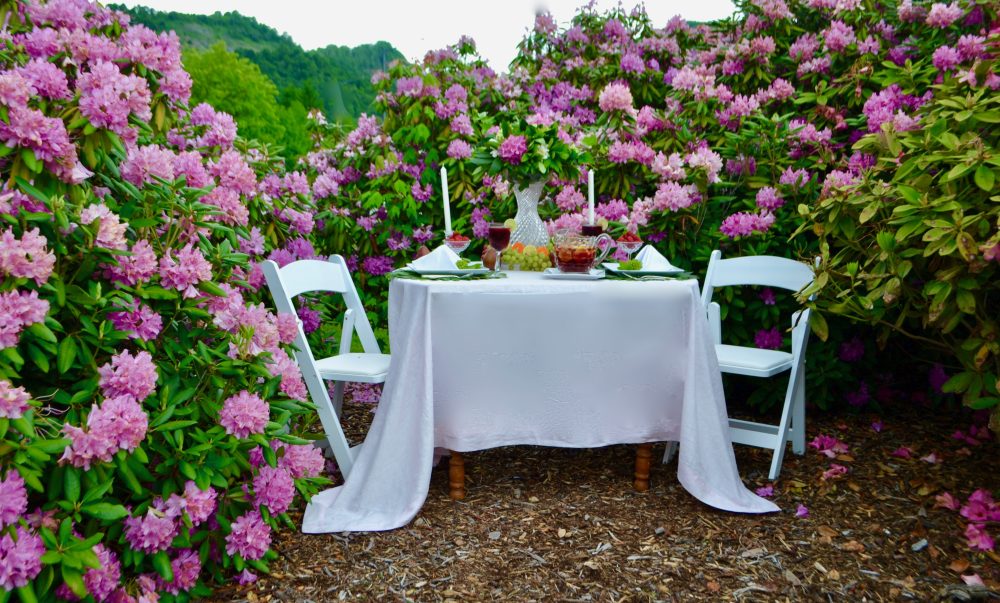 See pink blooms in photo below. Pretty isn't it!   We finished the shoot and it was a good thing for it began to rain.  We made it!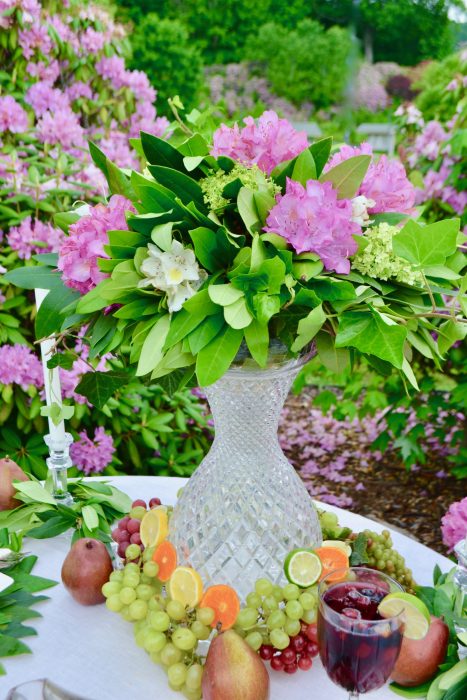 Other Ideas You Might Like To Try: