Caramel Apple Walnut Cookies
Caramel Apple Walnut Cookies begin with a dash of cinnamon and a sprinkle of sugar.  Would you like to smell the aroma of nutmeg,  cinnamon and apples baking in your kitchen? This apple cookie recipe will be one of the sweetest ways to enjoy the autumn season.  Is this a cookie or a mini apple pie? You decide.
One of falls best fruits, the apple… plus caramel makes this little round of pastry filled goodness a two bite experience.  Takes a bit of patience to create, but it is fun and worth the effort.  I adapted this recipe from http://cincyshopper.com/caramel-apple-pie-cookies/ blog.  Her cookie filling oozed out of the cookies and looked so divine that I had to make some for myself.  Making my own apple pie filling, adding diced toasted walnuts. and weaving each cookie with individual pastry strips were some of the ways I re-created this delightful cookie. I discovered that I could make more cookies by individually weaving each cookie.  That process might be a bit too detailed for some, but really, it was fun and exciting to see it come together.  Hope you will make this recipe your own.  Here are steps on how I made these adorable little Caramel Apple Walnut Cookies.
Caramel Apple Walnut Cookie Instructions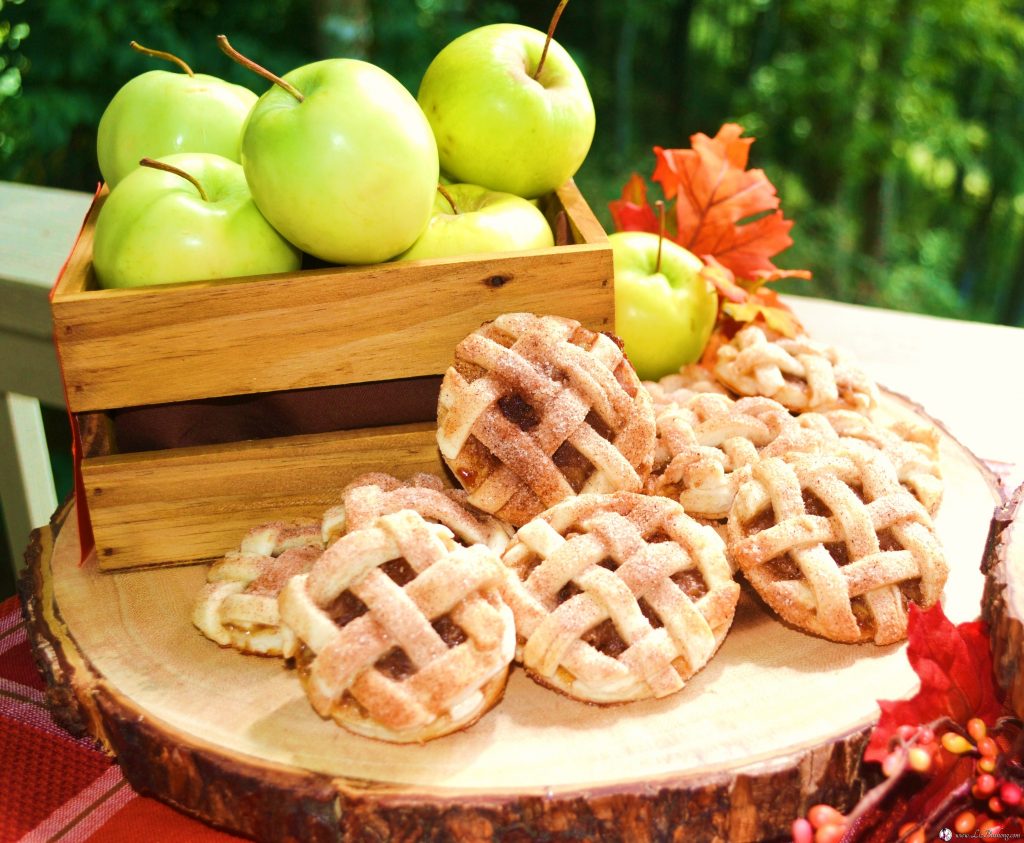 Step 1:  Preparing the pie filling-  dice apples, add cinnamon, butter and sugars to saucepan.
See recipe:  http://serveitupsassy.com/caramel-apple-lattice-cookies/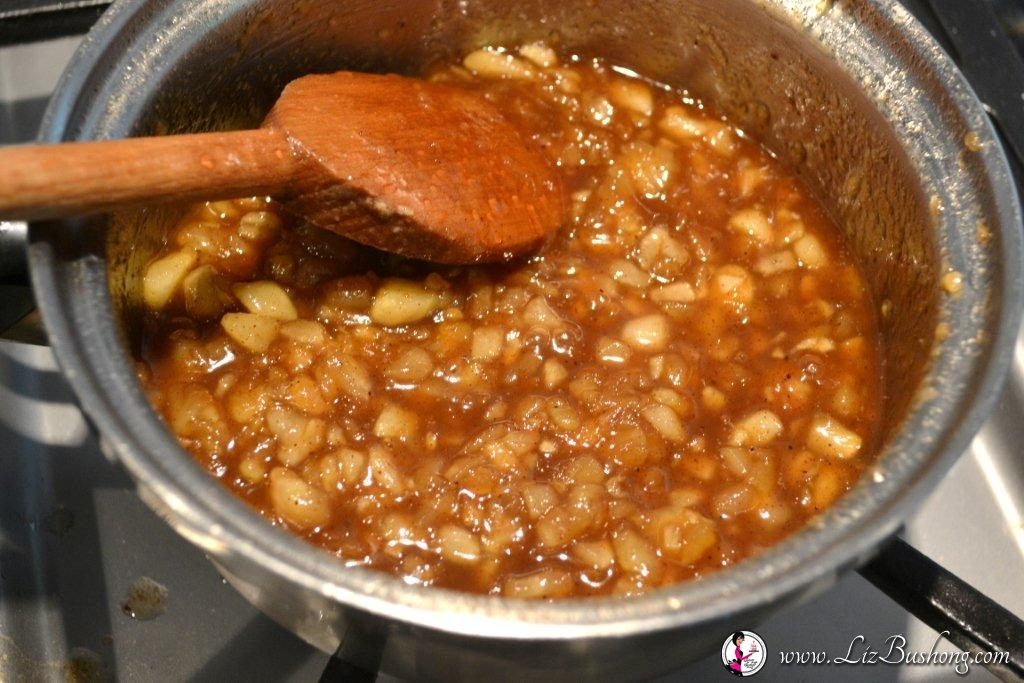 Cook apples over medium high heat for 15 minutes or until apples are soft and juice has formed. Remove from heat and allow to cool.  When the filling cools it will thicken.  The pectin in the apples will cause the filling to thicken, if you want the filling to be thicker, add 1 teaspoon of cornstarch or arrowroot to 1/4 cup cold water, stir the cornstarch to dissolve, then add to hot filling.  Cook filling until cornstarch water is blended and mixture is thickened.
Step 2:  Preparing the Cookies with filling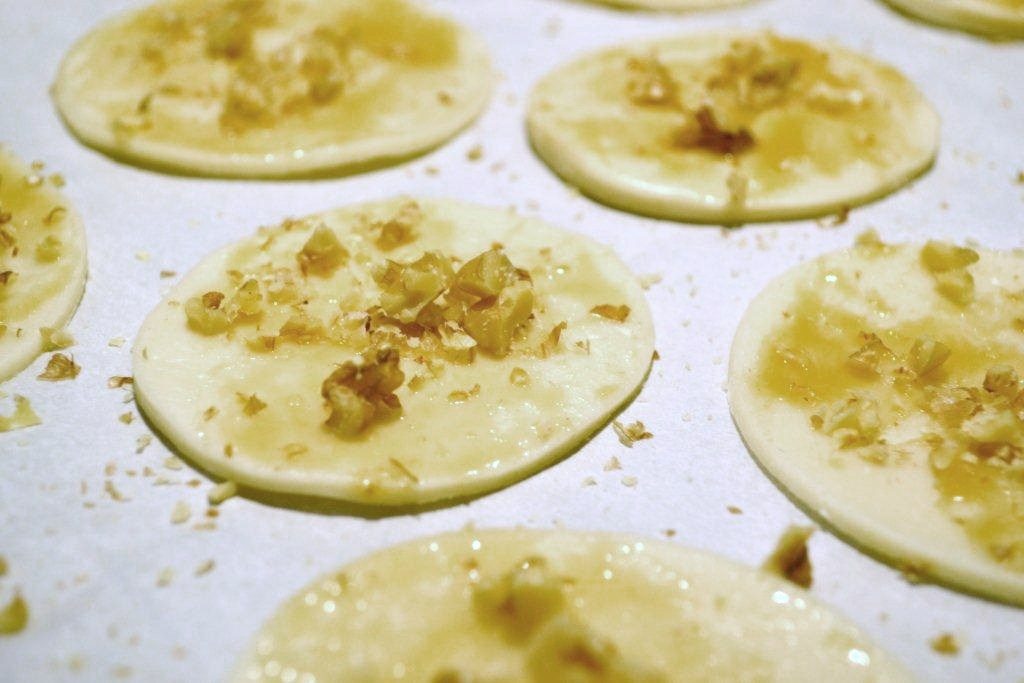 Using a 2 inch cookie cutter, cut refrigerated pie pastry into several rounds and place on a parchment paper lined baking sheet.  I like to use two baking sheets stacked together for baking cookies. (This gives the baking sheet more stability while baking and double lining the sheets keeps them from buckling under the heat).
Brush each round with caramel topping, and sprinkle with toasted diced walnuts.
Step 3: Weaving the lattice cookie top
Cut pastry into 1/8 " to 1/4″ strips using a ruler and pizza wheel or sharp knife.   No need to roll pie crust dough, just unroll the crust and begin cutting into strips.   Add 1 teaspoon of pie filling to center of caramel coated cookie base.  Add more filling if you want more ooze or juicy cookie.  Keep in mind, if you get to much filling, it will melt out of the top crust and puddle around the cookie base.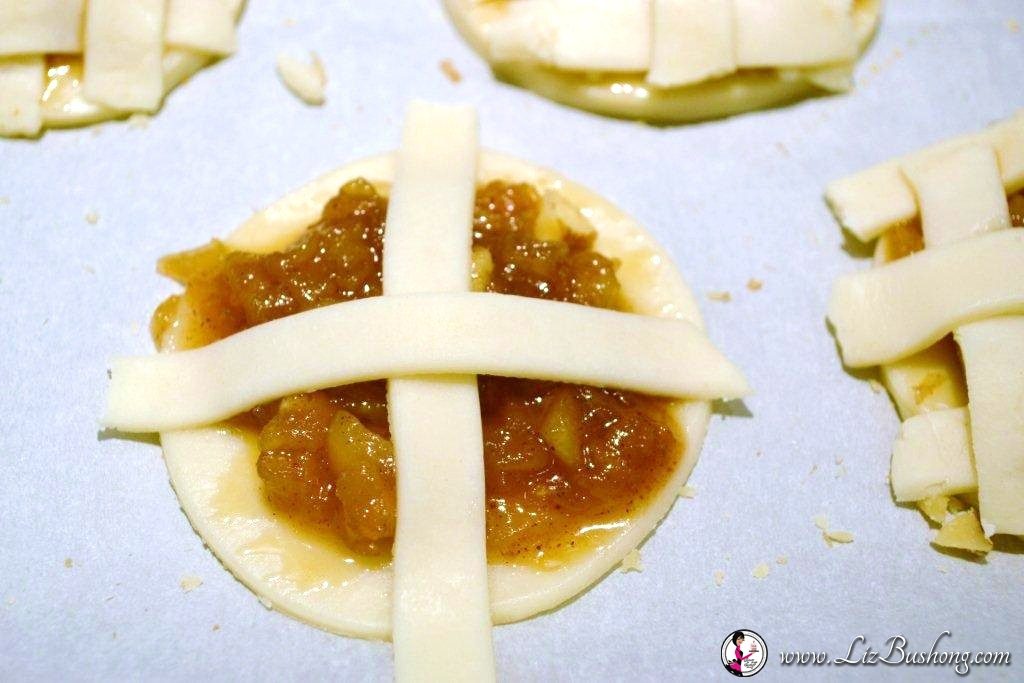 Take two crust strips and form a plus (+)  sign on the center of the cookie.  Next, add two more vertical strips to the right and the left of the center strip.  See photo to see the weave pattern.  Repeat process to completely cover the entire base with weave.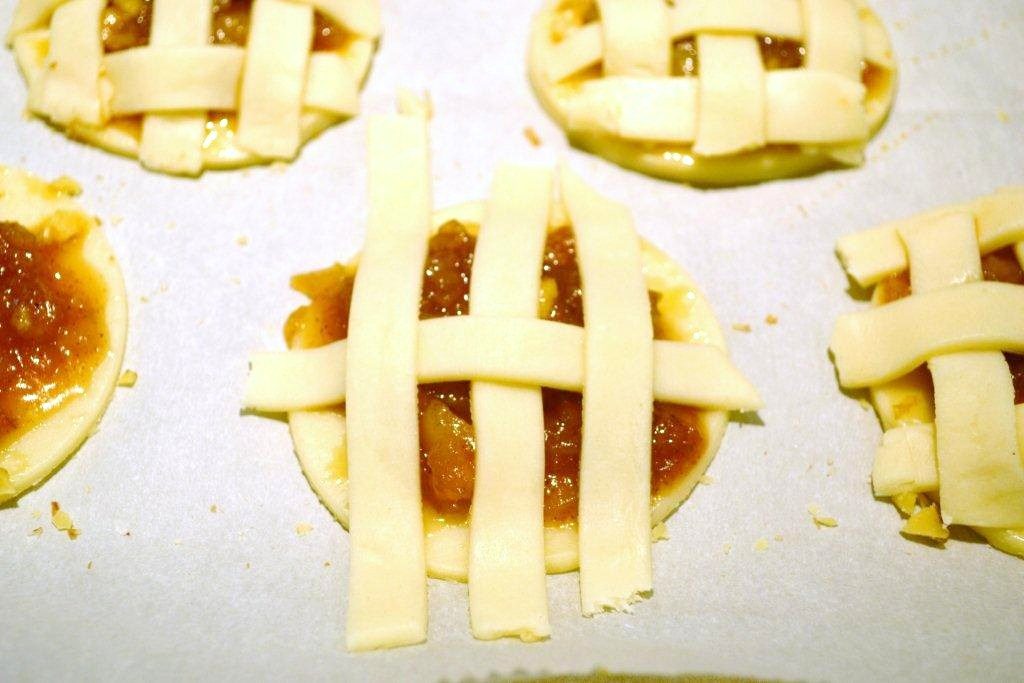 Place the cookie cutter over the woven pieces and recut the shape of the cookie.  Remove excess pastry pieces.  This also will help seal the edges of the cookies.  Take your fingers and pinch the edges where the lattice meets the base if necessary.  For a decorative edge you could use the tines of a salad fork.  With a spatula pick up cookie and place on baking sheet.
Brush cookie tops with egg wash and sprinkle with cinnamon sugar mixture.  Bake at 350 for 7-10 minutes or until golden brown.   This recipe and technique will give you 12- 2 inch cookies with no waste in pastry/product.   See recipe: http://serveitupsassy.com/caramel-apple-lattice-cookies/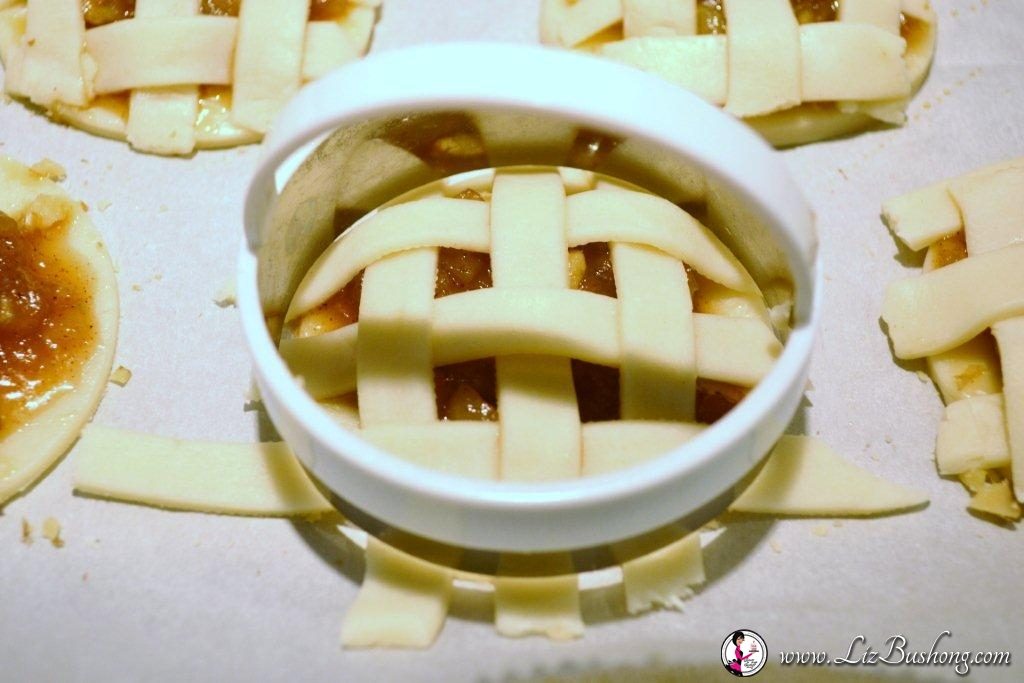 Caramel Apple Walnut Cookies are great individual mini pies or mini cookies?    Filled with a layer of caramel and thick homemade apple pie filling and topped with the woven pastry lattice makes you think you are eating a pie.  But are you???   As you bite into this little bit-of- heaven, the apple filling with its cinnamon walnut bites ooze from the sides of the cookies and with the generous amount of cinnamon and sugar that is sprinkled over the tops.. well.. it is mouth watering good!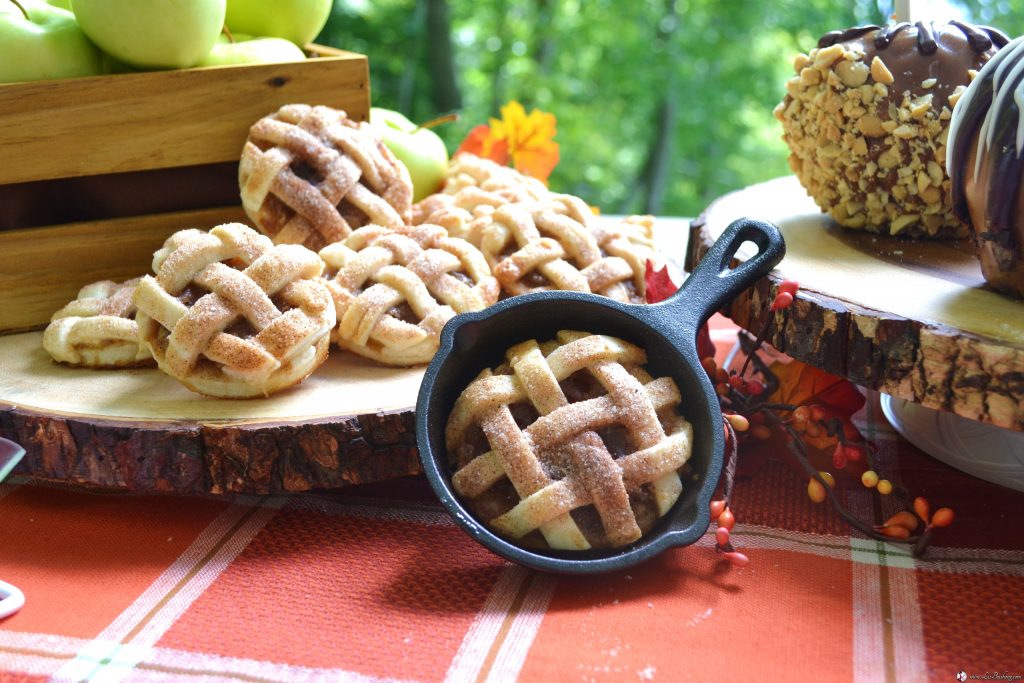 Serve this cookie for any fall harvest party or gathering with family and friends.  They will love it.
Helping you …. Make a Statement, Make it Sassy and Make it Yours! ®