Do you love almond flavor and cherries? You will love this recipe featuring chopped maraschino cherries and almond cookie dough swirled together to create crisp pinwheel cookies. This is the cookie to feature on your Christmas tray or for gift giving.
How to Make Almond Cherry Pinwheel Cookies
Let's start with chopping the maraschino cherries. Drain the cherries, remove stems and chop into small pieces almost a diced cherry. If you don't want to use maraschino's use cherry extract. Set aside the cherries. The flavor for these cookies is cherries, vanilla, cherry and almond extract. You will also need red food gel and coarse sanding sugar.
Next: in food processor bowl with steel blade add 1/4 cup almonds. Process until finely ground but not too long or you will get almond butter. LOL. Set aside.
In a large bowl, spoon and measure 2 cups of all purpose flour, 1/2 teaspoon baking powder and salt, whisk to blend set aside. Remove butter from refrigerator so it is room temperature as well as one egg. After butter is softened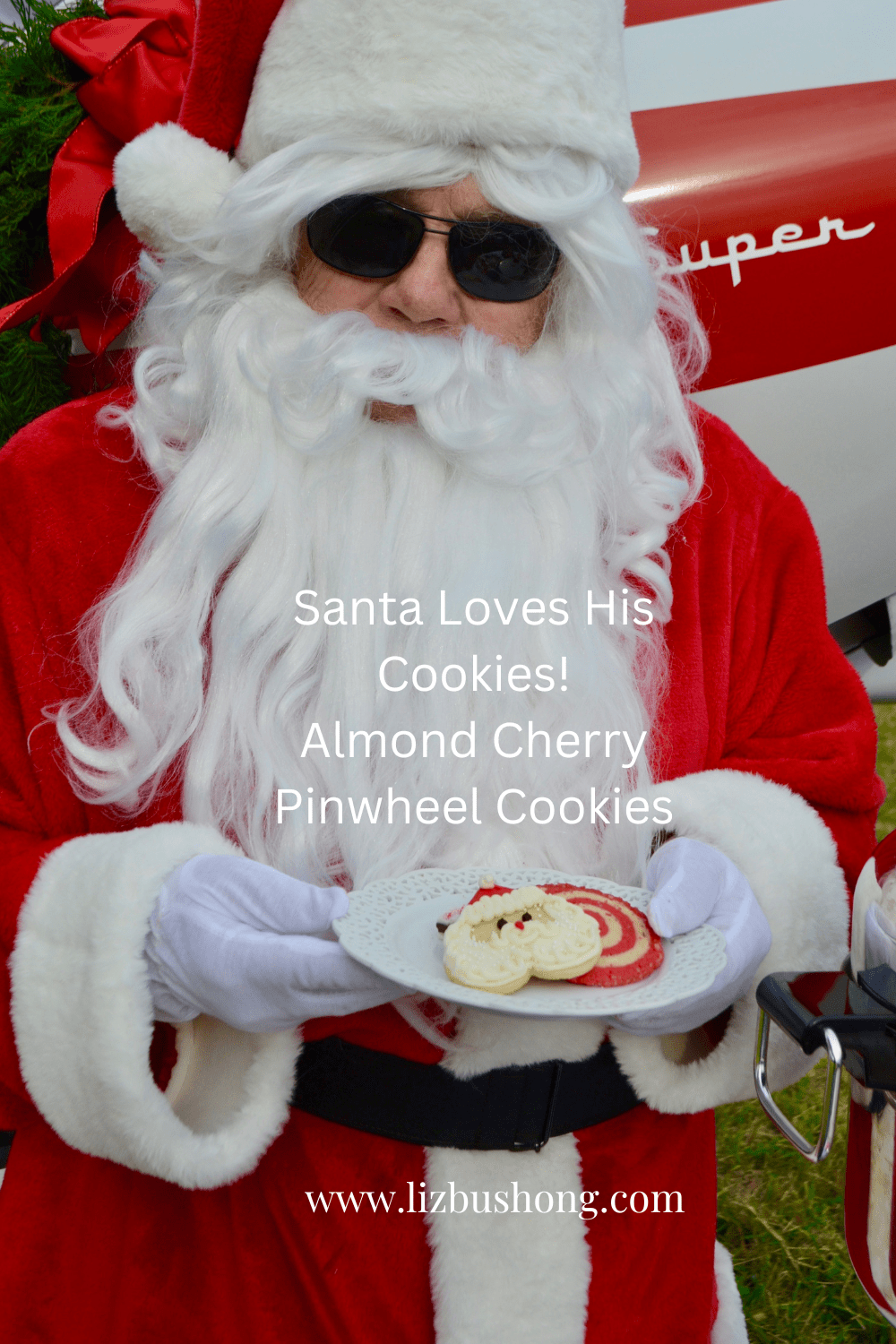 Time to Mix it Up!
In a medium mixing bowl with paddle attachment, cream together softened butter and granulated sugar until light and fluffy. Add egg and vanilla. Gradually add flour mixture to butter sugar mix. Beat until dough comes together.
Divide the dough in half, place in two bowls. Make Cherry dough. In one bowl, add cherry extract, diced cherries and 2 small drops red food gel. I used 2 drops super red food gel and 1 drop of electric pink food gel to get a brighter pink with slightly red dough color. The red will darken a little bit as it sits.
Tip: You could make this dough one day ahead, mixing the color, wrap and chill overnight to deepen your color.
In second bowl with raw dough, add almond extract and finely chopped almonds. Wrap each dough in plastic wrap and chill until firm, 2-3 hours.
Let's Roll Dough Together
Between two sheets of plastic wrap or parchment paper, roll each portion of dough into an 8 x 15″ rectangle. Place rolled rectangles on a baking sheet and chill until very firm, about 60-120 minutes.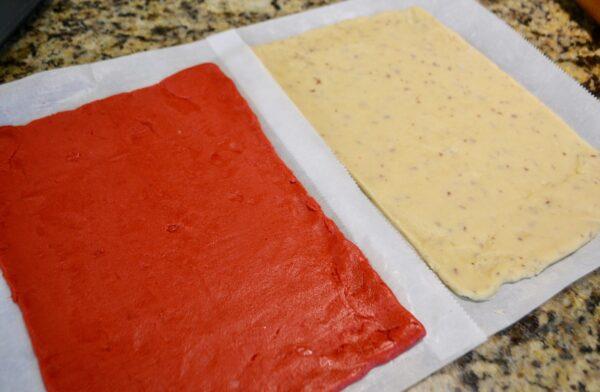 After the big chill remove from refrigerator. Remove wrap and place the almond rectangle on top fo the cherry dough rectangle. Starting with long side, roll the dough tightly. Red dough should be on the outside of the log. Roll the log in coarse sparkling sugar if desired and chill one more time 1-2 hours until very firm. (this will help keep the dough from spreading during the bake and make your slices perfectly cut).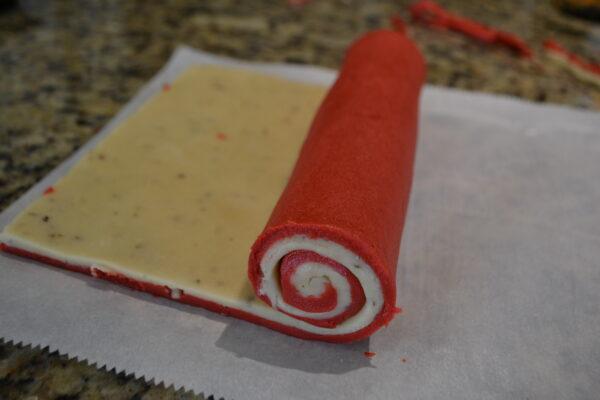 Roll into sparkling sugar if desired. Makes a crunchy side.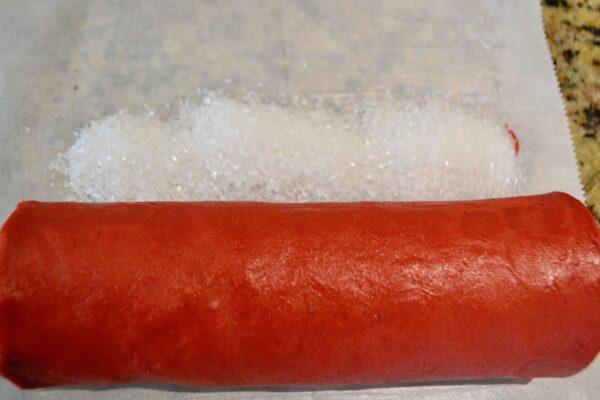 Preheat oven to 350 degrees F. Cut the dough log into 1/4″ slices. Place 2 " apart on parchment lined baking sheet. Bake 10-12 minutes or until set. Remove cookies from baking pan after 2 minutes to wire cooling rack to fully cool.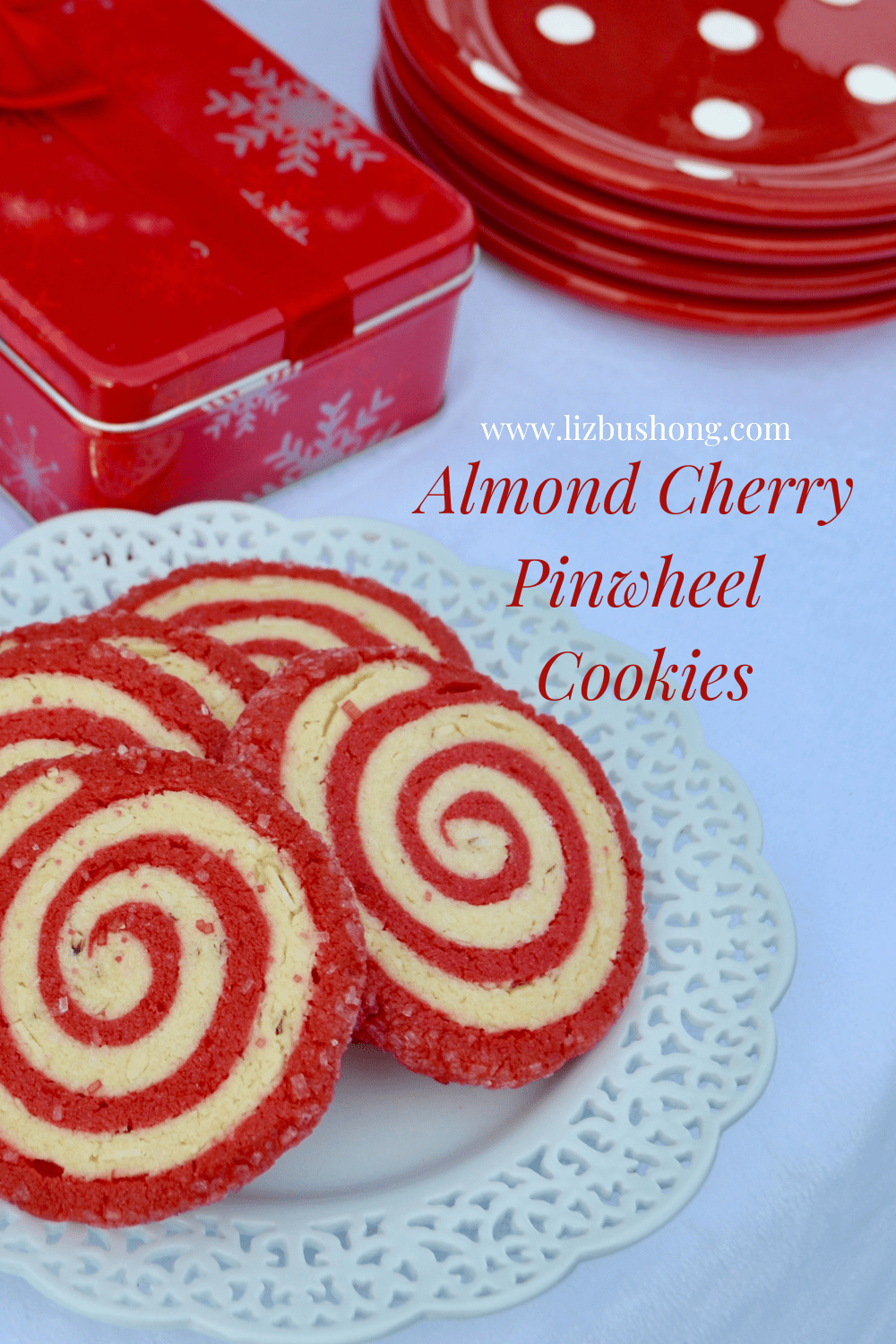 After baking and cooling, wrap these cookies in plastic wrap or freezer wrap if you want to bake ahead. Or place these cute cookies on a cookie tray/board. Check out these Cranberry pinwheel cookies too for a variety. Hope you will try this recipe. You're family and friends will love the flavor. Even Santa flew in to get his favorite cookies.
Here's the Recipe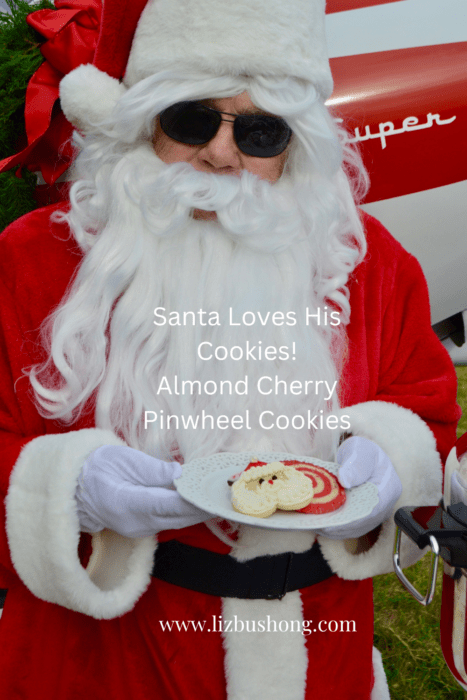 Print
Almond Cherry Pinwheel Cookies
Chopped almonds mixed with butter cookie refrigerated dough is rolled together with cherry flavored dough to create pinwheel cookies. Cookies are rolled in sparkling sugar before baking.
Author: Liz Bushong
Prep Time:

25 minutes + chill 4 hours

Cook Time:

12-15 minutes

Total Time:

4-5 hours includes chill and bake

Yield:

24

cookies

1

x
Category:

Desserts- Cookies

Method:

Baking

Cuisine:

American
2/3 cup butter, softened
1 cup granulated sugar
1 egg
1 teaspoon vanilla
1 teaspoon cherry extract
1/2 cup diced Maraschino cherries, drained
1/4 cup ground whole almonds
1 drop super red food gel + 2 drops electric pink food gel
2 cups all purpose flour
1/2 teaspoon baking powder
1 teaspoon salt
1 cup coarse sparkling sugar
Instructions
 In large mixing bowl of stand mixer fitted with paddle attachment, cream softened butter and granulated sugar until light and fluffy.  Add one egg and vanilla extract.
Gradually add all purpose flour, baking powder and salt to butter mixture. Beat until cookie dough forms into a ball.  Remove from mixing bowl. Divide dough in half equally and place into two separate bowls.
In food processor grind almonds, set aside. Drain and hand dice Maraschino cherries, set aside.
Add almond extract to one dough and cherry extract to the other. Add 1 drop of super red and 2 drops of electric pink food gel, diced cherries to cherry extract dough bowl. Stir to mix throughly.  To almond dough add ground almonds, stir to blend.
Wrap each dough portion with plastic wrap, chill until firm 2-3 hours.
Remove from chill, roll each portion of dough separately between two sheets of parchment paper. Roll into 8 x 15 rectangle.  Place each rectangle in refrigerator for 30 minutes.
Remove from parchment paper from both doughs. Place almond rectangle on top of the cherry dough. Starting on long side of rectangle, roll tightly the doughs together into a log.
Roll dough log in sparkling sugar if desired. Wrap in parchment paper and chill another 1-2 hours.
Preheat oven to 350 degrees F.
Line two baking sheets with parchment paper, slice log into 1/4″ slices and place 2″ apart on baking sheet.  Chill 5-8 minutes.
Bake 10-12 minutes in middle of oven, be careful not to burn the tops or bottoms of cookies.
Remove from oven and allow cookies to cool 2 minutes before removing from baking sheets.
Store cookies in airtight container.
Notes
It is important to chill these cookies at every step called for in recipe. Chilling will make the cookie pinwheel crisp and easier for you roll and cut.
Cookies can be made ahead and frozen with out baking up to 30 days.
Keywords: Almond Cherry Pinwheel Cookies, Almonds, Maraschino Cherries, pinwheel cookies
Other Ideas You Might Like to Try: