Make our own home-made Caramel Corn Recipe. Fresh popped corn and peanuts are placed in a large greased baking pan and coated with a caramel coating made from brown sugar, butter, salt and corn syrup. For best results make Caramel Corn on a bright sunny day for wet weather will  make the corn sticky, gummy and grainy.  Bag this corn in treat bags or decorative paper cones for gift giving or snacking.  Recipe is easy to make, 10 minutes or less.    For a festive look add orange and white M & M's or other candies.  Great for tailgating too! 
Print
Caramel Corn Recipe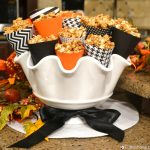 Author:
Yield:

2 quart

s

1

x
Scale
Ingredients
12 cups fresh popcorn, popped
1 cup roasted peanuts, or other nuts
½ cup butter, no substitutes
1 cup dark brown sugar, packed
¼ cup dark corn syrup
¼ teaspoon baking soda, salt, vanilla extract, measure out in separate cups.
Instructions
Pop corn, and place in a lightly sprayed with cooking spray roasting pan. Sprinkle nuts on top of corn. In large saucepan, melt butter; add brown sugar, and corn syrup. Stir constantly and bring to boil for 5 minutes. Be sure to watch your time.  Remove from heat and add baking soda, salt, and vanilla extract.  Mixture will expand and turn a lighter color.  Baking soda causes this.
Immediately pour caramel sauce over popped corn. Stir gently to coat kernels.  Bake in oven @ 250F for 45 minutes.  Stir to coat every 15 minutes.  Remove from pan and let cool.  Store in airtight container.
For orange colored cracker- jack, add 1-3 oz. package orange gelatin with the butter, syrup mixture.  Heat until smooth, proceed as recipe directs.
Great for gift giving. Don't make Cracker Jack on a rainy day or in inclement weather.  It will be sticky.
Caramel Corn Recipe is easy to make, watch Liz, Morgan and Amy create this festive snack.   Serve Caramel corn for tailgating, fall parties, any time you need or want a sweet snack.  I send home a batch to my father in law, who loves this caramel corn.  I had added melted chocolate to the mix after it was set up and sent that home.. his response was.. it was good, but too messy.. "I get the chocolate on my pj's."   So.. no more chocolate drizzled caramel corn to send home.  It is really good, but messy!
---
Caramel Corn Recipe on Daytime Tri-Cities
.
Caramel Corn Part 1-  creating the caramel glaze, mixing butter, corn syrup and sugar.
Caramel Corn Part 2- Pouring the caramel sauce on the popped corn, then stirring to coat.
Caramel Corn Part 3- the end.. Serving it up Sassy in paper cones and eating!
The Paper cones are made from decorative scrap-booking paper.  I used black and white, then added a few orange cones to go along with the fall theme.