On a snow blustery Saturday morning a few weeks before Christmas, we bundle up in winter jackets, hats and gloves and of course boots, for a traditional Christmas tree hunting adventure. Even Megan, our little schnauzer dressed in her red snow suit is excited about this hunting event. With a packed wicker basket, blankets and a thermos full of hot Caramel Almond Mocha, we jumped in the truck and headed for the tree cutting farm in North Carolina.
Christmas Tree Cutting Tailgate Makes a Memory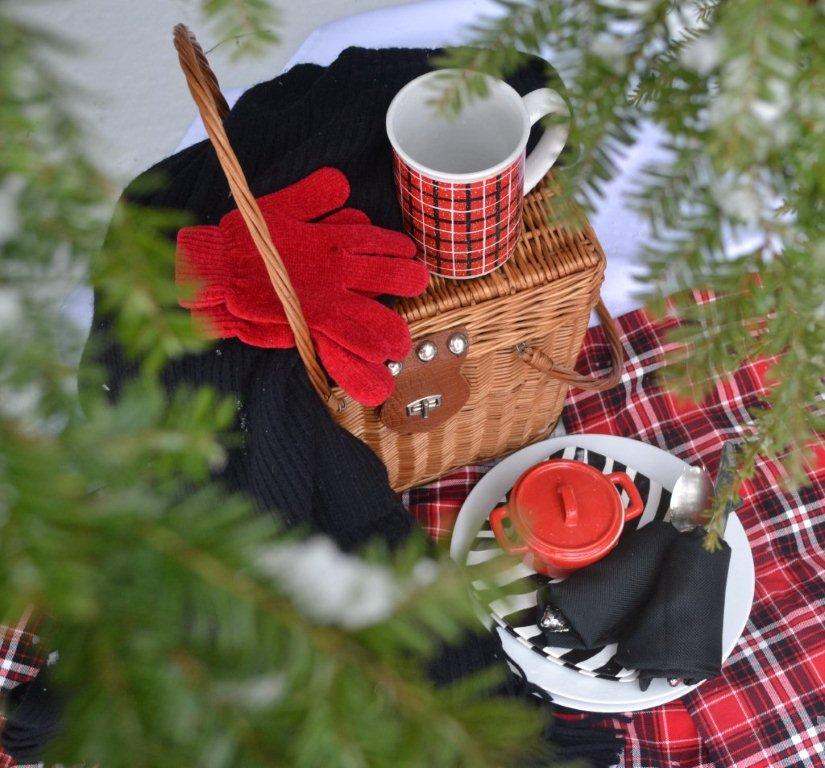 Over the Mountains and Through the Woods
As we arrive at the tree farm, children were already dragging cut evergreens down the snow packed trail. Some families have their trees mounted to their cars and trunks open for tailgating. Now, we must decide… do we look for the tree first or do we tailgate? The decision is made to have a few cookies and a cup of mocha before heading to the rows of snow-flocked evergreen trees. The plan is find a Frasier Fir tree, some garland and a couple of wreaths to take home. We are so excited about our treasures and can't wait to decorate our home. OH… the smells of fresh cut evergreens, its the smell of Christmas!
Red, Black and White Plaid Blanket.. Provides Warm & Cozy Tailgate Table Setting
A red, black and white plaid blanket provides a warm and cozy tabletop for the truck tailgate. While the snow is falling, this blanket just seems so festive for the tree cutting adventure and provides a lovely table spread for our tailgate.
Setting the tailgate in our pick up truck was so much fun. I brought white dinner plates to serve as chargers, as well as support for the other foods, while the black and white zebra stripe salad plate supports the mini red cocottes full of warm soup. Even the black and white striped mugs added to the overall scheme. If you don't want to bring out the dinner plates, decorative paper plates such as dinnerware from sophistiplates would be a great substitute.
The tailgate menu is warming to the soul with simple ingredients full of flavor. The small red cocottes (casseroles) are filled on location with a hearty Italian Tortellini Soup. The soup has chicken and beef broth, Italian sweet sausage tortellini, diced tomatoes seasoned with garlic, basil, and oregano, Cannellini beans, baby spinach and kale leaves. Mini corn meal muffins are served as side bread with the soup.
For dessert, Christmas tree cut-out cookies are decorated with green sparkling sugar and an icing garland with tiny red ball ornaments. The recipe is simple to assemble and bake without losing the shape of the cut- out. Some butter cookies will spread while baking, this one does not. You will love this cookie recipe to make with your children this holiday season.
Kids of all ages will enjoy eating the Christmas tree cookies with a warm cup of Caramel Maple Almond Mocha. The mocha is made with almond milk, decaf coffee and maple syrup. Caramel topping is drizzled over the whipped cream. Sweetened cocoa is sifted over the top of the Almond Mocha for fun and flavor. Did someone say milk and cookies…both are simply delicious this chilly wintery tailgating day!
The Christmas tree cutting tailgate can be served up sassy any time you gather with your family and friends from trimming the tree to hosting an impromptu open house. Whether you go to a tree farm to cut your own or to the corner lot, make this season one to remember with a festive and easy- to-go tailgating menu. Share this meal with your neighbor or with someone who is alone this Christmas.
Both of you will be blessed beyond measure. May this Christmas season bring you many memorable moments and great blessings for the New Year! Hey check out the recipes below for an easy tailgate. Have fun and make some memories!
Helping you Make a Statement, Make it Sassy and Make it Yours!®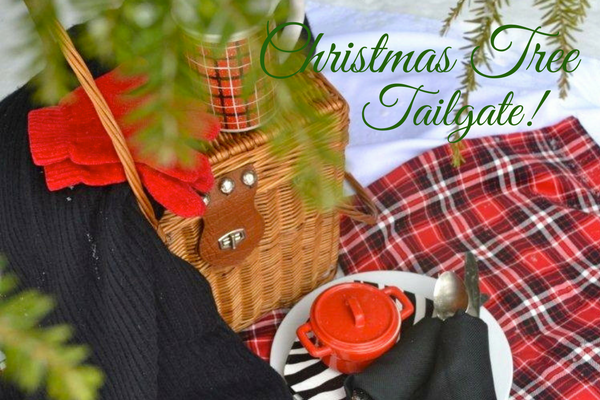 ---
Print
Caramel Maple Almond Mocha Recipe
4 cups almond milk
1–1/3 cups brewed decaf or regular coffee
½ cup maple syrup
6 tablespoons caramel ice cream topping-divided
4 teaspoons Hershey Special Dark Cocoa-divided
 Whipped Cream
1-cup heavy whipping cream
1-teaspoon maple syrup
3 tablespoons powdered sugar
Drizzle with caramel sauce and dust with cocoa
Instructions
In large saucepan, combine, milk, coffee, syrup, 3 T. caramel sauce and 2 teaspoons cocoa over medium heat, stirring occasionally until simmering but not boiling.
In small bowl, beat the heavy cream until it begins to thicken, add maple syrup and powdered sugar, beat until stiff peaks form.  Serve with mocha.  Drizzle with caramel sauce and dust with cocoa.
---
Print
Italian Tortellini Soup Recipe
3 cups beef broth
3 cups chicken broth
1–9 ounce package refrigerated Sweet Italian Sausage Tortellini
1–15.5 oz can Cannellini Beans, drained and rinsed
1–14 ½ oz can diced tomatoes with basil, garlic and oregano-undrained
2 teaspoons ground turmeric
½ teaspoon sea salt and celery salt
½ teaspoon cracked black pepper
½ teaspoon dried oregano
2 teaspoons minced garlic
1–1/2 cup baby spinach leaves
½ cup baby kale leaves
Parmesan cheese, shredded as garnish
Instructions
In a large saucepan or Dutch oven combine broths, tomatoes, beans to a simmering boil.
Add tortellini and cook 10 minutes over medium heat.
Stir in all seasoning and spinach and kale leaves, cook until leaves wilt.
Serve soup in mini casseroles or soup bowls, garnish with shredded Parmesan Cheese and crusty rolls with Olive oil dipping spices.
---
Print
Christmas Tree Butter Cookie Recipe
1 cup

butter, softened

1 cup

granulated sugar, processed in blender or food processor for

30

seconds

½ tsp

. salt

1

large egg

1

large egg yolk

2 tsp

. Vanilla extract

½ tsp

. Almond extract

2 ½ cups

all-purpose flour
Meringue Powder Butter Cream Frosting
1/3 cup water

3 T. meringue powder

 ½ cup shortening

 4 ½  cups powdered sugar (1 lb. 3 oz. If you have a scale)

 1 tsp. vanilla extract (use clear vanilla if you want a pure white icing)

 ¼ tsp. almond extract

Americolor gel- Leaf or Christmas Green, Christmas Red, White
Instructions
 Preheat oven to 375 degrees. Line baking sheet with parchment paper.

Cream butter, sugar and salt until light and fluffy, about 3 minutes medium speed.

 Add yolk, beat well.

Add whole egg, vanilla and almond extract. beat until well-incorporated.

 Add flour; beat at low speed just until flour is blended.

Divide dough in halves or thirds and wrap in plastic wrap.

Refrigerate until firm, at least one hour and up to 2 days.

Dust work surface and rolling pin with flour.

Roll dough to 1/4″ thick, sprinkling with additional flour as needed to prevent sticking. C

Bake until cookies are brown 10-12 minutes. Remove from cookie sheets to cooling racks and cool completely before decorating.

Meringue Powder Butter Cream Frosting Instructions

Place half of the powdered sugar and the meringue powder in the bowl of an electric mixer. Whisk together well.
Turn on mixer (use whip attachment) and, while motor is running, slowly stream in the water. Mix until everything is incorporated.
Turn mixer to high speed and whip until stiff peaks form.
Add flavorings and mix well.
Change to paddle attachment for stand mixer If using a hand mixer, use the same beaters you were using before.
Add remaining powdered sugar and shortening and whip for 2-3 minutes more.
Divide the frosting into 3 sections- 1/2 Green, 1/4 White, 1/4 Red
Decorating the cookies:
 Use tip # 5 pipe a line of green frosting around outside edge of cookie, flood cookie with green frosting. Let dry completely. Pipe decor on tree with remaining tip # 2 or 3.
Notes
Yield depends size and shape of tree cookie cutter.
---
Written By: Liz Bushong
Liz Bushong is an expert in the three-dimensional art of entertaining. She transforms simple dining occasions into beautiful and memorable moments by adding a touch of her own "sassy style". For the past several years Liz has been entrusted to decorate several high profile homes for the Holidays including the White House, Vice Presidential Personal Residence, Governors mansions and more. She is a featured monthly guest chef/designer on regional CBS/ABC Affiliates Daytime Tri-Cities, Daytime Blue-Ridge Roanoke and other television shows. Liz is the author of Just Desserts and Sweets & Savories cookbook as well as contributing writer for several magazines including VIP SEEN & Lovely Bella.
All recipes, food styling, photography and article are created and developed my Liz Bushong.
Please link this website if you reference any content in this article. Thank you!