Making Macarons can be tricky but this recipe for Mardi Gras Lemon Filled Cookies will satisfy your sweet tooth.  Macarons or macrons either way you spell it are crunchy bite sized cookies with a tender chewy center. Two sandwich cookies are filled with lemon buttercream frosting with a lemon curd center.  When you bite into this cookie, lemon burst in your mouth and your tastebuds will yearn for more.
Lemon Flavored Mardi Gras Macarons

Tips on Making Macrons
If it looks like rain or snow, don't make macarons due to humid weather.  Egg whites will not whip firm enough to support the macaron lift.   Sorry but make your macrons on a bright sunny day.
Secondly, warm your egg whites.  Some recipes say to use day old egg whites, if your using the French method then yes crack your eggs and separate the whites at least 8-16 hours.  If you are making this recipe you can lay out the eggs or warm eggs in cup of warm water to warm the whites.
You will need: 
Third, you will need a food scale. I know… but really the measuring is very accurate and with baking macrons this is really a must.  Unfortunately, some dry measuring cups are not accurate.  You will also need a cooking thermometer preferably a candy thermometer.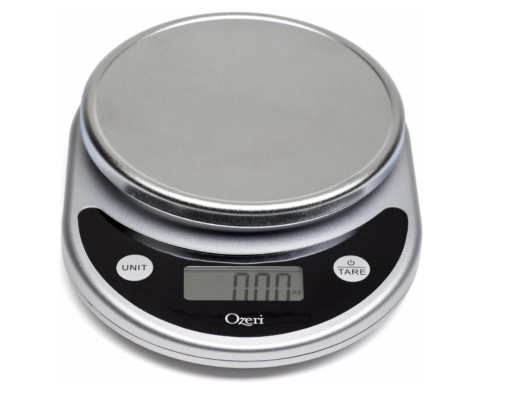 Fourth, using food coloring gel works great for coloring the shells and frosting.  You can not add flavoring to the meringue shells.  Believe me, you will not be happy with the results.. egg meringue does not like liquid.   Get your flavoring in the filling.
Color the shells, Flavor the Filling
Fifth, use a convection oven if you have it, but be careful the air circulating doesn't cause your shells to lean to one side.  Also, place a baking tray on the top shelf of oven to prevent over browning of the shells.
Sixth, the best baking temperature is 350 for 9 minutes.  If using standard oven 375 seems to work well.  Depends on how hot your oven is.  Test one macron before baking a batch to make sure your heat is even without browning the tops.
Seventh, this recipe requires processing the almond flour and confectioner's sugar two or three times.  This is necessary if you want smooth cookie tops.
Eighth tip, heating sugar and water together to 248 degrees will be whipped into the frothy egg white mixture to make the best.. I mean the best meringue ever!   Make sure your mixing bowl is clean before whipping egg whites.  Also add a dash of granulated sugar to the egg whites before mixing.
Piping the Macrons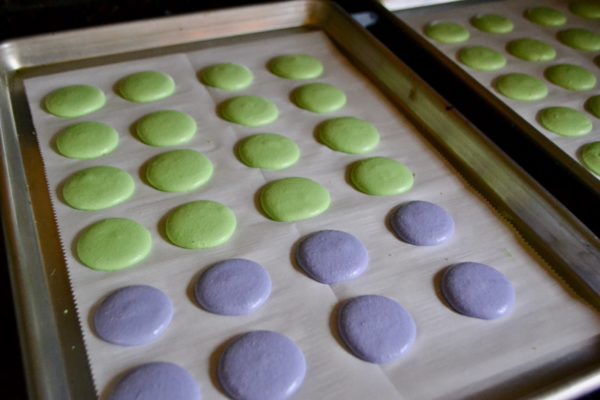 For best and even shells, pipe the cookies on a template using a round piping tip.  I like tip # 12 for piping the meringues.  Create a parchment paper pattern for macrons and place this under the top parchment paper.  After piping the macrons, gently pull the pattern out from under the cookies.
Hold piping bag perpendicular pressing mixture in center of pattern.  This takes practice but you will be able to master it no time.  If you get points on the tops of cookies after piping they should settle out by gently shifting the pan back and forth, if they don't smooth out, use a toothpick to smooth it out.  However…. the toothpick could leave a tiny hole.. which is not good.  SO….. when you fold the meringue mixture, keep folding the meringue until you can make a figure 8 in the batter.  This is the consistency you want and you will not have points on the cookies after piping.
Laugh out loud!!!  This is crazy… so many tips but… is it worth it??? Yes, if you love macrons and don't want to pay $2.50 or more for one tiny cookie.  Although, know we know why they cost so much.  They are tricky to make.
Here's another photo of Colored Shells with flavored filling.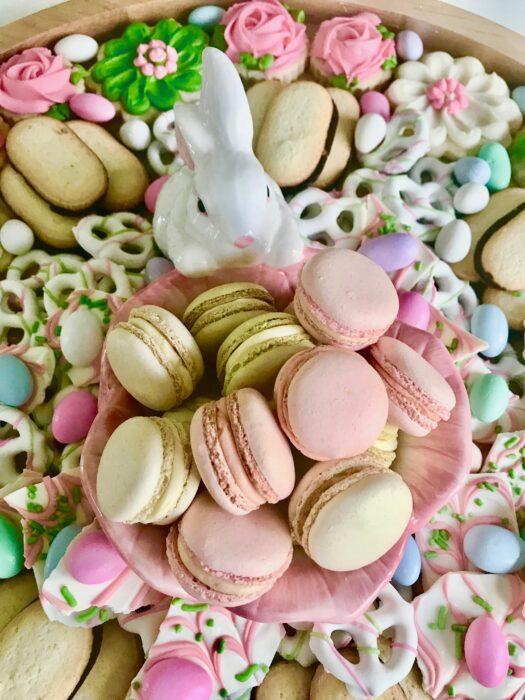 Macarons Recipe is Inspired by Bouchon Bakery
Print
Mardi Gras Lemon Filled Macaron Recipe
Italian Macarons made with hot sugar syrup slowly drizzled into whipped egg whites to achieve its meringue. A candy thermometer  or a Thermapen to monitor the temperature of the sugar syrup is necessary in making these meringues.  Shells are colored by food gel, leaf green and violet. Lemon buttercream frosting and purchased lemon curd fill the cookies.
Author: Liz Bushong
Prep Time:

35 minutes

Cook Time:

9 minutes

Total Time:

45 minutes

Yield:

56

shells-28 sandwiched cookies

1

x
Category:

Desserts

Method:

Baking

Cuisine:

Italian-American
212 grams(1 –3/4 cups) almond flour-sifted
212 grams(1–3/4 cups) confectioner's sugar, sifted
82 grams egg whites(1/4 cup + 1 1/2 tablespoons) room temperature
90 grams egg whites(1/4 cup + 2 tablespoons) room temperature
236 grams (1 – cup + 3 tablespoons) granulated sugar
158 grams (2/3 cup) water + pinch of sugar- 1/4 teaspoon
Lemon Buttercream Frosting
1/4 cup butter, softened
2 cups confectioner's sugar
4 tablespoons whipping cream or half and half
1/2 teaspoon fresh lemon juice
1 drop yellow food gel
1/2 cup purchased lemon curd
Instructions
Preheat oven to 350 F convection or 375 F standard oven.
Clean mixing bowl with white vinegar to ensure it is grease free before whipping egg whites.
Trace circles onto baking parchment paper desired size- 1-1/4″ or use template
Sift almond flour and confectioners sugar three times to remove lumps or nut pieces and place in large bowl,  make a well * in the flour mixture and add 82 grams egg whites. Mixture will be stiff and thick to make a paste.
Divide the almond paste into two separate bowls. Add food gel- leaf green drops to one bowl and violet to remaining. Stir to blend.  Do not add flavoring.
In large stand mixing bowl with whisk attachment, add 90grams egg whites and beat on low speed until eggs are frothy.
In large saucepan mix water and sugar over medium-high heat until the syrup reaches 205 degrees.  Let syrup continue to cook while you whip the egg whites.
Add a pinch of sugar to the egg whites and beat until soft peaks form. Check on syrup, when it reaches 248 F, remove pan from heat.
Gently pour the hot syrup down the side of mixing bowl while whipping egg whites on low speed.  Meringue will deflate, increase speed to medium and whip for 5 minutes or until the whites hold stiff glossy peaks.  Meringue should have cooled down even though the bowl may be warm, continue to beat whites until cool.
Divide whipped meringue in half between two bowls of colored almond paste. Fold meringue into almond mixture into the meringue a little at the time until mixture maintains a ribbon shape, like a figure 8, when batter is lifted from the spatula or folding spoon.  Ribbon means the batter will fold over on itself with a steady stream not to thick and not to thin.  It should have movement but not thin.  It's better to have a thicker batter than too thin. (If you stir the mixture and not fold, you will ruin the batter and if you over- fold the batter it will be too thin to make perfect macarons.) 
Transfer meringue into pastry bag with 1/2″ tip.  Hold bag upright and pipe in the center of the macaron template.
After piping all macarons, tap or bang the baking pan a couple of times on your counter to remove air bubbles/pockets.  Hopefully any dimples or peaks will level out.  Don't use your finger with water for during baking this area will rise and buckle.
Bake 9 minutes for convection oven at 350 or bake 9-12 minutes for standard oven.  Feet will form during baking. If you don't get feet the oven may not have been hot enough. Set pan on cooling rack to cool.
Pipe remaining meringues and bake then cool completely.
Match shells as to sandwich together to get same size lined up.  Fill with selected filling.  Wrap and freeze for up to 2 weeks.  Thaw before serving.
Frosting Instructions:
In medium mixing bowl, whip butter and add confectioners sugar, half and half.  Beat to mix throughly.  Add lemon juice and food gel, stir to blend.  Add more confectioner's sugar if needed to make a smooth frosting.
Fill 2 piping bags with round tips.  Fill one bag with lemon curd and the other with lemon buttercream.  Pipe lemon curd in center of one cookie  then pipe a buttercream around the lemon curd and edge of cookie.  Sandwich cookies.
Notes
You will need a candy thermometer or a Thermapen, pastry bags with 1/2″ round plain tip for meringues and 3/8″ tip for filling.
Bake in convection oven if possible and on a shiny baking sheet. Standard oven may cause specks in the tops of the macaron, sifting flours three times will also help avoid the speckles.
If using a standard oven after baking first batch, preheat the oven again to 350.
Age egg whites 24 hours in covered container and refrigerate, bring to  room temperature before making macarons.
Mardi Gras Macarons will make everyone happy, especially those who love em.
Other Ideas you might like to try: