Create these fun and easy to make Cool Whip Marble Easter Eggs made with whipped cream  and food coloring.   Hard boiled colored Easter eggs just in time for the Easter Baskets! . To create the marbled eggs  begin with a casserole dish filled half full with whipped cream. add food gel or coloring in sections and stir to marbleize the color, then add hard boiled egg in each section of color.  So Hop on over into the kitchen and create these cute eggs with your kiddos.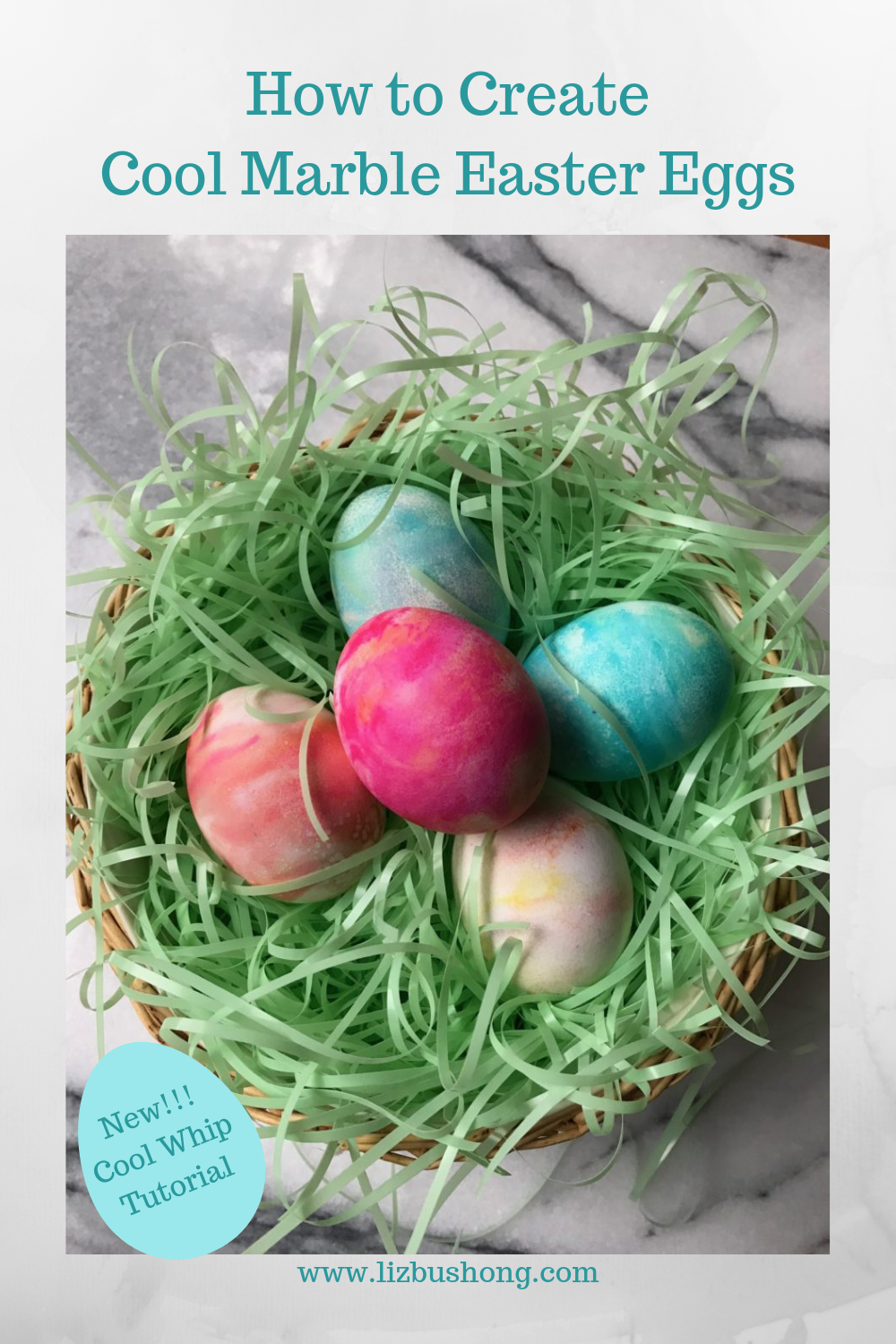 Print
Cool Marble Easter Eggs
1–16.oz purchased whipped cream
8 hard boiled eggs
4 different food coloring gels or colors
4  toothpicks or skewers
4 cups water
2 tablespoons distilled white vinegar or apple cider vinegar
plastic gloves
Instructions
Hard boil eggs and allow to cool.
Fill large bowl with water and vinegar.  Soak eggs in vinegar water for 10 minutes.
Fill 8 x 8″ casserole dish half full with whipped cream.
Add few drops of food coloring into each corner section of the dish.
With skewer or toothpick, slightly swirl the color into the whipped cream.
Dry eggs from vinegar bath, place one egg in each color.
Allow eggs to sit in colored cream for 10 minutes and repeat for other side of egg.
Remove eggs (wear gloves) and rinse each egg under running cool water.
Place eggs back in vinegar bath to help set the color, for about 5 minutes.
Dry off eggs and keep refrigerated until the big day of the hunt.
Notes
You can make fresh whipped cream if desired using 2 cups whipping cream, 4 tablespoons powdered sugar and beat until soft peaks form.
You must use vinegar water to help set the color otherwise your eggs will not grab the color or marble.
Some use shaving cream, but I would not recommend it especially if you plan to eat the hard boiled eggs, which I also would not recommend …especially if they have been out of the refrigerator for too long of a period of time.
TIP:  What to do with the leftover colored whipped cream???? 
Peel hard boiled eggs ( not the dyed ones) and cut in half, remove yolk for deviled egg filling, place the egg halves in color sections of the whipped cream and coat ( wear gloves) and let them sit for 5-10 minutes in the dye. Rinse and allow to dry on a paper towel.  You will have colored egg halves for for deviled egg tray.  Fill colored eggs with filling.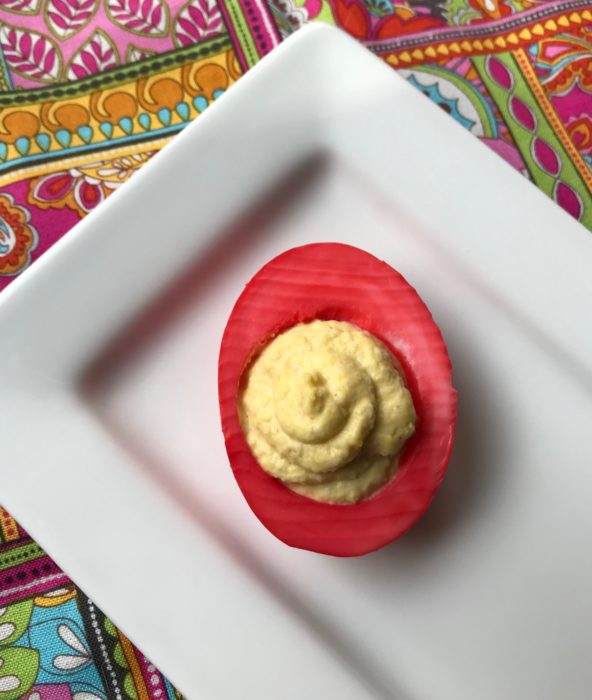 How to Make Marbled Easter Eggs Photo Tutorial
Whipped Cream with food coloring gel in sections of container, stir with toothpick to slightly blend colors for marbling,  soak eggs in vinegar water 10 minutes, then dry eggs, add eggs to whipped cream and swirled colors.  Leave eggs on one side 10 minutes, then repeat with other side of egg.  Remove eggs ( wear gloves) rinse each egg under running cold water, return to vinegar bath 5 minutes to help set the dye, remove from water and pat dry.  Refrigerate until the Egg hunt.  XO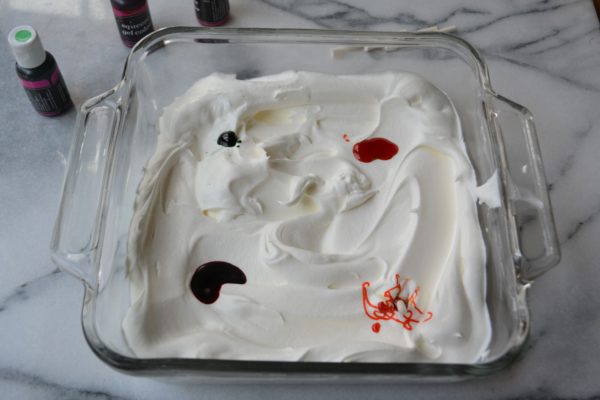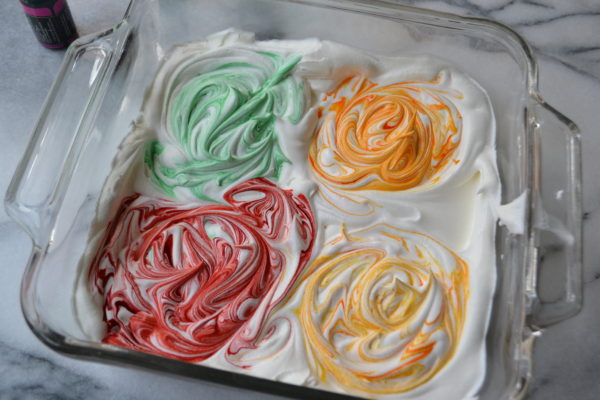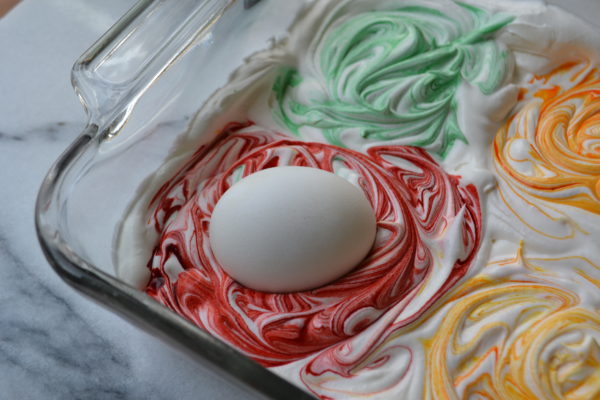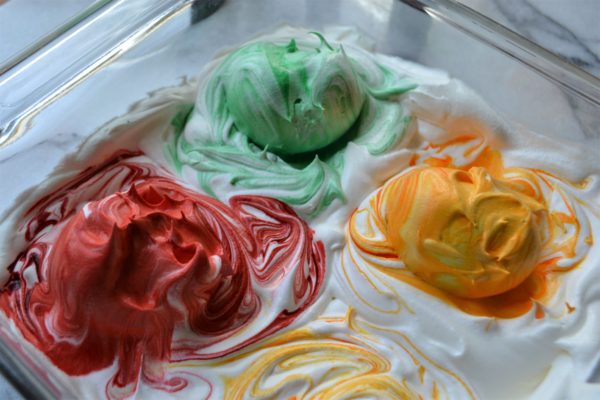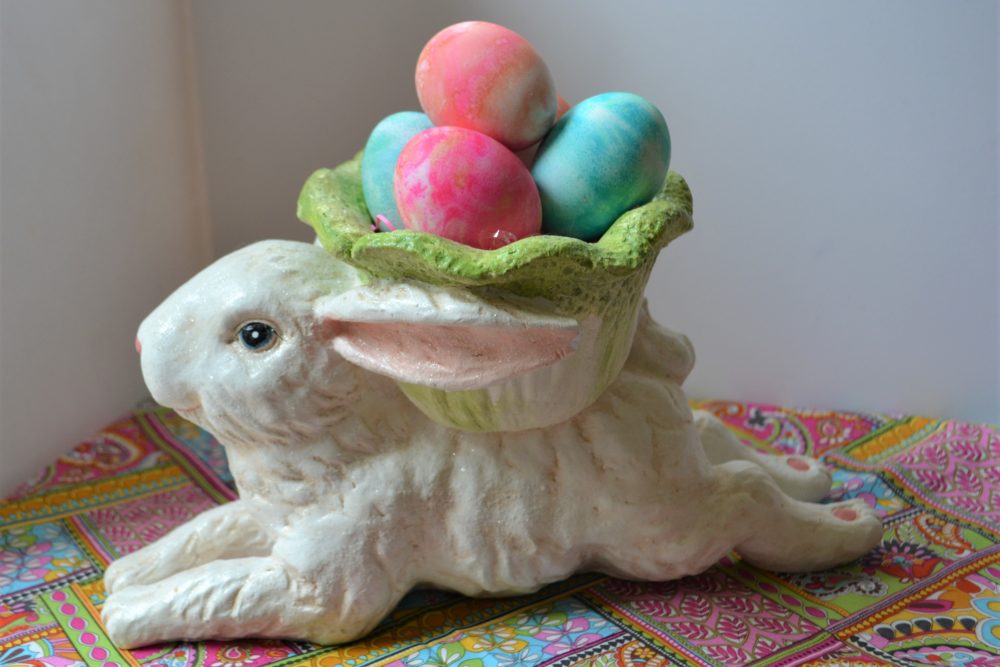 Hop-ing you have a great Easter!  xo Liz