Make the French Creme Tart for any occasion.  The tart features two layers of sweet shortbread rounds layered with piped fresh whipped cream and garnished with lemon macrons, fresh berries and lemon curd mini tarts.  So much fun to make, gather your garnishes ahead so you can put the tart together fast.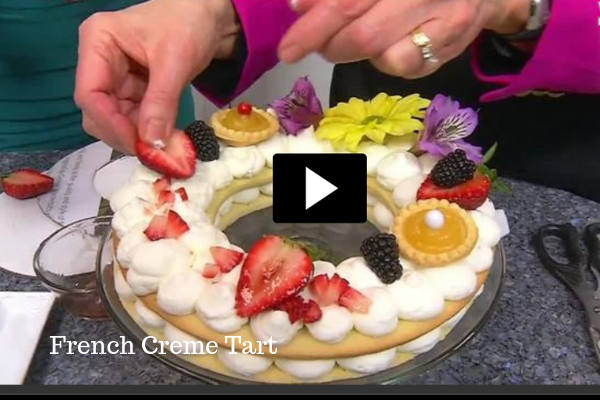 Print
Spring French Creme Tart
Sweet buttery crust, a Pate Sucree rolled 1/4″ thickness, cut into desired shape, baked and decorated with fresh whipped cream, berries, mini tarts and macrons.
Author: Liz Bushong
Prep Time:

45 minutes

Cook Time:

12 minutes

Total Time:

57 minutes

Yield:

6

-

8

servings

1

x
Pate Sucree (Tart Shell)
1-cup (2 sticks) unsalted butter, softened
2–2/3 cups all-purpose flour
¼ cup + 3 tablespoons almond flour, sifted
7 tablespoons confectioners sugar-sifted
¾ cup + 1 tablespoon confectioners sugar-sifted
1 egg + 1 egg yolk
½ teaspoon vanilla or ½ vanilla bean, split lengthwise
Crème Bouquet Whipped Cream
2 cups heavy whipping cream, chilled
½ cup confectioner's sugar, sifted
½ teaspoon Crème Bouquet Concentrated Flavoring
2 teaspoon powdered gelatin
2 tablespoon cold water
Garnish
5–6 fresh strawberries with leaves
½ cup fresh blueberries or blackberries
7 fresh mint leaves-optional
6 French lemon macrons * see recipe lizbushong.com
6 Shortbread mini tart shells* filled with Lemon curd
6 packages Sixlets or other small red, white or pink candies
1–3 organic or edible flowers
Instructions
Make Pate Sucree
Place all-purpose flour in medium bowl add sifted almond flour with 7 tablespoons confectioners sugar whisk together.
Place butter in stand mixer fitted with paddle attachment, beat butter on low speed until butter is smooth and consistent as mayo.
Add remaining confectioners sugar to the butter mixture then vanilla mix to blend then gradually add reserved flour in 2 additions. Mix 20 seconds.
Scape bottom of bowl and add egg and yolk, mix on low speed just to combine.
Transfer dough to work surface. Use heel of your hand to smooth dough. Divide dough in half and form each half into 4 x 6 inch rectangle about 2/3 thick. Wrap dough-tangles in plastic wrap. Refrigerate 2 hours or overnight.
Allow 1 packet of dough to sit at room temperature until slightly softened. Roll out into 1/8" thick disc large enough to fit round shaped template.
Cut 2 circles or rings with inner center removed. Place on parchment lined shiny baking sheet. Chill 10 minutes.
Bake tart dough at 350F for 10 minutes watching it doesn't burn. Cover with foil if necessary but avoid under baking.
Remove from oven and allow to cool before filling.
Make Whipped Cream & Garnish:
In small cup, dissolve gelatin in water and sit 5 minutes, microwave 15 seconds to melt. Let cool to room temperature.
In large clean and chilled mixing bowl with whisk attachment beat heavy cream on medium speed for 1 minute. Add cooled gelatin crème bouquet and confectioner's sugar beat until thick.
Fill pastry bag fitted with a large round pastry tip # 808 or size desired with whipped cream. Pipe large dollops of cream on top of bottom crust.
Add second crust on top of dollops. Repeat piping dollops.
Add Garnish :sliced strawberries, blueberries, macrons, sixlets or small candies,  lemon tarts and edible flowers as desired. Keep refrigerated and enjoy within 1 day. Best if eaten same day made.
Notes
Baking TIPS:
Make a cardboard template for the shape of the tart.  I measured my cake stand plate and made my pattern size.
Dough will not spread when baking, be sure to prick the dough and do not remove from baking pan until completely cool.  It will crack.
If you do crack the baked shell, no worries… you will be covering it with piped whipped cream and will be covered.
Wrap ends of flowers with plastic wrap or small straw before inserting into tart…if desired.  Use organic and edible flowers if possible. If not, warn the guests about not eating the flowers.  🙂