Watch this DIY on How to Decoupage a Chinoiserie Faux Pumpkin and Chargers for home decor. Supplies you will need include faux pumpkins or chargers, napkins and mod Podge decoupage, paint brush and water. Easy to create in an afternoon or weekend project just in time for entertaining family and friends at home. The napkins were designed by Michael Design Works. They have several products available with this lovely print he calls Indigo Cotton.
Select a napkin color that fits your home decor for best results.
Decoupage Tips:
Paint the faux pumpkin white using acrylic paints. If your napkin has a white background the paint color of the pumpkin will show through finished project.
Use sharp scissors to cut napkin the shape of a charger to ease fraying.
Use a chip brush or foam brush to apply Mod Podge®.
Coat finished project with a layer of Mod Podge® to seal.
Charger can not be hand washed. You can seal with coat of polyurethane but it could turn the piece a bit yellow. For best results try one to see how it works.
Ordered my napkin from Amazon for I could not find the Chinoiserie print locally.
How to Cover Pumpkin with Napkin
Remove pumpkin stem and coat upper third of pumpkin with decoupage glue.
Separate ply from napkin, do not glue napkin… only pumpkin.
Attach napkin print side up over upper third or half of pumpkin. Press gently with clean fingers into pumpkin crevices to smooth. Use a clean foam brush if necessary.
Apply glue to bottom half of pumpkin, remove ply from napkin, cut out designs from napkin to repeat or continue pattern where napkin left off on pumpkin. Cut slits in napkin to ease into place making sure entire napkin surface is covered.
Coat entire completed pumpkin and charger with one coat of decoupage glue to seal.
Allow to dry before using pumpkin or charger. Video shows charger application.
Hot glue pumpkin stem back in place when pumpkin is dry.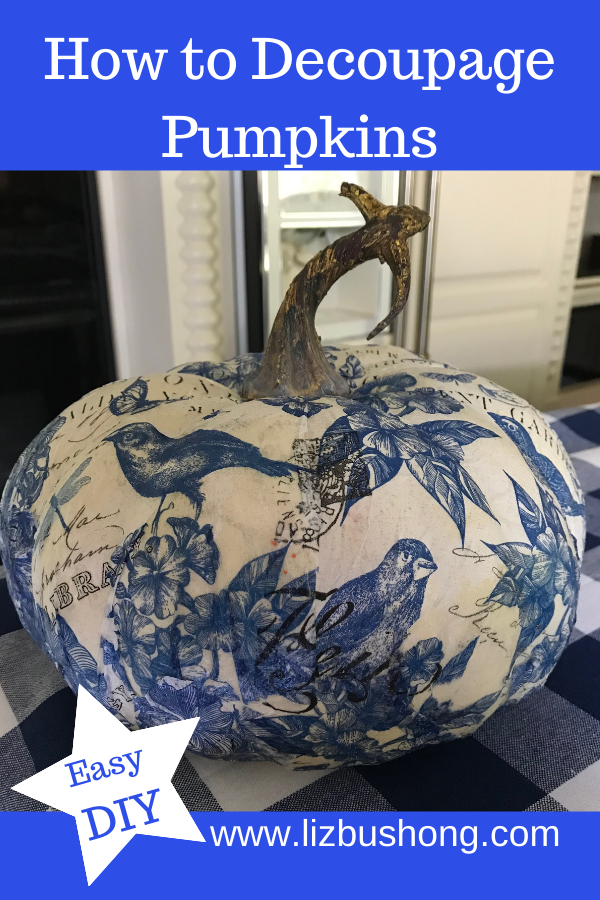 Other Ideas you might like to try: