Everyone needs pencils when going back to school, make a treat for kids lunch boxes that look like pencils.  Wrapped cheese sticks are covered with golden yellow and pink scrapbook paper with candy kiss to look like a pencil.  These are so much fun to make and eat.  If you want a sweet treat use unwrapped Rolo® candies.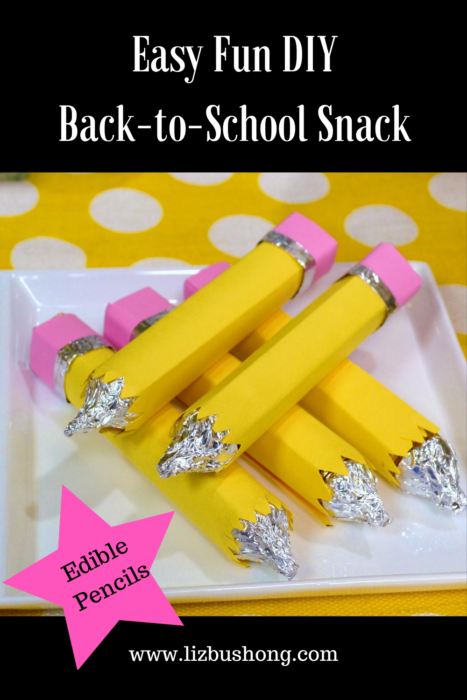 Back to school can be fun with festive foods and things kids can make.
Ingredients and Materials Needed for Candy or Cheese Edible Pencils
Print
Edible Pencils for Back-to-School DIY
Author: Liz Bushong
Prep Time:

30 minutes

Cook Time:

none

Total Time:

30 minutes

Yield:

6

pencils

1

x
Category:

Snack for Kids

Method:

DIY

Cuisine:

American
6 Packages Rolo ® Candies or  6 packaged Cheddar Cheese Sticks- Rolo candies in photo
2 –8 1/2 x 11″  Golden Yellow and Pink solid scrapbooking paper.
6 Wrapped Hershey Kisses for Rolo Candy Pencils
1/4 cup peanut, (cheese pencil only)
6 raisins (cheese pencil only)
6 bugles or other snack food funnel shape for end of pencil ( cheese pencil only)
Strips of aluminum foil- folded into 1/4 " pieces ( candy pencil only).
Glue gun and sticks for rolo candy pencil
Instructions
To assemble:
Measure length of candy roll to determine the length and width.
Cut golden yellow scrapbook paper to the diameter and length of candy roll.
Cut pink paper into strips wide enough and long enough to cover the end of the pencil to resemble an easer. You can use pinking shears to cut one end of the yellow paper to resemble a sharpened pencil.
Hot glue or using double sided tape to attach the yellow paper to the roll or stick of cheese. Make sure you wrap the cheese stick with plastic wrap if you remove the packaging, so this will not leave the paper cover with spots.
Using 1/4″ piece of foil, wrap around the top of yellow paper as a pencil band, see photo. This will cover any paper ends at the top of the pencil.
To assemble cheese stick pencil, unwrap cheese stick, fill bugle with peanut butter.  attach bugle to one end of cheese stick. attach a raisin or current with peanut butter to create pencil lead point. If you want to wrap cheese stick in plastic wrap and cover with scrapbook paper you can or if eating immediately unwrap from original packaging and attach bugle/raisin.  Serve cheese stick immediately or keep wrapped and chilled.
Notes
Rolo candies make wider pencils while cheese stick pencils are slender.  If you make the cheese sticks for lunch boxes. Unwrap cheese packaging, use peanut butter to attach bugle and raisin, there is no easer for this stick.  Wrap in plastic wrap and keep refrigerated then ice packs in lunch pack.
Other Ideas you might like to try: