Make someone smile with these Happy Snowman Oreo Cookie Pop's!  White Oreo Cookies are dipped in white chocolate bark with colorful red or green candy melt hats and scarfs. These cookie pops are dressed up like snowmen on a cold wintery day.  White Oreo's with lemon filling was used for those who can not  have chocolate and really helps with the coating. These Happy Snowmen Oreo Cookie Pops are delicious and fun to make, check out the instructions below.
Set aside some time to decorate these little guys, it takes a few minutes to to dip and design each pop.  Cookies are put on a cookie stick, dipped in melted white chocolate and allowed to set up before decorating.
How to Make Happy Snowmen Oreo Cookie Pop's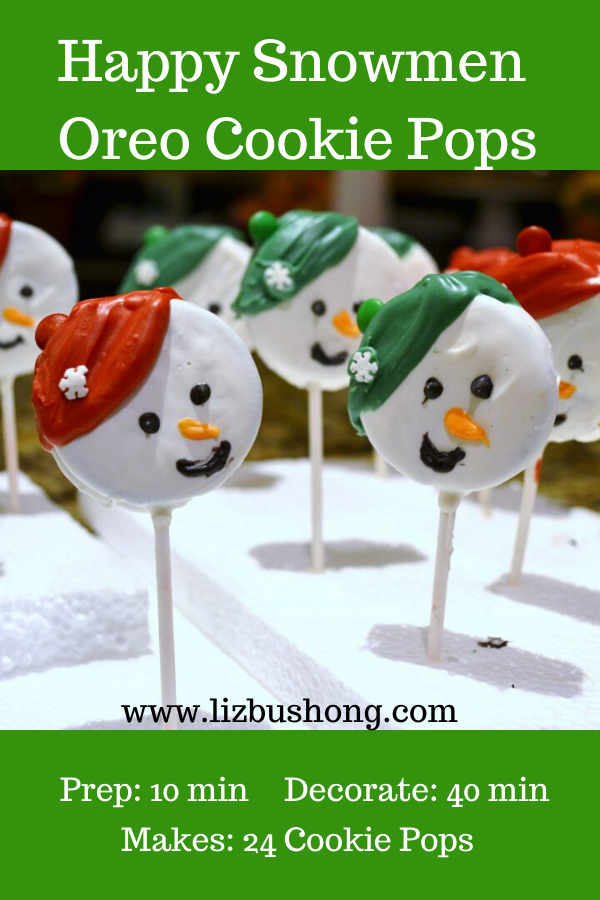 These guys are so cute!  
To make your snowmen Oreo cookie pops you will need, double stuffed Oreo's, 2 bags  pure white Candy melts or Almond Bark,  pop sticks,  candy melt colors- orange, red, green, and black.  Mini red and green M & M's, tiny confectionery snowflakes or other edible decor for the hat. You will also need a cute 1/4″ wide striped ribbon to tie around the stick or package to resemble a scarf.
Snowmen Oreo Cookie Pops |Candy Melts or Almond Bark?
Melt 1 bag of white candy melts or almond bark in microwave 25 seconds at a time until melted.  Stir until wafers are melted.  The bark melts easier and will not be as thick as the melts.  The melts give you a brighter face and thicker coating.  Your preference whether you use the melts or bark.  I liked the results of the white faces using the candy melts, but it was harder to work with.    Here's the recipe.  Have a good time creating!
Get Happy Snowmen Oreo Cookie Pop Recipe Now
Print
Snowmen Oreo Cookie Pop Recipe
Author: Liz Bushong
Prep Time:

10 min.

Cook Time:

Design Time: 40 min.

Total Time:

50-60 minutes

Yield:

24

cookie pops

1

x
Category:

Dessert-Cookies

Method:

Dip & Decorate

Cuisine:

American-Christmas
1– 14.3 oz package Oreo Cookies-double stuffed
2 bags Wilton Candy Melts- pure white*  or Almond Bark
1 bag  each Wilton Candy Melts orange, red, green, and black- or colors you desire the snowman hat to be.
Mini red and green M & M's
Snowflake confectionery decor or decor desired to decorate the hats
toothpicks, pop sticks, pop stick bags, striped 1/4″ wide ribbon for scarf, scissors
piece of styrofoam to hold sticks after coating
*Almond Bark will have a thin consistency but easier to coat cookies while the melts will be thicker and much brighter in color.
Instructions
Prepare baking sheet with parchment paper. Set aside.  Place assorted color of melts in separate custard cups to melt, assemble remaining tools and ingredients and set aside.
Melt one bag white candy melts or bark in microwave for 25 seconds at a time until melted. (keep your melts warm by placing a bowl of hot water under neath the bowl with the melted candy) do not allow water to come in contact with the candy.
Separate cookies in half, leaving filling on one side of cookie only.  Dip  one end of pop stick in melted candy and insert on filling side of open cookie.  This is the"glue" that will keep the stick in place while dipping.
Add a small dollop of coating /melt to the other half of cookie. Sandwich the cookies with stick together and allow to harden 10 minutes before dipping.
Dip cookies in white or bark, coat both sides.  Place cookie pop on parchment lined baking sheet. Can place in refrigerator until hardened.  If you have candy melt feet around the cookie, you can remove that with a sharp knife after the cookie hardens.
Snowman Details: 

Hat-melt red and green melts separately in custard cup, dip one corner into one or the other color to coat top side of head.  Add red or green Mini M & M to finish the stocking hat.

Nose:  melt 6 wafers of orange melts separately in custard cup, stir to smooth.  Using toothpick, pick up a small amount of orange melt and dot center of cookie pop for nose.  Draw out pick to make the nose curl upward, like a carrot shape.  Melts will harden fast.
Eyes and Mouth- Melt 6 wafers of black candy melts in custard cup.  Stir until smooth.  Using toothpick, pick up small amount of melt and dot two eyes and several dots for mouth.  Connect dots for mouth.
Snowflake on Hat- to attach snowflake, whatever color your hat is, red or green , use a toothpick and dot the hat with the colored melt, than attach the confectionery snowflake to one side.
Scarf- cut 6″ of striped ribbon length to tie around packaged pop or pop stick with out the package.
To present these pops as gifts, after hardened, insert pops into pop bag and tie with striped ribbon.
Notes
Plan ahead when making these they are time consuming but very very cute! This was not my original idea so thank you Ruth Ann at Easy Baked Blog for sharing this recipe.
Keywords: Cookie Pops, Snowmen Cookie Pops. How to Make Snowmen Cookie Pops, White Chocolate Cookie Pops
Other Ideas you might like to try: