Santa Hat Meringues are whipped egg whites coated with red sugar in the shape of a Santa hat trimmed with white cuff and pompom. These are so much fun to make.  The recipe makes 24 and are light and airy to eat.  They will look perfect on your Christmas Cookie Tray or packaged as gifts.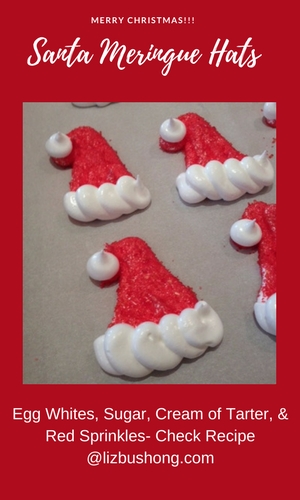 Print
Santa Hat Meringue Recipe
3 large eggs, use and separate egg whites only, room temperature
1/2 teaspoon cream of tarter
1/2 teaspoon almond extract
1/2 cup granulated sugar
Red colored sugar
Instructions
Preheat oven to 250.  Line baking sheet with parchment paper set aside.
Place egg whites in stand mixing bowl, add cream of tarter and beat on low until whites are frothy.  Add extract.
Gradually add sugar 1 tablespoon at a time, beating well.
Beat egg whites on high speed until stiff glossy peak forms.
Fill piping bag fitted with #12 tip with half of the meringue.
Fill another piping bag fitted with #8 or shell tip with remaining half of meringue.
Using tip 12  pipe a hat triangle onto parchment paper.  Sprinkle with red sugar.  Meringue will stick to parchment paper.  Pick up corners of paper and remove excess red sugar.
Place meringues on paper back on the baking sheet, pipe fur trim and pompoms, using the tip 8.

Bake 40 minutes or until firm to the touch.  Turn oven off (do not open oven door).  Leave meringues in oven 1 hour to dry.

When cool, remove Santa hats from the paper. Store in an airtight container at room temperature.
Santa Hat Meringue Tips:
Tip #1: It is important to work with room temperature egg whites and mixing bowl.  By doing this, your meringue will whip up beautifully.
Tip #2:  Make sure your mixing bowl and wire whisk are clean and grease- free before whipping the egg whites. The whites will not rise and whip like they should if you have any residue of grease.
Tip # 3: You have to use cream of tarter with the  egg whites.  Cream of tartar is for stabilizing egg whites while whipping them.  The tartar also helps to increase the volume of the whites and keeps them bright and white.
Tip #4: Piping tip # 12  has a smooth round opening large enough to pipe the hat shape.   Piping Tip # 32, a shell design, created the cuff and pompoms.  The original recipe recommended tip #12 and tip# 8.  I also used the disposable piping bags. 
Tip #5:  Gently sprinkle the meringues with red sparkling sugar to coat all sides of the meringue hats.  After coating the meringues, remove the excess sugar.  Pipe cuffs and pom poms last.   Leaving excess sugar on the baking sheet would burn, especially the amount of sugar used.
Tip #6: Wet finger with water and lightly touch any meringue points from piping.
Tip #7:  Do not open the oven door once you place the meringues in the 240 degree oven.  They will sink if you do.  After 40 minutes of baking, turn the oven off and leave the meringues in the oven to dry for at least one hour.
Tip#8:  Remove the meringues from the parchment baking sheet only after they are completely cool.  Cooled meringues will automatically release from the pan.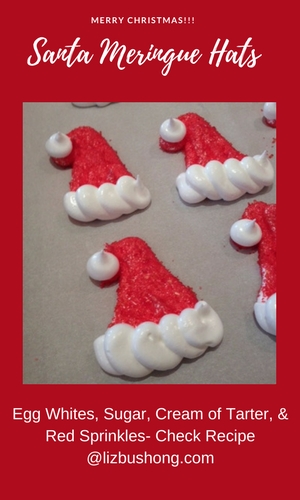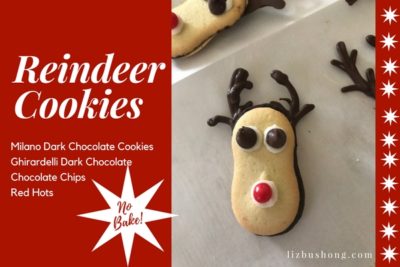 You might want to make these cute little guys too!
Click on photo for how to!