Nothing cleanses and refreshes our bodies like Herbal Lemon Water. This recipe is super simple to make with fresh lemons, cucumbers, ginger and mint. All herbal goodness, fresh and organic. You and your guests will enjoy this beverage all summer long. Whether you serve it during summer months or serve it warm in the winter, this will be your go to recipe. Great for detoxing too.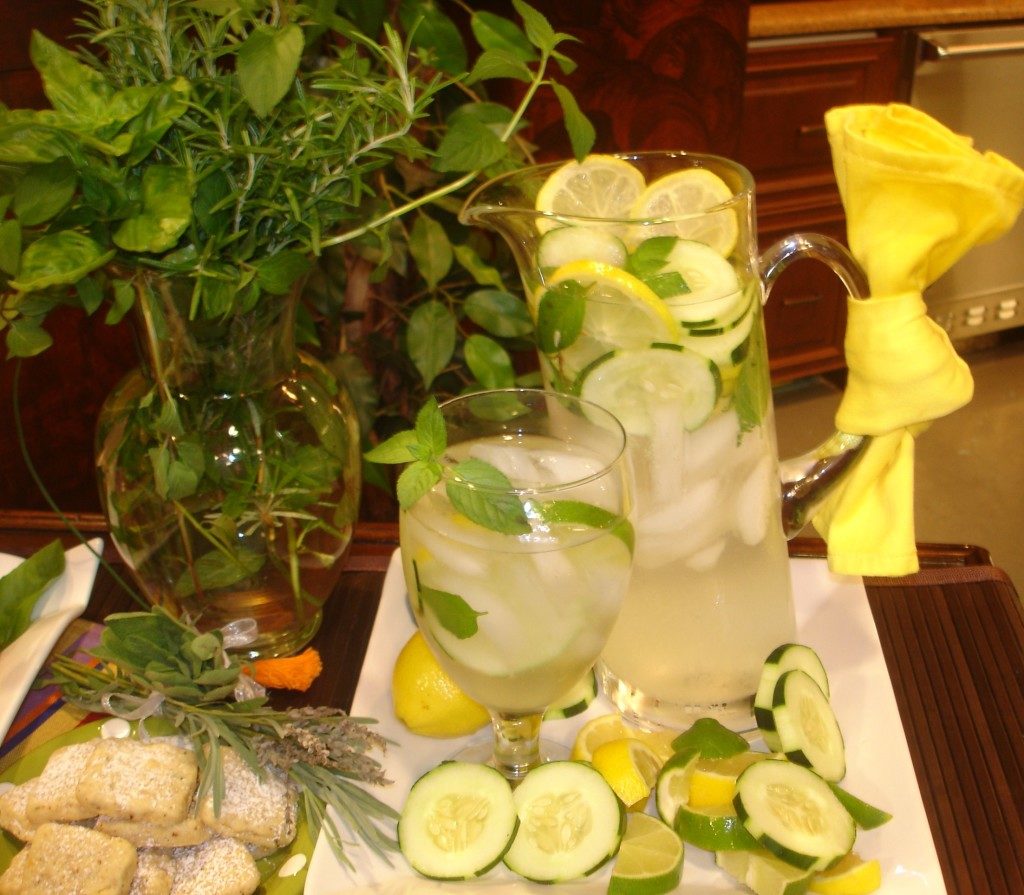 How to Make Herbal Lemon Water
While it's not rocket science to make this water there are few tips that will make it more enjoyable. Water is good for you and sometimes drinking water for some seems a little tasteless or flat. Not after this recipe, you will be drinking herbal water every day.
Start your herbal water recipe with purified water. Having good purified water will make everything taste better. Another way to increase your odds of drinking herbal water is making fruit or lemon /lime ice cubes. To make these ice cubes, you will need an old fashion ice cube tray that you fill and freeze. Fill each cup with grated lemon and thin lemon slices. Do the same with lime. Add a raspberry or other berry if you desire. Now for the herbs, mint leaves, thyme, rosemary all make great flavors for herbal water. In this recipe I used lemon, grated ginger root, and mint. Ginger is calming and helps with stomach issues, great for sipping water.
Fill a pretty pitcher with crushed ice, herbal ice cubes if you made them, sliced cucumbers (English has less seeds), and lemon slices. Add grated ginger, stir to combine, then chill water at least 4 hours. I like to make this the night before, cover with plastic wrap and enjoy it all day the next day. No sugar or sugar substitutes, just pure water with herbs and citrus.
Hope you will try this recipe. Get creative with how you want to serve your sip.
Sip Sip Hoo-ray!
Print
Herbal Lemon Water Recipe|Beverage
The herbal blend is lemon, mint and grated ginger.  Add rosemary sprigs as a garnish if desired.
6 cups purified water
2 cups crushed ice
1 English cucumber, peeled, seeded and sliced into 1/4" pieces
1/2 " piece of fresh ginger root, peeled and grated finely
5  mint leaves, washed with no stems
1 lemon, washed and 1/4″ slices
Instructions
In large glass pitcher, add water and crushed ice. Stir to blend.
Grate ginger and add to water.
Add sliced cucumbers, mint leaves, and lemon slices.
Stir to blend.
Allow to sit in refrigerator 4 hours to over night for flavors to blend.
Serve over crushed ice.
Garnish with rosemary sprig, lemon wedges and mint leaf.