Making home made hummus is easy with this garlic recipe.  Dried garbanzo beans soaked overnight and cooked on stovetop for 2 hours begins this easy recipe. Once beans are cooked and drained, the beans are blended in a food processor until thick and creamy. Because this recipe is so versatile and simple to make you will want to serve hummus all summer long.  If you don't want to use fresh dried beans, canned garbanzo beans will also work for this recipe.  Read more for the how-to recipe.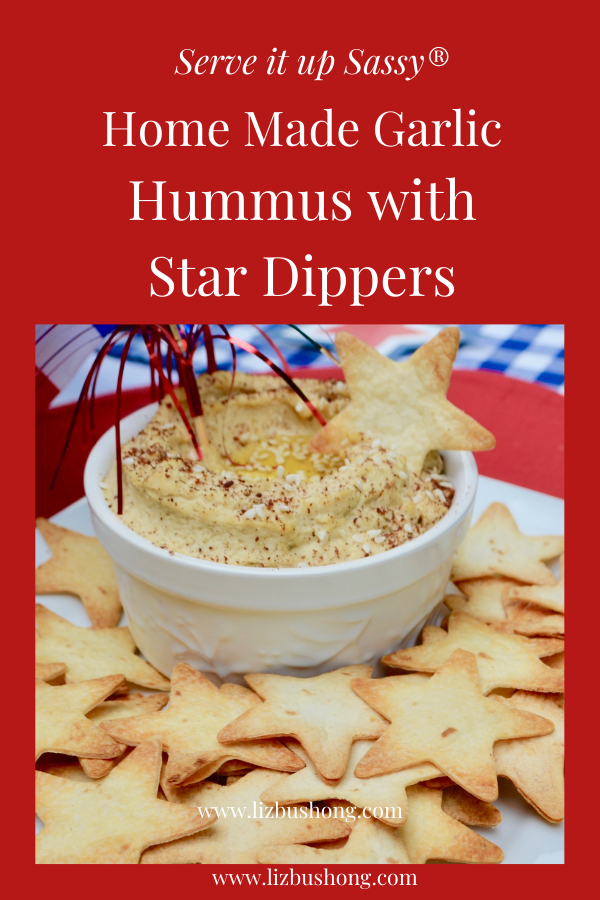 How to make Home-Made Hummus using Dried Garbanzo Beans
Soak dried garbanzo beans in saucepan of water overnight or at least 4 hours to soften. Once the beans are double in size, drain the water and fill saucepan with water covering the top of the beans.  Cook over medium heat for 2 hours.  I know that sounds long, but you want the beans to be soft and tender before mixing.  This delicious recipe is inspired by The Mediterranean Dish.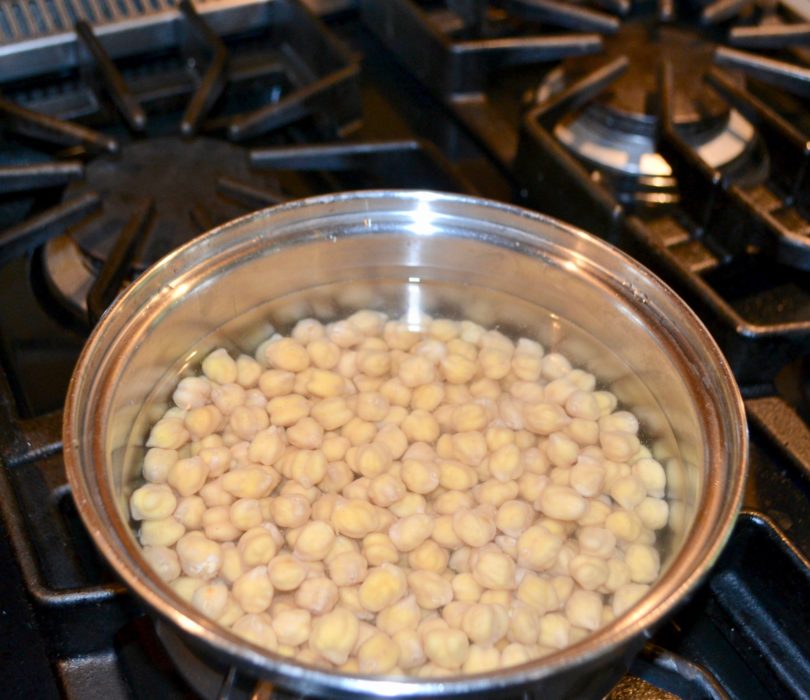 In bowl food processor fitted with steel blade, place drained cooked beans.  Add garlic cloves, tahini and olive oil, salt and pepper.  Pulse beans at 30 second intervals until mixture becomes somewhat creamy.  To make beet hummus, just add two or three 1/4″ slices of cooked beets not pickled to the finished hummus. 
What is Tahini?
Tahini is ground sesame seeds that is pureed into a thick paste.  It is added to ground garbanzo beans to make a nutty flavored and creamy textured hummus.  You will love it. Get organic if you can if has the best flavor.

Now for the secret ingredient for a creamy smooth hummus! 
This secret was revealed on mediterranean dish  website. So here it is… add a couple of ice cubes to the beans and process until thick and creamy.  Guess what?  The garbanzo bean hummus now looks creamy white.. yes it has more of a white color.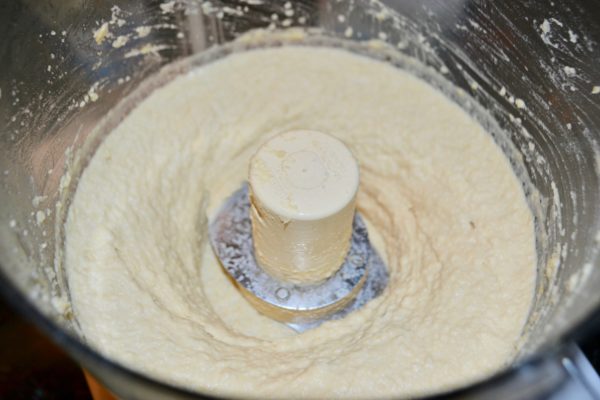 Taste and see if you need to add more spices.  At this point your hummus is done.  Add any flavors your family likes.  Right before serving, drizzle with more olive oil, sprinkle with paprika or sumac/spice you love and sesame seeds.  I like the spice sumac from the mediterranean dish . She also has olive oil and other great spices. 
Add hummus to serving dish, sprinkle with sumac and drizzle with olive oil.  If I would have been thinking I would have also added a few whole garbanzo beans as a garnish.  But I did add a sparkling pick and cut out star.  🙂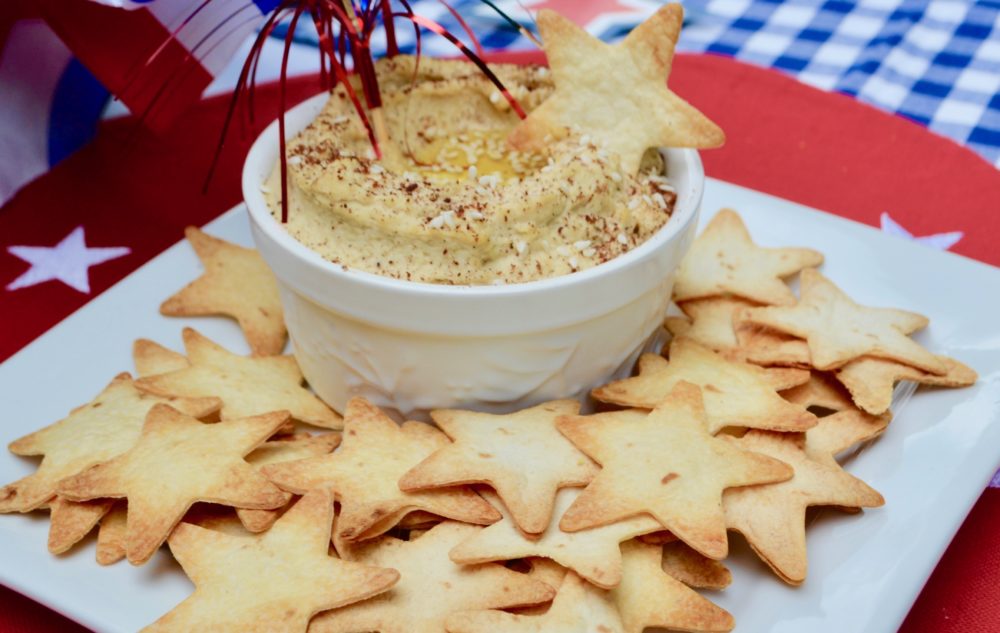 How to Make the Cut out Stars
These little dippers make the best scoop for serving hummus especially for patriotic events even Christmas.  Where ever stars are needed. The recipe is very simple and takes about 15 minutes to make.
Ingredients & Tools needed to make Star Dippers
You will need a small-medium metal star cookie cutters, baking sheet, cooking spray and flour tortillas.  Depending on how many you want to make, you will need about 3 packages of 10 tortillas to make 30 or more stars.  If you don't want to make your own, check out these cute crackers.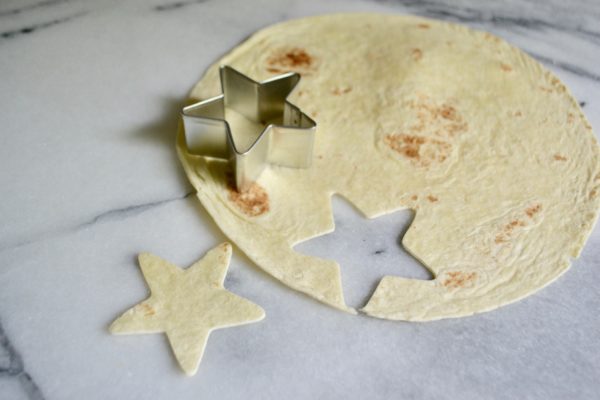 Cut out star shapes from tortillas.  Place on lightly sprayed baking sheet, sprinkle with sea salt.  Bake at 375 for 5-6 minutes.  Watch carefully as not to burn.  Thats it!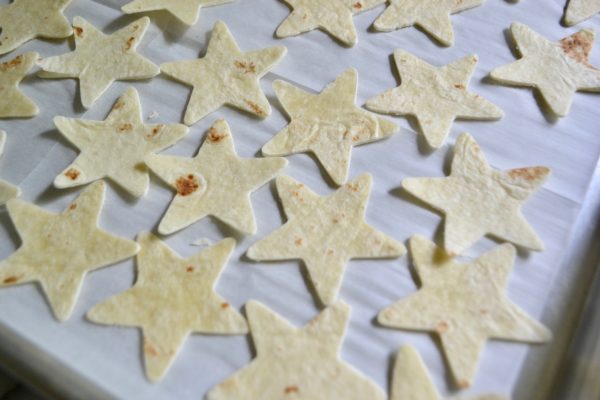 Bake stars for 5-8 minutes.  Store in air tight container after baking and cooling.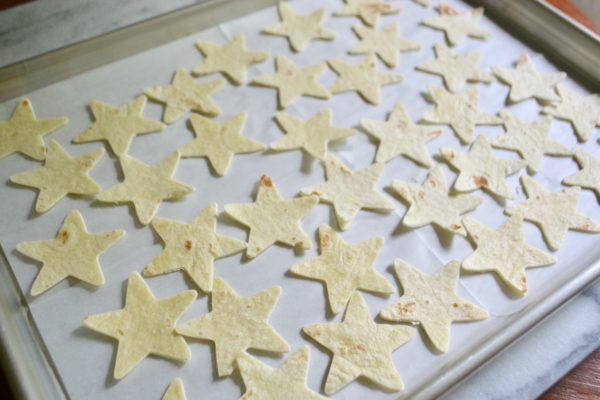 Pretty easy recipe for hummus and star dippers.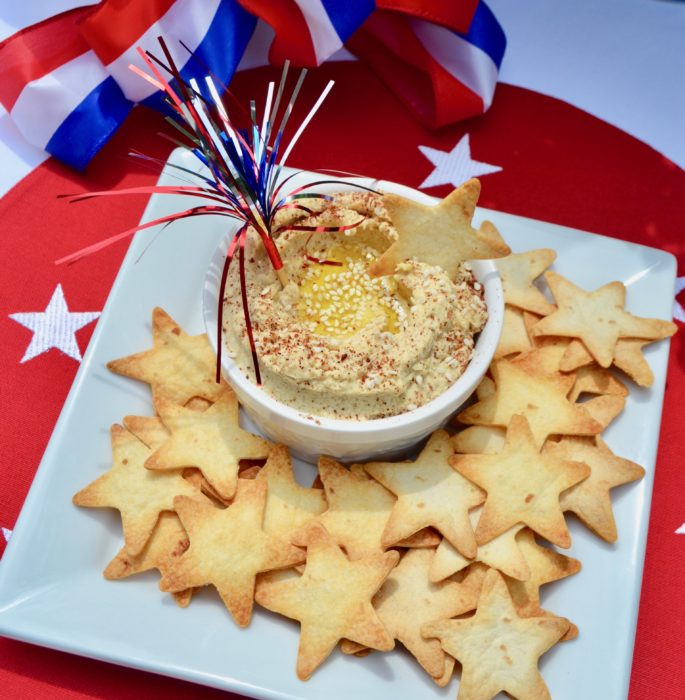 Hope you will make hummus and these cute little cut outs.  If you don't need stars, use a different metal cookie cutter.  Yeah.. its fun and your kids would love making these too.
Happy Celebrations!
Liz xo
Other Ideas you might like to try:
Beet Hummus- Recipe This Page.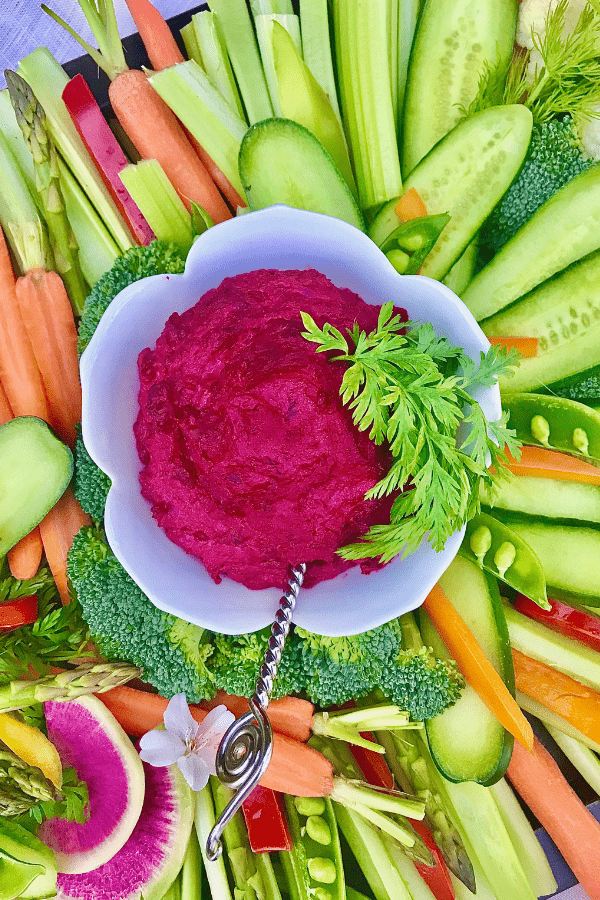 Classic Hummus Recipe- on this page.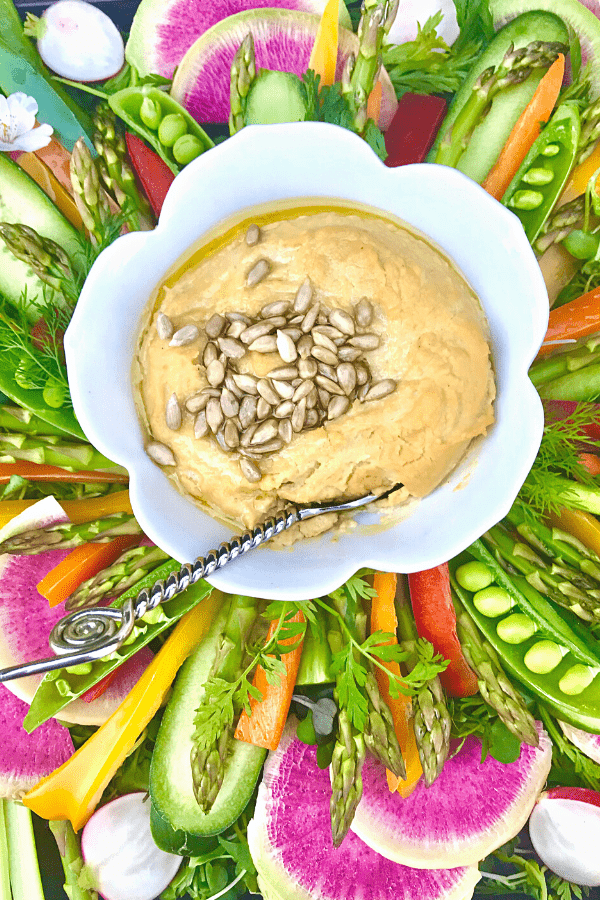 Print
Home made Classic Hummus
Make classic hummus and add different flavors to fit the holiday or occasion. Cooked garbanzo beans, tahini paste, garlic, salt, olive oil are the basics but for a twist add cooked beets or other spices and herbs.
Author: Liz Bushong
Prep Time:

10 minutes

Cook Time:

10 minutes

Total Time:

20 minutes for canned beans

Yield:

2 cups

– 8-10 servings

1

x
Category:

Appetizer

Method:

Food Processor

Cuisine:

Greek
3 cups

cooked chickpeas, peeled (from

1

to

1 1/4

cup dry chickpeas or from quality canned chickpeas.

1

to

2

garlic cloves, minced

3

to

4

ice cubes

1/3 cup

(

79 grams

) tahini paste

1/2 tsp

kosher salt
Juice of

1

lemon
Hot water (if needed)
Extra virgin olive oil
Instructions
Add chickpeas and minced garlic to the bowl of a food processor. Pulse until fine a few seconds.

While processor is running, tahini, salt, lemon juice and ice cubes. Blend for about 4 minutes or so. If consistency is too thick, run processor and slowly add a little hot water. Blend until desired smooth consistency. 

Serve with Star Shaped baked tortillas,

pita wedges and your favorite veggies.
Notes
Recipe inspired by Mediterranean Dish. This recipe is sooo good. Creamy and smooth. I used dried garbanzo beans for this recipe. 
Keywords: Hummus, Olive Oil, Tahini, Sesame Seed Paste