Want some chocolate but want to eat healthy? This make a head recipe will satisfy every sweet tooth without the guilt. Dark chocolate morsels is melted with coconut milk and flavored with orange zest and ground ginger as the filling. While the filling thickens the walnut fig crust is processed in food processor and pressed into small tart pans with removable bottoms.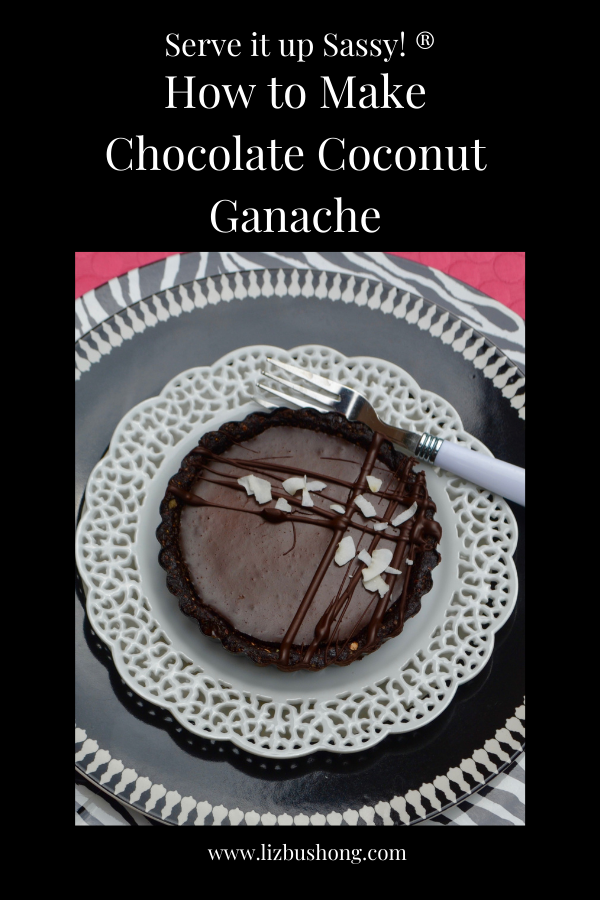 How to Make Chocolate Coconut Ganache Ginger Tart
This no bake dessert takes minutes to prepare. In addition this dessert is healthy meaning maple syrup is used as a sweetener, along with the figs and dates. Organic canned coconut is placed in the refrigerator to chill so the liquid separates from the solid coconut. Ginger adds just enough kick to make is spicy good while the orange zest perks up the dark chocolate.

How to Make the Crust
If bowl of food processor fitted with metal blade, walnuts, oatmeal and special dark cocoa is whirled together until finely ground. 4 dates and 2 figs are added along with the maple syrup, ground ginger and zest are added to nut mixture and pulsed to blend. The dough will be somewhat wet and sticky but should hold its shape when pressed together.
Press nut crust into bottom and sides of 5″ mini tart pans with removable bottom. Make sure the crust bottom is flat. I found dividing the dough into quarters helped with getting the same amount of crust inside the pan. Chill the crust while you make the filling.
Dark Chocolate Filling Makes Coconut Ganache
Drain water from chilled coconut cream. Place solid coconut meat in a small saucepan to melt. Add dark chocolate morsels and maple syrup to the melted coconut, stir with a whisk until the ganache or mixture thickens. You are actually making a coconut ganache. You can add orange zest to the ganache while melting or right before pouring into the chilled crusts. It's totally up to you. I added everything to the saucepan.
Now that you have the filling and crusts made, pour the ganache into the crust lined tart pans. Chill to set about 20 minutes or one hour. This dessert can be made ahead one or two days. Just keep chilled and covered in refrigerator. Cover with plastic wrap.
If you don't want to make a tart or don't have the small pans, you can serve in a parfait glass or small dish. Because this dessert is very rich, use small parfaits or dessert cups for serving. Keep in mind the smaller the container the more ganache servings you might have. So thats a good thing …right?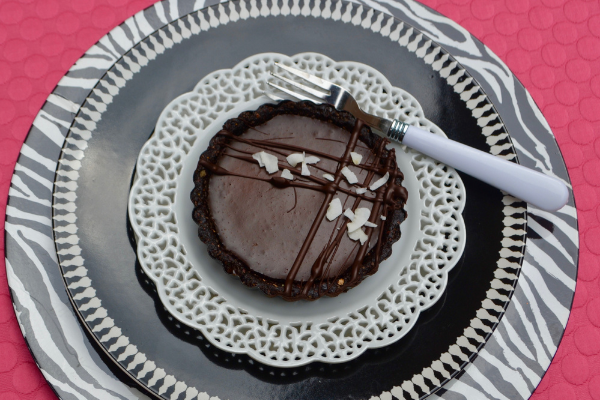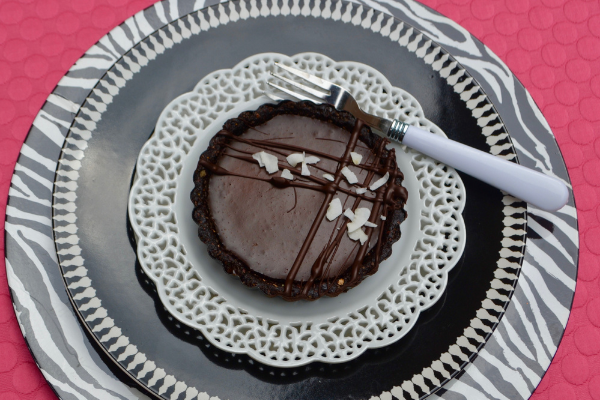 Right before serving, garnish with melted chocolate chips in zip lock baggie and pipe your design across the tops of the tarts. If you have crystallized ginger, before the chocolate sets up, sprinkle the tops with the ginger pieces. Otherwise use large flaked coconut and sea salt. Bob's red mill has this in health food section of grocery store. You can always use sweetened shredded coconut too. 🙂
Takes moments to make. Serve it up Sassy simple dessert recipe for any occasion.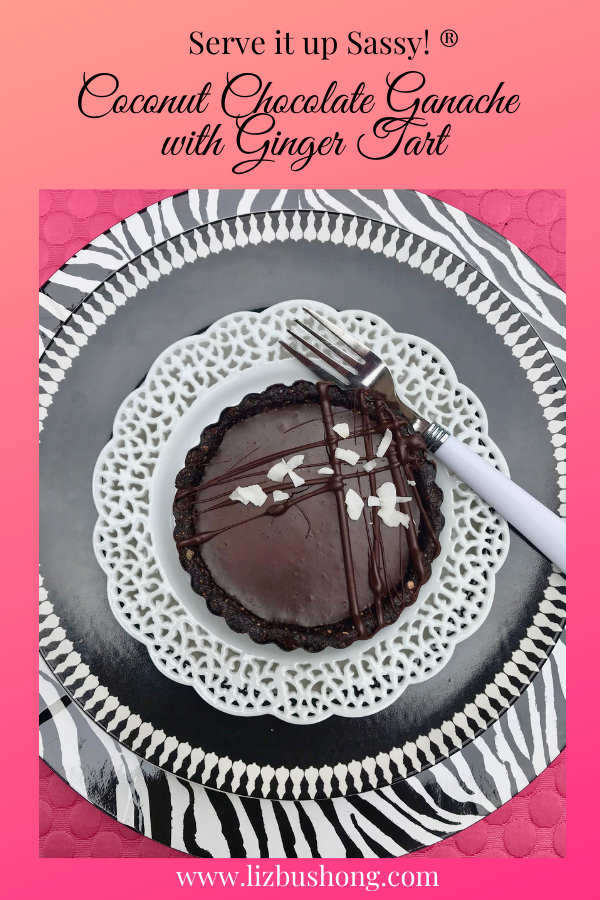 Let me know if you make this dessert. It's super simple and delish! It's vegan and gluten free if you use gluten free oats.
Recipe makes 4 servings. Ok.. here's the recipe.
Print
Ginger Orange Coconut Dark Chocolate Tarts
Decadent coconut ganache with ginger and orange zest fills date fig oatmeal no bake crust in small tart pans.
Author: Liz Bushong
Prep Time:

15 minutes

Cook Time:

8 minutes

Total Time:

30 minutes

Yield:

4

mini tarts

1

x
Category:

Dessert

Method:

No Bake

Cuisine:

American
Date Fig Crust
1 cup chopped toasted pecans or walnuts
1/2 cup old fashion rolled oats or gluten free oats
1/2 cup unsweetened dark cocoa
6 Medjool dates, pitted
4 dried figs, rinsed and cut in half
2 teaspoons ground ginger
Coconut Ganache Filling
1–14 ounce can coconut cream, chilled
1/4 cup dark chocolate chips
2 tablespoons maple syrup
Orange zest from one small orange
Garnish
Melted chocolate drizzle- 1/4 cup chocolate chips
Coconut pieces or sweetened shredded coconut
Sea Salt
Crystallized ginger pieces
Instructions
In food processor bowl fitted with metal blade, pulse together all crust ingredients.
Press equal amounts of crust into 4 mini tart pans with remove-able bottoms. Press crust up the sides of the pan as well as cover the bottom of tin.  Chill while making filling.
Filling:
Open coconut cream from can and drain off water. Place solid coconut pieces in small saucepan. Use the drained coconut water for other recipes if desired.
Add remaining ingredients to saucepan.  Stir over medium low heat  with a whisk until melted and thickened like ganache.  Cool 5 minutes.
Pour filling into chilled tart crusts evenly among pans.  Return to refrigerator to chill.
Serve tarts by removing tart shells from the pan on individual serving plates.
Notes
Coconut cream is different than coconut milk.  You want the kind that comes in a can. C milk has water added and will not produce the creamy texture of ganache.
Crust will be sticky so chilling in a must.
Dessert can be made a head and kept chilled until serving.
Keywords: #Coconut, #Dessert #ganache #chocolate #tart
Other Ideas you Might Like to Try: