Easy- to-make buttermilk pancakes and cooked sausage links are rolled into cones and served in individual cups with maple syrup. The pancakes are flavored with maple balsamic vinegar for a new twist on making pancakes. To finish the pancake and sausage breakfast roll ups, fresh cinnamon whipped cream is piped inside the cone and sprinkled with ground cinnamon.  So much fun to serve and eat!!!  Your guests will love this easy and fun recipe.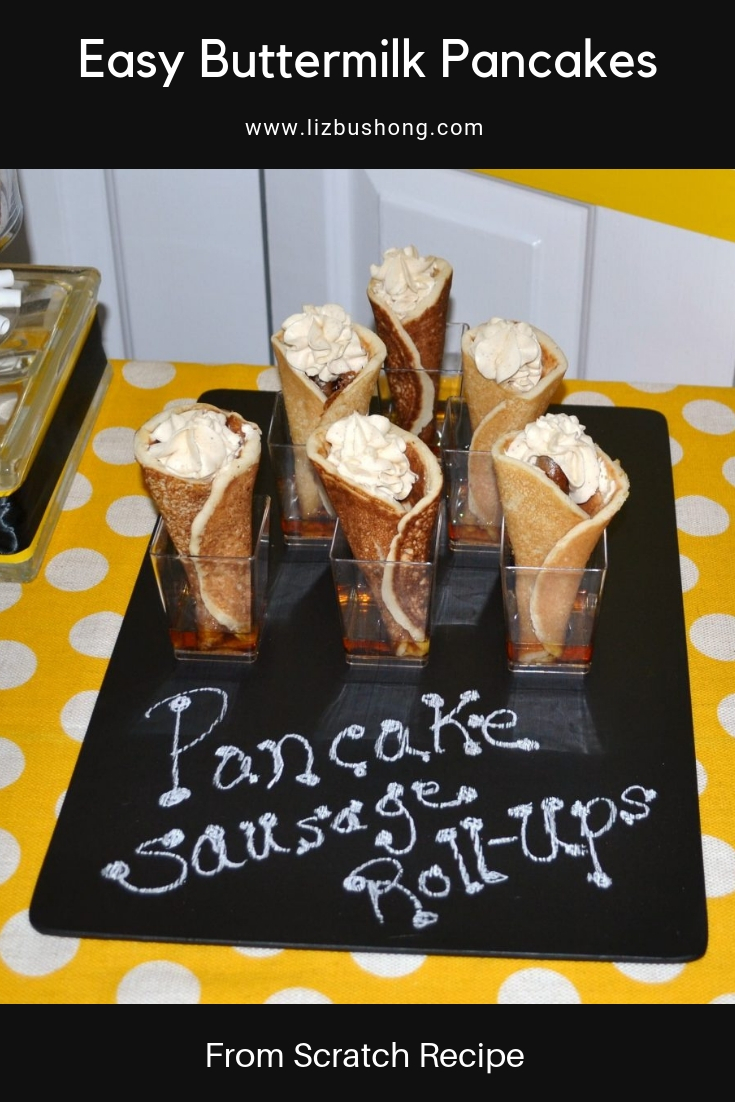 How to Make Pancakes & Sausage Roll Ups
Why serve pancakes rolled up with sausage links?  Well for one thing, its fun and different, plus it is fun to eat.  When entertaining with a breakfast buffet, serving silver dollar sized pancakes in a cup with maple syrup makes it easy for the host and great for the guest.  No messy plates, just dip and eat the small rolled pancake & sausage link all in one. Have extra whipped cream available in case guests want more.  I used tip # 1M to pipe the whipped cream on top of pancake rolls.
Making the buttermilk pancakes is a one bowl adventure.  Mix dry ingredients together, then add the buttermilk. Stir until batter is mixed.  Pour 6-8″ round pancakes on a greased hot griddle.  Don't turn the pancake over until you see the pancake bubble on the top and brown around the edges.  Flip the cakes and stack on a pie place in a 200 degree oven until all the pancakes are made.
Make a-head tip:  Now that the pancakes are made, allow them cool then stack with parchment paper, wrap and freeze.  I usually will use a zip lock baggie after stacking with layers of parchment squares between cakes so they don't stick to each other. These can be frozen for up to 30 days.  But best used within 10 days. 
Now that the pancakes are warm in the oven, remove from oven, and roll each pancake with a cooked sausage link inside.  Place the pancake in a small container with 1 tablespoon maple syrup in the bottom of the container.  Pipe fresh whipped cream on top of the pancake cone right before serving.  They are so cute and make a great breakfast buffet treat.
Tip: Roll the pancakes while they are warm so they will roll easily.  The roll is not a tight roll, more like a cone shape. I made my pancakes about 6″ round.  To see what size pancakes you need, take a piece of paper and fold into a cone shape, place it in the serving container you plan to use to see if the cone will fit without tipping over the container. It's not rocket science but it's a matter of balance.
The small container used is a clear rectangle, you can purchase here.
Placing 1-2 tablespoons of syrup in the bottom of the serving container will eliminate a messy bowl or bottle of syrup, as well as portion control for planning how much you will need.
Ok here's the easy recipe.  Let me know if you make them.  Great for Saturday morning breakfast.
Print
Pancakes & Sausage Breakfast Roll Ups
Easy Buttermilk Pancakes filled with cooked sausage links rolled like a cone garnished with cream cheese whipped cream filling and served in maple syrup cups.  Pancakes and sausages can be made-a- head, cooked, cooled -wrapped, and frozen up to 2 weeks in advance.
Author: Liz Bushong
Prep Time:

15 minutes

Cook Time:

12 minutes

Total Time:

60 minutes

Yield:

6

-

8

-servings

1

x
Category:

Breakfast-Brunch

Method:

Cooking

Cuisine:

American
8– 6 inch thin pancakes* Recipe follows
8– skinny sausage links, browned and drained
Cream Cheese Whipped Cream Ingredients:
1 – 8 ounce package cream cheese
2 cups heavy whipping cream ,whipped
1/2 cup confectioner's sugar
1 teaspoon vanilla extract
Garnish:
2  tablespoons maple syrup per container
1  teaspoon ground cinnamon-garnish
Buttermilk Pancake Recipe
2 –2/3 cups all purpose flour
4 tablespoons granulated sugar
1– 1/2 teaspoons baking soda
1 tablespoon baking powder
1 teaspoon salt
1/2 teaspoon ground nutmeg & cinnamon
3 cups buttermilk
1/2 teaspoon cream bouquet, vanilla or maple extract
1/2 teaspoon Maple Balsamic vinegar
2 tablespoons vegetable oil
Instructions
In large mixing bowl, combine flour, salt, sugar, baking powder, baking soda and spices.
Whisk in buttermilk, vegetable oil, eggs, and extracts.  Blend well.
Lightly spray skillet or griddle with cooking spray.
Pour 3-4 tablespoons of pancake batter on lightly sprayed cast iron skillet or griddle.
Cook pancakes over medium high heat turning over cakes at 3 minutes for each side.
Remove from skillet and immediately roll pancakes into a cone shape. Cover & set aside.
In separate chilled mixing bowl with wire whisk, whip heavy whipping cream with confectioner's sugar.
In another small bowl, beat together softened cream cheese and ground cinnamon.
Add whipped cream to cream cheese mixture. Beat to combine.
Place filling into a disposable pastry bag fitted with a star tip # 1 M.
When ready to serve, place cooked sausage link inside the rolled pancake.
Position pancake in individual serving square cups with 2 teaspoons of maple syrup.
Place in microwave to reheat before serving.
Pipe cream cheese filling on top of wrapped pancake cone right before serving.
Sprinkle with ground cinnamon.
Notes
Cream Bouquet is a concentrated flavoring that tastes like a wedding cake, a blend of lemon, orange, and vanilla.
Small cups can be found on line or party goods store.
Maple Balsamic Vinegar is delicious and used in many recipes.  Ice cream, cookies, cakes, salads.. even pancakes.
Other Ideas You Might Like to Try: 
Caramel Pecan Coffee Cake