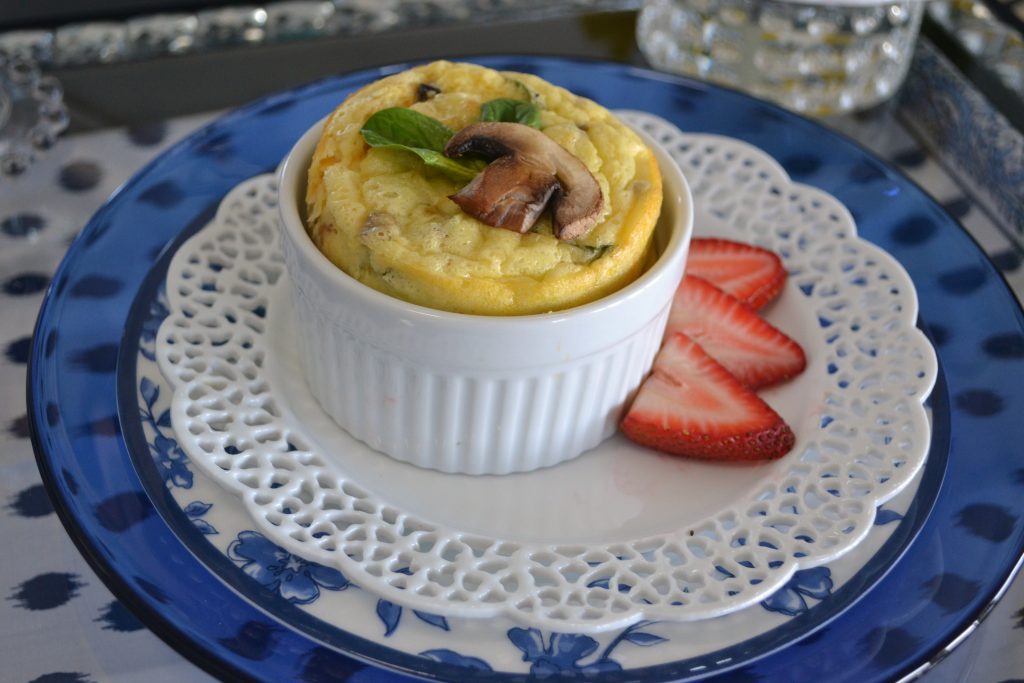 Recipe for Caramel Coffee Cake 
Print
Egg Souffle Recipe
1–16 ounce small curd cottage cheese
3 egg whites
3 egg yolks + 2 eggs
¼ cup buttermilk
¼ cup all purpose flour
1  teaspoon baking powder
¼ teaspoon salt and white pepper
1 ½ cups sharp cheddar cheese
¼ cup diced fresh mushrooms
4–5 organic fresh spinach, chopped
8 slices of smoked bacon- cooked and crumbled
Instructions
Preheat oven to 400 degrees.
Place cottage cheese in bowl of food processor with steel blade, process until smooth.  Pour cottage cheese in separate bowl, set aside.
Add egg whites to processor, pulse until foamy, add next 5 ingredients, process
Combine egg mixture with cottage cheese mixture. Stir in remaining ingredients.
Grease 8 medium sized ramekins or standard cupcake pan with cooking spray.  Pour mixture into pans 2/3 full.  Place on baking sheet to bake in case of spill.
Bake 15-20 minutes or until edges are puffed and light brown.  Egg soufflé will fall in center after cool.