Who doesn't love caramel with chocolate? You will love this recipe for salted caramel chocolate tart. Buttery shortbread crust lines a 9″ round springform tart pan. The tart is filled with a layer of home-made smooth and creamy caramel followed by a rich layer of ganache and course sea salt. Totally yum! This tart will fulfill every chocolate lovers dream. If you can't have chocolate, try making this recipe instead, White Chocolate Fruit tart.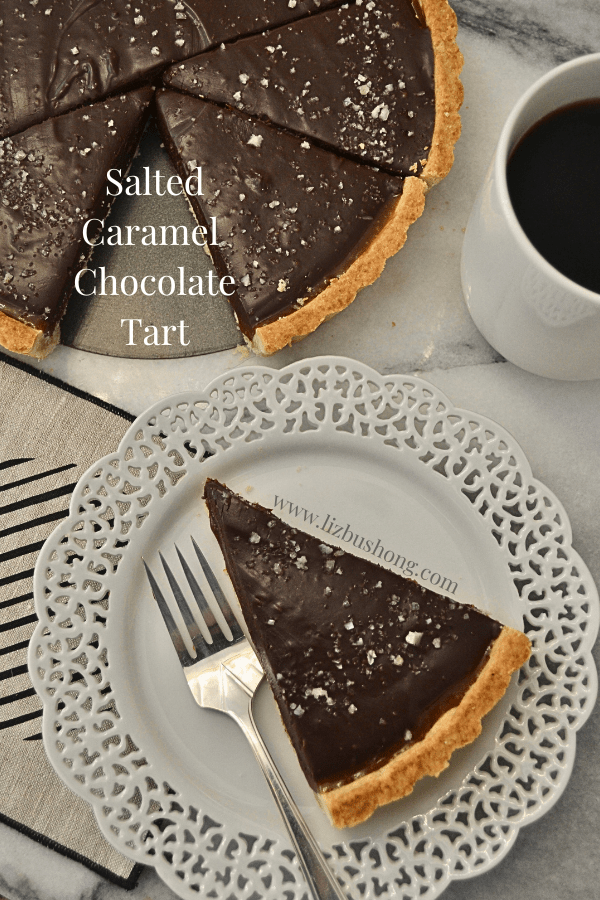 This tart is an easy dessert and so delicious for any occasion, whether a special birthday or other holiday celebration. Best part about this tart is you can make it in advance. Sometimes I will make the crust one day and the next the caramel sauce, then assemble the morning of the event. The tart takes a good chill about 2-5 hours to set with the caramel and chocolate. If you decide not to make your own caramel, try using Dulce de Leche instead of ice cream topping. Dulce de Leche is thicker and will be firm enough for a creamy caramel layer. If even you use purchased caramel sauce you will still need to chill 4-5 hours for everything to set up.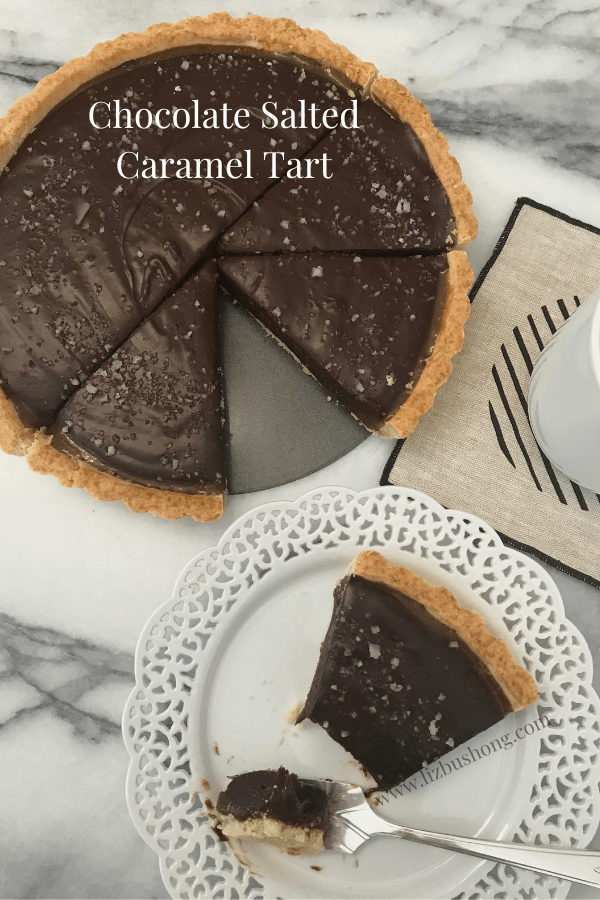 How to Make Salted Caramel Chocolate Tart
Start with the Shortbread Crust. You will need one standard 9″ round springform tart pan. Lightly spray tart pan with cooking spray. While the shortbread has butter, I still like to spray the pan so the tart will slice pretty slices without sticking to pan sides.
In a food processor fitted with steel blade, pulse together flour, salt, and sugar. Add chilled butter cubes and ice water with egg yolk, process until dough ball is formed around bowl of processor. Note: Adding the egg yolk creates a tender flakey crust.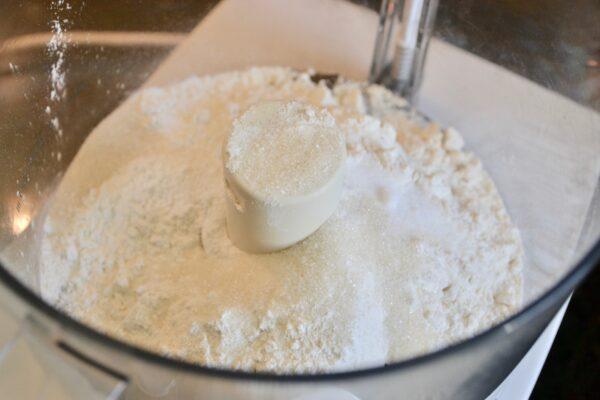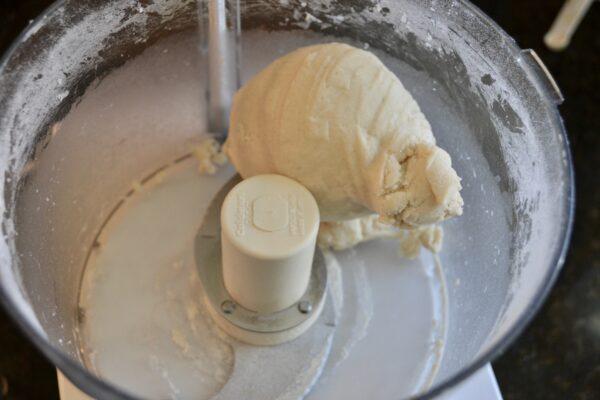 Remove dough and pat into a disc, wrap in wax paper or plastic wrap and chill at least 30 minutes. Overnight is even better.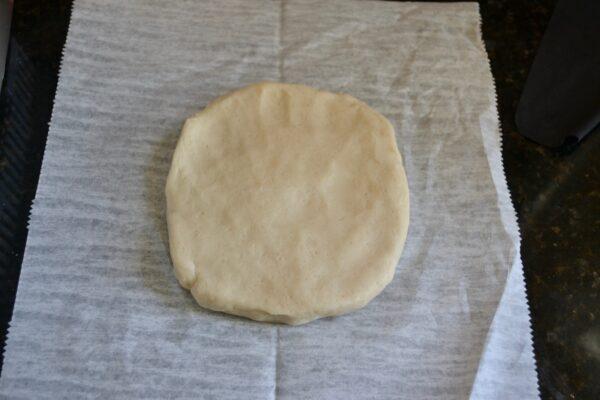 When ready to roll out, on a floured surface, roll disc into a 1/4″ thick round about 1″ larger than your 9″ tart pan. Place dough over rolling pin and then onto tart shell.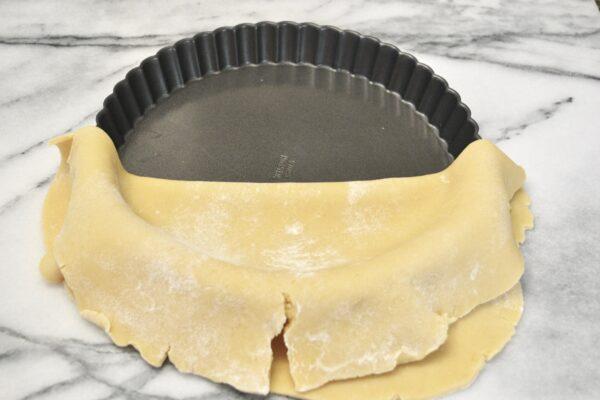 With the excess dough do not cut off yet, instead turn it into the tart shell edge creating a thicker crust edge. Like photo. Keep working the dough until it is smooth and seamless inside the crust bottom.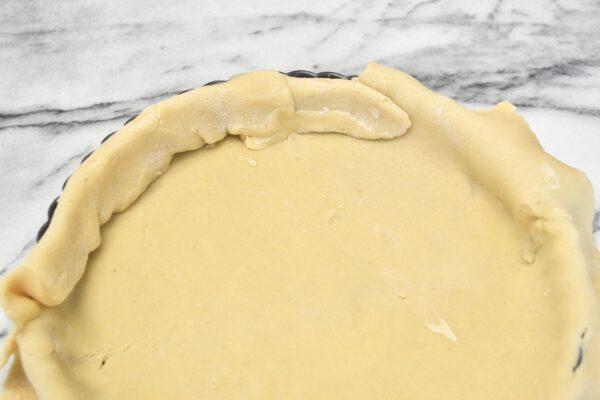 With a sharp knife holding horizontally, cut the dough along the top edge of the tart shell, this creates a nice even professional edge to your tart. If tart shell isn't connecting well to tart shell top, lightly push it into the cut edge. If you have weak or spots of thin dough use leftover cut pieces to patch and recut. This dough is very forgiving.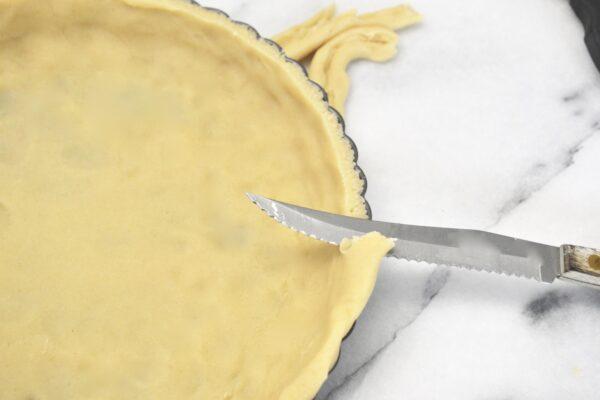 After dough in tart shell is smooth, you can use the back of a spoon or small measuring cup to help with smoothing the dough and pressing dough into pan. Also… to create a smooth tart crust bottom, use a piece of parchment paper, place inside the tart shell and rub your hand over the paper, remove the paper to see if it is smoothed to your liking. If not continue to rub and smooth out. Dock the shell for this is a pre-baked tart shell, meaning the filling will not be baked in the tart shell. To dock, use a fork and prick it so the steam will release.
Place tart shell in freezer for 10-15 minutes to firm up before baking. This will prevent your tart shell from shrinking.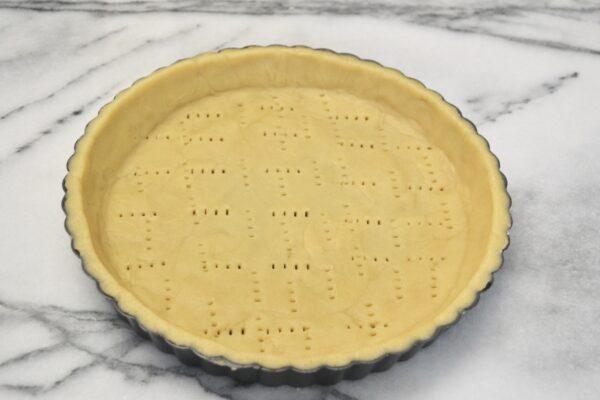 Preheat oven to 475. Place chilled tart shell on a heavy duty baking sheet and place in middle of oven to bake 17-20 minutes or until tart shell is golden brown.
Making the Caramel Sauce
To make caramel sauce, set aside butter and cream. In a medium saucepan over medium heat. Add granulated sugar, do not stir sugar, instead swirl the saucepan off the heat while the sugar melts arounds the edges and turns a caramel brown color. It is tempting to stir the sugar, but don't do it, it will clump and be a sticky mess. Add butter, swirl until melted. Be careful not to burn the caramel. Remove from heat if necessary.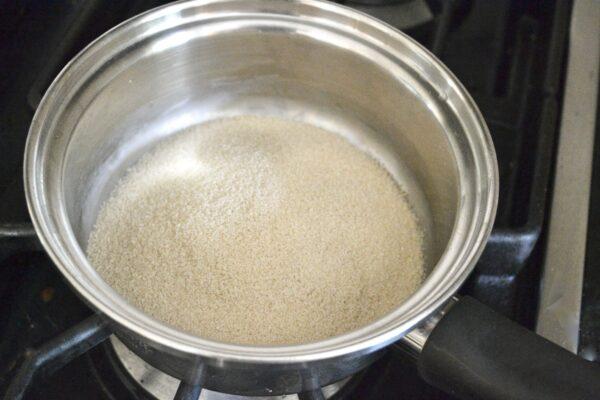 Use wooden spoon to blend in butter and add cream. It will look like an explosion but not to worry it will smooth out.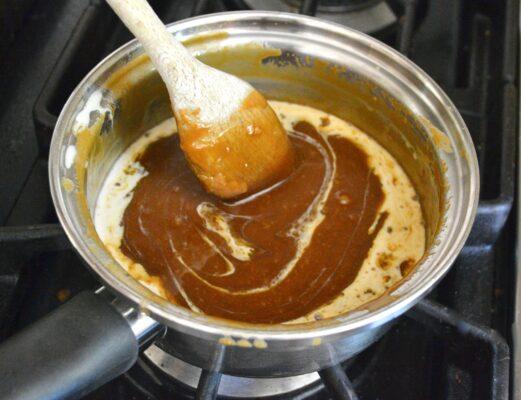 Caramel sauce is done, pour into mixing bowl and chill in refrigerator for 10-15 minutes.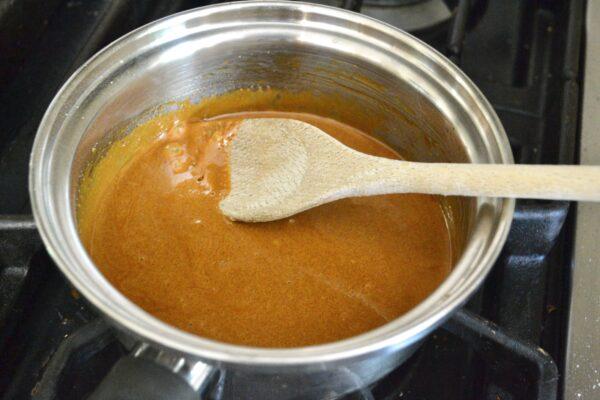 Pour hot sauce into mixing bowl to cool before pouring into cooled tart shell.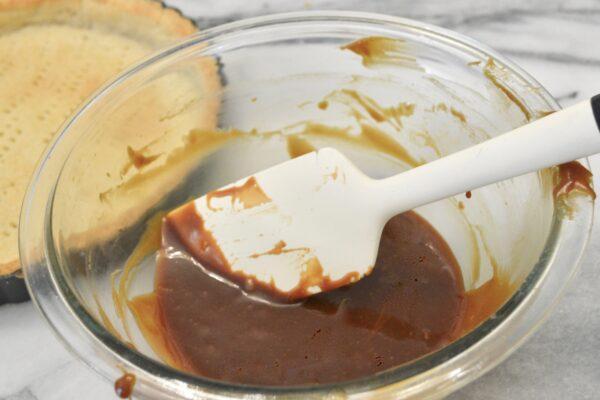 Pour into cooled tart shell. Make sure you chill the caramel layer before adding ganache.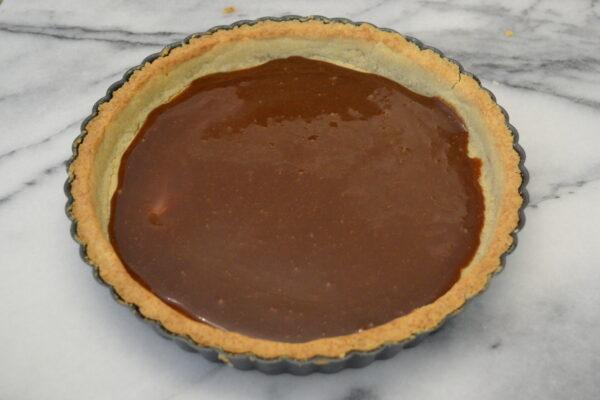 How to Make Chocolate Ganache Filling
In medium mixing bowl, add chocolate chips. Measure heavy cream in a microwave safe measuring cup for 25 seconds or until very warm. Do not stir the chips and cream. allow to sit for about 5 minutes.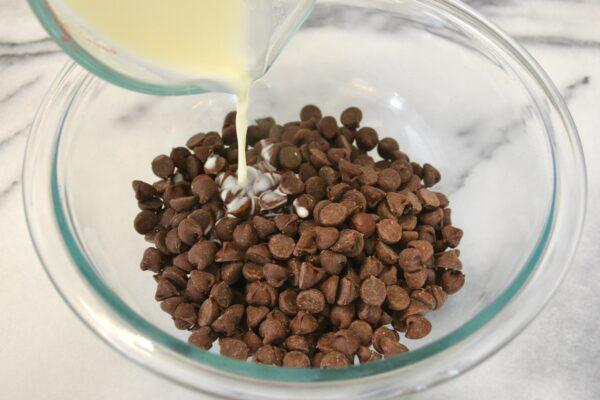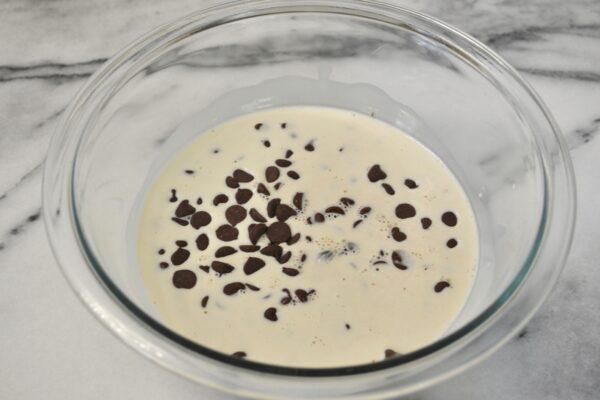 After 5 minutes stir until ganache is smooth and shiny. Ganache is ready to pour into chilled caramel filled tart shell.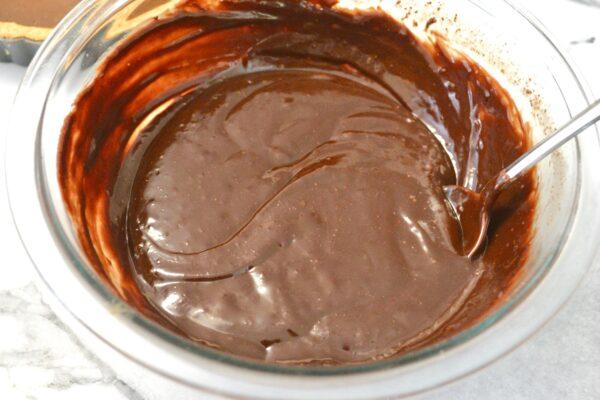 Pour ganache over cooled caramel in tart shell. Smooth with off set spatula and sprinkle with coarse sea salt, chill for 4 hours to set or over night.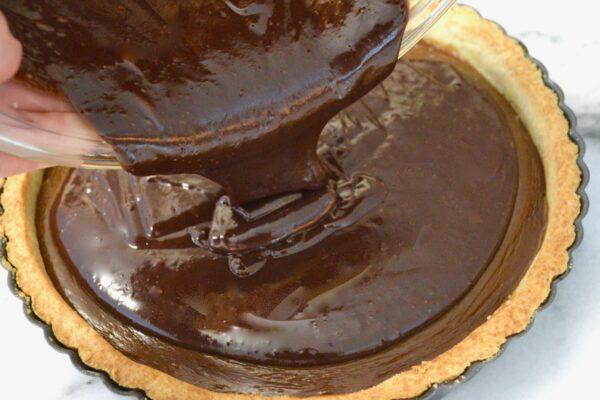 Sprinkle with sea salt and chill before slicing and serving. Remove rim from tart pan before serving. Store tart in refrigerator covered. This tart serves 8-12 depending on your slices. It is very rich so serving thin slices will yield more servings. Great with a dollop of fresh whipped cream and cup of coffee.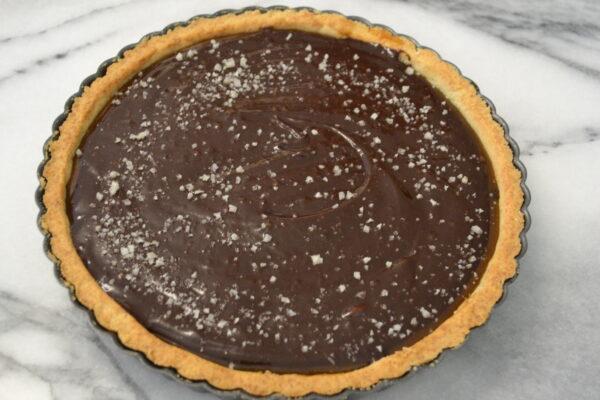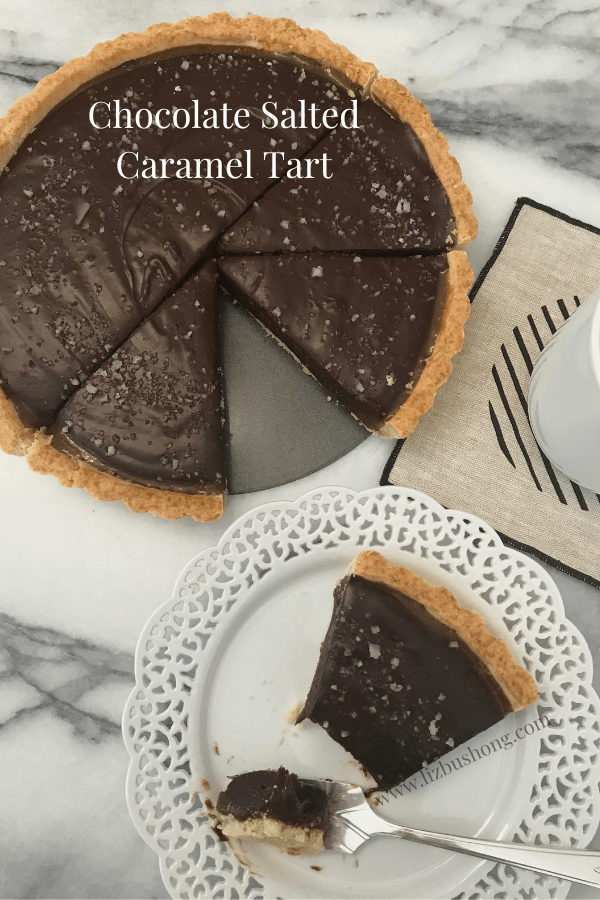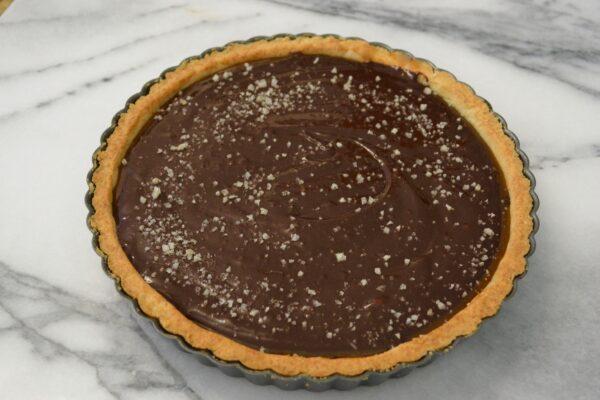 Print
Salted Caramel Chocolate Tart
Pre baked buttery shortbread crust in spring form tart pan is filled with caramel sauce and chocolate ganache with sea salt. Filling is no bake. If you decide not to make your own caramel sauce, use Dulce de Leche as it is a thicker caramel than ice cream topping.
Author: Liz Bushong
Prep Time:

90 minutes

Cook Time:

20 minutes

Total Time:

6 hours and 50 minutes due to chill time

Yield:

8

servings

1

x
Category:

Dessert

Cuisine:

American
Tart Shell
1–1/4 cups all purpose flour
2 tablespoons granulated or cane sugar
1/2 cup chilled full flavored butter, cubed- tested Land o Lakes
1/2 teaspoon salt
1 egg yolk + 1 to 2 tablespoons ice water
Caramel Sauce
1 cup very fine granulated sugar
1/2 cup heavy cream, room temperature
1/4 cup of real butter
Ganache
1/2 cup heavy cream
1– 12 ounce package Semi Sweet Chocolate Chips- tested Nestles
2 tablespoons coarse sea salt- tested Light Grey Celtic Sea Salt
Instructions
Prepare Tart Shell
In food processor with steel blade, add flour, sugar, salt, pulse to blend 5 seconds. Add chilled cubed butter, process 5-10 seconds until coarse meal is formed.  Mix egg yolk and 1 tablespoon ice water in custard cup, add to processor, process until dough forms a ball around the sides of bowl. If needed add additional 1 tablespoon cold water. Remove from bowl, pat into a disc, wrap and chill for at least 30 minutes or over night.
Rolling Dough 
On floured surface, roll disc to 1/4″ thickness 10″ round. Lightly spray 9″ spring form pan with cooking spray.  Wrap dough around rolling pin then place in tart pan extending crust one inch beyond tart edges. Smooth tart dough into bottom and up sides of tart pan. With excess dough around the edged, fold back inside tart shell edge creating a thicker edge. Smooth sides and bottom of tart shell with piece of parchment paper. With sharp knife cut horizontally across the top edge of the tart pan, use leftover dough to patch any weak spots in crust. Dock or prick dough with a fork. Chill tart shell for  30 minutes. Preheat oven to 475 F. Place chilled tart crust on baking sheet and place in oven middle of oven. Bake tart shell for 17-20 minutes or until golden brown. Remove from oven and set aside to cool. 
Caramel Sauce
In medium saucepan over medium heat, add sugar, do not stir sugar in pan. Swirl the sugar around the pan until it fully melts, add butter, continue to swirl and then stir with wooden spoon or wire whisk, add room temperature heavy cream, whisk until smooth and creamy. Place caramel in a medium mixing bowl to cool down, then pour into a baked tart shell. Chill tart in refrigerator while you make the ganache.
Making the Ganache Filling
In microwave safe measuring cup, heat heavy cream for 25 seconds up to 55 seconds or until very warm but not boiling.  In a medium mixing bowl, add 2 cups chocolate chips or 11 ounce package to bowl.  Pour warm cream over the chips.  Allow to chips and cream to sit for 5 minutes before stirring. Stir until thick, creamy smooth and shiny. 
Pour ganache into cooled caramel filled  tart shell, smooth evenly with off set spatula. Sprinkle with coarse sea salt.  Place in refrigerator to set at least 4 hours before serving.
Serve tart with fresh whipped cream if you would like. Recipe makes 6-8 servings depending on your slice widths. This is a very rich tart, smaller servings are recommended. 
Notes
Chilling the dough makes it easy to roll out and shape, after pressing in tart shell chilling dough 30 minutes or more will prevent the pre-baked shell from shrinking during baking. 
Tart Shell can be made a day ahead as well as the caramel sauce. The ganache can also be made ahead, and chilled. When ready to assemble, place ganache in microwave to warm, might add a tiny bit of cream to return the ganache to a creamy state. 
Keywords: Salted Caramel Chocolate Tart, Ganache, Shortbread tart shell, caramel sauce, sea salt
Other Ideas You Might Like to Try: