Nothing better than soft warm dinner rolls with your favorite pot roast or holiday dinner.  Soft Parker House Dinner Rolls is one such recipe.  Made with yeast, milk, oil and eggs makes these rolls soft and delicious.  Your guests will love these soft tender rolls.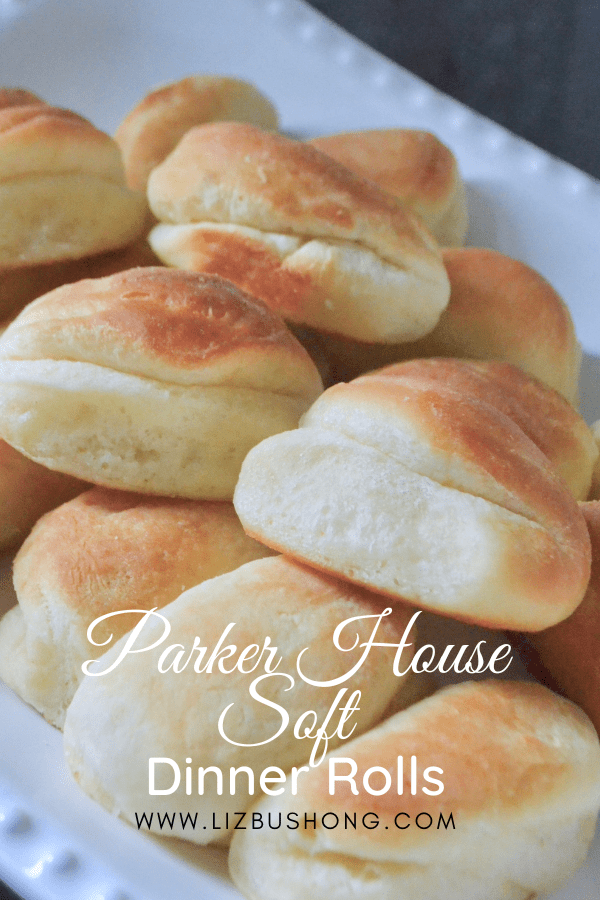 How did Parker House rolls become Parker House Rolls? It began back in 1870 by the Parker House Hotel in Boston,  The story goes that a pastry chef was upset with a hotel patron, then put the un risen rolls in the oven to bake. The rolls came out dented so he added butter to make em better.  Turns out these were the best rolls he had made and they became a big
Today, I am making the parker house rolls with Wesson oil instead of butter in the recipe.  Not to worry, butter is still a major player in this dinner roll. The raw 2″ dough rounds are dipped in butter before baking and after baking.
Secrets to Soft Dinner Rolls
This recipe was given to me by a dear friend, Linda Morton. We should call these heavenly rolls cause she made them extra tall and soft.  One of her secrets.. she allowed the dough to chill over night before rolling out. Once the shaped rolls were placed in the baking sheet, she covered them a cloth and allowed them to rise for 2 hours. The other Secret is using vegetable oil, you can substitute butter, but the oil gives the bread a softer consistency.
Getting ready to roll out the dough. Generously flour your counter.  Chilled dough will roll out easier.  Roll dough 1/4″ round. Use a 2″ round biscuit cutter to cut rolls.  Melt 1/4 stick of butter in small bowl, you will be dipping the cut out rolls in melted butter and folded in half.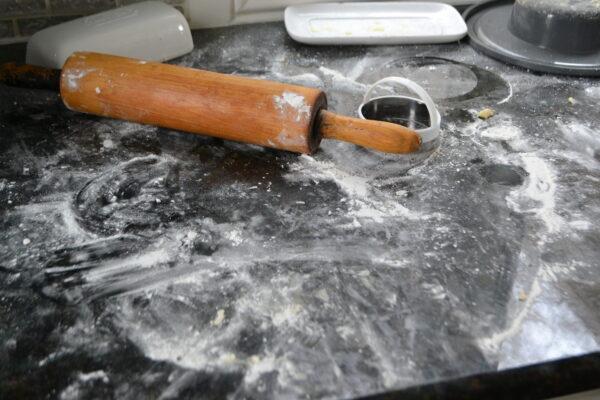 Cut rolls using 2″ round biscuit cutter or cookie cutter. Just make sure it has a sharp edge.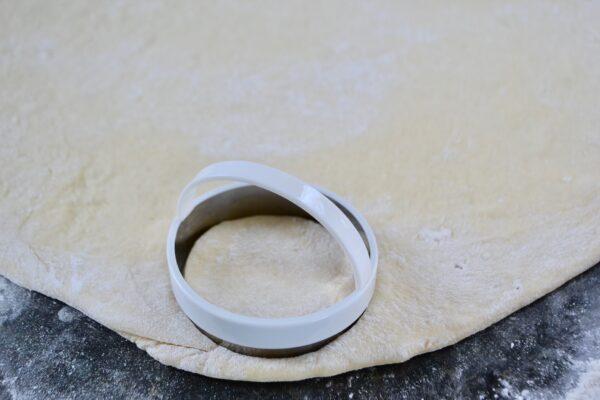 Let rise until double about 60 minutes in warm area, draft free… or warming drawer.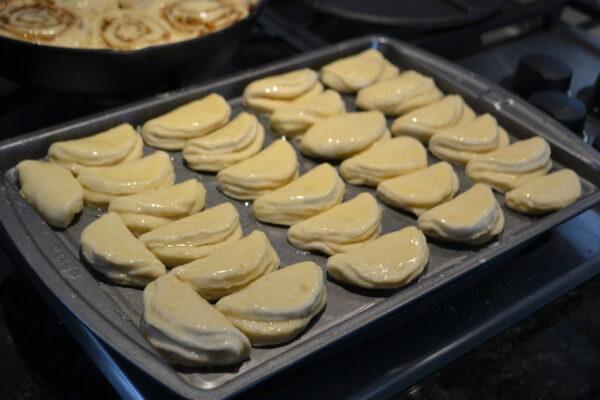 You can make-ahead these dinner rolls. Roll out and bake, then freeze. To reheat, place thawed rolls on parchment lined baking sheet and reheat at 300 for about 5-10 minutes.  Make sure your oven is not too hot so you don't burn these beautiful rolls.
Your family will love these whether you are serving them for breakfast, lunch or dinner.  Double the recipe for you will enjoy having them at the ready when needed.
Print
Soft Parker House Dinner Rolls Recipe
Soft dinner rolls called Parker Dinner Rolls are made with yeast, flour, vegetable oil, milk, water, sugar and eggs. Dough can be made ahead and stored in refrigerator up to 5 days before baking.  Delicious soft dinner roll for holidays.
Author: Liz Bushong
Prep Time:

1-1/2 hours+ 2 hour rise

Cook Time:

13-15 minutes

Total Time:

3 hours

Yield:

27

-

30

dinner rolls

1

x
Category:

Bread

Method:

Baking

Cuisine:

American
4–6 cups bread flour + more for rolling
2 1/2 teaspoons active dry yeast, not instant yeast
1/3 cup granulated sugar-divided ( 1 teaspoons to proof yeast)
1 teaspoons salt
1 cup of whole milk or 2%
1/2 cup water
2/3 cup Wesson Oil
2 eggs, beaten
Butter: 12 tablespoons melted butter + extra for brushing after baking. Note butter is not used in the yeast dough mixture. Butter is used to brush the cut rolls before baking.*
Instructions
In one cup measure heat water in microwave for 45 seconds to 110-115 degrees. Add 1 teaspoons sugar, stir, then add yeast. Let proof 3-5 minutes.
Meanwhile in a small saucepan, add milk and heat to 110-115 degrees. Remove from heat add proofed yeast and stir to combine.  Add additional sugar.
In large mixing bowl with dough hook, add 1 cup of flour and salt. Mix to blend ingredients.
Add proofed yeast, 2 beaten eggs and Wesson oil to flour mixture. Add additional flour  a little at a time to mix dough into a soft ball. Dough should gather around the dough hook and leave sides of bowl.   Remove dough from mixing bowl onto lightly floured surface, knead dough until smooth top.  Wash mixing bowl and dry.
Lightly grease mixing bowl with oil and place dough in bowl to rise. Cover with plastic wrap and chill at least 2 hours or over night. Dough will keep in refrigerator 3-4 days.
Rolling Dough:
Prepare baking sheet with melted butter and set aside. Brush sides and bottom of baking sheet well.
*Two hours before baking, roll dough on flour surface into a 1/4″ thickness. Cut out 2″ round circles using metal biscuit cutter or rim of drinking glass.  *Brush disc with butter, make center indention with round handle of a wooden spoon or finger.. Fold dinner roll in half. Place dinner rolls side by side on butter greased baking sheet.  Cover with lightweight towel and allow to rise for 2 hours or until double in size.
After one hour of rise time, preheat oven to 400 degrees.  Once rolls have doubled in height and size, brush roll tops with melted butter.  Place in oven to bake 13-15 minutes or until golden brown.
Serve warm.
Notes
If your yeast does not bubble up or have fermentation, it is not useable. Your yeast should bubble up after 10-15 minutes. This is very important in bread making.
Dinner rolls can be made ahead and frozen after baked and cool to touch.
Dough will last up to 4-5 days in refrigerator before rolling out and baking.
Be careful not to add too much flour, they will not be soft if you do.
Other Ideas you might like to try: