Easy to bake erupting Volcano Cake is made with chocolate cakes stacked to create the shape of the volcano, then frosted with bright red, yellow and dark chocolate frosting. The bright red and yellow frosting looks like hot lava flowing down the sides of the cake. The center of the top small bundt cake has a small custard cup full of dry ice for a smoky and erupting presentation.  Kids of all ages will love this cute cake.
Volcano Cake Erupting at the Party!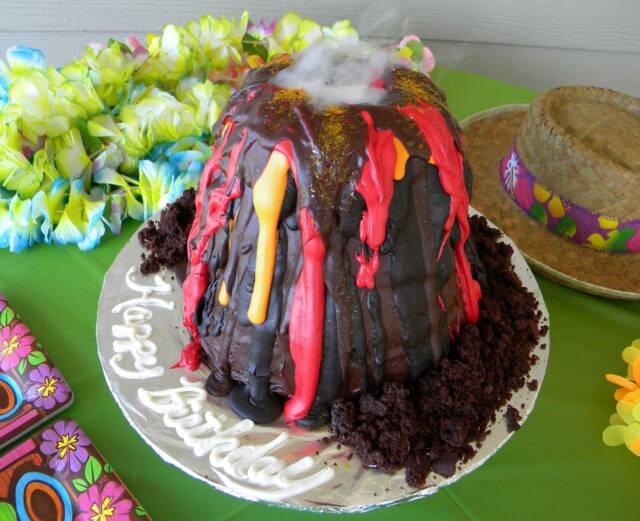 Supplies you will need for this cake.
Decorating tip # 5 ,  Disposable piping bags,  12″ Cake boards.
Tip:  If you freeze the cakes after cooling, they will frost easier, but it isn't necessary if you are in a hurry.  Sometimes it is good to bake the cakes a day or week ahead, freeze them and decorate the day before the event.
To see more Hawaiian themed desserts, check out Butter Cookie Beach Cookies.
Print
Volcano Cake
Two round single layer 8″ and 10″ cake pans form the base of the cake with a 7″ bundt cake pan for the top cake.  Frosted with dark chocolate frosting with red and yellow thinned frosting for the lava flow.  A small votive cup is placed inside the top cake center opening to hold pieces of dry ice.  Pour warm water over the dry ice right before serving guests to create the smoke effect.
1 packages of  dark chocolate fudge cake mix- Duncan Hines tested
1–3 .25 oz. packages instant chocolate pudding and pie mix-dry
1–1/3 cups water
1/2 cup vegetable oil
3 large eggs
1 teaspoon vanilla extract
Repeat this recipe for all three cakes. Do not mix all the cake mixes together at one time.
6 cups dark chocolate frosting- purchased or home-made
1 cup red and yellow frosting- lava flow
1 cup white frosting for piping message on cake base-optional
Garnish:
1/2 cup dry ice ( find @ grocery stores )
2–12 " cake boards- covered with foil ( wrap both boards together with foil)
Yellow or gold edible glitter-optional
Instructions
 Preheat oven to 350 F.  Grease and flour one 10 " and  8″ baking pan  line with parchment paper in bottom of cake pan, lightly spray the parchment round.  Grease and flour with shortening 7″ bundt cake pan. Set aside.
In large mixing bowl, combine cake mix and all ingredients.  Beat for 2 minutes until well blended.  One cake mix makes 4 cups of batter. *
Pour batter into prepared cake pans.  Bake one layer of each cake size.
Bake 25-30 minutes or until cake center is done. Remove from oven, cool in pan 8 minutes.
Turn cakes out of pans to a wire rack to cool completely.  At this point you can wrap the cakes and freeze to frost the next day if desired.
Assembly:
On 2-foil covered 12″ cake boards place 10″ cake round.  Frost top of cake with dark chocolate frosting.  Stack 8″ cake on top of 10″ and frost 8″ cake top . Add bundt cake on top of the 8″  Frost entire cake with dark chocolate frosting.
Place votive holder in center of cake dome.
You will have to cut into dome of cake to place glass votive, save remaining cake pieces to crumble for your garnish around base of cake. See photo.
In 4 custard cups or small bowls, place 1/4 cup dark frosting, 1/4 cup milk chocolate frosting,  1/4 cup red frosting, and 1/4 cup yellow frosting.  To each of these cups add 1 teaspoon water to thin frosting. This is the lava flow, so you want the frosting to be thin enough to pour down sides of cake.
Pour the dark chocolate first, milk chocolate second, red, then yellow down the sides of the cake, let it pool on the cake board, except for the area you want to personalize with… Aloha!  or Happy Birthday,.. your occasion. Sprinkle edible glitter around the top of the volcano.  Pipe message with white frosting in pastry bag and tip # 5.
Right before serving the cake, place small pieces of dry ice into votive cup, and add small amounts of water to the ice to make it smoke.
Notes
If you use different sized cake pans, determine how much batter you will need for each pan by filling a glass measuring cup with water and pour half way into baking pan, Note the number of cups of water you use, this will equal the same amount of cake batter you need for the cakes.
Wrapped  double cake boards will provide the necessary stability for the weight of the cake.
To cut the cake:  Remove the votive cup, and top bundt cake. Slice the 8″ cake first into 1″ slices like cutting a wedding cake.  Repeat with 10″ cake and last cut the bundt cake.  The cake freezes well.