Having a Luau and need some Beach Cookies?  Sweet butter cookie dough is cut into bikinis, flip flops, sunglasses, beach balls, towels and decorated with colorful fondant.  Candy melt sea shells  and  cocktail party umbrellas add to the beach theme.  Bake the cookies ahead and freeze until ready to decorate to make it easier to accomplish.  Cookies freeze well before decorating.
Beach Cookies Tutorial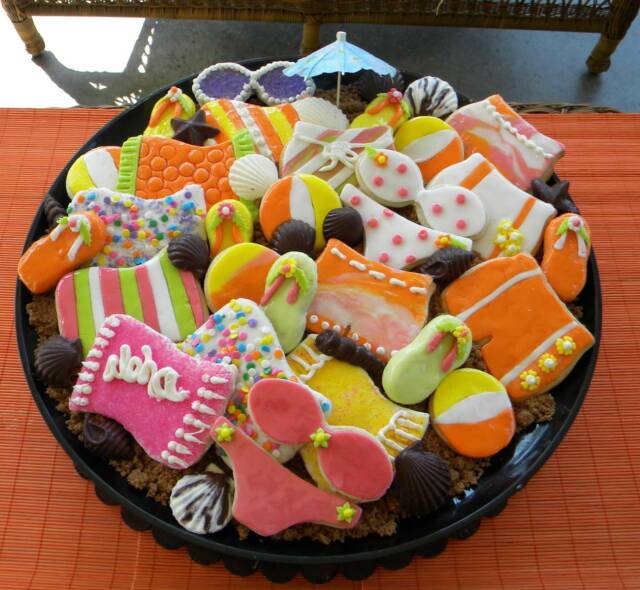 Cookie Cutters- flip flop, sunglasses, palm tree
Cookie Cutters:  Bikini Top, Bottom, Sun, Shell, Ice Cream Cone, Sunglasses, 6-Piece Set,
Print
Beach Cookies
Sugar cookie recipe for non spreading cookies.  Beach balls & towels, bikini, sunglasses, and flip flop cookie cutters make these cookies fun to make.
1 cup butter, softened
1 cup granulated sugar (or) 1- 1/4 cups confectioners sugar
1 egg
1 egg yolk
1 teaspoon vanilla extract
1 teaspoon cream bouquet flavoring-or almond extract
2 –1/2 cups all purpose flour
1/2 teaspoon salt
* This recipe will not expand or spread as you bake.  A perfect recipe for cut out cookies.
Recipe adapted from Karens Cookies.net
Instructions
In mixing bowl cream butter and sugar until light and fluffy. Add egg yolk beat well, add full egg and extracts.
On low speed add flour and salt, beat until  flour is mixed and dough starts to form. Remove from mixing bowl and form into a ball.  Flatten ball and cut into half. Wrap each half with plastic wrap and refrigerate 30 minutes or up to 2 days.
Preheat oven to 375.  Line cookie sheet with parchment paper, set aside.
Unwrap dough from plastic and on floured surface, roll dough into 1/4 inch thick. Dip cookie cutter into flour and then cut out shapes.
Place cookies on parchment paper and into oven.
Bake 7-10 minutes until cookies are light brown.
Cool completely before frosting.
Use royal icing, buttercream, or fondant to frost and decorate.
Notes
Baked cookies freeze well.  Freeze before decorating for best results.
Wear gloves when mixing fondant colors and store colored fondant in separate zip lock baggies to keep moist and pliable.
To purchase beach cookie cutters 
Print
Beach Cookies- Decorating Instructions
Fondant is colored and rolled to fit the shape of the beach butter cookies, the flip flop cookies are nutter butter cookies, also in photo are candy melt sea shells  The beach ball cookie is cut from a round cookie cutter.
1 pound white fondant – or already tinted fondant in your choice of colors
yellow, red, orange food coloring gel- or your choice of colors for each shape
1/2 cup corn syrup ( to attach fondant to cookie)
Baked and cooled shaped Butter Cookies
Instructions
Using a 2" round metal cookie cutter, cut and bake butter cookies.  Let cool.
Knead flavor and 3 coloring gel choices into small batches of 1/8" thick rolled fondant.
To create ball, roll each coordinating color into flat pieces the circumference of the cookie cutter.
Cut three sections, one from each color, to create the striped effect of the beach ball.
Slightly roll cut pieces together to seal the edges.
After colors are blended, using the metal cookie cutter, cut out form.
Brush butter cookie with corn syrup and attach beach ball fondant.
Fondant Beach Towels:
Knead flavor and 2 color choices into small batches of 1/8" thick rolled fondant.
To create stripes, roll each coordinating color into flat pieces the width and height of cookie cutter.
Cut into various stripe widths from the 2 coordinating colors of fondant.
Create your stripe. When piece is as you desire, gently roll over the top of the striped piece to join the edges.
Using the towel cookie cutter, cut out rolled striped fondant.
Brush cookie top with corn syrup, then attach the cut out striped fondant towel.
Use Nutter-Butter Peanut Butter cookies in colored fondant or dip in melted candy wafers.
Those pictured are in fondant.  Tint fondant to make the bright straps and flowers .
To form the "Y" for the flip flop thong strap, roll 2 ropes of rolled fondant and create the Y shape. Attach the "Y" , up side down, so that the two branches of the y looks like a flip flop strap, with a dot of corn syrup. ( Corn syrup is the glue that holds the fondant to the cookie.)
  Roll out coordinating fondant to make your leaves and flowers.  Attach flower to the top of the Y.
Same technique as above, but use the bikini top cookie cutter for the glasses if you don't have a cutter for sunglasses.   Bikini top and bottom decorate using the same technique.
Notes
Wear gloves when coloring fondant.
Keep fondant in zip lock baggie to keep moist while shaping cookies.
Use a pastry brush to apply corn syrup to cookie and fondant application.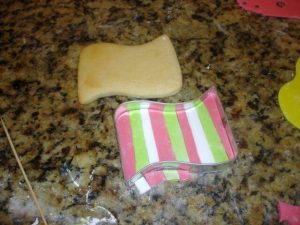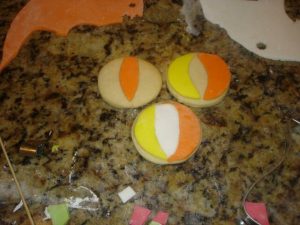 These cookies were served at this Hawaiian birthday party.  To see more Hawaiian Desserts check out this
Volcano Cake!