Sweet potatoes are peeled and sliced thin and stacked in layers in small ramekins or custard cups for individual servings.  The sweet dish is topped with a praline mixture for crunch and delicious presentation.  Easy recipe to make and bake for all of your holiday dinners. If you decide not to bake as individual servings these potatoes with topping can be baked in a casserole dish.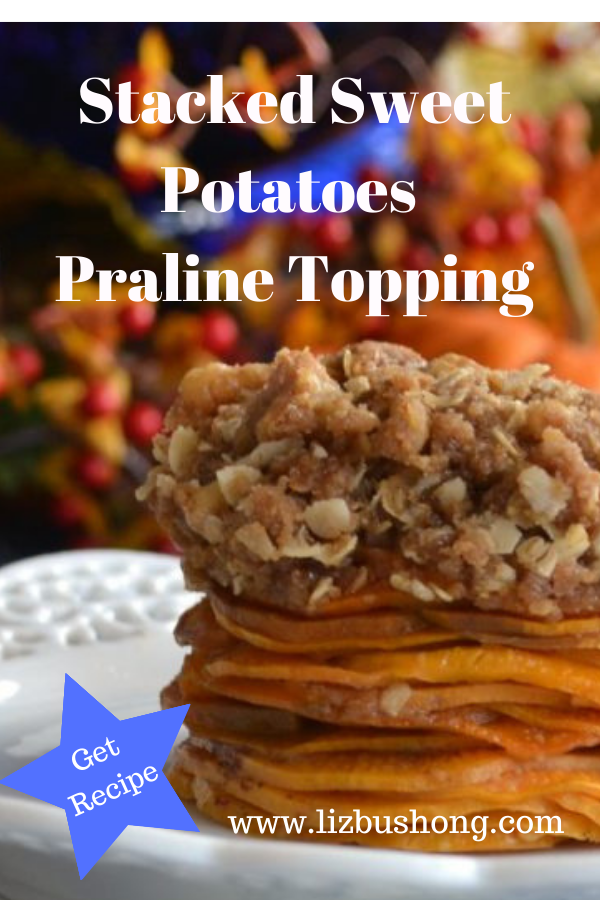 Easy Recipe for Holiday Dinners
Print
Stacked Sweet Potatoes with Praline Topping
6 sweet potatoes, peeled and sliced to 1/8″
3 tablespoons granulated sugar
1 tablespoon brown sugar
6 tablespoons butter, divided into 1 teaspoon per dish
Praline Topping:
1 cup all purpose flour
1 cup dry oatmeal
1 cup light or dark brown sugar, packed
1 cup butter, softened
1/2 teaspoon ground cinnamon and nutmeg
1/2 cup chopped walnuts
1/2 cup sweetened shredded coconut, toasted- optional
Instructions
Preheat oven to 325 degrees.
Lightly grease 6 ( 6 ounce ramekins or custard cups) with vegetable oil. Place on baking sheet and set aside.
In medium bowl, combine all ingredients for praline topping, mix into a crumble. Set aside.
Slice peeled sweet potatoes into 1/8″ slices. Discard ends and small pieces. In zip lock bag, combine sugars and potato slices. Shake to coat potatoes.
Divide slices evenly among ramekins, overlapping slices to make a round shape following the shape of the cups.  Layer 4 layers of sweet potatoes, add teaspoon butter, continue to layer slices extending 1/2″ above the top of ramekin. Top with foil.
Bake for 35 minutes covered with foil.  Potatoes will shrink allowing room for topping.  Remove from oven and add topping, packing it snuggly to the potatoes.
Bake an additional 25 minutes.  Cover topping with foil if topping begins to over brown.
Remove from oven and serve
To Serve:  Invert ramekin onto individual plates or one large platter.  Invert again so the topping is on the top side of the potatoes.
Notes
Tip:  When inverting the dish allow the dishes to cool slightly then invert on serving platter or individual plates.
Don't be surprised if the potatoes shrink after baking.  Just make sure you add a lot of potato layers initially.
Consider these other recipes to try: