Nothing better than fresh sweet corn from summer fields!  However, you can't eat all the corn that comes in so why not cut it off the cob and freeze so you have it available all year round.  It's sweet, delicious and perfect side dish for Thanksgiving and Christmas.
Sweet corn and other garden veggies can be frozen or canned.  Whether you can or freeze is totally up to you but different techniques are required.  We're going to make freezer corn in minutes. Consequently, once you make the cut off the cob freezer corn you will want to purchase good sweet corn from your local farmers market.
Tip for buying corn: purchase a couple of ears and steam for supper to see if this corn is sweet enough unless you know the farmer and type of corn they grow.  In addition, some corn in grocery stores are not as fresh from the patch but rather weeks old and not as sweet.  Avoid purchasing corn that has dry husks, husks should be bright green closely wrapped to the ear with golden silks. Even though silks are sometimes messy, the more the silks the more the kernels of corn.. so I have been told.

How to do make Freezer Corn?
Whether you like your corn on the cob or off, this recipe is for cut corn kernels.  Fresh corn is shucked with silks removed, rinsed and set aside to cut off cob.  No steaming or par boiling before cutting.  6 ears of corn makes 4 cups of cut corn while 36 ears makes 8 quarts with 3 cups of corn kernels per zip lock freezer bag. ( 4 cups = 1 quart).
Gather your Ingredients and Equipment
Depending on the number of ears you start with will determine the size saucepan needed.  If in doubt use a large dutch oven or large saucepan. You will also need, wooden spoon, bundt pan, sharp serrated knife, one cup, measuring teaspoon & tablespoon, quart freezer size bags.
You will need: 3 cups of water, 2 sticks or 16 tablespoons butter, sugar and salt as well as 16 cups of raw corn cut off the cob.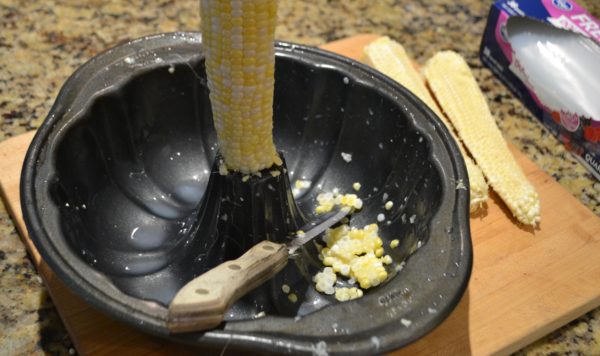 After rinsing the corn with cold water and removing the silks, place the small end of corn filled cob in the center of a  bundt pan, with serrated knife, begin cutting corn off the cob allowing the fresh kernels to land in the base of the pan.  Continue cutting corn until all is removed from cob. Toss aside the cobs.
Place water, butter, sugar and salt in saucepan, stirring until butter is melted.  Add the 16 cups of corn kernels and stir with wooden spoon to coat.  Bring to a boil, simmer 5 minutes.  Remove from burner and let cool about 15 minutes.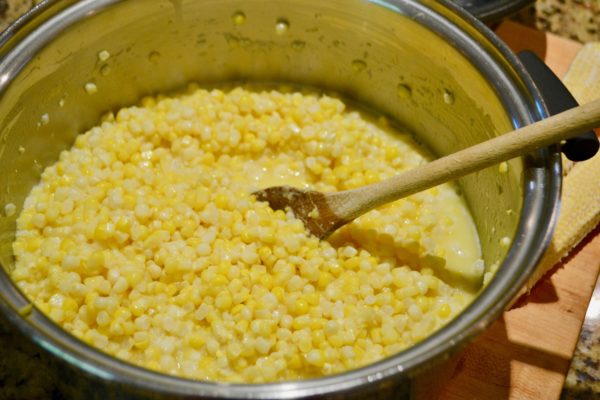 Finally, after corn has completely cooled 15 minutes, spoon into zip lock bags. Make sure the bags are sealed and flatten corn in the bag so you can stack them easily in the freezer. Label and freeze.  Be sure to save a few ears of corn for eating for supper.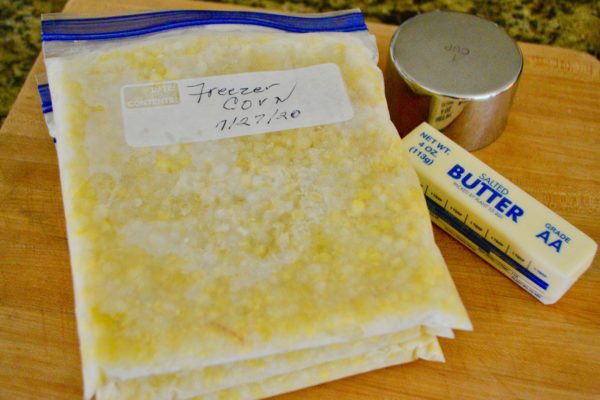 Easy fast recipe… Let me know if you make a batch or two. 
Print
30 Minute Freezer Sweet Corn off the Cob Recipe
Sweet raw corn is cut from cob, boiled in water, butter, sugar and salt for 5 minutes, cooled and bagged in quart freezer bags.
Author: Liz Bushong
Prep Time:

15 minutes

Cook Time:

5 minutes

Total Time:

35 minutes

Yield:

16 cups

corn kernels

1

x
Category:

Vegetable-Side

Method:

Cooktop- Freezer

Cuisine:

American
16 cups raw sweet corn, cut off cob
3 cups water
4 teaspoons salt
1 tablespoon sugar
2 sticks butter
Instructions
Shuck corn, remove silks, rinse with cold water, set aside.
Place one cob of corn small end in center tube of bundt pan.
Cut corn off cob using serrated knife, allowing corn to land in base of pan.
In large saucepan, add water, butter, salt and sugar, stir with wooden spoon to melt butter.
Add corn kernels and bring to a boil, simmer for 5 minutes.
Remove from burner, cool about 15 minutes or longer.
Spoon by cupful corn kernels into quart ziplock freezer bags.
Flatten bag with corn inside so bags will be able to be stacked in freezer.
Notes
6 ears = 4 cups cut off cob corn kernels
36 ears= 8 quarts
4 cups = 1 quart
Other Ideas you might like to try: Click on photos to link