Calling all Fashionistas! Here are 9 Hot Pink, Black and White Office Decor Ideas focus on black and white mixed patterns in furnishings to pillows with pops of bright hot pink.  Desk accessories in Hot Pink, black and white accent the upholstered white leather sofa, black satin wall and quatrefoil black and white furnishings.  Check out these fresh ideas.  
9 Hot Pink, Black & White Office Decor Ideas
Idea #1.  Create a desk top that works for you. A solid white desk top helps keep you focused on the work at hand with out color clutter to get you off focus.  To protect the desk top you can get a piece of glass cut to fit your space.  The view from the desk is beautiful for there is a window in the room that overlooks a wooded landscape as well as seeing all the remaining seating and decor in this office.
Idea #2.  Create a folding screen to create a backdrop for your glossy white desk. Also hides file cabinets, if you still use those and any miscellaneous items that cause clutter.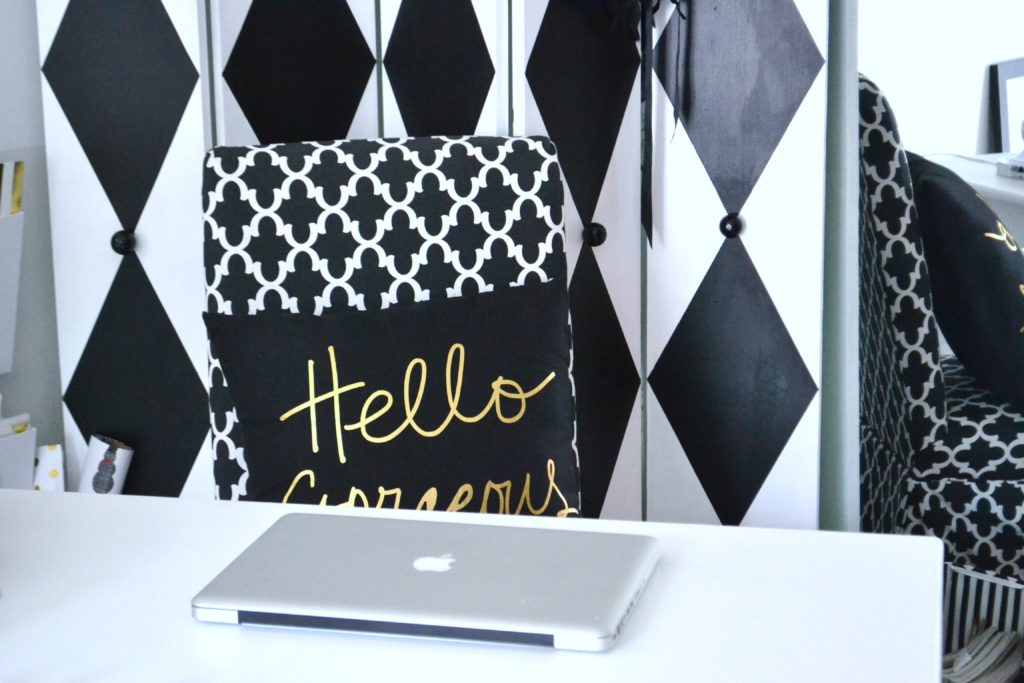 Idea # 3.  Personalize your desktop with your lovely possessions and loves.  Black and White Folding screen covers office files.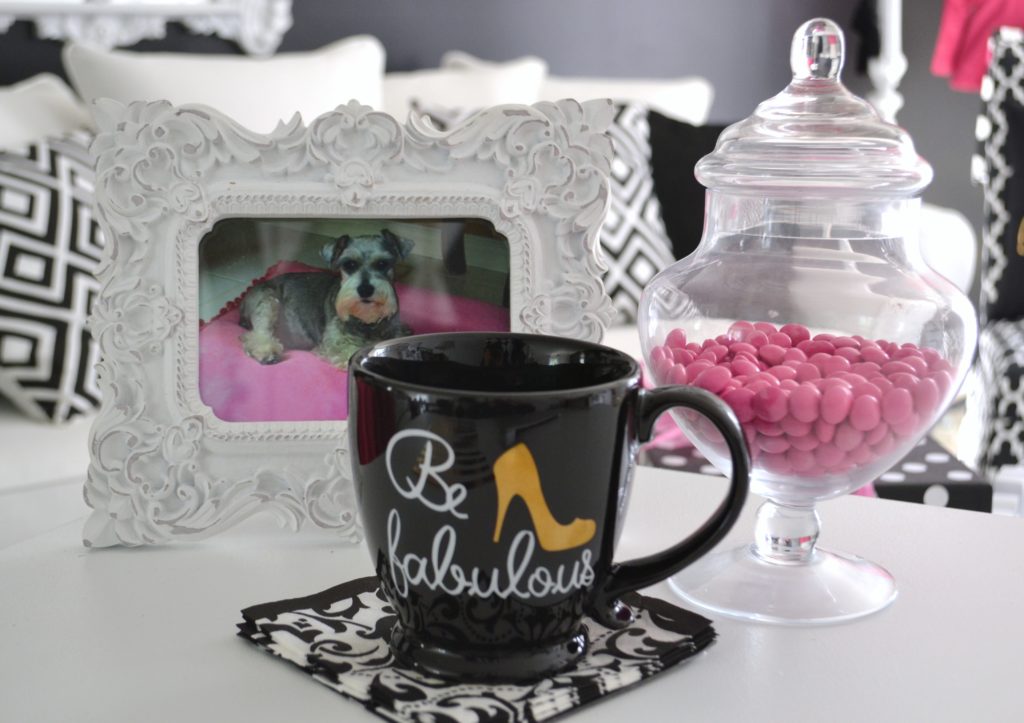 Idea #4.  Create a comfortable seating area for conferences, using your brand colors- paint one wall a sticking color and ground it with a contrasting sofa and accessories. Have at least one item monogrammed with brand colors or logo in favorite font.  Make your desk top personal.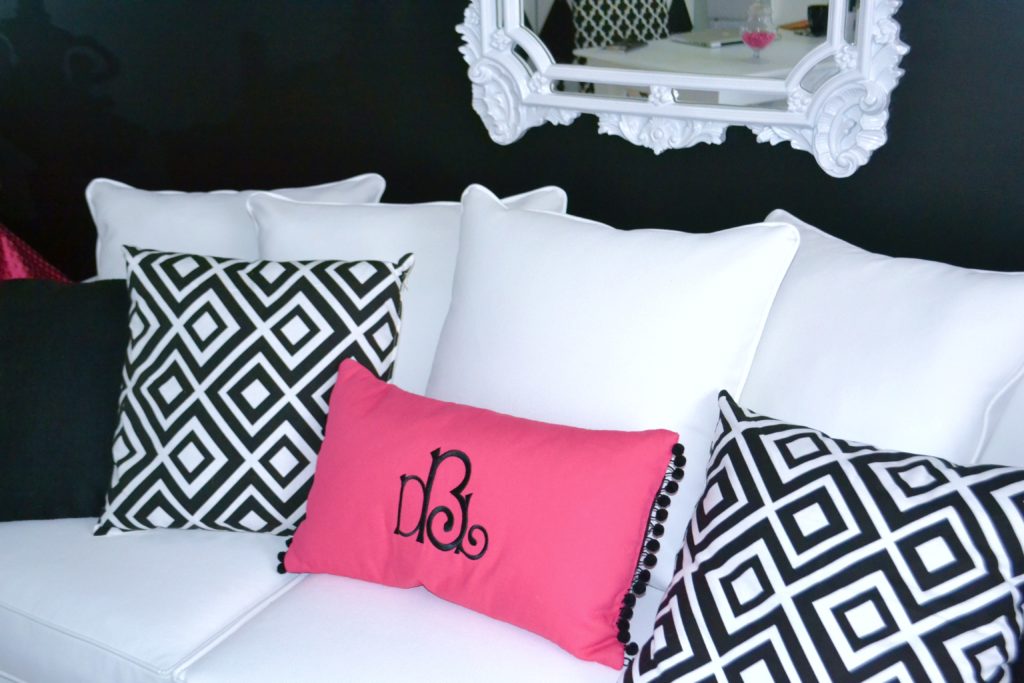 Idea # 5.  Include at least one mirror for reflection and depth to space.Note solid black wall with white leather sofa in brand colors.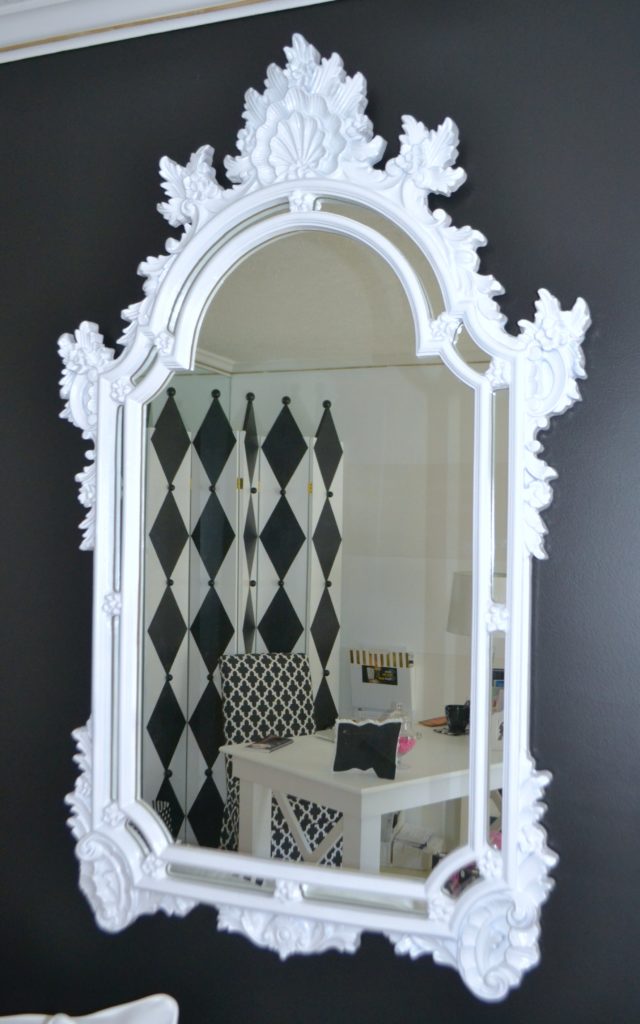 Idea # 6.   Use black and white wrapping paper to line glass canisters and fill with office supplies or snacks.  Besides lamps consider oil lamps as an alternative light source.  Paint an old mirror with glossy white spray paint and hang on solid wall for impact.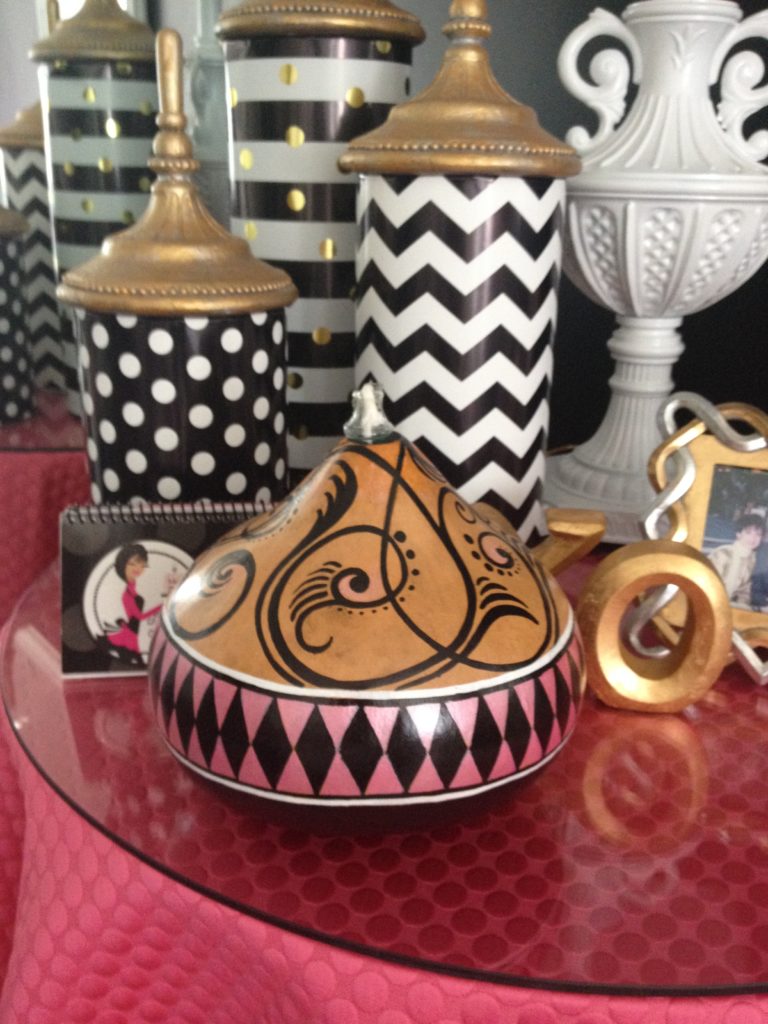 Wrap glass canisters with black and white wrapping paper for added interest and texture to office space. Add alternative light sources besides lamps.. Hand Painted Gourd Oil Lamp created by renowned artist Vicki Shell personalized with diamonds and brand colors.Hot pink table cloth covers a large round table and helps soften the black wall.
Idea #7.  Create canvas wall art in the same color as the single painted bold wall and hang it on an opposite wall to balance the solid wall color  in the room.
White Paper Flower Canvas made with white paper cut into petal shapes hot glued to a painted  black canvas adds a three dimensional work of crafted art.  This was placed on the opposite black wall which helps tie the room together.
Idea #8.  Add a dress form or mood board to inspire creativity and feminine touch.
If you are a designer of clothes or interiors consider adding a dress form dressed in brand colors or create a mood board on an easel.  Even if you are not a clothes designer every fashionista should have a fun dress form.
Idea # 9. Window Dressing-Simple voile sheers for draperies allows the light to come in and helps bring the outside in.
This room was our living room decorated with Bronze and dark colors. The sofa was reupholstered from bronze to white leather.  Check out the before photos and the after shots you have seen.
Before:  Living Room Transformation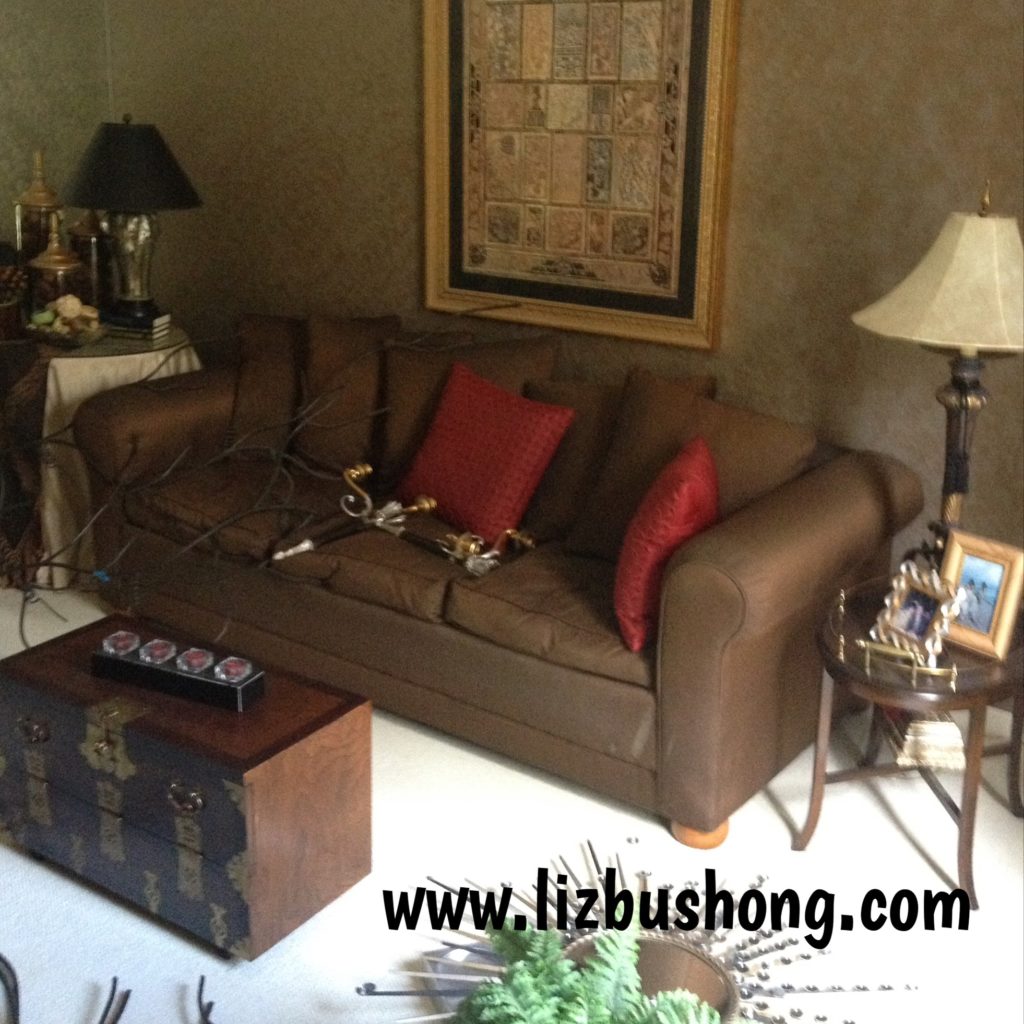 After: Living Room Transformation now Office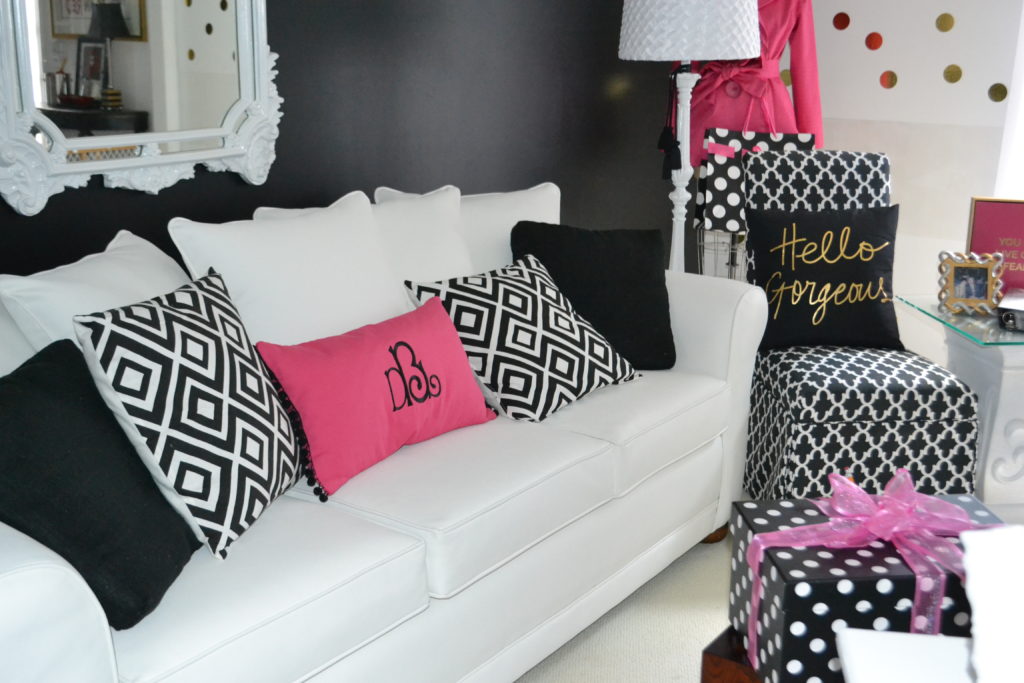 The black and white polka dot box was the inspiration for this room.  Hope you enjoy this transformation.  It was a lot of fun and not very expensive due to reusing what I already had and paint.  xoxo Liz

Create Comfortable Seating Area in Home Office in your brand colors.  Be inspired to create your own office space.  Office supplies are black and white file folders, gold and white file folders,  and other shiny gold accessories.
To help carry in all the good stuff I use a Collapsable Folding Utility Wagon …of course is it has to be Hot Pink.

Helping you Make a Statement, Make it Sassy and Make it Yours! ®