Blue & Gold Popcorn Recipe features white chocolate,  blue & gold popcorn, nuts, dried blueberries, and ground cinnamon. This snack mix is a festive and fun snack for football fans on game day. Mix together 10 cups Skinny Pop popcorn, pecans, dried blueberries, ground cinnamon in a large bowl ,drizzled with melted white chocolate almond bark and gold edible glitter.  Game is on! Make this snack in your team colors.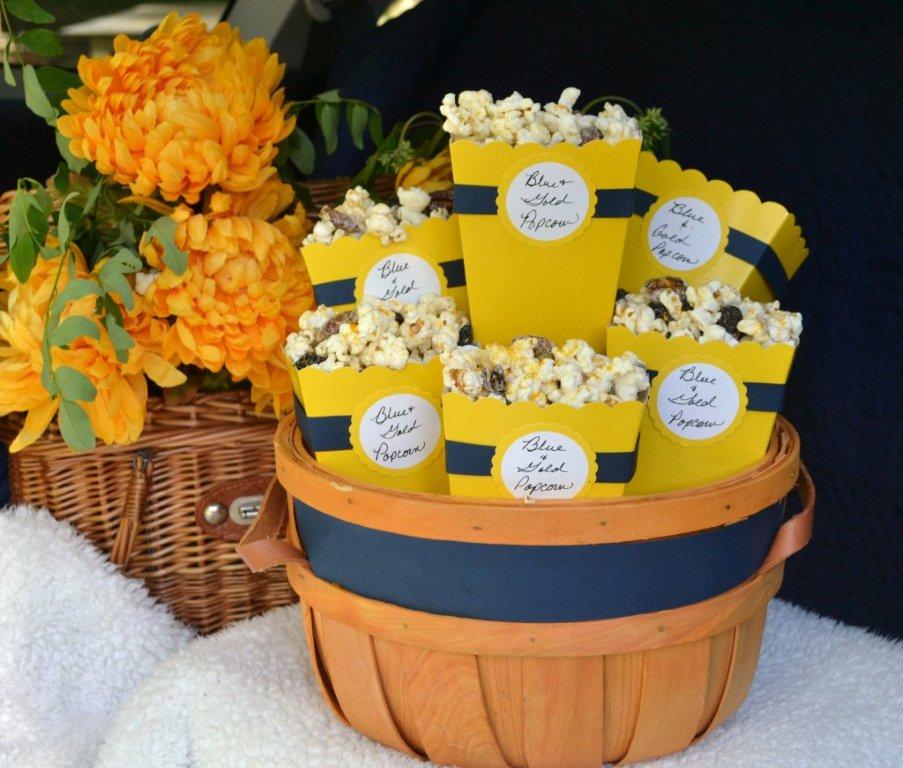 How to Make Blue & Gold Popcorn
I made this popcorn snack for a tailgate photo shoot. The school featured colors were blue & gold, therefore the name of the snack.  I used skinny pop corn for many reasons, is it is delicious, non GMO, light and salted perfectly.. oh and already popped!  This made this recipe go together fast.
Because I used white chocolate as a coating, here's a tip for ya.  Use good quality white chocolate, like Ghirardelli white chocolate melting wafers or the bars.  If there isn't enough cocoa butter 33% or more the white chocolate will not melt but clump.
It's best to avoid white chocolate chips, because they are not created to melt properly. They're designed to hold their shape under heat. Morsels sub out some cocoa butter with flavorless hydrogenated oil and loads of sugar that tastes candy-sweet. Sounds like I don't like white chocolate chips… not so, just not for melting.  Here's a great article about the types of white chocolate.
Besides, white chocolate, I added toasted pecans, but you can add any nut you love. Just be sure to let guests know there are nuts in the mix incase of allergic reactions.  Dried blueberries and edible gold glitter added to the blue and gold color.
Once you melt the chocolate, pour over a bowl full of popcorn and all the ingredients.  toss to coat evenly.  You can leave it in the bowl to harden, then remove the corn when ready to package.  If you prefer you can always turn the evenly coated popcorn onto a counter top and let harden before packaging.
How to Package Snack
Depending on how you will serve this snack determines how you will package it. I used a yellow gold treat box that looked like a popcorn container.  I found this at Michaels then added a blue ribbon band with a sticker name tag on each box in keeping with the overall team color scheme.  On the flip side, if you want to serve it in a large white bowl or basket lined with blue & gold  paper napkins that would be great too. Anyway you serve it, your team mates will love it.
This is great for tailgating, super big games, even movie night.  Have fun making this easy snack.   Here's the recipe.
Print
White Chocolate Blue & Gold Popcorn|Snack Mix
Author: Liz Bushong
Prep Time:

20 minutes

Cook Time:

microwave 30 second intervals

Total Time:

30 minutes.

Yield:

10

-

8

ounce servings

1

x
Category:

Snack

Method:

microwave

Cuisine:

American
10 cups Skinny Pop popcorn or fresh popped
1 cup pecans or other nut
1 cup dried blueberries or raisins
1 teaspoon ground cinnamon
6 ounces white chocolate- tested Ghirardelli
Edible Gold glitter
Instructions
Place popped corn in a large bowl, stir in nuts and berries.
Microwave white bark in a 2 cup glass measuring cup at high for 40 seconds or until melted and smooth.
Pour melted white chocolate over the popcorn and toss to coat.  Sprinkle with cinnamon and edible glitter. Allow corn to sit to harden then break into small pieces.
Store in air  tight container up to 3 days.
Keywords: blue & gold popcorn, snack, tailgating, white chocolate