Kick up your "red high heels" and dust off the cowboy boots, it's not a hoe down but a Southern "all girl" bridal shower.  Three inch red high heel butter cookies takes center stage on the red and turquoise "dressing" dessert buffet table. Calling all bridesmaids, host a sweet & savory bridal shower with these easy ideas.
Bridal Shower Ideas|Red and Turquoise Color Scheme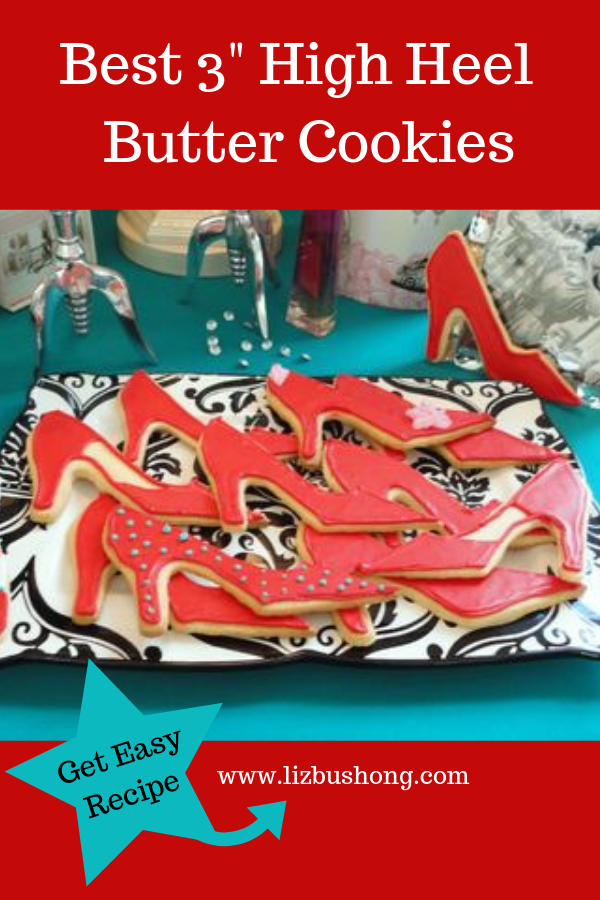 Turquoise and bright red color scheme made this shower easy to coordinate with table decor and desserts.  A three inch high heel cookie cutter makes this cookie tray exciting to look at and tasty to eat.  The butter cookie recipe will not spread during baking so what you cut out is what you get. Meringue icing glazes the cookies.  Easy recipe so be sure to get Red High Heel cookie recipe and cutter here. 
Bridal Shower Ideas| Dressing Table Dessert Buffet
Set up a pretty dressing table with all things that girls usually have on their make up station. In this case, we set up "butter cookie" nail polishes, lipsticks and hand mirrors on a glass tray for serving.  Other items were "cotton ball" cream puffs.
Everything you would find in a make up bag, mirrors, lipstick, nail polish was presented on this dessert buffet in "butter cookie" form.  Hat boxes, tall buffet lamps and a large mirror set the stage for the "dressing" dessert table.  Recipe for all butter cookies and royal icing can be found here.  
Bridal Shower Ideas| Staging Table with Desserts
Creating elevations and presenting foods on decorative serving platters showcases the different types of foods served and draws the eye to the individual dishes.
Decorated Creme Puffs are served semi frozen in glass dome for self serving dessert.
Keeping the cream puffs frozen and decorated last minute before serving will keep them fresh and safe to eat.  Piped whipped cream and one red hot candy goes with the bridal shower color scheme.
Mini Cheesecake Shots are served on a white dinner plate; tall spoons make it elegant to serve and easy to eat. This no bake dessert is quick and easy to put together, just pipe the cheesecake in the small cups right before serving, garnish with whipped cream.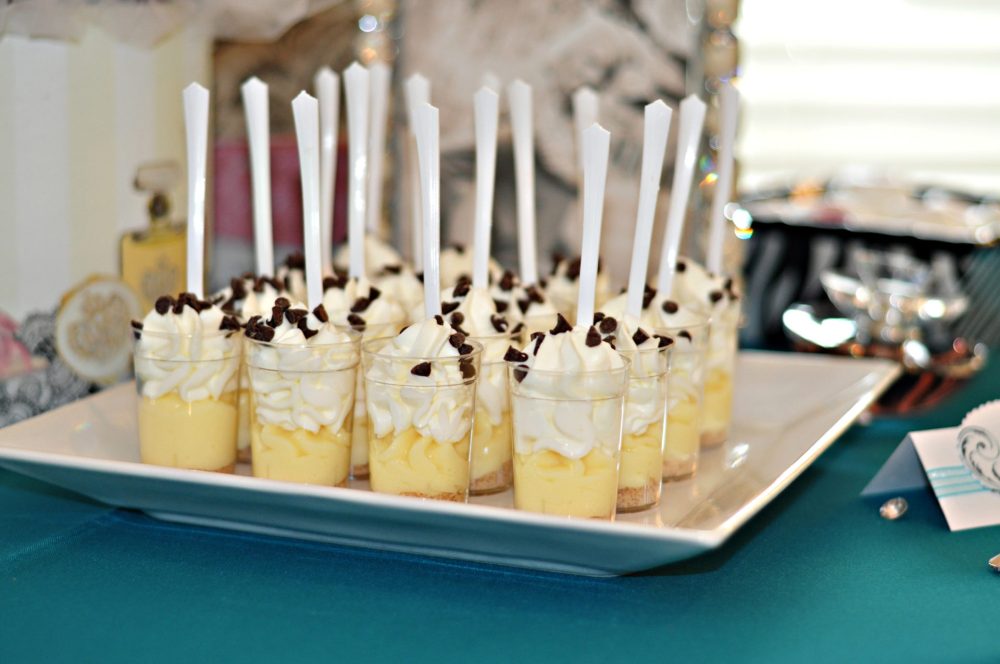 Sweets are Great but Serve Savories Too
With all the sweets be sure to serve savory along with the dessert buffet. These are Pringle Chips dipped in dark chocolate and arranged like a Blossom in large paper baking cups. The center is Habanero filled cream cheese with red pimento centers to coordinate with the overall color scheme.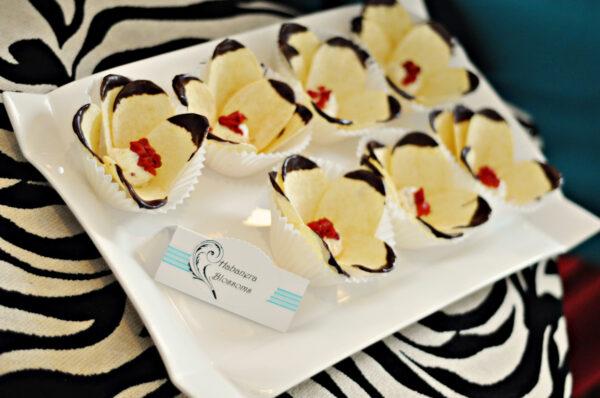 Bridal Shower Ideas| Hat Box Centerpiece of Roses
On a separate high top table with turquoise table cloth, we sat up a snack bar featuring these hat box rose centerpieces.  Each hat box is filled with oasis and covered with tulle bundles. Large red rose blooms are filled in to create a round arrangement. Pearl hat pins are in the center of each rose for accent.
Red roses arranged in various sized pink & cream hat boxes, mirrors, and perfume bottles, sat on each round table as the centerpiece.
Set up a Beverage Bar
Tea and coffee make a perfect beverage bar for this bridal shower.  Be sure to showcase different flavor syrups and sprinkles to add to the teas and coffee.  It's simple to set up, provide hot water and decaf coffee in pretty urns,  sit out assorted teas, syrups, creamers and sugars along with stir sticks, coffee cups and napkins.  Glass cups and saucers were available for tea and coffee as well as punch which was set up on a separate table.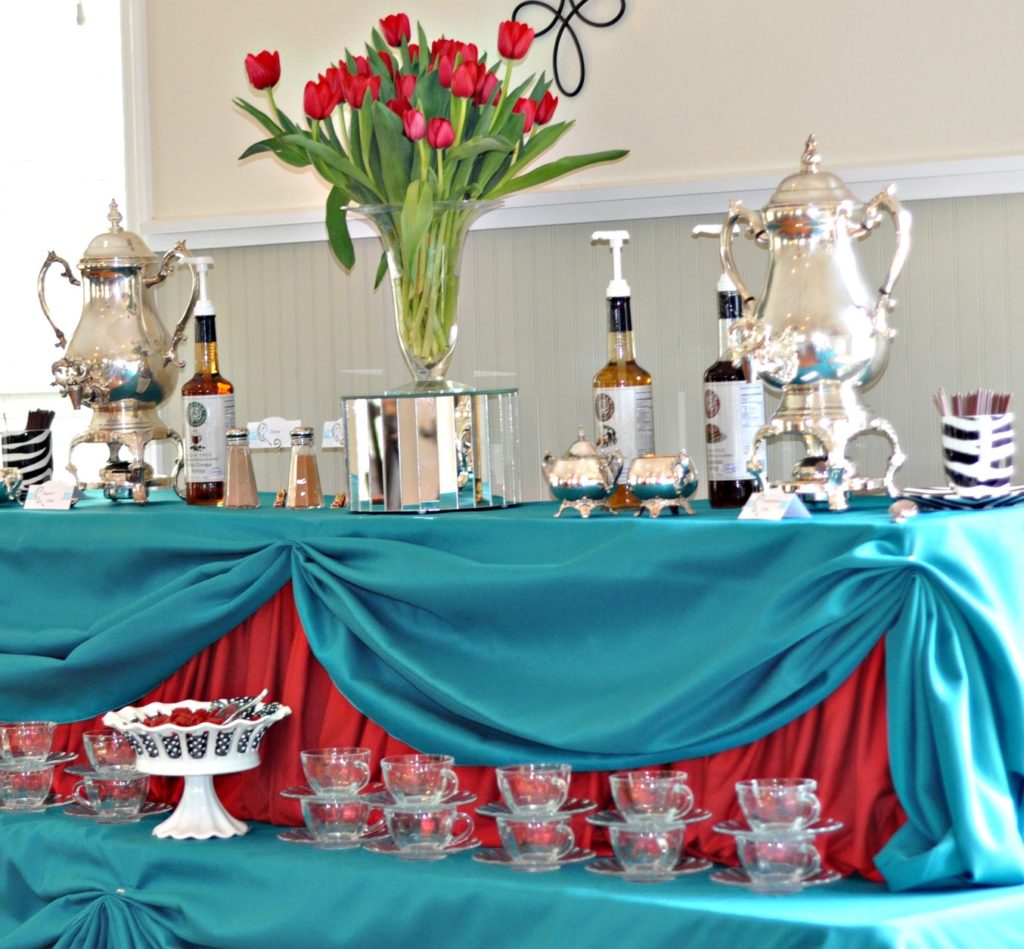 Serve Raspberry Brownies, Eclairs & More
You can purchase most food items at bakeries or other outlets and garnish last minute to make them present well at your shower event.  Make a few place card tags with name of sweets & savories to identify the treats as well as list ingredients in the item. For example, nut free, or contains peanuts, ect.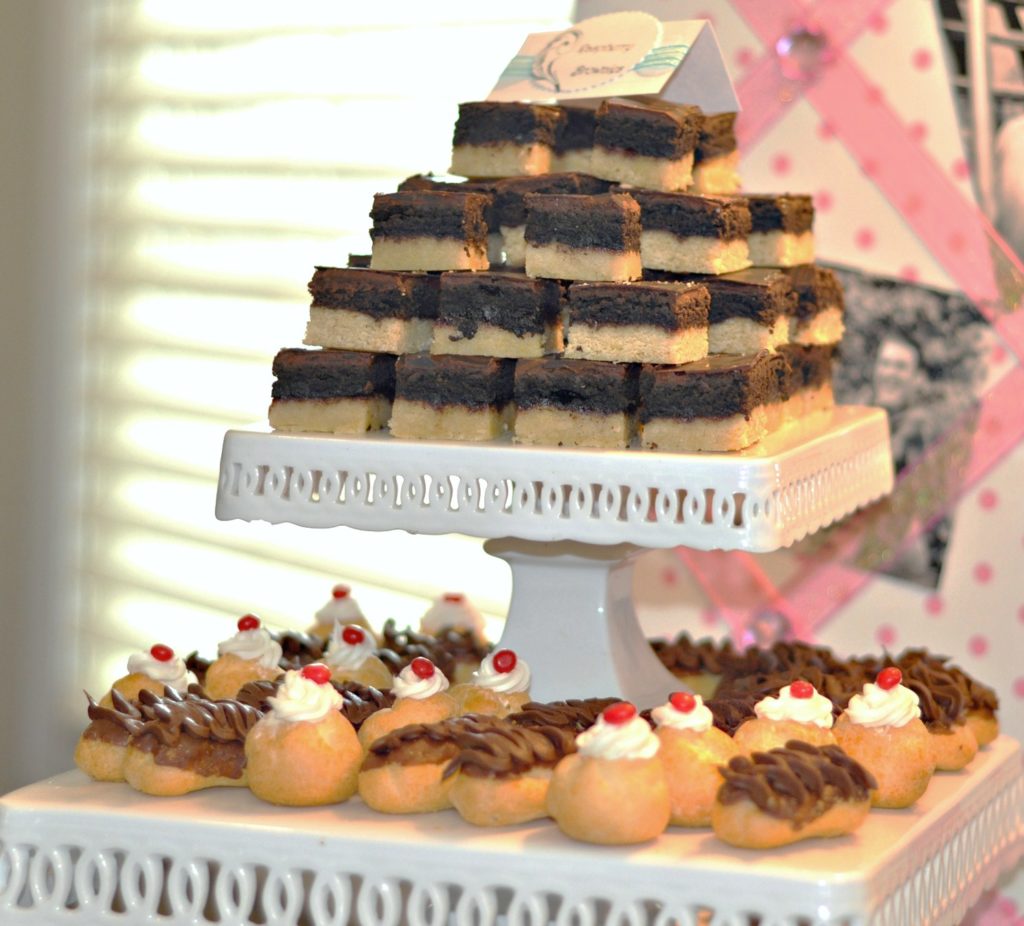 Eclairs and cream puffs are piped with chocolate frosting , whipped cream and one red hot candy. Easy way to garnish purchased desserts.
Hope you like these ideas. 
This was featured in Vip Seen magazine.
Other Ideas you Might Like to Try:
How to Make a Balloon Arch for your next party!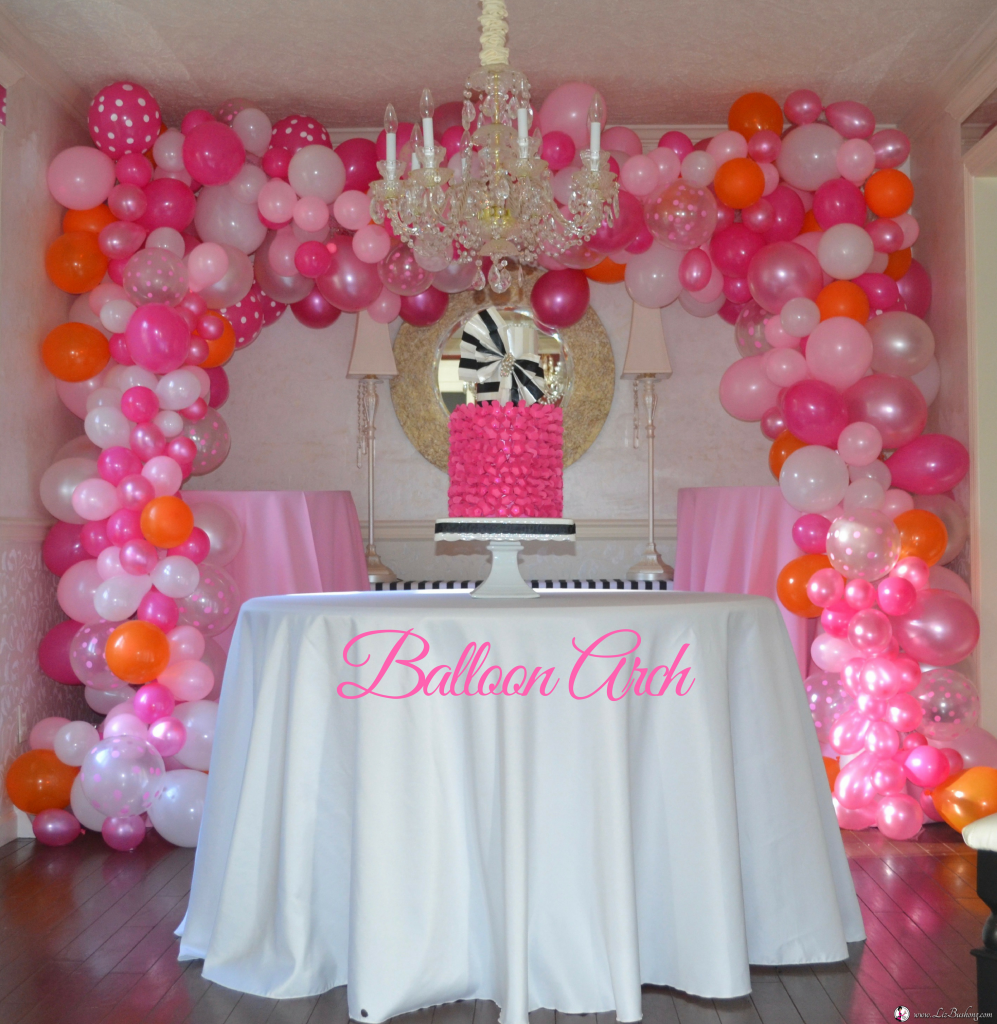 How to make a faux paper cake as a centerpiece.