Need a great sandwich bread?  Try this Crusty French Bread Recipe.  Made with  bread flour, water, yeast and salt with a hint of brown sugar allowed to rise until double and baked in a hot oven at 400 degrees for 15-20 minutes.  No oil or butter in the dough, which makes the bread crustier.
Whether using the bread as a base for quick broiler pizza or submarine sandwiches this bread is firm but crusty. A perfect bread with few ingredients which most pantries have on hand.
What's the difference between French and Italian Bread? 
The main difference is French bread uses flour, yeast, water and salt whereas Italian bread uses olive oil, milk and sometimes sugar. Both are crusty breads but French bread has no fat which makes the bread very crusty and chewy inside.  To read more about the difference between French and Italian breads check out this website. 
I love this bread recipe because it goes together very quickly and rises beautifully. The recipe has 3 packages of active dry yeast which is a lot but makes two long loaves.
How to Make French Bread
In medium mixing bowl you will be adding 2 cups of warm water, 110-115 degrees with 3 teaspoons packed brown sugar, and 3 packages of active dry yeast, stirring to mix.  Allow the yeast to proof. ( rise and bubble).
Next step is to add 2 cups of flour and mix using a Danish bread whisk.  You don't have to have this tool but it does make blending the flour and ingredients gently.  Cover this mixture for 10 minutes.  Meanwhile, measure 3-4 cups of flour and salt.  Mix until dough is stiff but pliable.  Turn out dough on floured surface and knead 8-10 minutes.
Tip:  Do not add salt until you add the second round of flour.  Salt doesn't kill the yeast but it will slow down the lift or rise of the bread.  Salt also helps strengthen gluten and browning of the crust…. besides enhancing flavor.
Kneading the Dough
If you use a stand mixer with dough hook to make this bread, you don't have to knead by hand 8 -10 minutes.  The beating action of the dough hook actually helps knead the dough.  But be careful not to over do it.  Dough should be smooth and elastic but not sticky.
After the first rise which is about 45 minutes, the dough is divided in half and shaped into long loaves.  Then into another rise until loaves have doubled in size.  You will make slashes in the tops of the risen bread with a sharp knife about 1/4″ thick deep.  This helps with rising and creates a pretty bread top.  Brush the loaves with egg wash. Sprinkle bread loaves with sesame seeds if desired.  Bake in a hot oven at 400 degrees with a pan of boiling water in the bottom of the oven.  Water causes steam which helps the bread become crusty.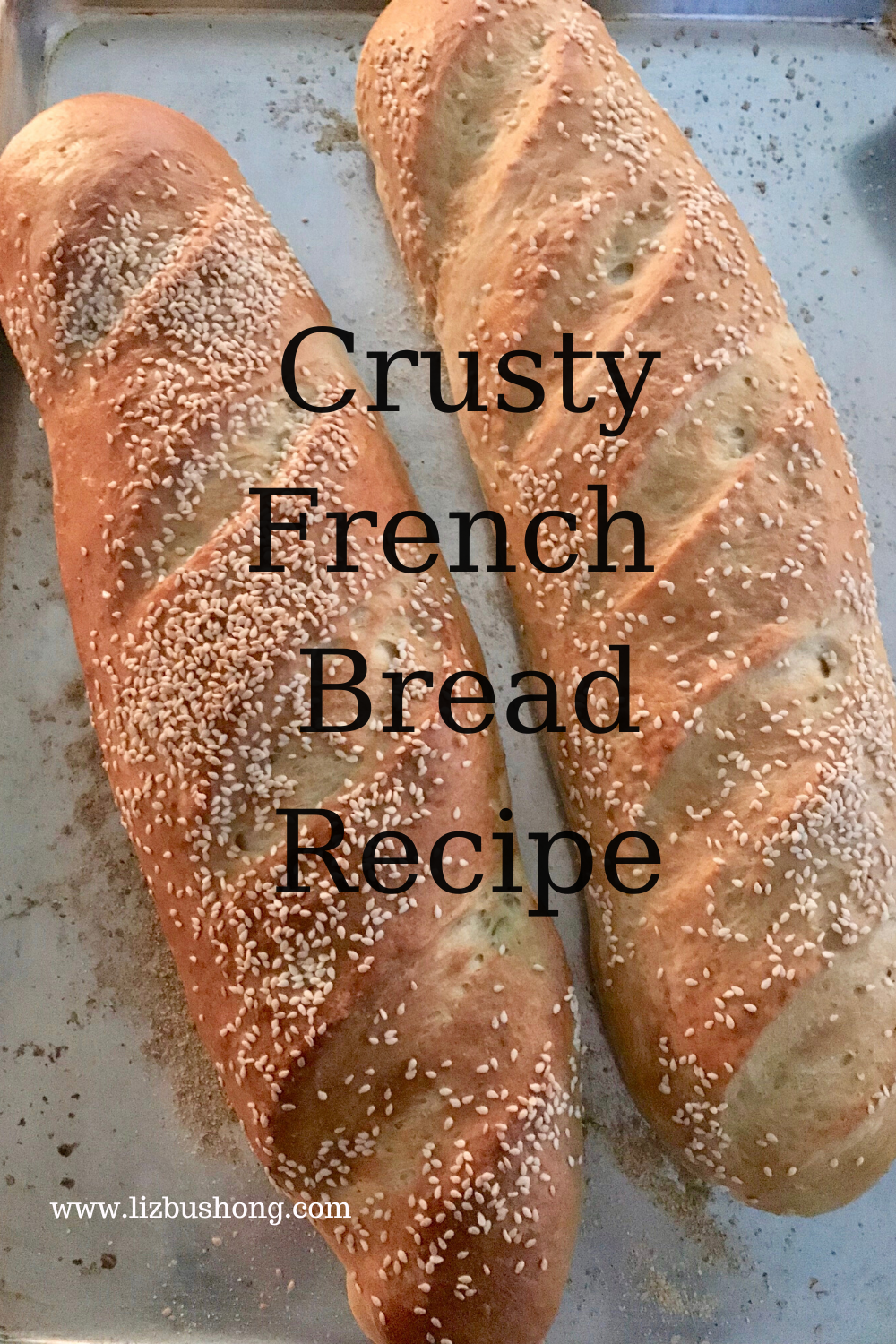 Print
Crusty French Bread Recipe
Author: Liz Bushong
Prep Time:

25 min. + hour rise

Cook Time:

25 minutes

Total Time:

90 minutes

Yield:

2

loaves

1

x
Category:

Bread

Method:

Baking

Cuisine:

French /American
2 cups warm water, 110-115 degrees
3 packages Fleischmann's Active Dry Yeast
4 teaspoons packed brown sugar, light or dark
4–6 cups bread flour, divided
1 tablespoon salt
Cornmeal for sprinkling on baking sheet
egg wash- 1 egg with 1 teaspoon water
1 cup hot boiling water, to help steam in oven/not added to bread mixture
Instructions
In medium mixing bowl, add warm water, brown sugar and dry yeast.  Stir to blend and allow to proof 5 minutes.
Stir in 2 cups of flour with bread whisk mix together with yeast mixture.  Cover and let rest 10 minutes.
Add salt.  Add remaining flour one cup at a time, mixing in dough until stiff ball of dough forms.
Turn out dough onto floured surface, knead 8-10 minutes, adding additional flour if needed to keep dough pliable.  Dough should be smooth, elastic and not sticky to touch.
Shape dough into a round ball, place in clean mixing bowl. Cover with towel or place in warming drawer/warm place to rise until double about 45-60 minutes.
Preheat oven to 400 degrees.  Allow oven to warm during the rise.
Punch down dough, Knead to smooth.  Divide dough into half and shape into two long loaves.  Sprinkle corn meal on  2 baking sheets.  Place one loaf on each baking sheet. Let rise uncovered for 10 minutes.
With sharp knife slit tops of bread loaves 1/4″ deep.  Brush loaves with egg wash and sprinkle with sesame seeds.
Boil 1 cup water and place in pie plate in bottom of oven. Bake loaves in oven on medium rack for 15-25 minutes.  If you have enough room in oven or have a double oven bake both loaves at the same time, if not bake one loaf at a time.
Bake until loafs are golden brown and sound hollow when tapped.
Let bread cool on wire racks after removing from oven.
Notes
Bread loaves can be baked, cooled wrapped and frozen for up to one month.
Bread makes great crusts for pizza, or sandwich bread for subs, garlic bread slices, or croutons for salads.
* packaged yeast has 2- 1/2 teaspoons per packet, for this recipe use 7 teaspoons not 7 1/2.
Recipe adapted from Breaking Bread with Father Dominic.
Keywords: #bread #French #Baking #Crusty #recipes
Other Ideas you might like to try: