Create a pretty Easter table scape with a living cabbage vase and super cute bunny details. Bunny plates and accessories add to the charm of this pink, purple and yellow inspired table top. Even the centerpiece sets the center stage with a hollowed large cabbage head that turns into a beautiful flower vase. Fit a small jar of water inside the hollowed cabbage and fill with fresh tulips and purple baby's breath. Simple but bright and cheery centerpiece for Easter or Spring occasions.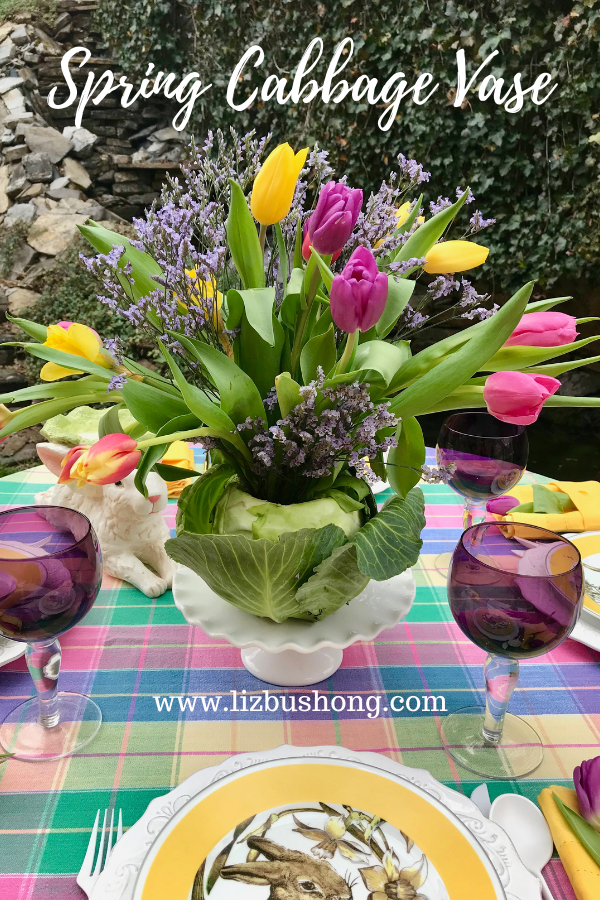 Setting the Table for Easter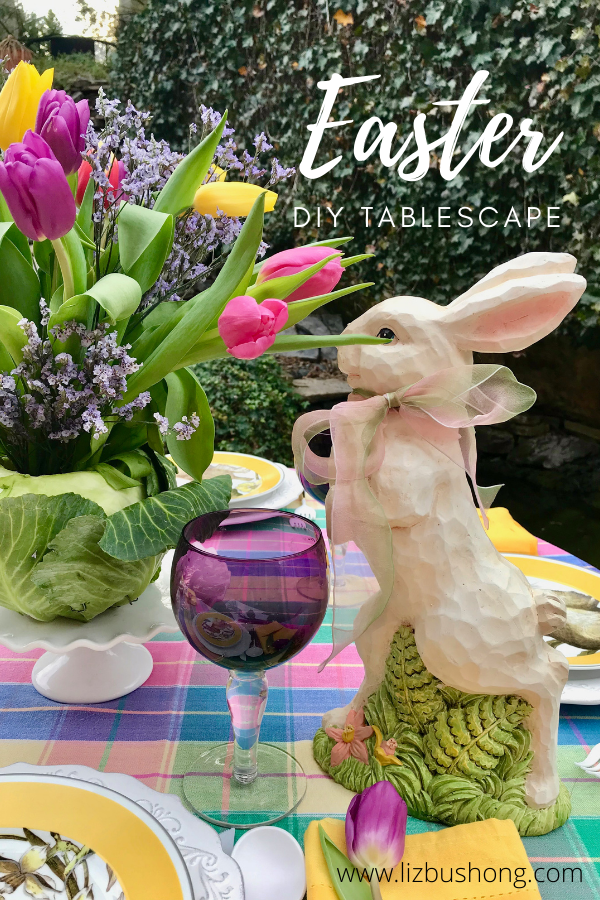 Covering the Table
Whether you use a long rectangular or table for 4, covering it with table cloth really helps set the color scheme for this tablescape. All the colors that make you think of Easter and Spring are in this table cloth. Pink, green, yellow, pale green, hot pink, to blue, every color gives a palate to decorate from.
Once you determine your table cover, next is the dinnerware, especially if you own bunny plates or would like to get some. I found these at Williams & Sonoma a few years ago, but replacements.com has them, tap on link to go to page. My plates are salad plates, they give the impact I want with out a lot of expense, and they will not compete with the dinner menu. Meaning, I use white dinner plates for serving the food for this calms the eye and doesn't compete with back ground colored plates.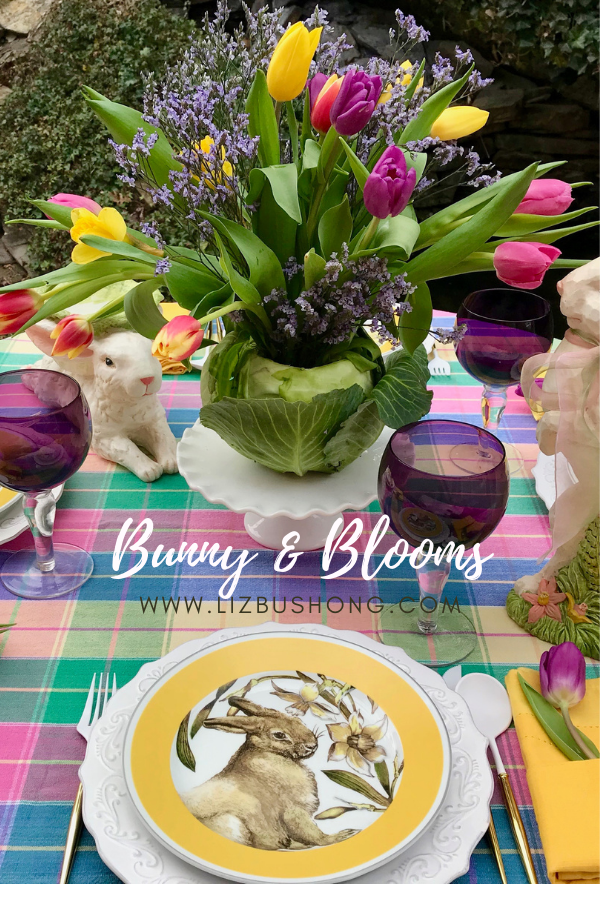 So layer your dinner plate with the decorative salad bunny plate, add silverware and side napkin. The napkin is a simple pocket fold Watch on my You Tube Channel to see how to fold this napkin shown in Dining Alfresco video. For beverage glasses, using dark purple stem ware complimented the overall color scheme as well as the florals in the living cabbage centerpiece.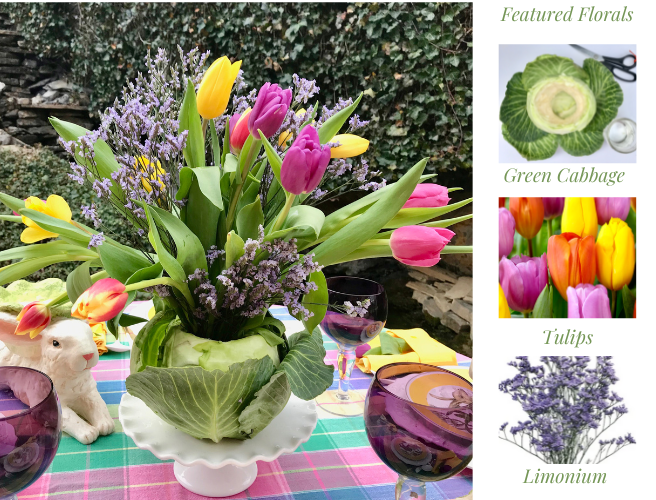 Living cabbage centerpiece features, a hollowed large cabbage head, with small jar filled with water holding the fresh flower bouquet. For complete instructions go here.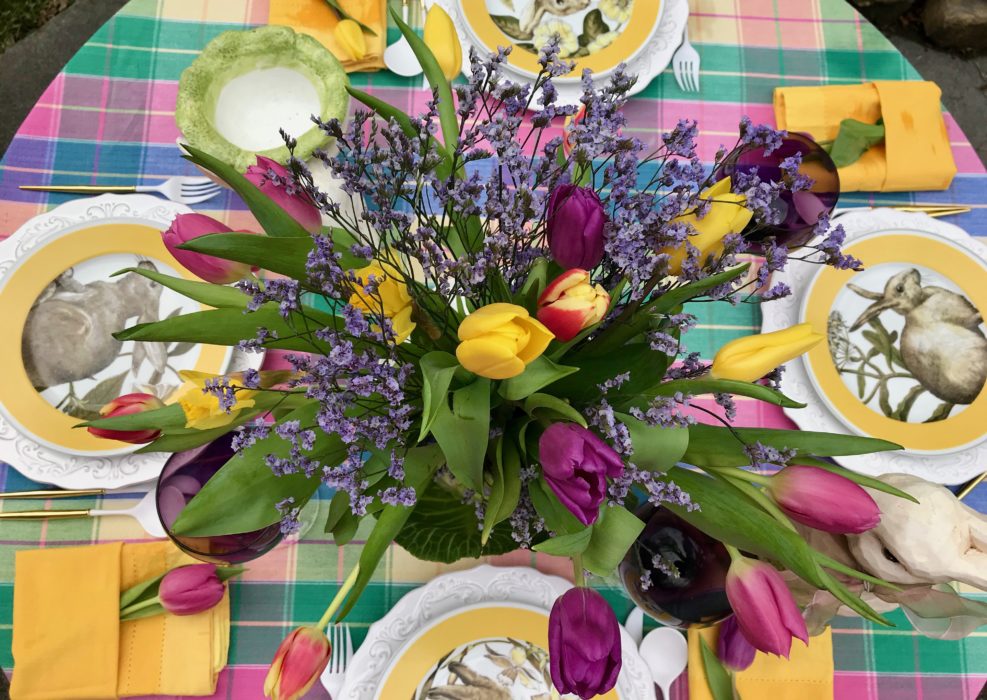 In addition to the cabbage vase and beautiful tulips, a single tulip is placed in a water pick and inserted into the fold of golden napkin at each place setting. As a take home gift and sweet reminder of the beauty of Easter and Spring.
Insert the glass jar inside the cabbage vase. Be sure to hold the bottom of the cabbage if you are transferring the vase. Arrange tulips as desired to create the free flowing look you desire.
You can make this vase one day ahead and cover with plastic wrap in refrigerator. To help keep the inside of the cabbage from turning color, place a wet paper towel inside the opening, cover with plastic wrap and keep chilled until ready to assemble.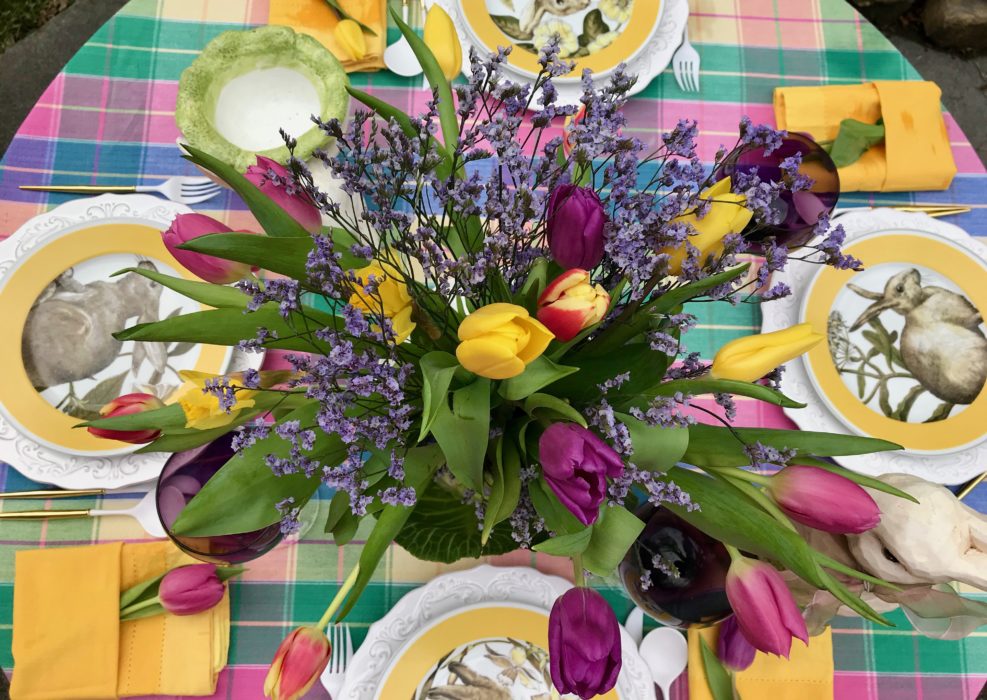 So pretty for a Spring Easter Table Setting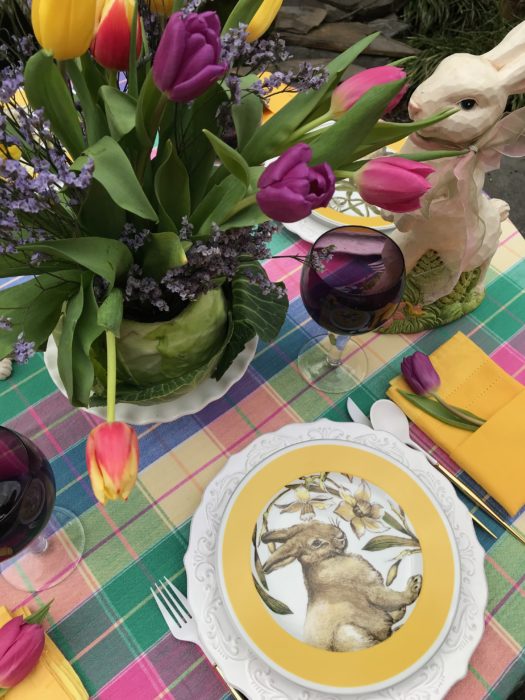 Tulips, Daffodils and Purple Breath Florals purchased at grocery store floral shop for Centerpiece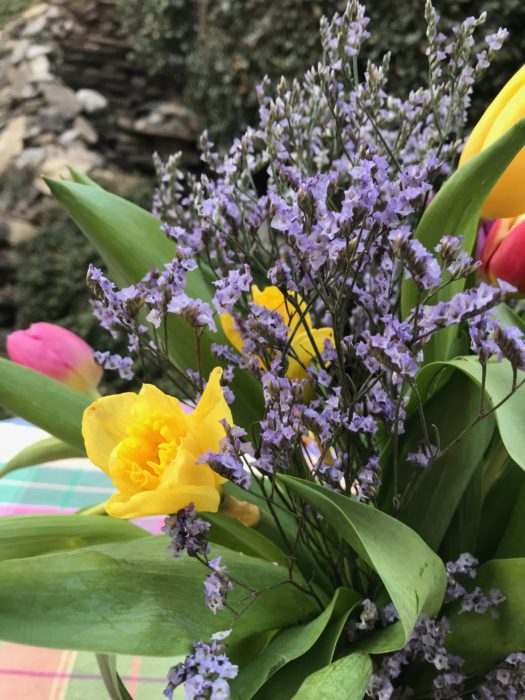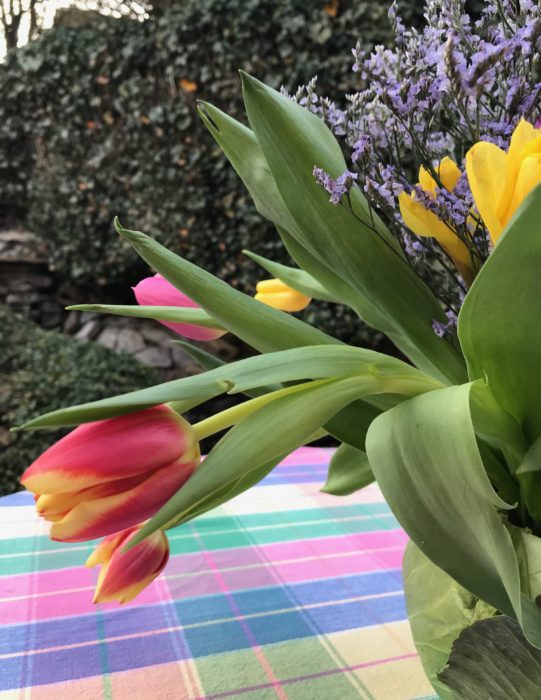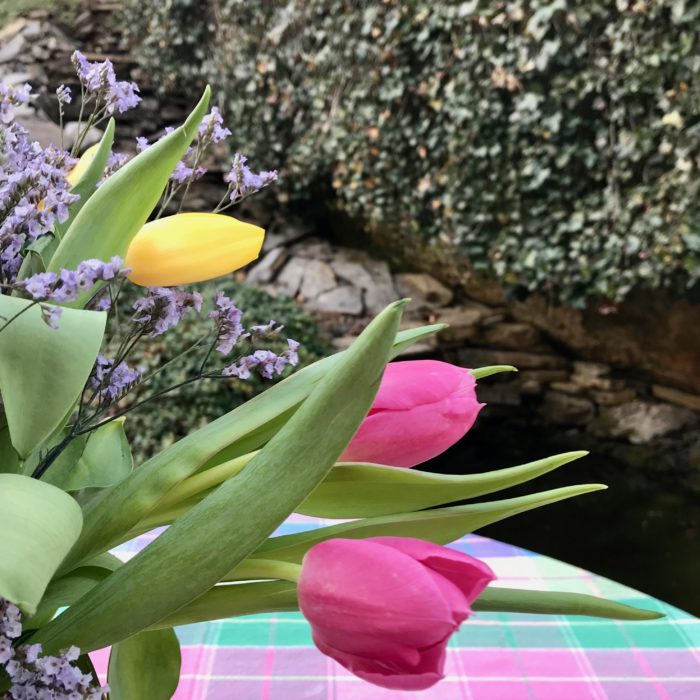 Even my Baby Girl got to pose with the Cabbage Vase arrangement. She was eyeing this tulip… Baby Girl is our pet bunny, that is her real name. She really lives up to it too.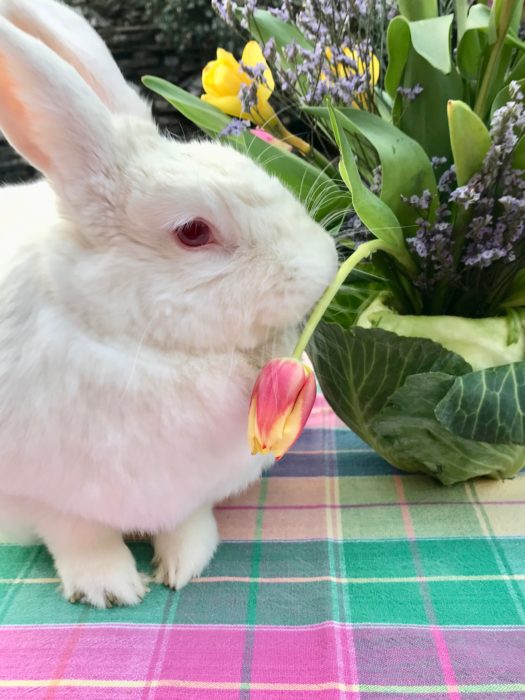 Sorry mom…I just had to have it!
She clipped it right in too. I wouldn't let her eat it though.. since it came from a floral shop I was concerned about preservatives and the like. Funny she didn't go after the cabbage leaves?
She is getting used to photo shoots, unlike JJ my beloved bunny who loved the camera and attention.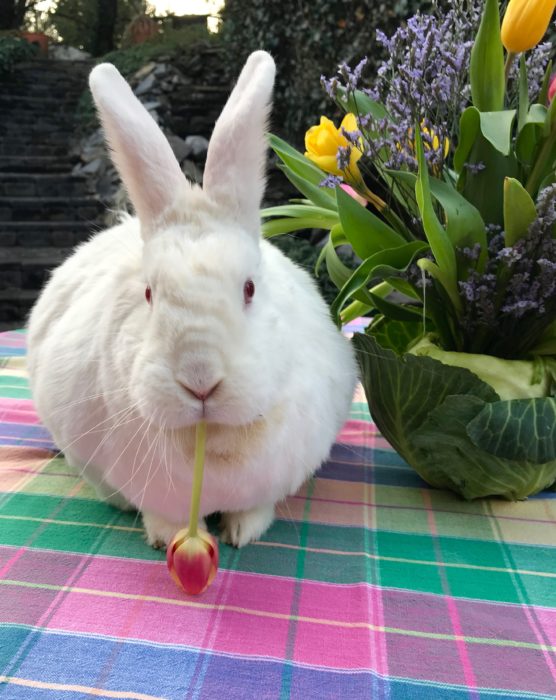 I really want this mom… Sorry BG not good for bunnies.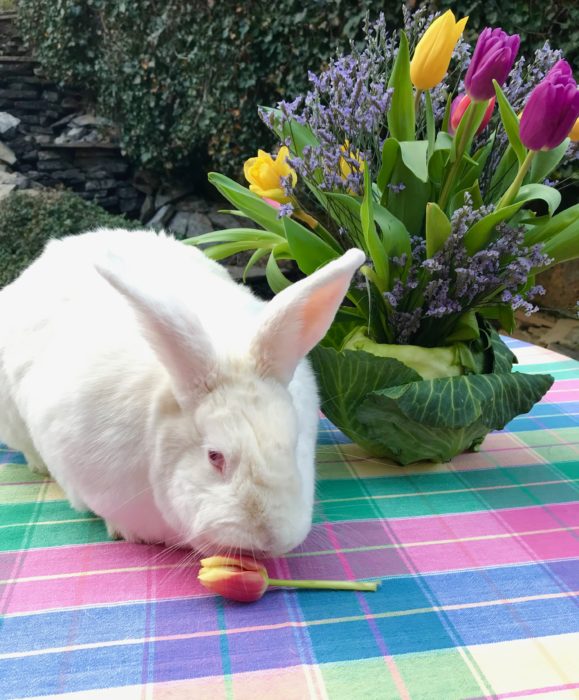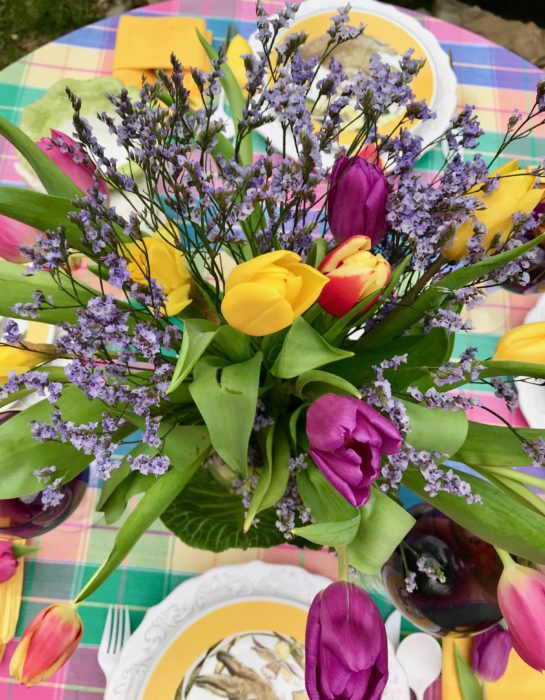 More photos of the festive Easter Tablescape.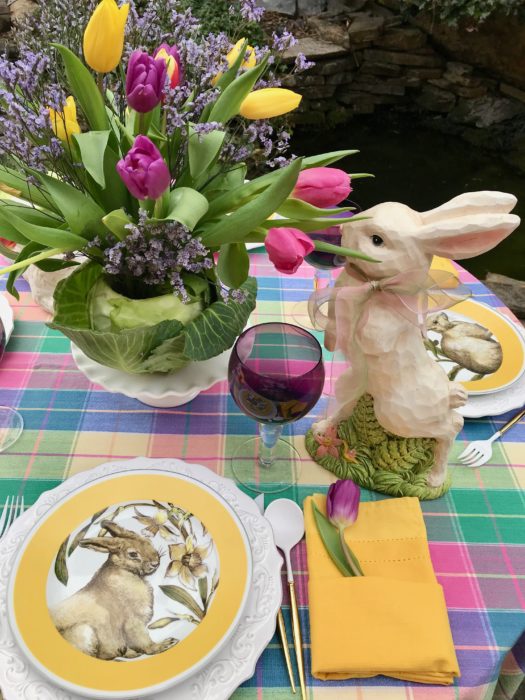 Have fun decorating for Easter and Spring. Hope this gave you some ideas on how to set a pretty table.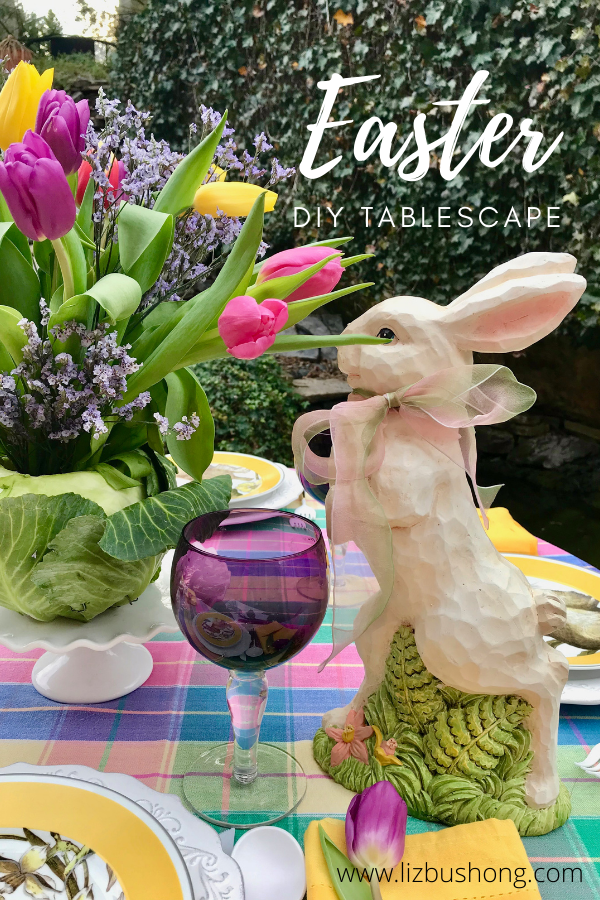 Other Ideas You Might Like to Try: