Create a buzz-worthy dessert, Honey Bee Cake with Sweet Whipped Cream Frosting!  Bee-cause bees make the best honey mixing this ingredient in a vanilla cake mix makes this two layer cake not only delicious but moist.  Egg whites keep the cake white while the honey infused  whipped cream frosting rounds out the flavor.
Bee-utiful cake is garnished with frosting "honey bees" and fresh forsythia blooms.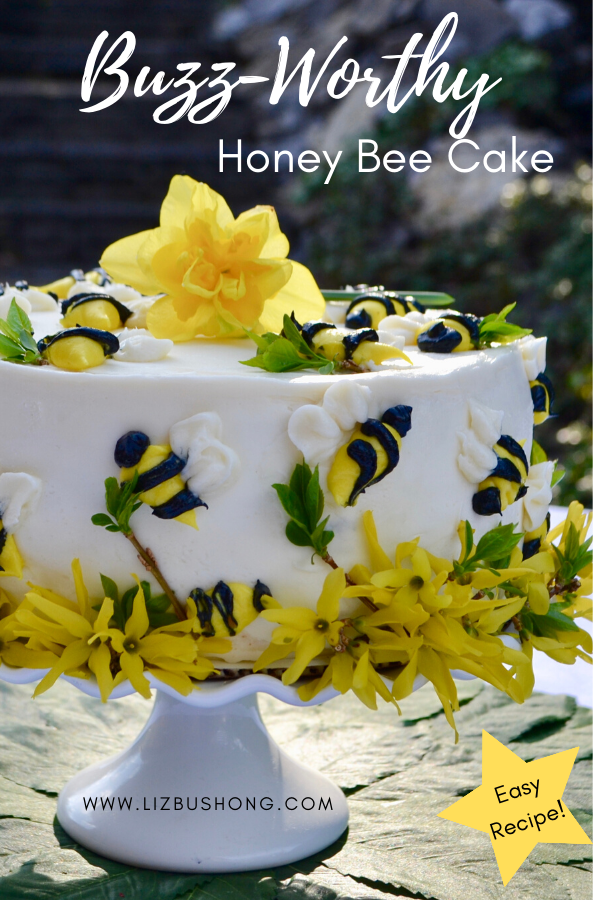 Whether serving this in the spring or summer, Easter or Baby Shower this cake is festive and fun. For another Un-Bee-lievable recipe check out the Honey Bee Cupcakes filled with Honey Cream Cheese.
Helpful tips Making the Cake
Tip # 1: Use a cake mix.  Bee-cause cake mixes are very simple to make they are also very accurate.  Duncan Hines in my opinion has the best formulation and makes a tender cake.
Tip # 2:  To slice the cake layers in half, freeze the cakes until firm for easy slicing.
Tip # 3: Whip your buttercream frosting at least 5 minutes for creamy and smooth buttercream.  Buttercream in this recipe is used for crumb coating the cake and making the honey bees.
Rather than making a cake….purchase a bakery cake and decorate with frosting bees and garnish with faux blooms.  Easy and quick dessert.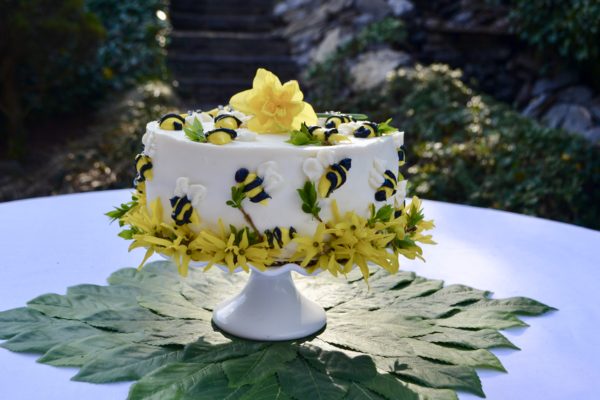 Buttercream Bee's Pollinate Forsythia Blooms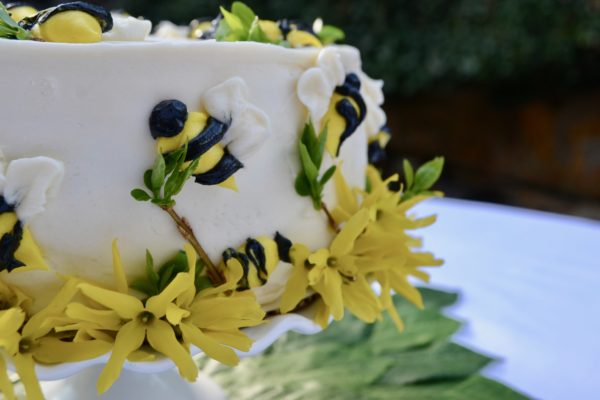 Forsythia Blooms are not Poisonous but Bitter so do not Eat.
Even though forsythia blooms are not poisonous they are bitter and really should not be eaten.  Know the source of your picking to make sure there are not insecticides present on the blooms.  To avoid any concerns purchase silk blooms to decorate base of cake.
Please Note: Frosting this cake entirely with buttercream makes this cake super sweet and almost not edible.  That is why I opted for a Whipped cream frosting.  The cake is light in texture and the whipped cream balances the sweetness of the honey in the cake recipe.
Print
Honey Bee Cake Recipe
Author: Liz Bushong
Prep Time:

60 minutes

Cook Time:

25 minutes cake

Total Time:

2 hours

Yield:

2

-layer 8" cake

1

x
Category:

Dessert- Cake

Method:

Baking-Decorating

Cuisine:

American
1–15.25 ounce Classic White Cake mix- tested Duncan Hines
1/3 cup honey, orange blossom or clover
3/4 cup water
3 large egg whites
1/3 cup vegetable oil
Frosting: For Bees and Crumb Coat
1 cup or 2 sticks unsalted butter, room temperature
8 oz cream cheese, softened
4–6 cups confectioners' sugar
2 tablespoons honey
1/2  teaspoon clear vanilla- optional
Yellow & black food gel
Whipped Cream Frosting
1–1/2 cups heavy whipping cream, chilled, chill mixing bow and whisk as well
4 ounces cream cheese, softened to room temperature.
1/4 cup confectioner's sugar
1/2 teaspoon clear vanilla or creme bouquet flavoring
Instructions
Preheat oven to 350. Prepare 2-9″ round baking pans with cooking spray and parchment round for bottom of pan.  Lightly spray the top side of parchment once in the pan.  Set aside.
In mixing bowl of large stand mixer fitted with paddle, add cake mix, egg whites, honey, water and vegetable oil.  Beat for 2 minutes.
Divide 2 cups of batter between prepared cake pans. Recipe makes 4 cups of batter.
Bake 18-20 minutes or until center of cake is done with toothpick test.*
Remove from oven and cool 5 minutes in pan, then release cakes on cooling rack to finish cooling.
Wrap each cake with plastic wrap and foil, freeze until firm. When ready to frost, remove from freezer.  Slice each cake in half horizontally creating 4 thin slices. Return to freezer until ready to crumb coat.
Make buttercream frosting for crumb coat and bees.  Mix all frosting ingredients together in large mixing bowl with paddle attachment. Beat for 5 minutes until thick and very creamy.  Divide frosting into 3 small bowls with 1/2 cup frosting each.  Tint one yellow, one black and leave one bowl of frosting white.  Yellow for bee body, black for head and stripes, white for the wings.   Place each color in a disposable piping bag.  Start easy with one drop of color then increase for the intensity you desire. 
For Yellow- Bee body fit piping bag with tip#5 . 
For Black- Bee Stripes fit with tip #2 small round or clip end of piping bag with scissors.
For White- Bee Wings fit with tip # 104 rose tip. 
Decorate bees after frosting and chilling cake with whipped cream frosting.
Use a 8″ round cake board to stack your cakes. With left over buttercream, spread thin layer of frosting on cake board and then between 3 cake layers, stacking the cakes together.  Add top cake and remaining frosting. Spread over sides and top of cake thinly to create a crumb coat.  Chill cake to firm frosting.
Whipped Cream Frosting– heavy whipping cream in large grease free mixing bowl fitted with whisk attachment.  Add 1/4 cup confectioner's sugar, and flavoring.  Remove from mixing bowl and place in smaller bowl to blend in cream cheese.  Without removing whisk, whip cream cheese then add to beaten whipped cream. Beat again until semi firm peaks form.  Frost sides and top of cake with whipped cream with off-set flat spatula, smoothing sides and top of cake* as possible. Chill cake before decorating.
Cake needs to be refrigerated!
Decorating the BEE cake- Pipe yellow bee body on top and sides of cake in random pattern, Pipe a tear drop with the point of the drop being the tail.  Pipe a round small head at the opposite end of tear drop.  Pipe two strips with black frosting across the back of the bee body.  Last, pipe flying wings, to do this, with rose tip wide end facing you, pipe a small horseshoe shape, the frosting will ruffle a bit but that's ok.  Practice before adding to cake if you can. 
If you don' t want to pipe your own bees, check out these 1″ sugar bees that you can use.  
Place your finished cake on a cake stand, decorate the rim of cake with fresh or faux forsythia blooms and leaves.
Notes
*Toothpick test, insert pick in center of baked cake to test to see if center is baked.  Remove pick and if it comes out clean, meaning no crumbs or slight few your cake is fully baked.
*Run spatula under warm water and dry off before smoothing sides of whipped cream on cake. No dripping water just warm off set spatula.
*Bake your cakes a day ahead so they will freeze solid making it easier to slice the cake horizontally.  Less stressful too not having so many steps to accomplish in a day.
Hope you enjoy this cute cake!  Great time to Celebrate the First Day of Spring or Summer!!!  xoxoxo  Let me know if you make this cake.  Cake was inspired by Celebrate Magazine which is no longer in circulation.  Sure miss that magazine.  It was beautiful!
Other Ideas you might like to try: