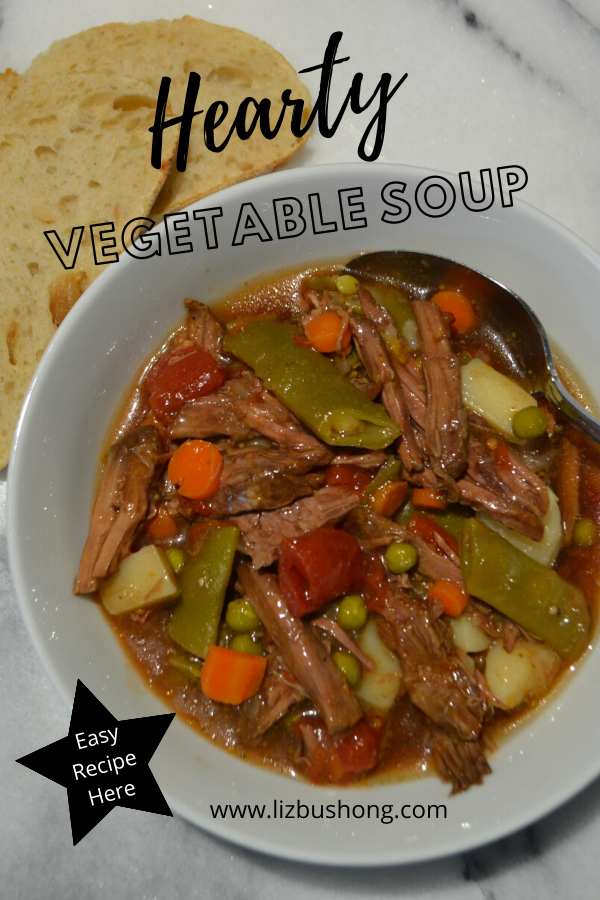 Need a hearty beef and vegetable soup to warm your soul? Try this recipe. Tender shredded chuck roast baked ahead, shredded and added to the beef broth base, diced potatoes, tomatoes and frozen vegetables.  Simple ingredients for a great hearty soup. Add canned beans or your family favorite veggies to make this soup your own.
Whether winter is in full swing or you find yourself in quarantine, make a large batch of this hearty soup.  It will become a family favorite.  Serve with cornbread, biscuits,  buttermilk bread slices or cheddar cracker soup spoons as a side compliment.
Because soup can be frozen, if you make too much you can package and freeze. One tip:  omit the potatoes if you plan to freeze ahead and add them as you are ready to heat the soup.  Sometimes potatoes can get mushy which will not make your soup base clear.  If you want a creamier soup base mash the potatoes or beans a bit to give you a creamier soup.
Helpful Tips Cooking the Chuck Roast
When making this soup, select a beef roast, chuck or sirloin for it has a very good flavor for this soup recipe. (In case you don't want to use all the roast in the soup, after baking wrap and freeze part of the beef for another recipe. )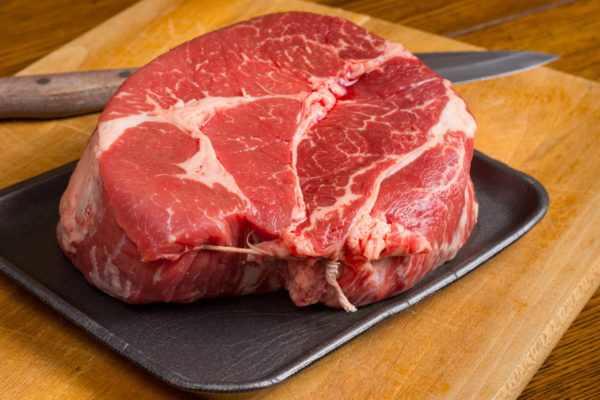 To make a tender roast, you will need to bake it in the oven in a cooking bag at 350 degrees. I use Reynold's oven Cooking Bags.
In addition if you don't want to bake roast in oven, use your crock pot or insta pot. However, the crock pot will take 6-8 hours depending on the size of roast you select.
Add a bit of flour and about 1/2 cup to 1 cup boxed beef broth to the baking bag and onion soup mix or simply salt and pepper.  I use McCormick Beef Stock Broth.  This has great flavor and simple ingredients.
Don't add vegetables to the roast during baking, the vegetables will be too mushy for your soup.  Instead cook the veggies separate or all at once after you create your soup base.
Separate the fat from the Roast
Once your roast has baked, set aside to cool.  Remove from baking bag and discard the broth to separate the fat. To separate the fat, place in refrigerator until the fat solidifies, then remove it. Strain the broth that's left over and use in the soup or if desired save for another dish.  Keep broth refrigerated.
Shred beef into pieces and set aside for the soup. Remove any excess fat or connective tissue from the beef pieces for tender soup.
Veggies for Soup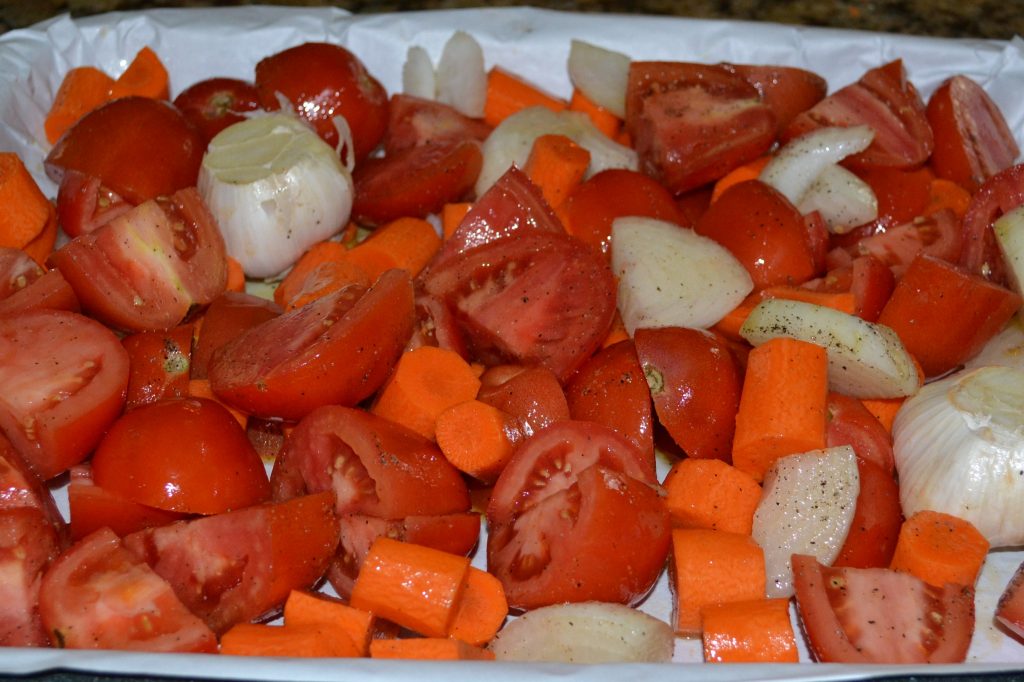 These tomatoes, carrots and onions along with garlic are tossed in olive oil and baked until tender for a Roasted Tomato Soup Recipe that I make.  If you want to roast your veggies while your roast is baking, you can put them on a separate roasting pan lined with foil and bake at the same time.  Toss the raw veggies in olive oil to coat and then place on foil lined baking pan.  For best results after baking, puree these veggies before adding to the soup as your base.
How to Make the Vegetable Soup
Chop or dice carrots, onion and celery into small pieces, add to a large stock pot with 2 tablespoons olive oil.  Stir until tender.  Add Lipton Onion Soup mix and spices and cook until mixed, be careful not to burn.  Add canned or roasted tomatoes, beans, and beef broth.  Then add frozen or fresh veggies, including potatoes, a little bit of water and your shredded beef. Cook soup over medium heat for 45 minutes or until all vegetables are cooked.  Season with salt and pepper or additional spices as per your taste.
Here's the recipe:  Hope you will make this for supper tonight.  Let me know how this recipe worked for you.
Stay well and be safe!   Liz xo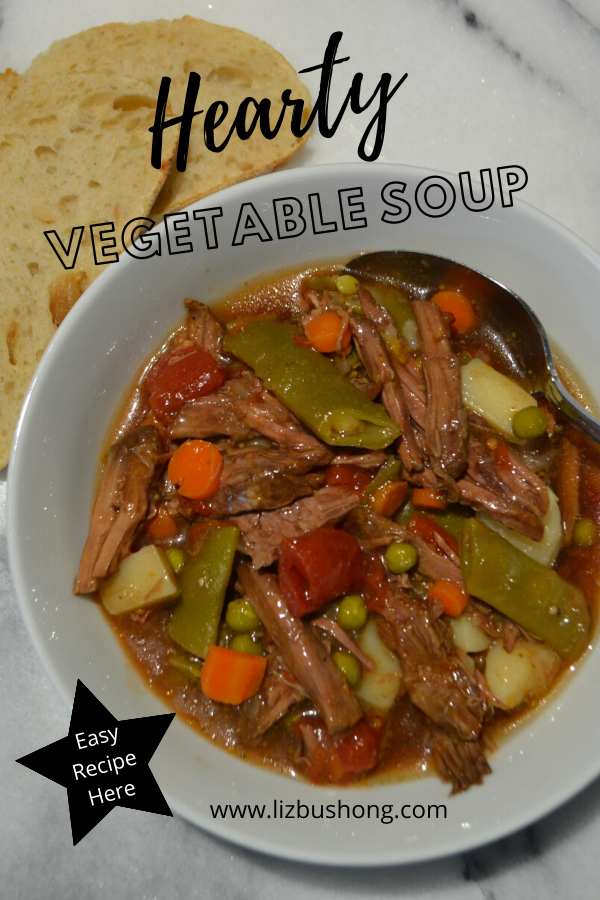 Print
Hearty Beef & Vegetable Soup Recipe
Beef chuck roast is roasted in the oven and shredded to make a deep rich flavored soup base, frozen or fresh vegetables are added to boxed beef broth, seasoned and served warm.
Author: Liz Bushong
Prep Time:

Beef- 60 minutes-baked

Cook Time:

60 minutes

Total Time:

2 hours

Yield:

8

-

10

-6 ounce cups soup

1

x
Category:

Soup

Method:

Baking/Cooktop

Cuisine:

American
3–4 pound chuck roast
Reynolds Baking Bag, 1 tablespoon all purpose flour
1 package Lipton onion soup mix- beefy onion-optional but good choice
1 can diced Hunt's canned tomatoes with basil, oregano and garlic
1 can cannellini beans or beans of choice
1/2 cup diced carrots, celery, sweet onion
1/2 package of frozen peas, green beans, or vegetables of choice
2 peeled and chopped russet potatoes
1 box beef broth
1 cup water
Spices:  salt, pepper, Montreal Steak Seasoning, garlic powder, oregano, basil- your choices
Instructions
Rinse chuck roast, pat dry and season with Montreal Steak seasoning or salt and pepper, garlic powder.  Season both sides of beef.  Place in cooking bag, follow directions on cooking bag, seal and bake in oven at 350 for 60 minutes.   Let cool, remove excess fat and from broth.  Reserve broth, place in refrigerator to chill so fat will solidify.  Remove fat and strain broth.  Use broth for the soup or other recipe.
Shred beef into medium pieces for the soup.
In large stock pot with olive oil, saute carrots, celery, and onion until tender about 3-4 minutes.
Add onion soup mix and spices,  add broth, water, canned tomatoes, beans and frozen vegetables-potatoes. Simmer on medium heat about 30 minutes or until tender.
Add shredded beef, and additional spices. Simmer on medium low heat for 45 -50 minutes.
Serve with crackers, bread or biscuits.
Notes
Montreal Steak Seasoning is a McCormick brand. Great seasoning for beef of all kinds.
Soup can be made ahead and frozen without potatoes.  Add potatoes after soup has thawed to prevent mushy water soaked potatoes.
If you don't want to bake Roast in oven, use a crock pot and cook roast overnight -8 hours, and proceed with recipe.  
Here are few other ideas you might like to try: