Would you like to host a bridal shower but need some ideas? Your bride-to-be will be "tickled pink" when she sees a room decked out in hot pink, black and white. Whether hosting a large shower or an intimate one, these ideas you can do.  Even the food is all Pink & White with hints of black.  Chocolate cupcakes with pink bows, pink caramel corn and macrons just to name a few recipes. And the spectacular DIY balloon arch sets the perfect background for photos and capturing the overall celebration in hot pink, black, white and even orange.
Spanning the width of the dining room is a beautiful balloon arch! You will need to use a ballon pump to fill all the balloons with air, no helium needed. The balloons are attached to chicken wire, that is attached to the wall in three areas. Once the assorted balloons are attached to the wire, your room will pop with color and creativity!  The shower will be the brides dream.  Want to see more… keep reading.
How to Create a Hot Pink and Black Shower for the "Bride to Be"


The Table Centerpiece… Cake… real or faux?
You don't always have to have a real cake as a centerpiece for a dessert buffet.  This bridal shower served cupcakes instead of a cake with layers and filling, a paper faux cake was used as the center focus of the dessert table.  Tiny paper flowers were cut and glued to a paper covered hat box for the base of the cake with the upper cake being made of a small round hat box with white striped wrapping paper and black satin ribbon.  It wasn't hard to make… just fun to see it come together.  The paper flowers are made from card stock and a small hot pink rhinestone can be seen in some of the flower centers.  The bow has an old clip pearl earring that helps decorate the paper bow and added bling.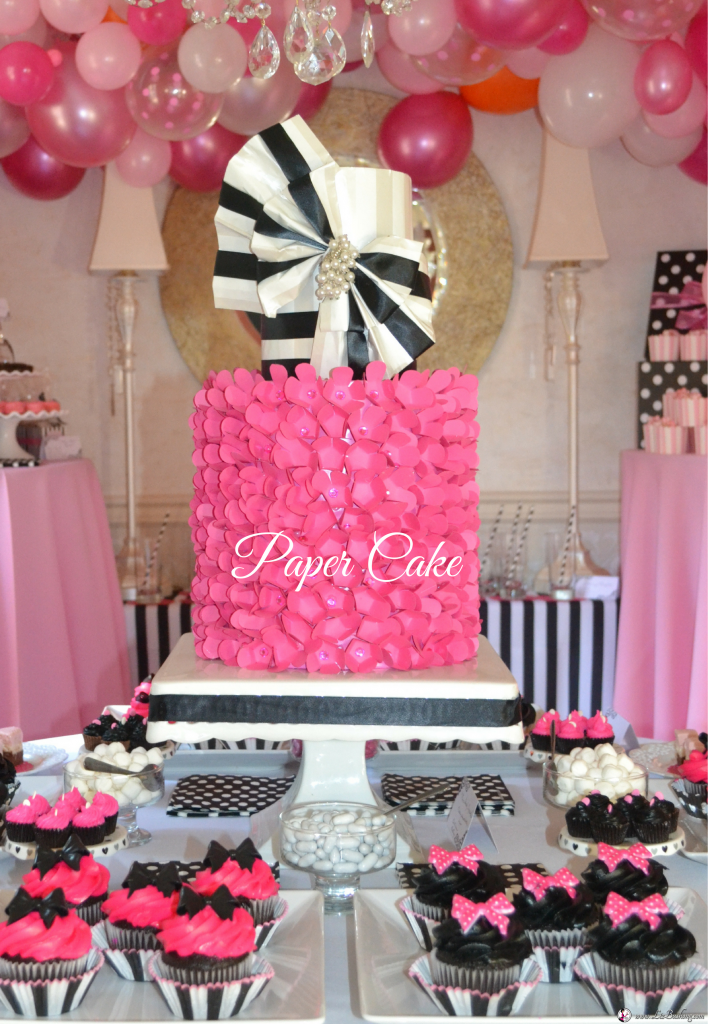 Vanilla and Chocolate cupcakes were decorated with tiny black, hot pink with white polka dot bows.  The cakes were not baked in the decorative paper cups but used as bright decor for the white plates.  White plates and platters were also used for all the tabletop setting. Mixing black and white with hot pink in various designs is all good as long as you stay with the same color family for balance and prettiness.  Good & Plenty licorice was separated into white and pink serving dishes to add to the hot pink and white decor.
What to Serve …Desserts Anyone?
Every dessert on this table goes along with the color scheme of black, hot pink and white.  It really helps when planning a party to stick to your color scheme even when it involves the food if possible. Just makes your decisions easier and you can place the food anyplace on the buffet or table with out it clashing with other desserts.  Every dessert gets to be showcased. Keeping white cake stands. platters and plates maintain the blank canvas for the decorative sweets.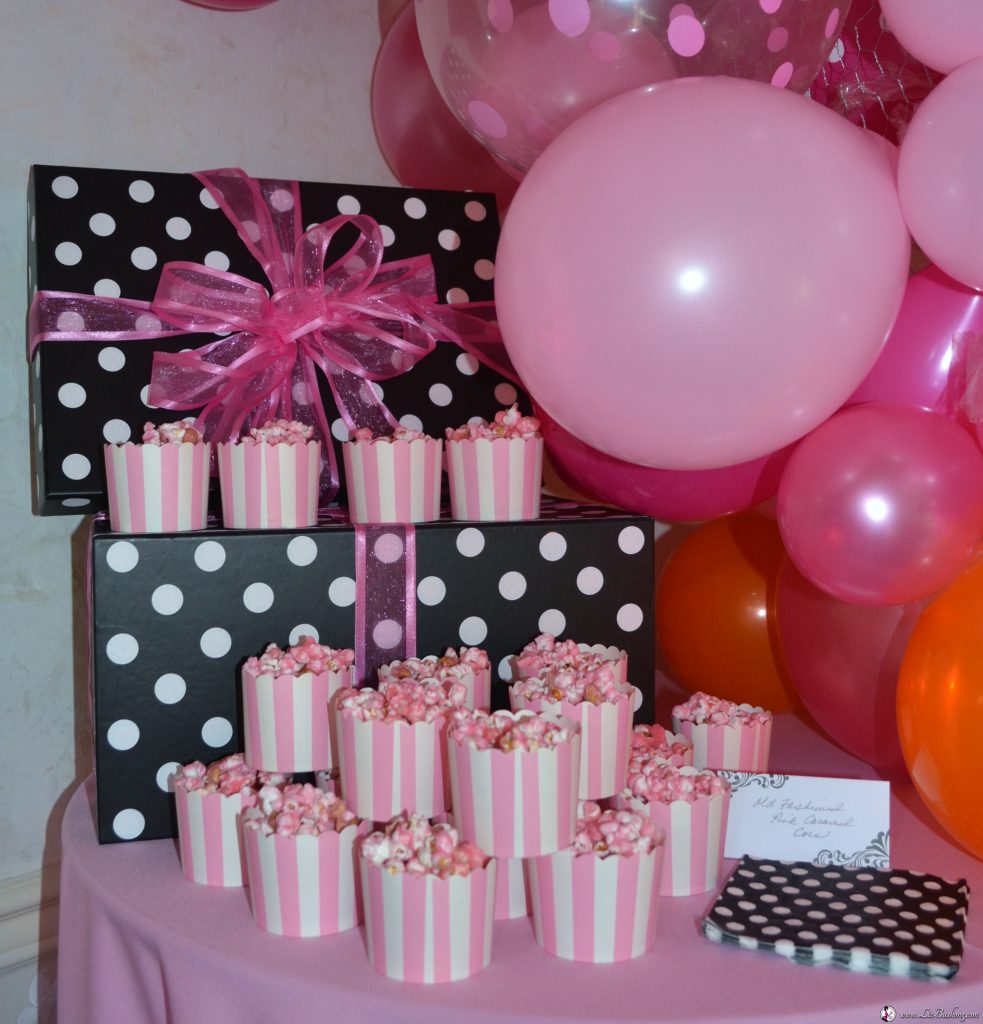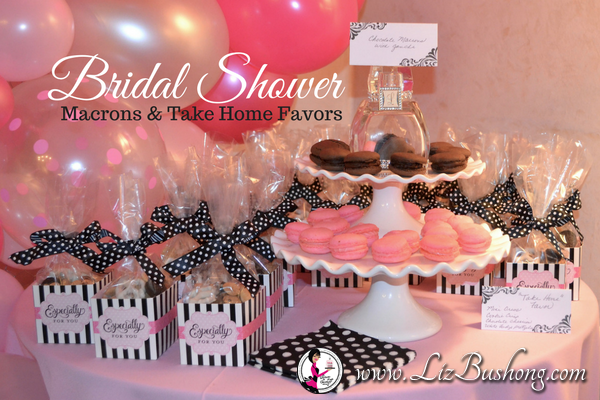 Chocolate with ganache filled macrons  and Raspberry Macrons with raspberry creme are so delicious!  The recipe is easy to follow but you want to make these cookies a couple days ahead.  They freeze well with or with out the filling.  I like to fill them last minute.  The take home favors in the small boxes are filled with a cereal and nut trail mix.   The cute little boxes are tied with a black and white polka dot ribbon that helps coordinate with the napkins and rest of color scheme.   Your guests and bride will love this!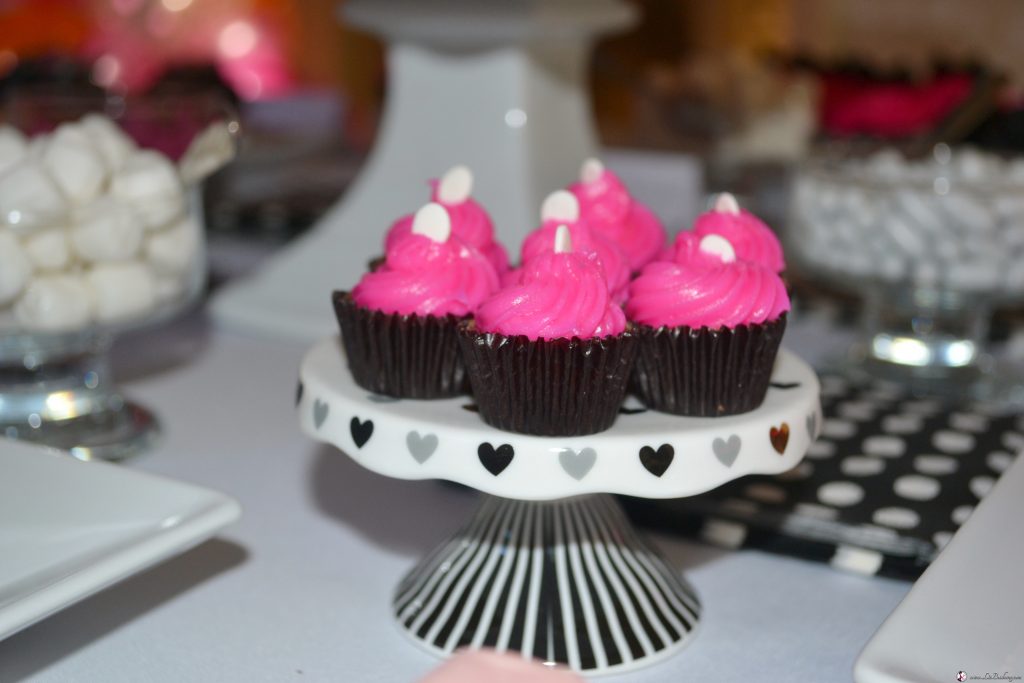 Mini Cupcake Candy cups are made with Peanut Butter Cups with piped frosting and decorated with a candy dot.  Removing the paper from the cup is a good idea, so people don't pop them in their mouth with the paper.  A stiff frosting works best for the piping and a small shell tip is recommended.
Tip:  The dark frosting will make your teeth and mouth turn black so… if you don't want that look for photos.. ha ha.. change the frosting to dark chocolate or pink.
Chocolate Cupcakes were served in the decorative liners and as mentioned before not baked in the cups.  I have found sometimes when baking in these cups they loose their vibrant details, so I use them to serve as decorative little plates.  The black bows as the decorative garnish are plastic and not to be eaten.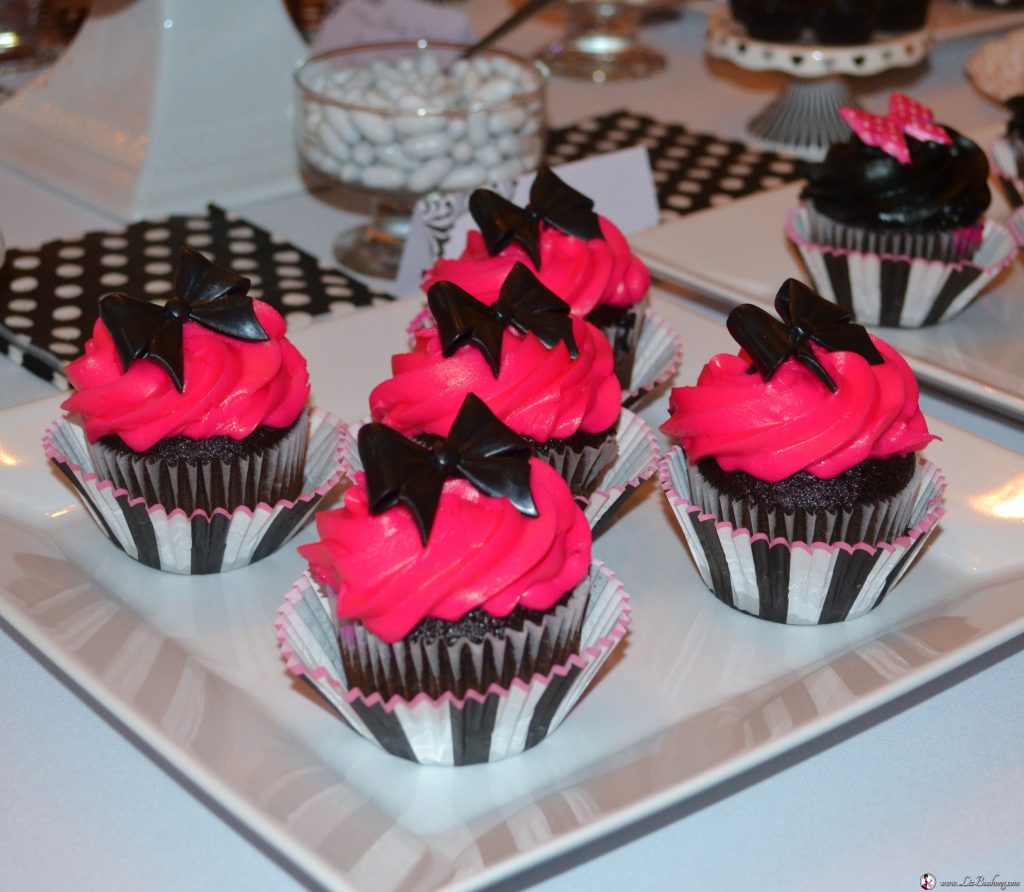 At this event Pink Caramel Corn was served in pink and white favor cups.   I found these at Tuesday Morning.  The caramel Corn is a bit tricky to make. You have to make caramel corn on a day without rain or the chances of rain.  The humidity affects the way the caramel corn sets up.  Sometimes it can become grainy and not set up or dry properly.  This can be made ahead too and placed in a plastic storage container until ready to serve.  The recipe is made with milk. I got the recipe from two sources, my friend, Sherrie Bacon @sherextensions and the recipe I have linked in this post, Domestic Dreamboat.com. 
Hot Pink, Black & White Bridal Shower |Beverage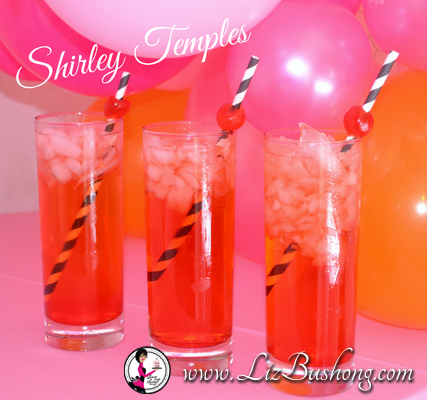 A Shirley Temple served in a slender tall glass with a black & white stripped straw makes this hot pink beverage a show stopper!  Crushed ice, Sprite with a little grenadine makes a lovely refreshing drink and it's hot pink in color!   A maraschino cherry on the end of the straw is the perfect garnish, but also keeps the straw in place.  Serve this beverage as guests arrive so the ice does not weaken the beverage.
Shirley Temple Recipe:  1 Tablespoon Grenadine Syrup, crushed ice, 6 ounces lemon-lime soda- tested Sprite, & Maraschino cherrie for garnish.  Place crushed ice in tall slender glass, add grenadine, then sprite, stir to mix, serve with straw and cherry.  Makes one beverage. 
Hot Pink, Black & White Bridal Shower |Balloon Arch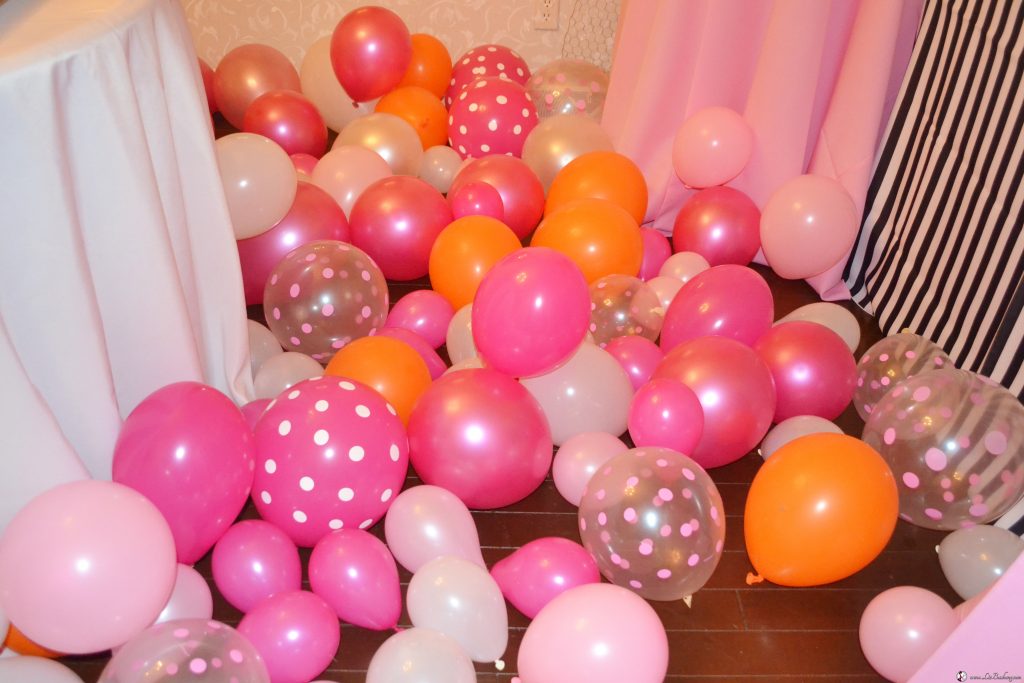 Hot Pink Party Balloon Arch has over 400 small, medium and large hot pink, pink, orange and white polka dot balloons to fill this chicken wire base draping from wall to wall.  So pretty for a bridal shower, birthday party or anytime you want to celebrate!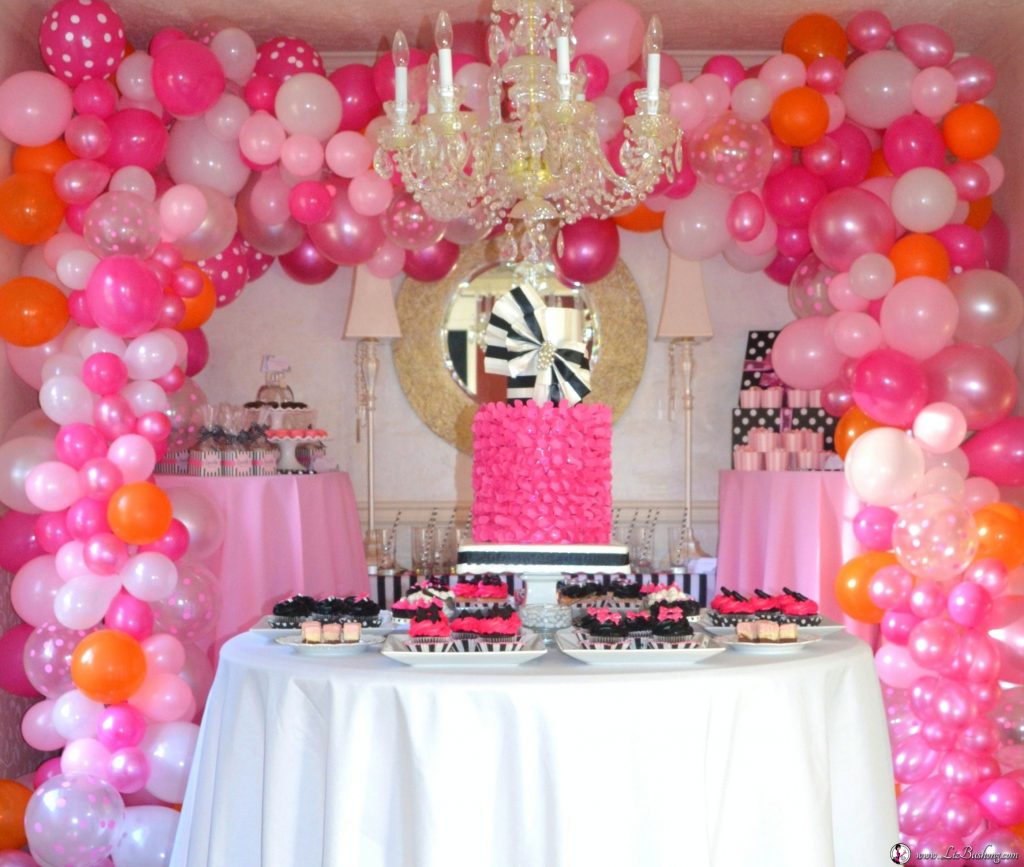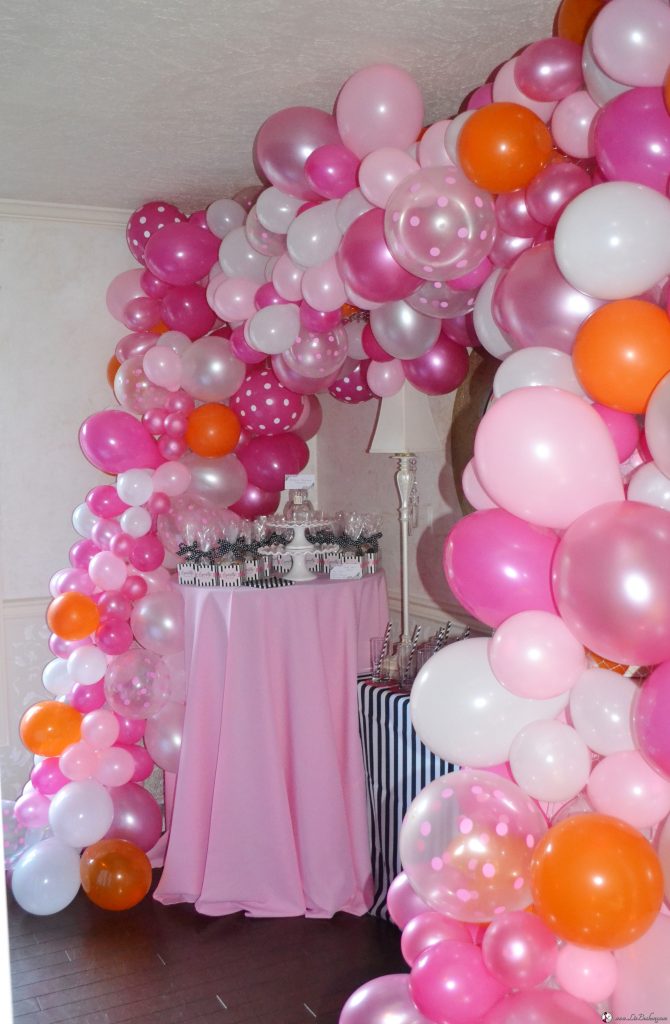 Making the arch took a few days but was so much fun to put together. Gather some friends to help with this project.
Hope you will plan a Bridal Shower, Brides Maid's luncheon, or even a Birthday Party using Hot pink, Black and White.  It is a fun color scheme and everyone will be Tickled Pink!
This was featured on Daytime Tri-Cites for  Hosting Wedding Parties Series
Happy Hosting & Planning! xo Liz