Celebrate the seasons with a Living Wreath on your front door! Making a Living Wreath features a heavy duty wreath frame, lined with green jute-type fiber. The jute fiber liner holds potting mix and flowers. Small openings can be cut in the fiber to insert fresh individual flowers, like pansies, ivy, petunias and other small leaf florals and plants. This wreath makes a beautiful floral statement and you can change season after season.   You will love this addition to your garden and home. One note:  It is a heavy wreath so make sure your base for hanging is stable.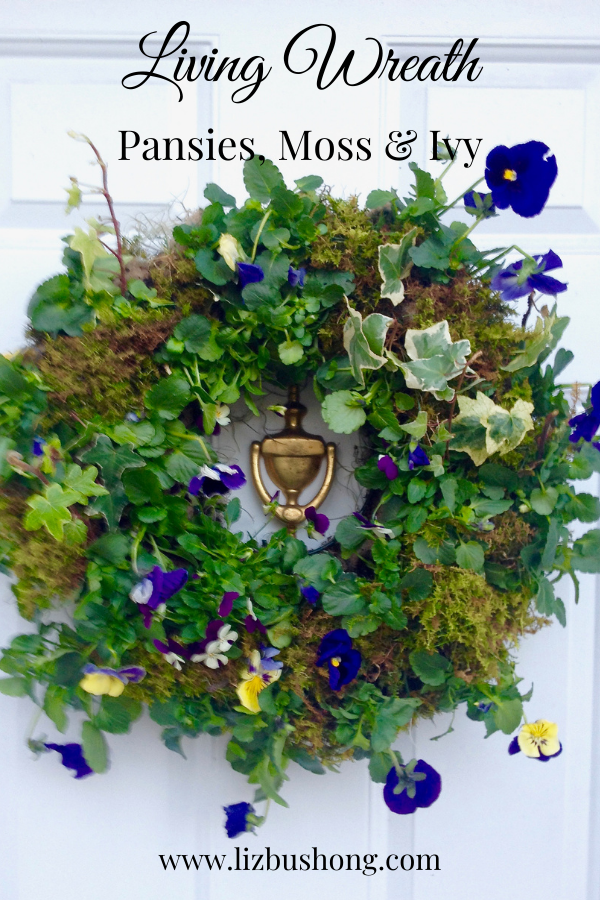 How to Make a Living Wreath Featured Florals
Things to Consider before Making A Living Wreath
Decide where you want to hang the wreath, this will determine what kind of flowers you will need to purchase.
What kind of sun or shade will the wreath get in this location and how often do you want to water.
Consider these possibilities for displaying, table tops interior or exterior, walls, fences, and doors.
Tips to Take Note:
The weight of this filled wreath is heavy especially after watering.  You will need to water this wreath often and if you put it on your front door with direct sunlight, you will need to plant full sun florals/plants. Then water every day if put in a hot spot. I chose not to put it on my front door because of the full sun, but rather chose a partly-shaded brick wall.
To water, I put my wreath on a lawn chair to keep the wreath off the ground and allow to drain until I am ready to re-hang.  The wreath needs to be moist.
The liner will help retain the water… the key is where you hang the wreath and the amount of sun or shade it gets each day and how often you want to water.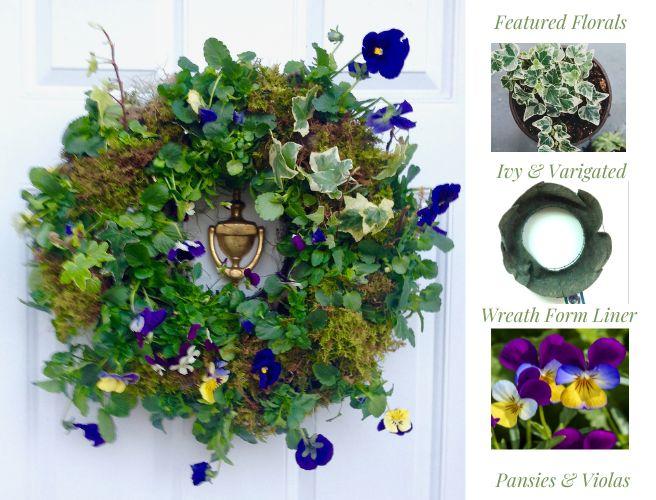 Making Living Wreath Materials List 
Print
How to Make a Living Wreath
 Small 16″ wreath form- Ordered from Kinsman Garden.com
 Jute liner* Kinsman Garden.com
5 – 6 pack pansies or 30 individual flowers
3 containers of small leaf ivy plants
1 bag of green moss
Spanish Moss- optional
Scissors, Sharp Knife & Water
Instructions
The liner comes with the wreath.  Fill bottom of wreath with largest piece of liner.
Fill with potting mix and place top liner over the mix. Place optional Spanish moss over the liner back, attach frame lid.  Lid that comes with frame.
Turn wreath over and with scissor or sharp knife cut small slits to insert individual flowers.
Plant individual flowers over the entire wreath filling in with ivy and green moss.
Water throughly, let sit flat outside for roots to develop before hanging.
Notes
See Liz Bushong.com for step by step instructions or go to Kinsman Garden.com.
What Kind of Form Do I Need to Make this Wreath?
I found this form at Kinsman Company.  They have beautiful items on their website and most of the information I am sharing came from their website minus my personal experience planting and using this wreath.
Kinsman offers other sizes of wreath forms but for my space and purpose I wanted the smaller wreath.   I chose pansies and ivy.  For my wreath it took five-6-pack pansies or 30 individual flowers, three containers of small leaf ivy plants and green moss.  I got the moss from my yard, this worked perfectly.
Recommended Plants/Florals for wreath
"Use succulents, ivies, ferns, mini cyclamens, small annuals and herbs to make strikingly unusual floral decorations."
How to Make A Living Wreath|Instructions
The liner comes with the wreath when you order from Kinsman Company.  "The liner is made from a soft, strong material that holds the potting mix securely, yet can be cut easily with scissors or a small knife. This allows easy planting of small or larger plants. Material contains green Jute fibers. Liner consists of two pieces-the base and the lid."
I cut small slits around the center of the wreath to lay flat then tucked the lining all around the edges to help keep soil into the frame.  It was all tucked in and ready for the moss, then the lid of the form.
The moss is to help protect your wall or door plus gives a great finished look to the back of wreath. I have seen some wreaths that use the back side as the front to plant florals.  I turned the wreath over and planted the rounded side of the wreath form.
This is so much fun to put together!  You will have a great time making this!
This part is a little tricky.  Planting the flowers requires cut slits or large X's in the jute liner at alternating intervals.  Plant each flower/plant into the cut holes, pressing the plant firmly.  I loosened the pansy roots a bit and cut the base of the plant/flower in half to plant. The roots were too long to insert into my openings.
To fill in and cover the wreath form, I planted living moss around the flowers.  Next step is to water throughly and leave the planted wreath flat to allow the plants to adjust to their new home.  This wreath will be very heavy so when you do hang it find a sturdy wall or door with hanger.
If you have leggy plants cut the bloom off to encourage more compact growth.  I didn't do this when the photo was taken.  I waited to cut back until after Daytime Blue-Ridge.
This wall gets semi-shade and adds a colorful focus for this ivy trellis.
Hope you will create your own Living Wreath this Spring, Summer and Fall!
This was featured on WSLS, Daytime BlueRidge.
Other Ideas You Might Like to Try: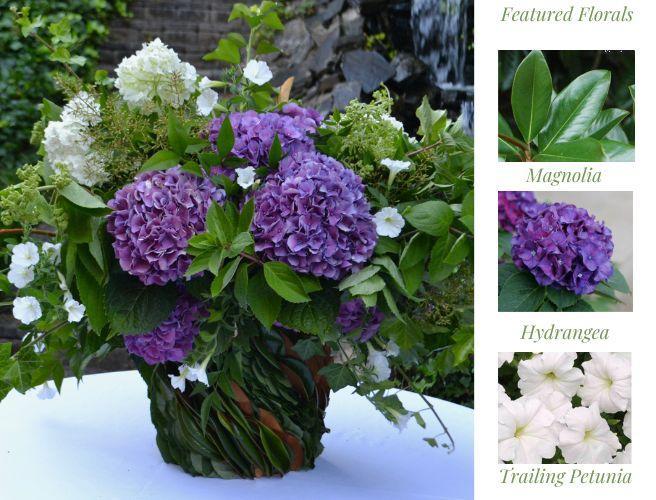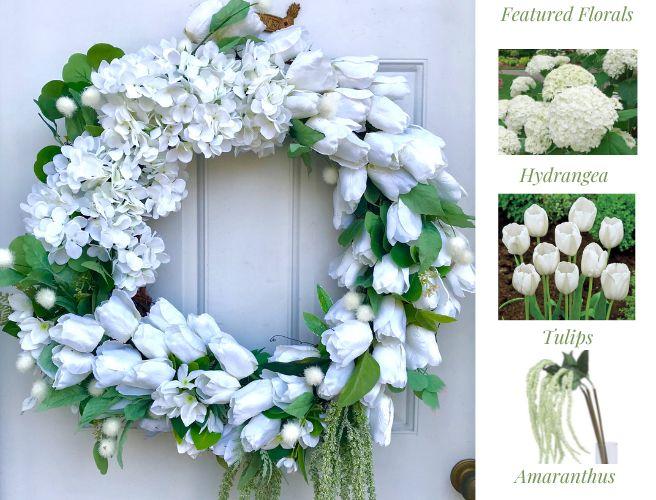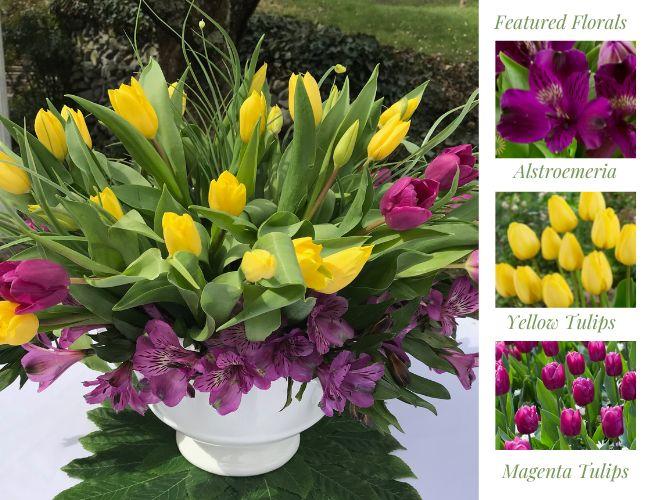 Helping you Make a Statement, Make it Sassy and Make it Yours! ®