Whether you are making ice cream or serving pancakes, you will love this recipe. Vermont Maple Balsamic Ice Cream is home-made ice cream with maple flavoring and maple balsamic vinegar.  Just a small amount of aged and fragrant Maple balsamic vinegar added to the richness of the cream.  This dessert is served up sassy in small parfait cups and garnished with maple flavored pecans and Maple Leaf Cookies. Delicious fall flavors!
How to Make Maple Ice Cream
Because this is a simple recipe, start with half and half in a saucepan to heat until very hot, not boiling though, stirring cream often to prevent scorching.  Remove from heat to cool.
Tip: This process helps infuse the flavors of the ice cream properly. 
In a small mixing bowl, add egg yolks and good quality maple syrup….not the balsamic yet. Attach wire whisk to electric mixer and whip on medium speed until blended and some what thickened.
Gradually add room temperature half and half and mix until blended on low speed.  Return this mixture to the saucepan and cook over medium heat until small bubbles surround the edges of the pan.   Stir constantly!  AND DO NOT BOIL.  When you see the bubbles its time to transfer mixture into a large mixing bowl and add the whipping cream, maple extract, salt and balsamic vinegar.
Is the 8 hour chill necessary?
Yes, you will be refrigerating this mixture for 8 hours!  WOW… I know but it needs the 8 hours for flavors to develop, which you will want and love. I will make this in the evening and chill overnight.
An last but not least, follow the instructions that your ice cream maker provides as far as churning and desired thickness.  I use this ice cream maker attachment with my Kitchen Aid stand mixer.  It works beautifully and the bowl is easy to store in freezer through out the year.  Now you can have ice cream anytime you want.
Where do I get the Vermont Maple Balsamic Vinegar?
The Vermont Maple Balsamic Vinegar can be found here.  
Here is what Abingdon Oil says… "We have searched high and low, and it appears that we have created the first of it's kind, an Aged Pure Maple Balsamic, using real 100% pure maple produced at a small family farm in Vermont."
( I am not an affiliate of Abingdon Olive Oil company… just love there products).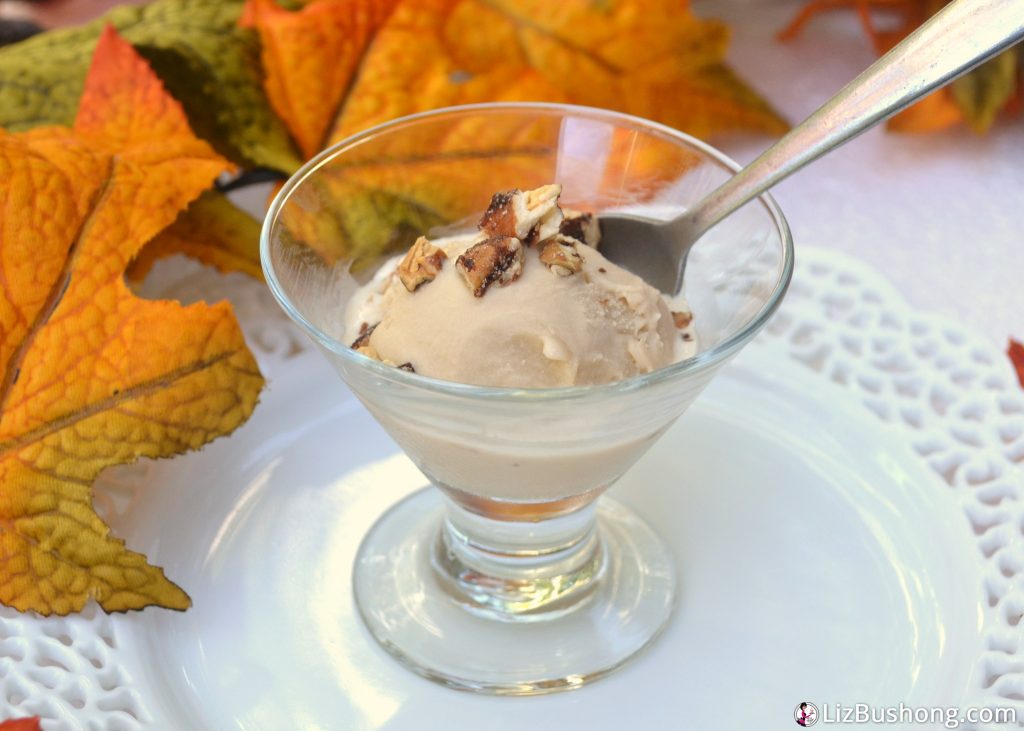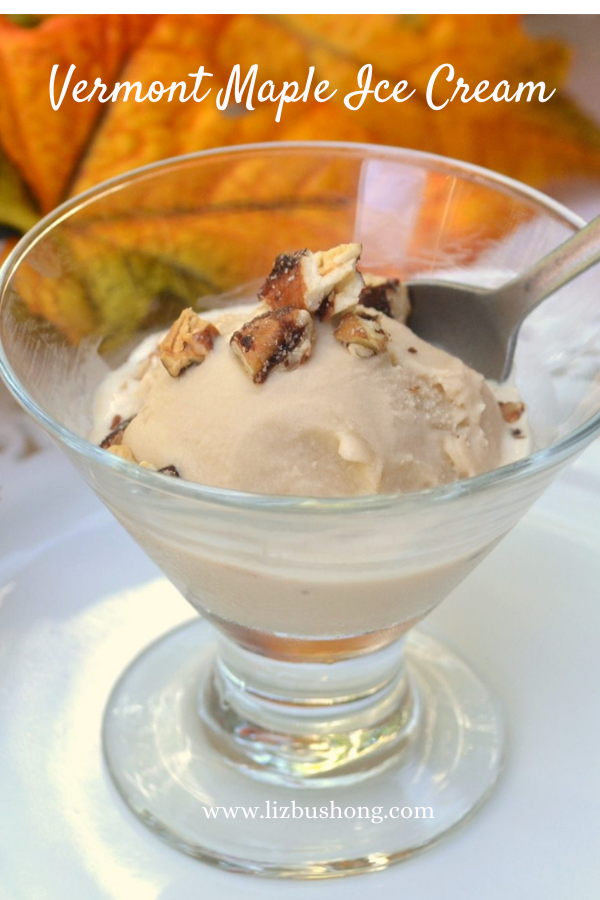 Serve this ice cream in a cute small parfait or your favorite dishes. Sprinkle with Maple Balsamic pecans. Hope you will try this recipe.  It's a keeper and might become your favorite fall dessert.
Print
Vermont Maple Balsamic Ice Cream Recipe
8 egg yolks
2 cups maple syrup
2 tablespoons Vermont maple balsamic vinegar*
2 cups half & half
2 ½ cups whipping cream
2 teaspoons maple extract
¼ teaspoon salt
Instructions
In medium saucepan over medium heat, heat half and half until very hot, but not boiling, stir often.  Remove from heat, set aside.
Place egg yolks and maple syrup in mixing bowl.  Attach wire whip to mixer. On medium speed mix until well blended and slightly thickened.  Continue with mixing speed gradually add half and half, mix until blended.
Return half and half mixture in a medium saucepan, cook over medium heat until small bubbles around the edge of pan and mixture is steamy, stir constantly.  Do not boil.
Transfer mixture into a large bowl, stir in whipping cream, maple extract, salt and vinegar.  Cover and chill for 8 hours minimum.
Follow ice cream maker instructions, until desired thickness.  Freeze in an airtight container.
Notes
Garnish with Maple Balsamic Pecans.
Print
Vermont Maple Balsamic Pecans
1 cup pecans
2 tablespoons honey
2 tablespoons Vermont Maple Balsamic Vinegar*
Vermont Maple Balsamic Vinegar can be purchased in Abingdon or Bristol Va at the Olive Oil Company.
Instructions
In small zip lock bag, place all ingredients, shake to coat and place pecans on a parchment lined baking sheet.  Bake in oven at 250 for 20 minutes, stir at 10 minutes.  Remove from oven and allow to  cool.  Use these pecans on Maple leaf cookies, on top of Maple ice cream, salads, or give as a gift.
---
Other Ideas You Might Like to Try: