Mardi Gras King Cake is a classic brown sugar and cinnamon braided yeast bread shaped into a circle that is frosted with buttercream glaze, sprinkled with green, purple, and yellow sparkling sugars.Traditionally the cake is baked with a tiny plastic baby hidden inside the ring. Careful eating is required but If you find the baby you get to host next year's party.
Why purple, green and yellow sparkling sugars? Each color has significance and are symbolic for power, (gold), faith ( green) and justice (purple).  Mardi Gras originally was  a Christian holiday and popular cultural tradition that dates back many decades.
How to Make Mardi Gras King Cake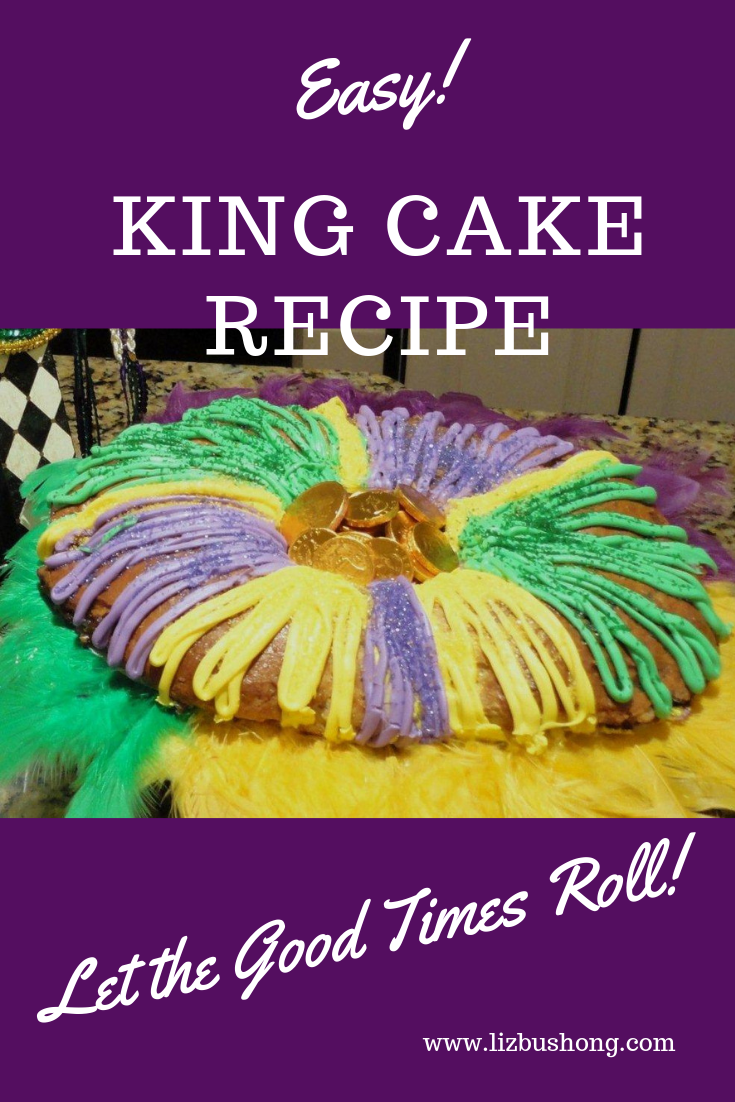 Print
Mardi Gras King Cake Recipe
Mardi Gras King Cake Recipe
Sweet yeast bread filled with brown sugar, cinnamon and chopped roasted pecan pieces rolled into a log and shaped into a ring.  After baking and cooling,  A buttercream glaze is drizzled over cake and sprinkled with sparkling sugars.
Author: Liz Bushong
Prep Time:

20 minutes+ 60 rising

Cook Time:

30 minutes

Total Time:

90 minutes

Yield:

1

large ring- 8 servings

1

x
Category:

Bread

Method:

Baking

Cuisine:

American Mardi Gras
1 package active dry yeast
2 tablespoons warm water (110°F to 115°F)
1 teaspoon salt
2 tablespoons sugar
¼ cup whole milk
3 teaspoons orange zest, finely chopped
2 cups all-purpose flour
1 teaspoon ground cinnamon
2 eggs, lightly beaten
¾ cup butter, cold
Small plastic baby (or a red kidney bean)
Egg Wash:
1 egg, lightly beaten
2 tablespoons water
Pecan Filling:
1 cup pecan pieces, roasted until fragrant
⅔ cup light brown sugar, firmly packed
1 teaspoon vanilla extract
½ teaspoon ground allspice
Dash salt
4 tablespoons maple syrup
Glaze:
1 cup powdered sugar
¼ teaspoon almond extract
1–2 tablespoons milk
Green, purple, and yellow paste food coloring gel 
Instructions
1.Dissolve yeast in warm water in the large bowl of a stand mixer fitted with dough hook; let stand 5 to 10 minutes until frothy.
2.Combine salt, sugar, orange zest and milk in a small bowl. Combine milk mixture with yeast mixture. Combine cinnamon and flour in a separate bowl.
3.With mixer on low speed, alternate adding flour and beaten eggs a little at a time, beginning and ending with flour, until completely incorporated. Knead on low speed for 10 minutes. Dough will be smooth and elastic. Chop cold butter into small pieces; with mixer at low speed, add butter slowly until incorporated. Do not melt butter.
4.Place dough into a well-oiled bowl and turn to coat top. Cover loosely with a damp tea towel and allow to rise in a warm place (85°F), free from drafts, for 1 hour or until dough has doubled in bulk. Punch down, cover with plastic wrap and refrigerate for 8 hours or overnight.
5.Prepare filling: Combine all ingredients, stirring until well blended.
6.Remove dough from refrigerator and allow to return to room temperature. Roll dough out on a lightly floured surface to a 6 x 18-inch rectangle. Spread pecan filling over surface of dough, leaving a 1½-inch margin on each side. Place the plastic baby (or kidney bean) somewhere in the filling.
7.Fold long side of dough over and roll tightly. Place the dough roll on a lightly greased baking sheet and form into a circle, seam side down, tucking one end into the other. With wet fingertips, seal the seam. Cover loosely with a damp tea towel and allow to rise in a warm place, free from drafts, until doubled in bulk, for approximately 45 minutes.
8.Preheat oven to 350°F.
9.Prepare egg wash: beat egg and 2 tablespoons water until well combined. Brush over surface of dough.
10.Bake until golden brown and bread sounds hollow when tapped, approximately 30 to 35 minutes. Remove to wire rack to cool.
11.Prepare glaze: Combine powdered sugar, almond extract and milk, stirring until glaze is a smooth fluid consistency. Divide between 3 small bowls; tint one batch purple, one green and one yellow, stirring until well combined. Place tinted glaze into 3 small zipper bags and seal, pressing air out. Snip one corner of each bag and drizzle over cooled bread. (Traditionally, the colors are applied to separate sections, but use your creativity here.)
Notes
Sugars can be found at Here:   Green, Purple, Gold sparkling sugars.  In this packet you also get hot pink which is not typical decor for King Cakes. 
Other Ideas you might like to try for Mardi Gras