Spring is almost here so get a jump start on decorating a pretty spring table. Bring the outdoors in with a tulip centerpiece. Tulips are not fully bloomed yet so make your centerpiece with real looking faux ones. Whether hosting a spring luncheon or family dinner here are a few table setting ideas to get you started.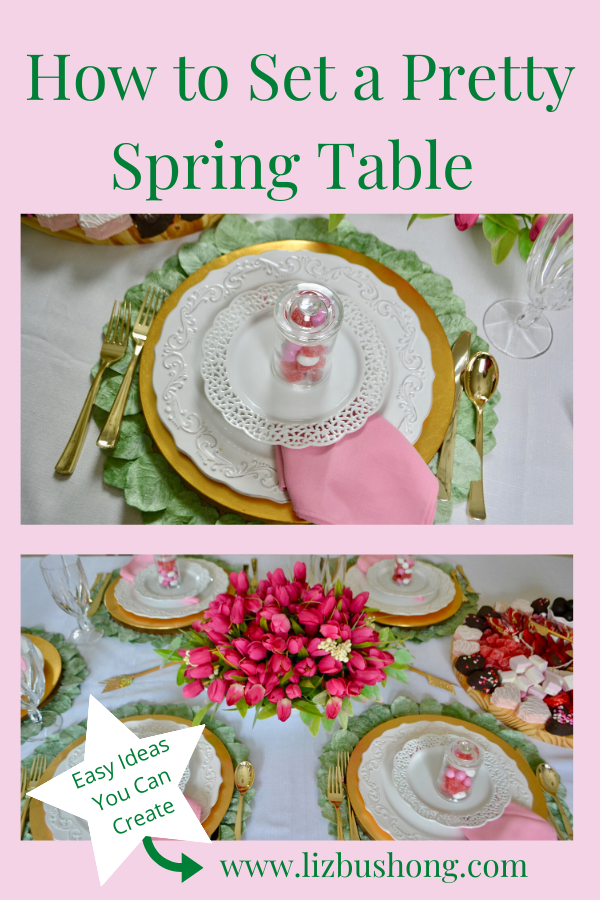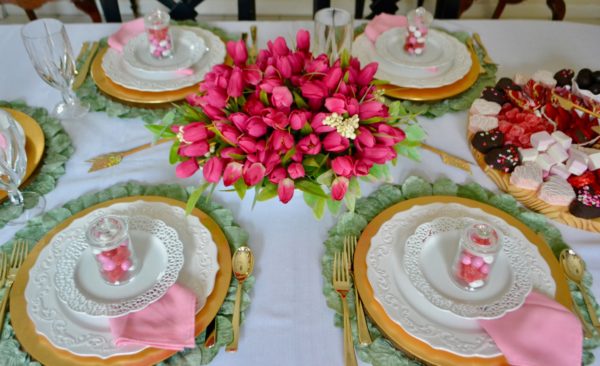 5 Elements to Think About When Setting a Table
Set the Anchor or Foundation
By foundation I am talking about the table top base … the tablecloth. Sometimes you need a tablecloth to make your place settings and centerpiece stand out on the table. Select a tablecloth that fits the mood and feel for your table. Be careful not to over whelm your table with bold prints/designs for a table cloth, just keep in mind your other place setting elements. If you have a beautiful hardwood table top a simple table runner will give your seasonal table the polish it needs for a beautiful dining presentation.
Select a Color Scheme and Theme for Table
Consider Pink and Mint Green for a Spring table color scheme. Assorted dark to mint greenery with blush, pale pink and magenta makes a lovely table top especially for Spring or Easter. For a table theme think about the occasion, is the event a holiday or special birthday dinner? Perhaps it is a casual tea or luncheon? Once you determine the occasion and your color scheme you would like, setting the table will be a breeze. Most of the time, the dinnerware or the centerpiece florals will determine the overall color scheme of the table.
Centerpiece Takes Center Stage
Once you have your color scheme your vision for the centerpiece will come to life. The most natural centerpiece for a Spring table is flowers. Whether fresh or faux that looks like fresh, flowers take center stage. Whether you use several single vases with single stem or a large arrangement as the centerpiece, one thing to think about is the height and view of guests while sitting at the dining table. As a general rule, you want to see the other person on the opposite side of the table, so if your arrangement is not low or below eye level, create two arrangements the same height and place to the right and left of the center of the table in between place settings as not to interfere with the view of your guests. You can make your own centerpieces. This centerpiece is made with faux petite tulips arranged in a large soup tureen.

Set the Scene with Pretty Place Settings
Define each place setting with a placemat, charger, napkin fold and the classic dinner plate. Most of the time I use white porcelain with no pattern. Why…you might ask? Food looks more appetizing on a white background and I like to coordinate the food choices with the color scheme. Another reason is for economics, if you purchase a 12 piece dinnerware set in white you can mix and match different white textured patterns to create multiple place settings. Texture is usually around the rim of the plate and not on the center.
Selecting a smaller dessert or salad plate will complete the place setting. This is is where I like to add the pop of color or pattern. Of course folding the napkin in a pretty shape adds to the place setting presentation. It is a presentation after all, and napkins are the finishing touch. Whether you put the napkin in a glass, on a plate or in a ring, it is always a lovely touch, especially linen or cotton variety. To see how to fold napkins click here.
Chargers are not always necessary depending on the occasion but they sure help anchor the individual place settings. Sometimes I will create a placemat to sit underneath the charger. In the photos you see a leaf rimmed placemat. You can see how to make this mat here.
Silverware and drinking glasses complete the place setting. Determine your beverage or beverages and decide on the water glass, tea glass or wine. Thats a whole blog post for another time but a simple crystal glass for tea or water will complete your setting.
Finishing Touches
To wrap up the pretty table presentation/setting, you might need a few finishing touches. Whether it is during the day or evening setting, floating or stationary candles make the table setting special. Think about bright and light for finishing your setting. Other items to add would be small individual salt and pepper shakers, condiment bowls, and water carafes that can be shared between two guests to keep their water glasses full. Adding fresh fruit to the water carafes in your color scheme will be a great addition to the overall setting of the table. Another wonderful touch is a take home gift favor. This would be for special occasions like showers, teas, birthdays and dinner parties.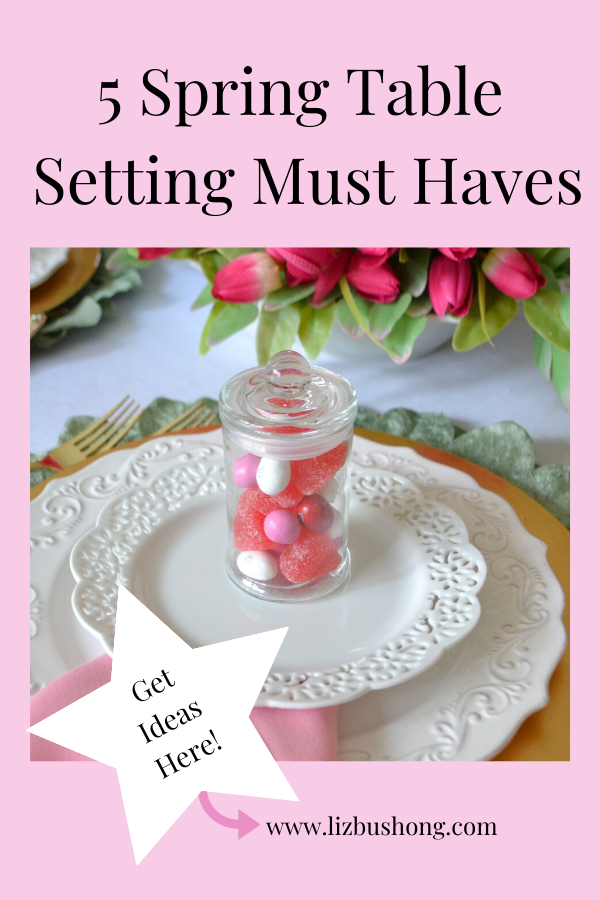 In conclusion, setting a pretty table is pretty simple and something that everyone loves. Hope you will create a lovely space for your family and friends not only on special occasions but in everyday simple living.
Other Ideas you Might Like to Try:
Spring Garden Party Table Centerpiece- Purple and Yellow Fresh Tulips.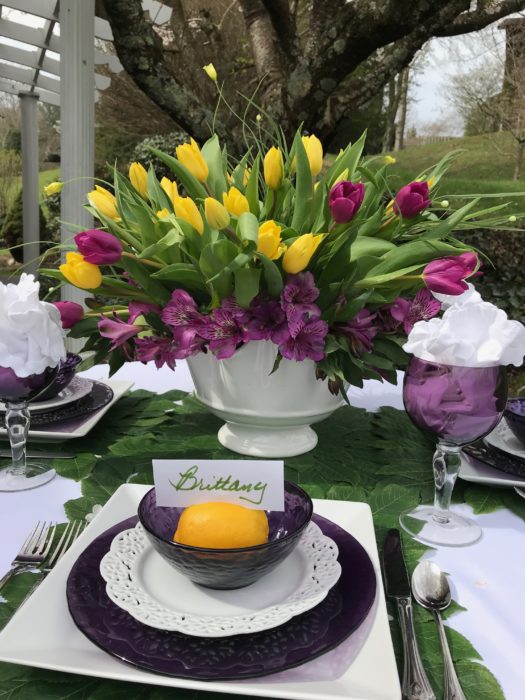 https://lizbushong.com/simple-diy-tulip-centerpiece/