You have to make these cute mini chocolate bombs filled with tiny marshmallow bits. When these one inch mini candy bombs float on top of hot chocolate they melt instantly and tiny marshmallows pop out.  So fun for kids of all ages to enjoy. Ghirardelli Dark Chocolate melts, a one-inch silicone mold and tiny mallow bits are the ingredients for this tiny treat. Read on to see how to make these candy bombs.
Why the name bombs?  My guess is because they burst open when you add hot liquid, maybe we should change the name to chocolate pops? Whatever you call these tiny candies they are delicious and so adorable especially on top of whipped cream in a santa mug.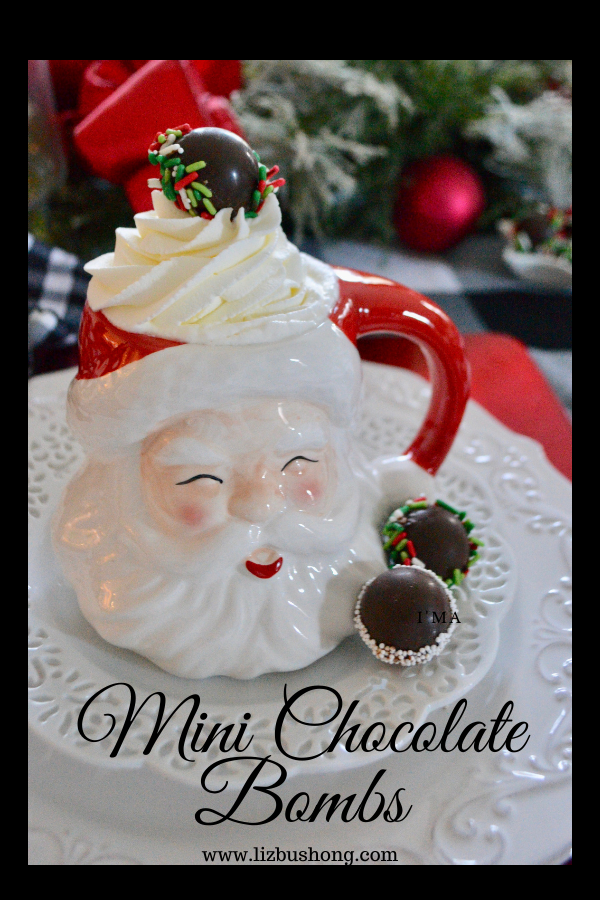 These candies are bit a tricky to make only because they are so small. But you can make larger ones.  I wanted three to a cup that is why I made mine so small.
How to make Mini Chocolate Bombs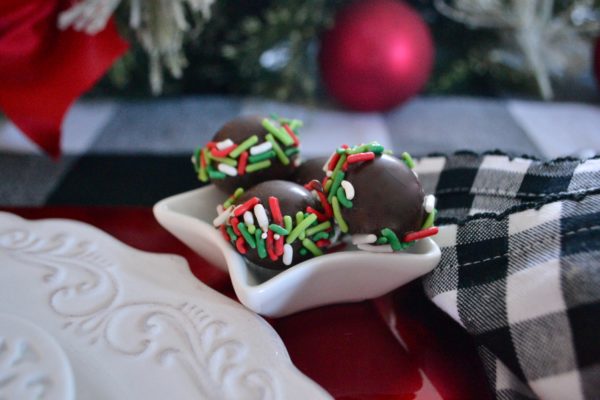 Cute little decorated with Christmas sprinkles chocolate bombs are filled with tiny marshmallow bits.  When the chocolate ball is dropped in a mug of hot chocolate the chocolate melts and tiny mallows pop out.
To make these tiny sweets, you will need a 1/2 inch tiny silicone mold, a small paint brush, Ghirardelli chocolate. tiny marshmallow bites and decorative perils /sprinkles.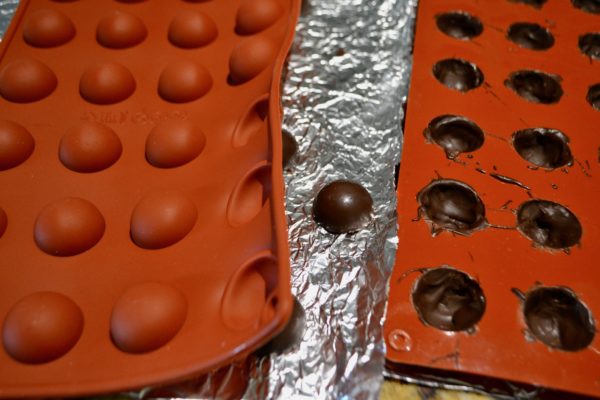 Melt Ghirardelli chocolate wafers in microwave safe bowl for 20 seconds, stir to melt. Continue at 20 second intervals until smooth and and melted.
With a small clean paint brush, paint the inside of silicone mold to coat bottom and sides.  Let dry and repeat the process, up to three times to coat. Place molds in refrigerator to set up.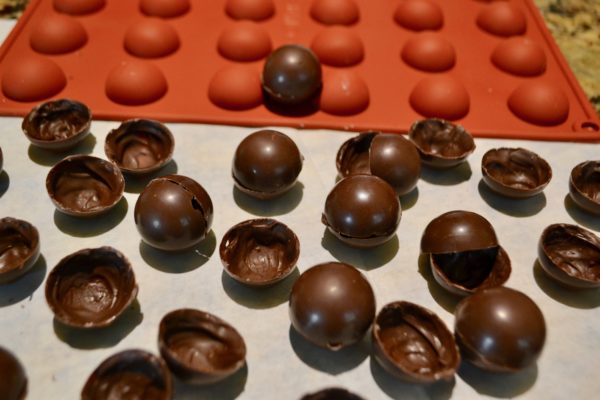 Remove chocolate halves on parchment lined paper.
How to fill and attach chocolate halves?
Wear plastic gloves for best results, as not to melt the chocolate balls when filling and putting together.
Melt 1/2 cup chocolate wafers in microwave safe bowl. Keep warm with a small bowl of warm water underneath the melted chocolate. DO NOT LET WATER TOUCH THE MELTED CHOCOLATE.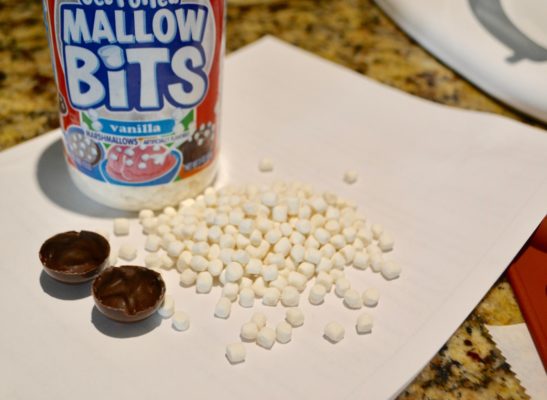 Fill one half of chocolate ball with mini mallow bits.
Heat a skillet on low heat, turn off after 1 minutes.
Place on warmed skillet, other half of chocolate shell, place on top of filled shell to form a ball.  Sit balls on back side of silicone mold to keep from rolling on counter.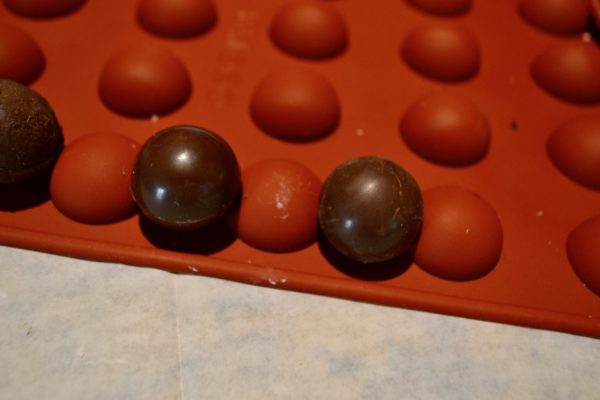 With reserved melted chocolate and paint brush, dab seam with chocolate and dab wet chocolate in sprinkles. Sprinkles will cover any seam of chocolate.
Do small sections at time with the melted chocolate and sprinkles.  ( this is a bit tedious but wearing gloves will keep your chocolate from melting too fast).  Also it wouldn't be so tedious if you used larger silicone molds. I used the smaller molds for I wanted to serve 3 balls with each mug of chocolate.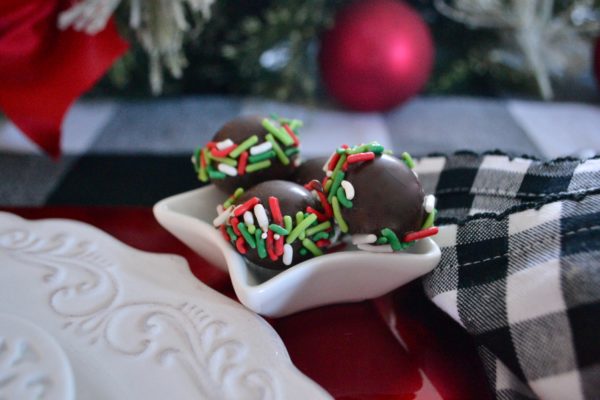 Isn't this just the cutest little treats!  You can package them for gifts too.  For gift giving, place in tiny foil cupcake liners then wrap in cellophane or small slender bags.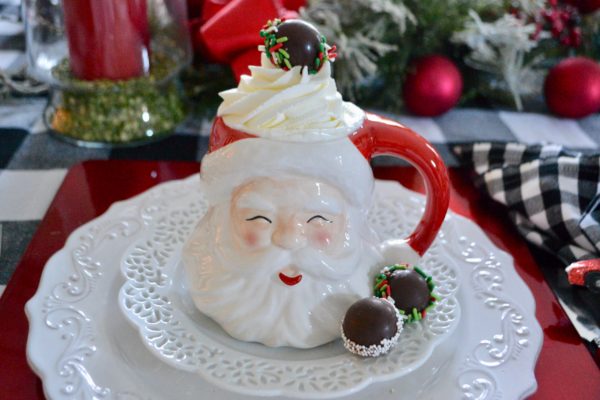 Even Santa would love these treats!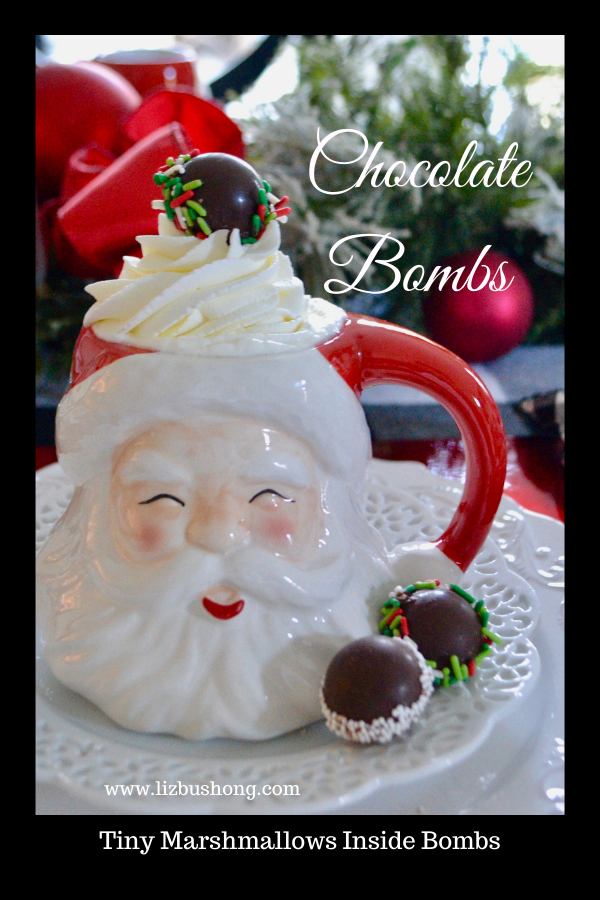 Bombs" floating and melting in Hot Chocolate.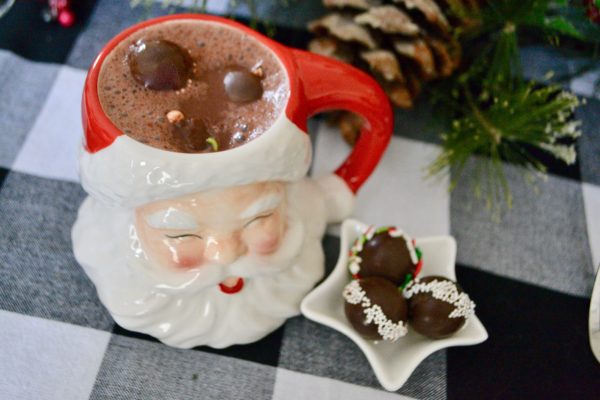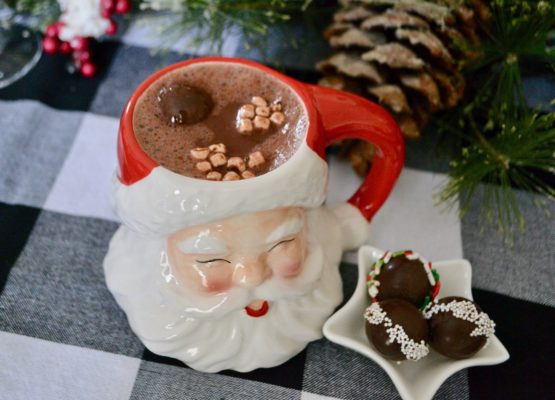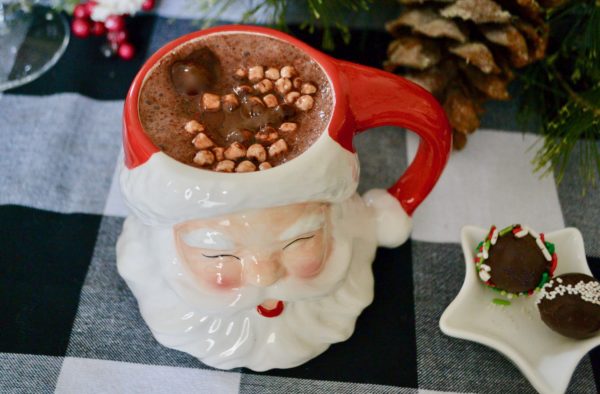 Have Fun Making These Treats!
Print
Mini Chocolate Bombs for Hot Chocolate
One inch round chocolate balls are filled with tiny marshmallow bits and garnished with Christmas sprinkles. When added to hot chocolate the bombs melt and tiny mallows pop out.
Author: Liz Bushong
Prep Time:

20 minutes + chill time

Cook Time:

Melting chocolate

Total Time:

60 minutes

Yield:

22

-

1

" balls/bombs

1

x
Category:

Dessert- Candy

Method:

Melting + Chilling

Cuisine:

American
2 cups Ghirardelli dark chocolate melting wafers
1 cup Tiny Marshmallow Bits-tested kraft mallow bits
Christmas Sprinkles
small paint brush with flat head
1/2" half round/sphere silicone mold
Instructions
Prepare baking sheet with parchment paper. Set aside.
Heat 1/2 cup of water in saucepan until steaming. Remove from heat.
In glass bowl, add 1 cup chocolate wafers and microwave at 20 second intervals to melt chocolate. Stir until smooth. Place the bowl of melted chocolate on top of the saucepan filled with warmed water. ( this will keep your chocolate warm while coating the mold) .  Do not let water touch your chocolate in any way.
Using small paint brush, brush chocolate inside the mold half spheres to coat bottom and sides of half. Place in refrigerator to set 5 minutes. Repeat the chocolate coating 2-3 times making sure your half rounds are coated but not filled in. Chill until completely set.  Can wrap mold in foil and chill overnight.
Melt any remaining chocolate in glass safe microwave bowl as before. Stir until smooth.
Heat skillet on low heat for 2 minutes. Remove from heat.
Wearing cotton or latex gloves, remove shells from mold and turn over for filling.
Fill half of the shells with tiny mallow bits.  With remaining halves. place one half in warmed skillet for just a second to melt edges, attach immediately to one side of mallow filled half shell.  Place filled balls on back side of mold to keep from rolling around to set.
Once all shells are filled and now balls, with paint brush apply thin layer of melted chocolate around the seam and dip into Christmas sprinkles.  Set aside to dry.
To serve:  Fill mug or cup with hot chocolate and place three chocolate bombs on top of hot chocolate.  If you pipe with whipped cream, the balls will last a bit longer as it is not touching the warm chocolate.  As the chocolate melts the tiny mallow bits will pop up.
Notes
You can use a larger silicone mold  to make larger balls/bombs… just make sure your bombs will fit inside the mugs.
Keywords: Chocolate Bombs
Other ideas you might like to try:
Hot Chocolate Recipe- tap on photo for recipe